The first ever tribally-led push for a national monument aims to protect 1.9 million acres of southeastern Utah. 
---
Malcolm Lehi remembers the stories his father told him about the Bears Ears Buttes and the deep cultural ties of the Ute Mountain Ute Tribe to the mountainous knolls, canyons, forests, water and wildlife of the Manti-La Sal National Forest and surrounding public lands.
It's where Lehi, a lawmaker and member of the Ute Mountain Ute Tribal Council, harvests chokecherries,knowledge passed down by his father, who taught Lehi where to find them. It's mid-July and the berries are about the size of a quarter.
"They're ripe right now," Lehi says, adding that he told Willie Grayeyes, of Navajo Mountain, Utah, about the wild berries. Both men were attending an intertribal gathering of cultural leaders and Native families connected to the Bears Ears who want to see the region protected. 
After learning the news, Grayeyes borrowed Lehi's horse and rode west through the wet sagebrush and pine trees, away from the Bears Ears Buttes, to a hogan—a traditional wooden structure made from logs and mud—to see the berries for himself.
The hogan, according to Lehi, is where his own family camped during traditional seasonal migrations. Known as "hooghan nimazi" in Navajo, the hogan is a Navajo cultural site that once sheltered 19th century Navajo headman Chief Manuelito and the Bit'ahnii (Within His Cover) Clan. It lies just a few miles away from Shash Jaá ("the Bears Ears"). Manuelito, who was born in 1818 at the Bears Ears, is best known for his role in brokering the 1868 treaty of Bosque Redondo, allowing the Navajo to return to their homelands in the Four Corners; he encouraged young Navajos to climb the educational ladder and protect the Navajo people.
In her 2007 biography, Reclaiming Diné History: The Legacies of Navajo Chief Manuelito and Juanita, historian Jennifer Nez Denetdale, herself a descendent of Manuelito, says: "Today, for both whites and Navajos, albeit in different ways, Manuelito remains a symbol—the spirit of Navajo resistance."
The hogan is one of over 100,000 archeologically and culturally significant sites in the Bears Ears area, according to archaeologists who study the region.
Tribes fear that looters seeking to cash in on Native American artifacts will further desecrate cultural sites in the area, many of which have already been ransacked.
The Bears Ears are significant to both Lehi and Grayeyes, whose ancestors hunted deer, elk, and wild turkeys here, as their relatives do today. Tribal members harvest medicinal herbs such as sage, juniper, and mountain tobacco, as well as edible wild onions in the area. Some of these herbs are still used for healing in the Ute Mountain Ute Bear Dance and in Navajo ceremonies like the Blessing/Beauty Way.
Both men will tell you how their ancestors migrated with the seasons up and down the Abajo Mountains—from the canyon country near the banks of the San Juan River to Cedar Mesa and up to the Bears Ears Buttes. "I want to take the aboriginal lands back to our people," Lehi said, explaining that Ute Mountain Utes historically herded livestock in the high country.
The Navajo call the region "Náhonidzó" ("the escaping place"); many Navajos hid out here from Kit Carson's raiders, avoiding the Long Walk, a testament to the area's ruggedness and remoteness. Presently, the U.S. Forest Service, Bureau of Land Management, and National Park Service jointly manage the area. This, however, could soon change.
The Bears Ears Intertribal Coalition, led by a core group of five tribes and formally supported by 25 Colorado Plateau tribes brought together by Native non-profit Utah Diné Bikéyah, is urging President Obama to protect approximately 1.9 million acres of public lands by designating a new Bears Ears National Monument co-managed by the tribes.
Utah Diné Bikéyah has done extensive groundwork through local community organizing, including collecting data and documenting interviews for cultural mapping of the Bears Ears region. Many of the tribes have passed resolutions in support of the idea within their respective legislatures.
It's the only Native American-led push for a national monument in the 109-year history of the Antiquities Act.
"The land is what I'm here for," added Lehi, who had disassembled his weekend camp and was waiting for Grayeyes to return from his berry hunt to load his horse into its trailer.
Representatives of the Forest Service, Bureau of Land Management, Bureau of Indian Affairs, National Park Service and high-ranking Obama administration officials attended the July Bears Ears Intertribal Coalition meeting, which included members of the Ute Mountain Ute, Northern Ute, Hopi, Zuni, Navajo, Cochiti Pueblo and other tribes. The meeting took place in a meadow, just below the Bears Ears Buttes. According to Kevin Washburn, Assistant Secretary for Indian Affairs at the U.S. Department of the Interior, the Obama administration is committed to upholding trust, accountability, and treaty obligations to Indian tribes.
"We share the desire of tribal leaders to protect sacred places and leave the earth better than we found it," Washburn said in a Department of Interior blog post days after the meeting. Instead of broad general protection, tribes want to ensure a national monument will also include a place at the table for them to work with federal agencies to help manage the land. Tribal leaders recognize that a Bears Ears co-management proposal presents an opportunity for them to come together for the first time in a way that demonstrates their presence and sovereign power to help manage public lands to which they have unique cultural attachments.
Lehi was initially reluctant to join forces with Utah Diné Bikéyah because he worried the monument proposal disproportionately favored Navajo interests. But after the first Bears Ears Intertribal Coalition meeting, Lehi began to understand that the proposal represents an opportunity for the Ute Mountain Ute to help co-manage a Bears Ears National Monument. After all, the area includes Ute Mountain Ute ancestral lands.
Making sure the coalition speaks with one voice is critical, Lehi said, noting that this approach is thecoalition's best bet when it comes to countering possible opposition from Utah congressional leaders, as well as state leaders, ranchers, off-roaders and the uranium and oil and gas industries.
Speaking with a united voice has already resulted in more tribal support, with the effort focused on protecting the region from further natural resource exploitation. Across the region, non-profits are standing behind the tribes and their leadership in support of protection. According to Lehi, the Ute Mountain Ute Tribe has banned uranium and oil and gas development on its reservation and is pushing for a similar ban in the Bears Ears proposal.
The older Grayeyes, who is Utah Diné Bikéyah's board chairman, had much more to add about the Bears Ears proposal. According to Grayeyes, Manuelito's Bit'ahnii people weren't the only ones who lived in the Bears Ears. Other Navajo clans, including the Hashtłishnii (Mud) Clan and Hooghan łáni (Many Hogans) Clan, trace their roots to the region as far back as 1,003 AD.
"I'm sure there are other dwellings still existing elsewhere…in these canyons, that are probably earlier than that," Grayeyes said, noting that interviews with elders and medicine men from Navajo communities in Utah referenced longstanding connections with the canyon lands and forests in and around the Bears Ears.
Physical presence and evidence of Navajo occupation was enough for the coalition to lobby the Navajo Nation for support of the initiative, especially since looting, grave robbing and vandalism are rampant under current Forest Service and Bureau of Land Management control.
In April 2013, the Navajo Nation and Utah Diné Bikéyah proposed the creation of a conservation area with wilderness designations. This past spring, the Navajo Nation Council passed legislation supporting permanent protection for the area.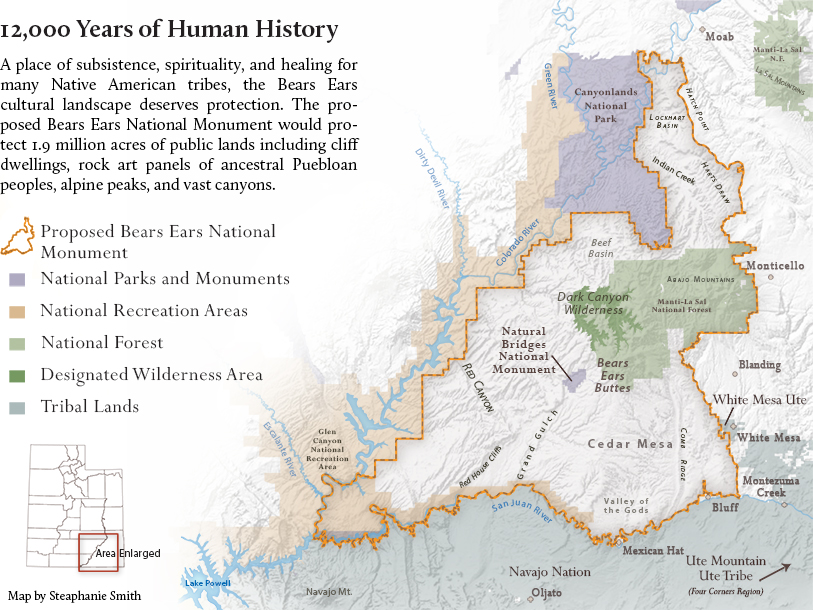 "I think this is a unique, one-of-a-kind landscape that we need to designate as a monument," Grayeyes said. "There is no other place on earth that compares to the composition of this land."
With no plan to protect it, non-Native Americans would develop the land, Grayeyes said, explaining that any economic development in the area would deface its natural beauty.
"Once you disturb a landscape of this magnitude, you will never, ever preserve [or restore] it back to its natural state," he added. Once the Bears Ears is designated a national monument, the need for law enforcement to patrol and monitor sacred sites would increase, Grayeyes said.
Congressionally, the coalition faces the threat of amendments that would weaken the Antiquities Act of 1906, a federal law that grants U.S. presidents the authority to create national monuments from public lands to protect natural, cultural or scientific features.
"There needs to be a position from the tribes to show Congress not to make any amendments," Grayeyes said, adding that the act is key to protecting the Bears Ears region. "In this case, [the act is] 100 percent applicable to what we're doing and they want to limit or eliminate this instrument, which is so important to Native Americans."
Grayeyes is calling on all Native Americans to lobby Congress not to amend the act.
Evangline Grey of Westwater, Utah, an isolated community in the Aneth Chapter of the Navajo Nation, also attended the July coalition gathering. Grey is of the Bit'ahnii Clan, the same lineage as Manuelito. Protecting the Bears Ears is important for her and the 120 or so Navajos that live in this small community. The Bears Ears region is the ancestral homeland of at least 29 Westwater families.
"If this Bear Ears continues to be another open area for miners and for oil and gas...the whole place is going to be ruined," Grey said.
"This is why we are asking the president to sign this into a monument. That way it can be protected."
According to Grey, converting the area into a national monument would allow Native people to continue to travel to the Bears Ears and to other cultural sites to offer prayers, collect herbs, harvest wood and hunt wild game. Grey noted that current management of the area is unduly influenced by non-Native ranchers and off-roaders.
Jonah Yellowman, of Halgaitoh Wash, Utah, wasn't sure about the coalition until he began thinking of how the proposal would impact him as a Native American Church roadman—a priest who conducts all night peyote ceremonies, a common practice among Navajo and Ute tribal members. Yellowman relies heavily on the Abajo Mountains for wood sources to conduct his Native American Church ceremonies, and must first get a permit through the Bureau of Land Management or Forest Service before collecting firewood or harvesting Douglas firs for tipi poles.
The evening before members of the intertribal coalition, federal, state and tribal leaders and their families assembled at the Bears Ears, Yellowman conducted a Native American Church service on the site and prayed for all life forms. He recounted how the animal and plant spirits were thirsty for blessings and how he offered prayers, songs and tobacco in their honor. This explains why deer came near the coalition's camp during the intertribal gathering, Yellowman said.
"Where I live [in Monument Valley] we don't have trees, plants or medicines," Yellowman said, adding that preserving and protecting the Bears Ears is important for tribal sustenance and survival. "We're not going to lose what we have—our prayers and traditions."
This long history and myriad tribal stories and connections have united the 25 tribes of the Bears Ears Intertribal Coalition.
"We've never been given this opportunity to speak on behalf of our sacred sites on public lands," said Hopi Vice Chairman Alfred Lomahquahu.
"This landscape has been called home by so many Native American cultures over several millennia, so it is the right approach to protect the Bears Ears landscape as a coalition of tribal nations."
---

Alastair Lee Bitsóí is a freelance writer from Naschitti, New Mexico. He worked as a reporter for the Navajo Times from 2011 to 2015. 
---
EDITOR'S NOTE: The views expressed by Advocate contributors are solely their own and do not necessarily represent the views of the Grand Canyon Trust.