Dispatches from the front lines of conservation across the Colorado Plateau.
---
Escalade Escalates, Again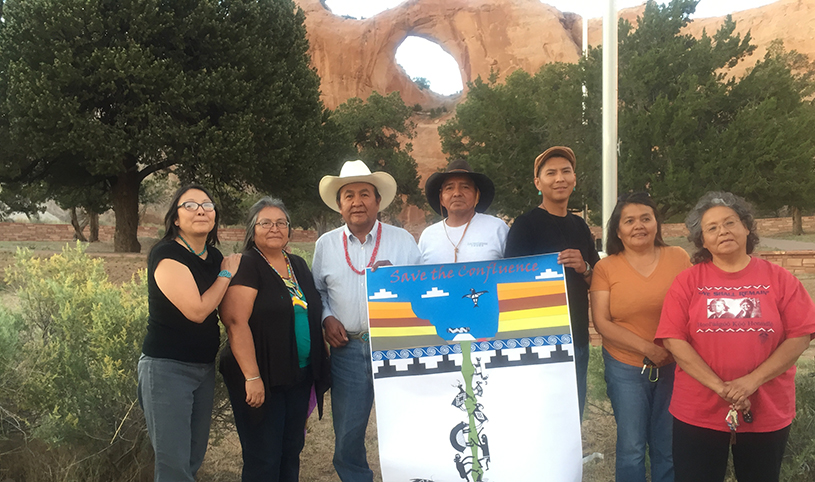 Photo: Save the Confluence members after a radio program on KTNN in Window Rock.
Escalade, the Grand Canyon tram scam, is back. There is, apparently, no statute of limitations on bad ideas. Since 2012, the Trust has been helping the Navajo grassroots Save the Confluence coalition oppose this proposed resort on the Grand Canyon's eastern rim. The resort's gondola would carry up to 10,000 tourists a day from tribal land down into Grand Canyon National Park, to where the Little Colorado and Colorado rivers meet. Profit-promising promoters are pushing to win over 16 Navajo Nation Council delegates, enough to override a certain veto by Navajo Nation President Russell Begaye. Meanwhile, opposition to Escalade continues to mount as people learn the facts about its liabilities and lack of approval by local land-users and Navajo, Hopi, Zuni, and other tribal cultural leaders who consider the confluence to be one of the Grand Canyon's most sacred spaces.
White Mesa Mill Lawsuit Moves Ahead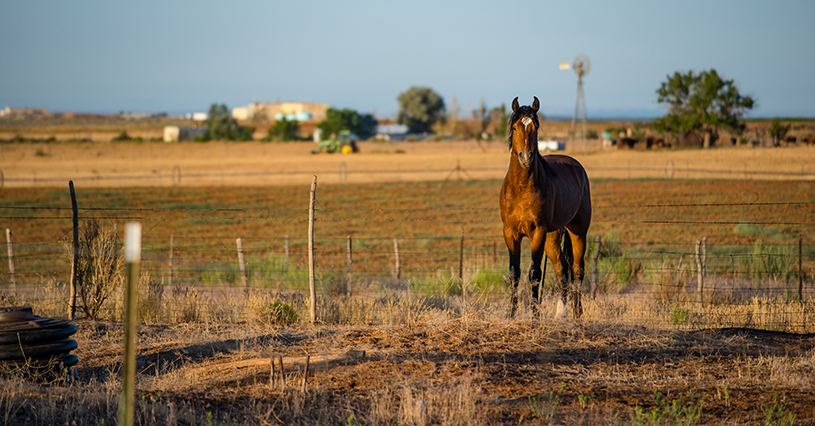 Photo: A horse stands at the pasture fence, with White Mesa uranium mill in the background.
Back in 2014, we sued the owners of the nation's only operating uranium mill—southeastern Utah's White Mesa Mill—for using a bigger radioactive waste dump than federal law allows, and, for two years running, letting those wastes emit more radon gas than the law permits. We spent last year in the fact-finding trenches, building our case. Now, both sides have made their arguments to the court in writing, teeing the case up for a decision by year's end. 
While it's not part of our lawsuit, the mill is being paid to dispose of radioactive wastes from around the country, so long as those wastes are first run through the mill as "alternate feedstock." A new documentary, "Half Life: The Story of America's Last Uranium Mill," explores this dubious practice and potential risks to groundwater should the massive waste ponds leak, a major concern for the Ute Mountain Ute Tribe's nearby White Mesa community.
Bears Ears Hosts Interior Secretary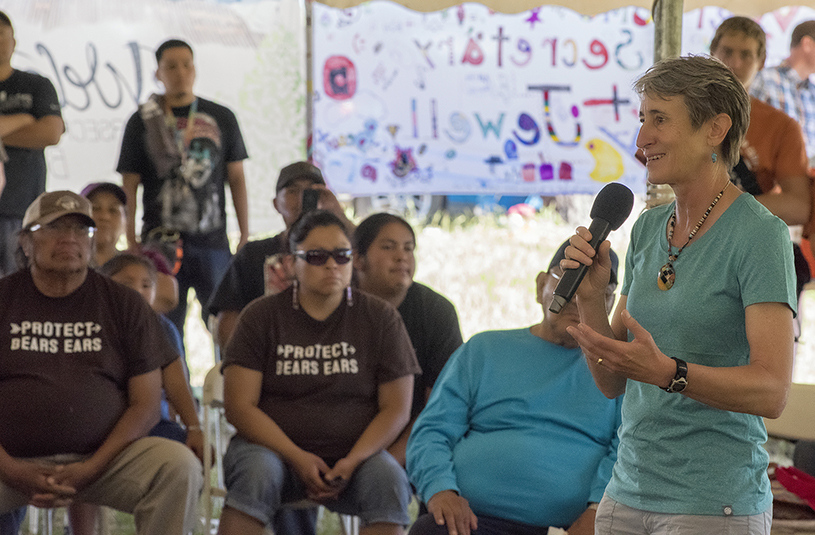 Photo: Secretary of the Interior Sally Jewell speaks to the Bears Ears Inter-Tribal Coalition.
Interior Secretary Sally Jewell and other Obama administration officials visited the Bears Ears Inter-Tribal Coalition's summer gathering near the Bears Ears buttes. After enjoying a Hopi meal with tribal leaders, Jewell remarked, "What I have seen on this trip is this incredible treasure trove of cultural resources. It's beyond imagination. I am shocked at the lack of protection." Bureau of Land Management Director Neil Kornze agreed, saying, "We have to up our game here." 
The next day, 1,500 people, most in favor of protecting Bears Ears as a national monument, gathered at a public meeting with Jewell and other officials in Bluff, Utah. For three and a half hot hours, the crowd packed into the community center and a large tent outside, while lottery numbers were called. Those lucky enough to have their numbers drawn went to the microphone to take a stand on the proposed monument. "I pray the president has the courage to make this designation," said Navajo Nation Attorney General Ethel Branch.
Tribes Gather around Dance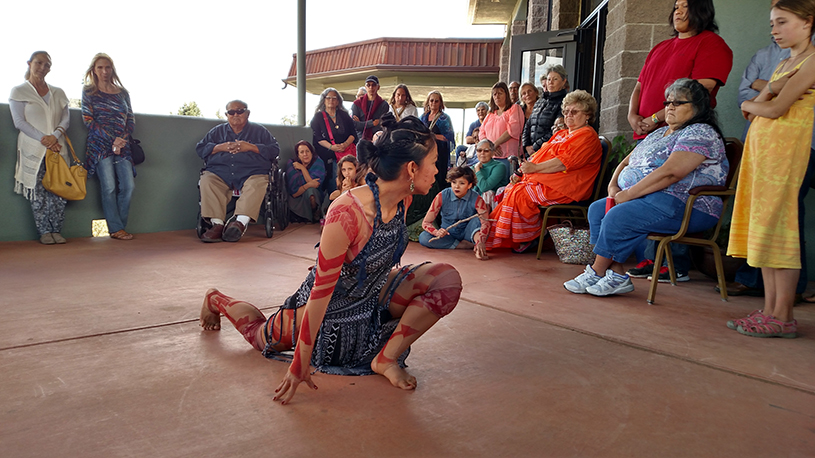 Photo: A dancer performs a piece choreographed in honor of the Colorado Plateau Inter-Tribal Gatherings.
A hush fell over Arizona State University's 3,000-seat Gammage Auditorium when renowned dancer Rulan Tangen and her troupe took the stage for a performance choreographed in honor of the Colorado Plateau Inter-Tribal Gathering process. "The Gatherings" bring plateau tribes together around shared concerns including protecting water, language, culture, and sacred sites. The troupe had performed the specially choreographed dance at events held in seven tribal communities, culminating in the Gammage show. This final performance, held alongside a spring gathering, helped open a dialogue with southern Arizona's Gila River and Salt River tribes around the preservation of traditional farming and language, and their efforts to protect the Oak Flats area from copper mining.   
Battle of the Grasses
Photo: Mary O'Brien and Sue Smith record grass and other plant species beneath aspen in the White Mesa Cultural and Conservation Area.
Who will win? Native grasses or European pasture grasses in the livestock-free White Mesa Cultural and Conservation Area, which lies within the proposed Bears Ears National Monument? Here you might find needle-and-thread grass bunches or Thurber's fescue, looking like exploding fireworks in three-foot tall bunches. But nearby is a monoculture of Timothy or smooth brome, seeded decades ago by the Forest Service to replace overgrazed native grasses. European grasses survive because they send out trample-proof underground stems called rhizomes, from which new sprouts grow, producing dense stands.
In July 2016, after two years of working hand-in-hand with Trust volunteer botanists, assistants, and interns, researcher Sue Smith finished inventorying native grasses beneath aspen and ponderosa pine in the meadows in the cultural and conservation area. From these data, she'll be able to report the current state of native and exotic grasses, and provide a baseline to track, over the years, who is winning. Kudos to Sue!
Climate Debate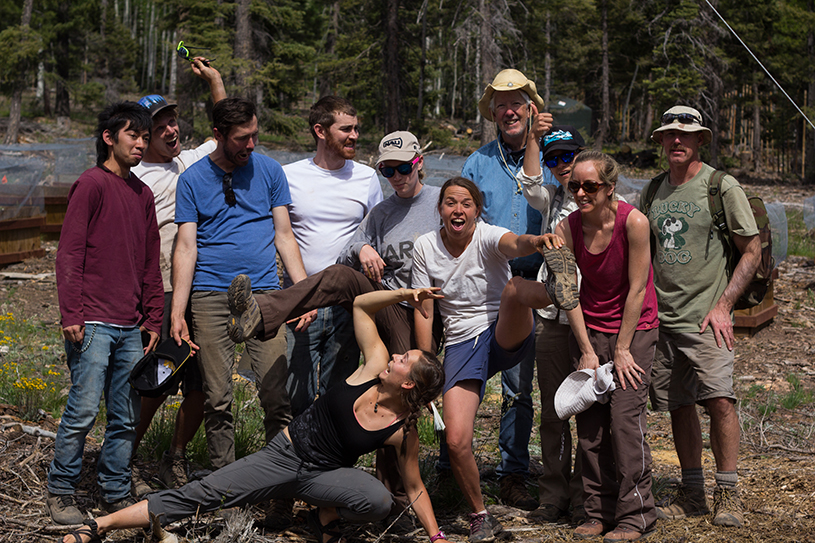 Photo: Volunteers goof off after a long day planting Ponderosa pine seedlings on the Kaibab Plateau. 
On a warm summer evening, a group of 13 volunteers and researchers, young and not-so-young, but all equally tired, gathered at Mangum Camp in the high country north of the Grand Canyon. They'd just returned from a beautiful day planting ponderosa pine seedlings at lower elevations on the Kaibab Plateau to study how the trees will respond to warmer temperatures brought on by global warming. Chopping vegetables for dinner, the group talked about the realities of climate change here in the Southwest, sparking a heated debate between generations about the future: a lifetime of experience and knowledge versus youthful optimism. As the discussion continued on the porch into the night and laughter echoed through camp, we were reminded that volunteer trips accomplish so much more than the on-the-ground conservation work. They bring generations together to have hard discussions, challenge one another, listen, learn, grow, and find the path forward.
Partners across the Fence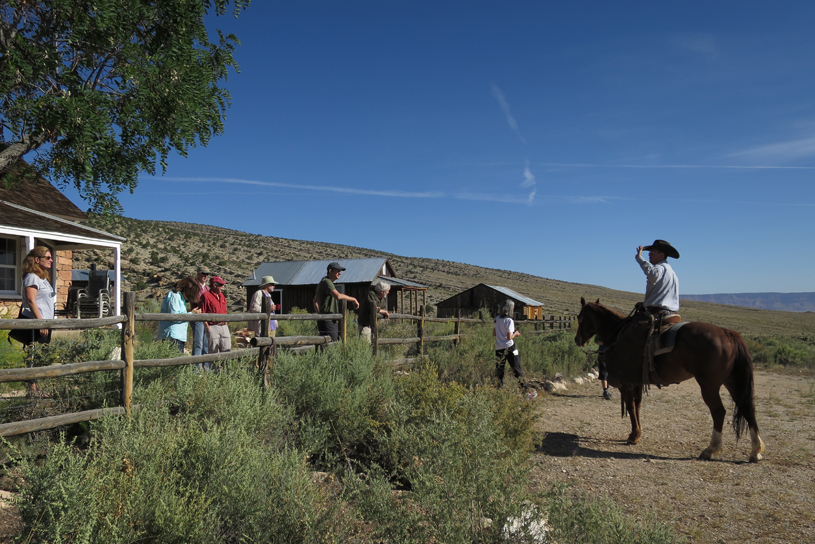 We do a lot of fieldwork on the North Rim Ranches, from removing cheatgrass to restoring springs, in what is essentially an 830,000-acre outdoor laboratory on the north rim of the Grand Canyon where we study how best to keep desert lands healthy. Since much of this acreage is public land for which we hold a grazing permit, we oversee a conservatively scaled livestock operation. The lifeblood of this operation is managed by our ranching partner, Justun Jones, and his family. We got to see Justun and crew in action when a visit to Kane Ranch coincided with spring branding. With no more than five minutes for each animal, the crew roped, branded, and inoculated the male calves. On the other side of the corral fence, we're working to use the best science to find the best ways to tread lightly on the land.
Fighting Fire with Fire
From the conference room to the computer screen to a four-inch-thick environmental impact statement, landscape-scale forest restoration has now finally taken the proverbial leap into the woods.  This year you'll see more than 15,000 acres in northern Arizona thinned, and another 50,000 acres burned, to protect the forest from damaging conflagrations. In 2017, these numbers may double as the Four Forest Restoration Initiative aims to restore more than two million acres of overgrown forest to a more natural state over the next 20 years, making our forests healthier, safer, and better prepared for the curveballs climate change may throw at them.