The Diné word for it is nilch'i. At 2 a.m. it tore me out of my sleep in the bed of the pickup truck. It ripped off my Pendleton blanket, which flew through the air like a Frisbee. The kitchen table crashed. Pots and pans clanged against the ground. If you've ever been out on the Navajo reservation in the spring, you know 60 mph winds are not uncommon. Hardly able to keep my feet on the ground, I chased down my blanket and ran over to make sure the wind hadn't carried our students off into the Little Colorado River Gorge, tents and all. I discovered a pile of crumpled tents, broken tent poles, and half the group wide-eyed and laughing, taking shelter in their 12-passenger van, where they spent the rest of the night.
My coworker Sarana and I were leading a volunteer trip of mostly Navajo students and their teachers from Summit High School, an alternative school for at-risk students. RaeAnn Wanland, who sponsors the school's Outdoor Service Club, had been searching for learning opportunities on the Navajo Nation, and a Grand Canyon Trust volunteer trip seemed like a good fit, getting students out of the classroom to get their hands dirty and learn by doing. Most of the students hadn't spent much time camping and were new to conservation. Even the word was new. Several were originally from the rez and were now living in Flagstaff, removed from their native culture.
After shaking the sand out of our ears and recovering most of our kitchen, the wind died down long enough to cook breakfast, break camp, and get ready for the workday. Sleep or no sleep, spirits were high.
Our project that week was to help several local Navajo artists repair their vendor booths at the Little Colorado River Gorge Tribal Park, known as "Second Overlook," near the east entrance to Grand Canyon National Park. The wind that had dismantled our camp the night before had taken its toll on their booths over the years, and it was time for a face-lift.
---
Navajo artists were once a fixture in Grand Canyon National Park, selling crafts and jewelry. However, with the emergence of concessionaires — private businesses with contracts to sell goods or services within park boundaries — native artists were pushed out. In the 1960s, they got permission from the Navajo Nation to set up vending booths along Highway 64, but vendors continue to face challenges from the tribal government, and there is much uncertainty about their future in Navajo tribal parks.
Second Overlook consists of a poorly signed pullout and parking area for around 20 cars, a short hiking trail leading to several viewpoints of the spectacular Little Colorado River Gorge, complete with newly installed native plant and wildlife signs, and several cobbled-together vendor booths where artists sell jewelry and other authentic Navajo crafts.
We were there to support Tony Skrelunas, who directs the Grand Canyon Trust's Native America Program, in his work with the DinéHózhó L3C, a project that aims to develop tourism, agriculture, renewable energy, and retail to keep revenue on the Navajo Nation.
As the wind picked back up, it was easy to understand how Mother Nature had nearly completely destroyed the booths.
Tony and the L3C had hired a popular local Navajo contractor named Elmer to rebuild them. Our student volunteers were there to help take down old lumber, build new booths, move rocks, improve the eroded parking areas, and pick up trash.
But first, we spent some time at Desert View, soaking up the magic of the Grand Canyon. Several of our students had never seen the canyon before, so this was a treat. As we huddled together on the rim, the spring winds robbing the warmth from our cores, my colleague Sarana described threats to the canyon, including uranium mining, recreation, and a controversial resort proposal known as Escalade, complete with a tram that would take up to 10,000 people a day down to the confluence of the Colorado and Little Colorado rivers, a site sacred to the Navajo, Hopi, Zuni, and others. The Trust has worked with the Navajo families of Save the Confluence for the last six years to prevent Escalade from moving forward. It's one thing to learn about these issues in a classroom, but discussing them at the edge of the canyon is much more powerful.
Sarana Riggs talks with students about the proposed Escalade development.

---
Nilch'i is present here. The canyon breathes. Million-year-old grains of sand are transported from the bottom of the canyon through time and find their way into our eyes. Yet we see everything more clearly here.

 

Back at Second Overlook, Tony explained how the work with the vendors had begun: "A few years ago, the Trust wanted to offer an alternative to the Escalade proposal. We work with communities to plan carefully, looking at culture, local values, the environment, letting them take the lead but providing much-needed support." Building off the success of previous projects, such as the Monument Valley Resort and Visitor Center and businesses on the Hopi reservation, Tony worked with chapter officials from Cameron, Tolani Lake, Coalmine, and Leupp to design a business plan and helped create a limited profit company, DinéHózhó L3C. The L3C pairs investors who want to make a positive social impact and don't need large profits with local businesses on native lands. As an intermediary between the investor and the business owner, DinéHózhó provides guidance to Navajo Nation chapters and supports local entrepreneurs.

With the impending closure of Navajo Generating Station and destructive development proposals like Escalade looming, sustainable economic development on the Navajo Nation is more important than ever. "DinéHózhó is about preserving our culture, our lifeway, and the old economy, and helping to build that capacity for entrepreneurs," Tony explained. Supporting local artists and vendors is at the top of the L3C's list.

Stella, Kenneth, and Curt — the family of artists whose booths needed repair — have been selling their handmade crafts most of their lives. The remnants of the house Stella once lived in lie just beyond her booth. I stood with Stella in her booth one quiet, windless morning, and she showed me her jewelry with a sort of shy confidence. "I've been doing this since I was in high school, when I started silversmithing. I eventually went back to school, and worked in health care for many years, but now we are back in this business. We come out here nearly every day when we can, selling dreamcatchers, tomahawks, necklaces, and other jewelry. A lot of people don't have jobs, and many young people don't have the opportunity to go to college, so this work is important for people to make money and support themselves," Stella said. "I enjoy being out here and talking to people from all over the world — I learn something new every day!"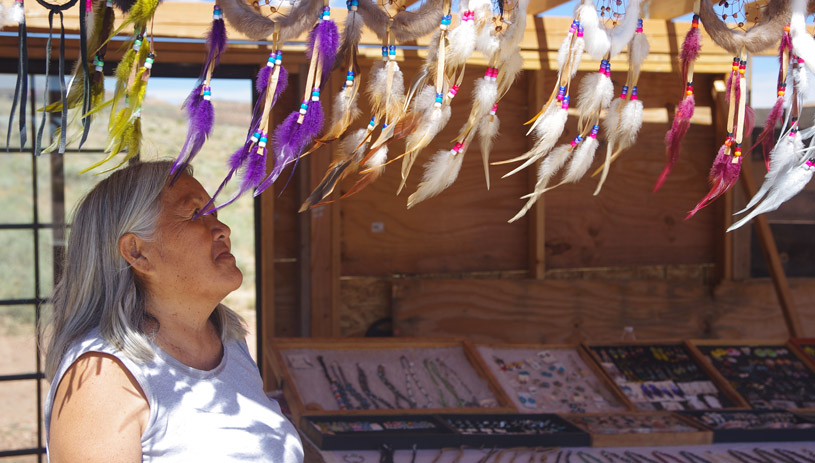 Stella Lewis has been selling crafts at Second Overlook her whole life.

---
With thousands of tourists headed to the east entrance of Grand Canyon National Park along Highway 64 every day, this corridor has great potential for Navajo entrepreneurs. Tony envisions a tribal park of the future that provides an authentic cultural experience: a corral with sheepherding demonstrations, a vending area — complete with wind buffers — where tourists can taste blue-corn mush and mutton stew, and a traditional hogan bed-and-breakfast, powered by renewable energy. The possibility is real, and, as the project takes shape, professional volunteers such as architects, web designers, and business people will be needed to bring a level of expertise to this project that high school students can't.

 

After several of the local families fed us Navajo tacos, we loaded our tools and gear back into the truck. Visible progress had been made: we'd removed the old, rotten lumber, helped construct a new frame for the booths, pulled invasive weeds, filled potholes in the parking area with gravel, and stuffed five large garbage bags with trash.

Attempting to escape the wind our last night, we camped at Sunset Crater, nestled in the comfort of the wind-breaking ponderosa pines. There we traded wind for another wetter, colder element. In the morning, a student emerged from his snow-covered tent.

"If I was with my family, I'd be complaining," he joked.
Living outdoors takes us away from the comforts of home and reminds us that we are tougher than we think.
Back at Trust headquarters, we circled up on the barn patio. Several young men expressed admiration for Elmer and excitement about their newfound construction skills. A Navajo student who hadn't spent any time on the reservation before shared his appreciation for the opportunity to be home on Navajo land, and contemplated a return to his roots after graduation. The wind came up again and again as a shared frustration of the week.
In Navajo, nilch'i can be translated as "wind," or "holy wind." But as happens with attempting to translate many Navajo words into English, it doesn't really capture the full meaning of the word. Nilch'i is more than just wind. It is breath, air, "the source of the means of life."
Perhaps the wind isn't just a force of nature that blows roofs off vendor booths and students out of their tents at night. Perhaps nilch'i is breathing new life into places like Second Overlook. And into projects like DinéHózhó, that will support and preserve centuries-old traditions for centuries to come.
---

 Emily Thompson directs the Grand Canyon Trust's Volunteer Program. She can hold her own in most windstorms. 
---