A Grand Canyon love story.

---
BY LIZ BLAIR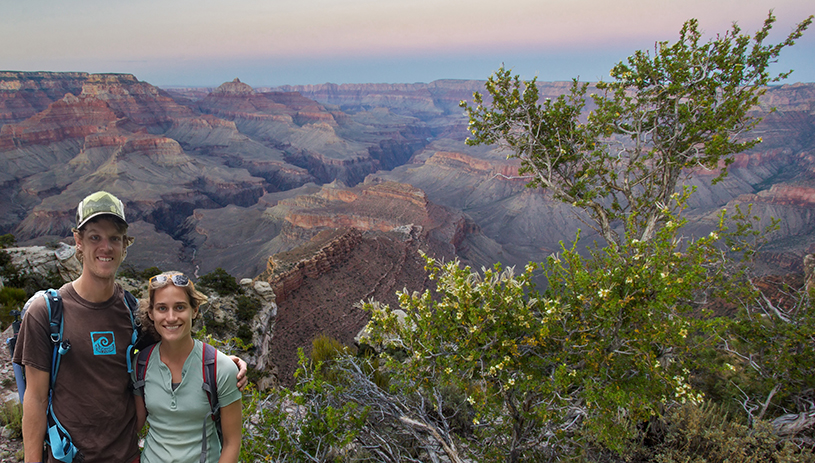 When I decided to volunteer with the Grand Canyon Trust, I knew the landscape would be breathtaking, the work would be rewarding, and that I'd meet some amazing individuals. That said, I didn't expect to go on a date with one of those individuals.
For most couples, the first date might include dinner, drinks, maybe even a movie. If the first time you meet, however, is in the Grand Canyon, it only makes sense that the first date also be in the Grand Canyon.
At the time, Michael was living in Flagstaff and I was living in Durango, so most of our communication was over the phone. Just 30 minutes into one phone conversation we had planned a three-day backpacking trip in the Grand Canyon. We never actually called it a date, but we both knew there were intentions beyond just friendship.
While backpacking may sound like an aggressive first date, there are a lot of upsides to it. For one, it will show you every side of someone: elation, frustration, hunger, impatience. Pretty quickly into the trip, you're going to know if you get along or not.
There's nowhere to hide when you're backpacking, which means the other person gets to see you — like really see you — and probably smell you too. With no distractions and no social media, backpacking provides a perfect opportunity to really get to know someone.
The Grand Canyon certainly has some rugged terrain and harsh temperatures, which could prove challenging when you're trying to find a connection with another person. In the end, it turned out to be a pretty magical place for our first date. So much so, we decided to go back there for our one-year anniversary this spring.
---
Writer Liz Blair and photographer Michael Remke currently live at the base of the San Juan Mountains in Durango, Colorado. Whether by ski, foot, or bike they love exploring the mountains and other parts of the Colorado Plateau. When not playing outside, you can find them practicing yoga, nerding out over plants, dabbling in fermentation, or dueling in cribbage (Liz usually wins).