The ancestral peoples of the Colorado Plateau speak. If we listen, they'll teach us.

---
Diné archaeologist Jason Nez has spent much of his career working at the Grand Canyon. We caught up with him recently to talk time-travel and how studying Native American history around the canyon has shaped the way he sees the past and the future.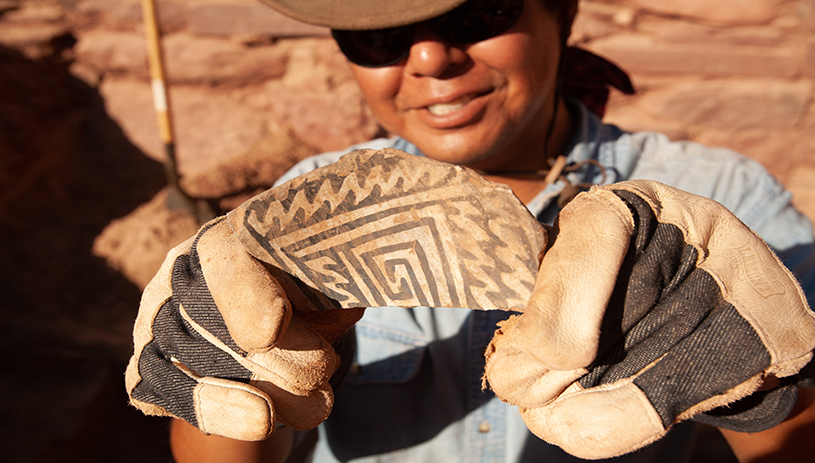 Jason Nez has spent most of his career in archaeology working at the Grand Canyon. 
DAWN KISH
---
What have you learned from your work that you think more people should know?
Jason: We need to zoom out. We get focused on little things and that's just human nature. We focus on artifacts — oh, look at this projectile point — when we should be focused on where did this artifact come from? Who made it? How did our ancestors survive in this landscape? When you zoom out, archaeology becomes big, it becomes wide, and it becomes alive. It's not just one inanimate object, it's a series of what we Natives believe are living artifacts. They live, they breathe, they talk to us. And if we listen to them, they'll teach us. I can look at pottery sherds and tell you these people were the Cohonina people, probably the ancestors of the Hualapai and the Havasupai. I can pick up a sherd and say these people were Kayenta people from 1,300 years ago, the ancestors of the Hopis. I can read the shape of pottery vessels and tell you they were storing water, they were storing corn, they were cooking in this one, they were using this one to carry water. And all of those things are little voices that come together in this big river which is knowledge, just pouring out of time. It's like time-traveling. It's them talking to us from hundreds or thousands of years ago.
How can people start to see the landscape the way you do?
Jason: I think what we're lacking in a lot of our parks and forests is a Native voice. For so long, our ancestral lands that are now parks, that are now forests, they've been managed without the most important voice: people. There's a story here, you can see it, you can talk to it. It's the Havasupai, it's the Hopi, it's the Zuni, it's the Navajo, it's the Paiute. We're all tied to this landscape and we have a story to tell. When we destroy landscapes, we destroy resources, we destroy people. Our Native identity is tied so much to these lands. The San Francisco Peaks, Bears Ears, the confluence of the Grand Canyon, when adverse things happen to these things, it affects Native people, it affects our mental state, it affects the way we live. Our songs and our prayers come from these places. We go to these places for healing. There are shrines that we still visit. So these places are us. What happens to these lands happens to us. And vice versa. We have to take care of this place so that it can take care of us.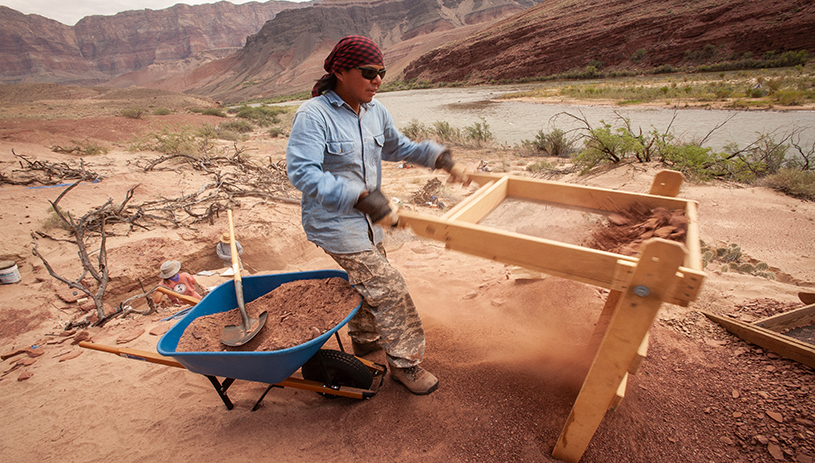 Jason Nez says balancing the modern world with traditional Native American practices is a key to preserving his culture. 
 DAWN KISH
---
What archaeological sites in the Grand Canyon stand out?
Jason: The confluence of the Grand Canyon where the Colorado and the Little Colorado come together. In our western Navajo belief, we emerged there, where the rivers come together, and to us that's like your mother, that's where you came from. And we should have reverence and respect for this place. That's why local people fought so hard against the Escalade development and that's why Native people want to be included in the management of these areas. And I think, as time goes on, Native people will be able to tell our stories at the canyon. We'll be able to educate people to take care of this place and love it the way we do. As a living being rather than just as playground.
What linkages do you see to present-day cultures? 
Jason: Linkages from the ancestral people of the canyon to me, as a scientist and as a Native person, they're clear as day. We can trace the evolution of pottery designs and pottery style all the way to modern Hopis and Pueblo people. There's just no question about who these people were and who they became. And I think that any Native, we know that in our hearts and we know that in our stories, and we know that in our own science. And, as an archaeologist, I also know that in the western way.
What does the Grand Canyon mean to you on a personal level?
Jason: When I was younger I didn't understand the canyon. It was a spiritual place. It was spooky. My grandmother, she would say,  "the people came out over there." It wasn't until I was an adult that I understood what she meant. How does being Diné influence your work as an archaeologist? Being a modern Native American, we're always looking for balance. We're always looking to keep one foot in this crazy modern world and one foot in the traditions. I look back to who Native people were, that's my first foundation. I know who these people were, I know what we did. And I know who we became. I don't have any kids of my own, but I've got a niece that has kids, so I'm a grandpa in Navajo. I've got to take what I've learned from the past, my foundation, and I've got to help start building their foundation. So I'm in balance with the past and I'm in balance with the future. And I have to be in balance sideways. I have neighbors. And as a tribe, we have neighbors. We have Hopis and Zunis and Paiutes. We have the federal government. We have the Forest Service, the park service, the BLM and we're all going to be together until the end of time, so we've got to find ways to work together. And we've also got to be in balance with the sky. We breathe air and we're polluting it, the climate is changing around us and I can see it. We've got to be careful not to destroy the earth under us.
What would you say to the claim that the Ancestral Puebloans just disappeared?
Jason: I think that they need to rewrite some books. The sooner we undo the stereotype that we disappeared, the better the world is, because all of a sudden it's not just deer and birds that come back to these environments, it's the people that have been here for thousands of years. These mountains need people, these forests need people. We evolved with these places and they miss us, they want us, they call for us.
---
EDITOR'S NOTE: The views expressed by Advocate contributors are solely their own and do not necessarily represent the views of the Grand Canyon Trust.