What you need to know about new mining claims staked in Utah's national monuments.

---
BY TIM PETERSON
Southern Utah seems to be everywhere you look these days — red-rock adventures advertised in airports, on the web, and on cable TV. Utah's well-financed ad campaign seeks to lure you to drop some vacation cash on a trip to the "Mighty Five" national parks, and on the "Road to Mighty," Utah's national monuments between the parks.
The ads don't mention that four of Utah's Mighty Five — Zion, Bryce Canyon, Arches, and Capitol Reef — began as presidentially proclaimed national monuments just like Grand Staircase-Escalante and Bears Ears. They also neglect to mention that the scenes enjoyed by happy families on the "Road to Mighty" contain places that the state of Utah actually wishes weren't national monuments — places in Bears Ears and Grand Staircase that the president tried to strip of national monument protections in December 2017 at the behest of some of Utah's elected officials.
The enormous reductions in the size of Bears Ears and Grand Staircase-Escalante national monuments (85 and 47 percent, respectively) were not enough for some Utah politicians, particularly those who called for their total elimination. Senator Mike Lee, R-Utah, is one of those politicians, and he's proposed a trio of bills that would go much further than just ravaging national monuments.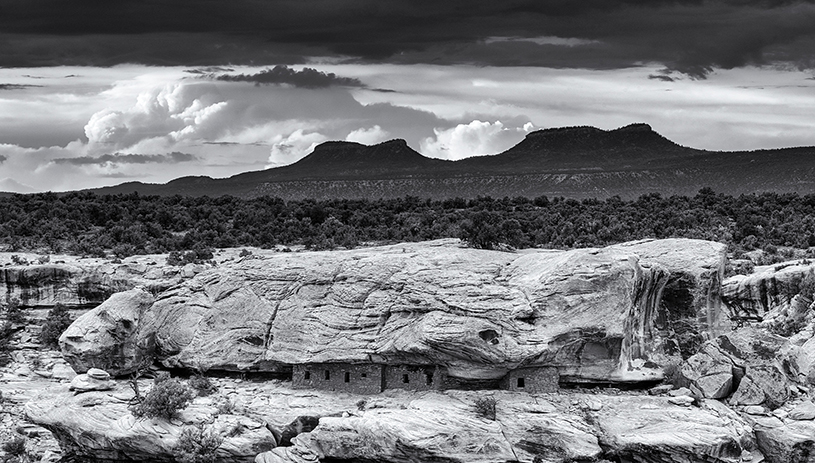 A cliff dwelling in Bears Ears.
TIM PETERSON
---
The first bill, speciously dubbed the "Protect Utah's Rural Economy Act," would exempt Utah from new national monument designations made by future presidents under the Antiquities Act unless the Utah State Legislature and the U.S. Congress approve. But Congress can already create national monuments, so the bill is really just a prohibition on presidents acting in Utah when there is a need to protect important places and Congress can't get its act together to pass legislation.
Senator Lee characterizes his second bill as a "new Homestead Act" that allows states, local governments, and even individuals to petition the federal government to take ownership of public lands for "affordable housing, or education, or health care, or research." Lee's radical approach promises plenty of room for "affordable" cabins for well-connected donors in prime settings on now-public lands.
As if these two bills weren't enough, Lee's third bill is the wildest pitch of the game — it would transfer all federal public lands (save for national parks, national monuments, and designated wilderness) to the states, removing the American public from public lands.
By now you must be wondering why there is such ardor in some Utah circles to strip protective status from public lands. The answer is simple and stark: more mining, drilling, logging, livestock grazing, and development of our public spaces for private gain. 
Utah's anti-public-lands politicians have found fast friends in the current administration — friends who brush aside inconvenient facts about the benefits of protected public lands. An accidental release of unredacted documents in July 2018 confirmed as much in clear text — the administration expunged information on the benefits of national monuments and highlighted information that bolstered the case for eliminating them. The strategy was revealed only when an official forgot to hit the button to black out text before releasing internal documents to news organizations and conservation groups. Oops.
The administration has long sought to keep its strategy private, releasing documents on the monuments review only after being sued.
When the U.S. Department of the Interior finally dumped tens of thousands of pages under court order without organizing them (forcing groups like ours to wade through the disorganized documents), the courts stepped in again. Speaking from the bench on the administration's failure to present responsive information, Judge Emmet G. Sullivan told the Department of the Interior's lawyer: "...you can tell Mr. Zinke that I'm going to haul him into court for him to explain why he can't comply with my court order."
Elsewhere in the courts, at press time we're still waiting for a ruling from a D.C. judge as to whether she will keep our cases challenging the monument reductions in her court or transfer them to Utah where our opponents must hope their arguments in favor of eviscerating Grand Staircase and Bears Ears may find a friendlier ear.
On the ground, new mining claims have been filed in Grand Staircase and Bears Ears. As of early this year, the new claims filed in the area cut from Bears Ears seem fairly benign — some were filed by pro-monument adventure athletes, the others by young brothers from Dallas who seem to be without financial backers. Unfortunately, the relief for Bears Ears may be temporary. While new claims are few, that's not the whole story. The administration's 85 percent reduction of Bears Ears has eased the way for development of existing mining claims, more than 200 of which are already held on lands cut from the monument, many by companies in the uranium business.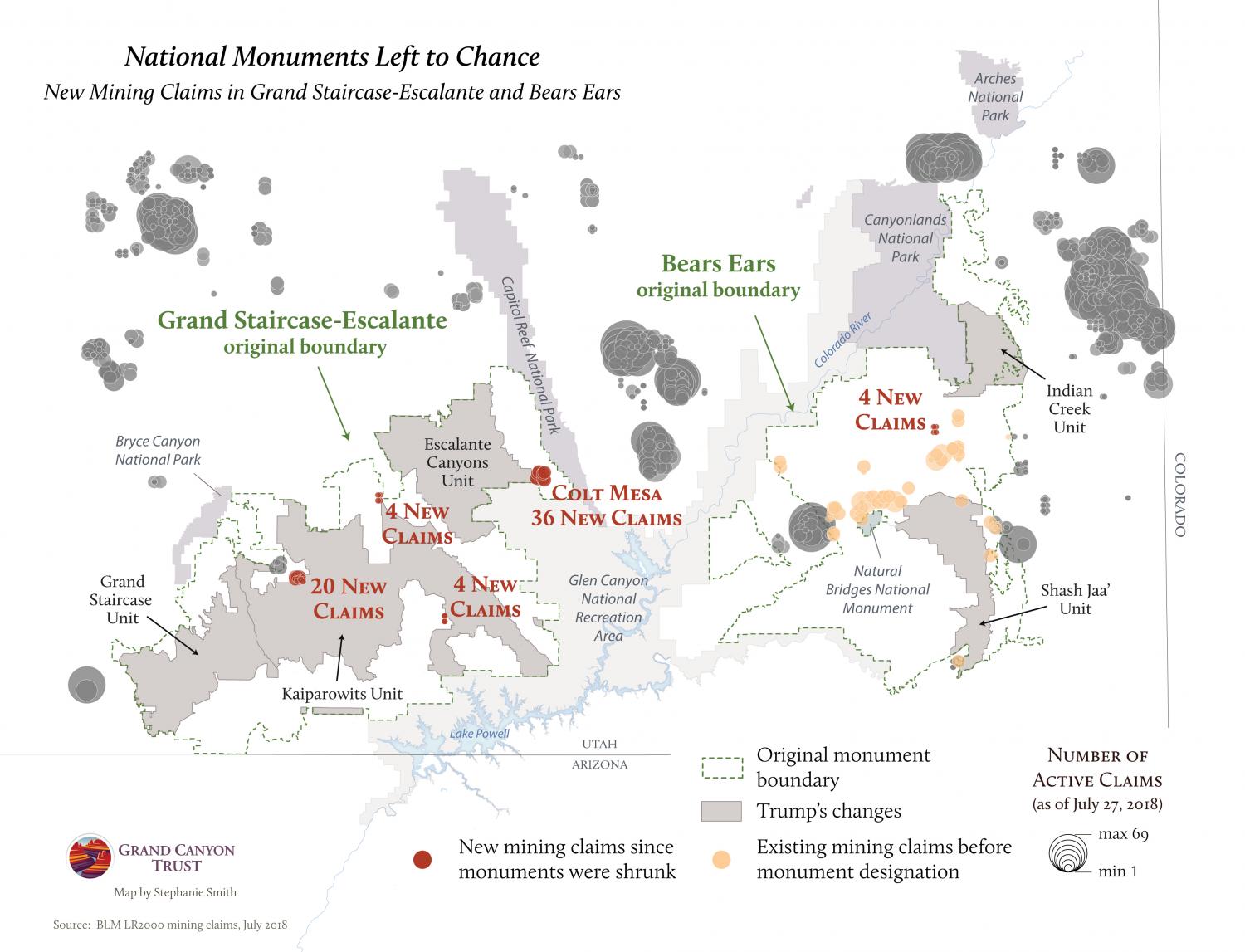 Brand new Acting Environmental Protection Agency Administrator Andrew Wheeler happens to be a former lobbyist for Energy Fuels Resources (USA) Inc., the uranium company that heavily lobbied the administration to reduce the boundaries of Bears Ears. The uranium industry is also pushing hard for quotas and domestic buying requirements for uranium that could put a bull's-eye on both Bears Ears and the Grand Canyon for new uranium mines.
In June, a Canadian company announced that it would like to mine for copper and cobalt on lands cut from Grand Staircase, but it faces big hurdles.
The mine it seeks to reopen only operated for a few years in the 1970s, and it closed due toa lack of water onsite. Also absent are electrical power, high-standard roads, rail access, and support from nearby communities for the mine. Furthermore, the mine is located on former Utah state lands that U.S. taxpayers paid cash for as part of a congressional land exchange in 1998. The purpose of the exchange was to add protections for the lands, not to mine them. 
The Bureau of Land Management (BLM) is also rushing to write new monument-management plans for the shriveled Bears Ears and Grand Staircase national monuments. The BLM hopes to have them completed in record time (by early 2019) and to make them as short as possible. Draft plan alternatives are out and, at press time, public comments are due November 15, 2018 for Bears Ears and November 30, 2018 for Grand Staircase. We need you to weigh in to ensure the lands get the most care possible. Still, there is ample reason for hope. Efforts to restore protections for Grand Staircase, Bears Ears, and other treasured national monuments targeted by the current administration are rising, as is public support for the restoration of Utah's monuments. A recent poll found that 74 percent of Western voters surveyed opposed monument cuts in Utah. House and Senate versions of the ANTIQUITIES Act of 2018 have been introduced to codify and restore the boundaries of Grand Staircase and 25 other targeted monuments, as well as to expand Bears Ears to the full 1.9 million acres proposed by the Bears Ears Inter-Tribal Coalition in 2015.
The Lummi Nation gifted this bear totem to the Bears Ears Inter-Tribal Coalition.
TIM PETERSON
---
Tribes from around the nation continue to lend their support and prayers as well. The Lummi Nation gifted a 9-foot-tall carved bear totem to the Bears Ears Inter-Tribal Coalition, and it was delivered to the Bears Ears meadow this summer loaded with prayers for protection from hundreds of individuals across the West. The totem is currently on view at the Southern Ute Museum in Ignacio, Colorado.
More than just a place to camp, hike, or ride a bike, the true meaning of Bears Ears, Grand Staircase, and all protected public lands is intercultural sharing and connecting to places in ways that are both personal and universal. As Zuni Tribal Councilman Carleton Bowekaty says, "Every time we reconnect, we're bringing the world back into balance. Not just for Zuni, but for the entire world. "
---

Tim Peterson directs the Grand Canyon Trust's Utah Wildlands Program. If you see someone who looks like him without a camera, its's probably not Tim.
---
EDITOR'S NOTE: The views expressed by Advocate contributors are solely their own and do not necessarily represent the views of the Grand Canyon Trust.