This is the Antelope Canyon you've never heard of.
---
BY AMBER BENALLY AND AUDREY KRUSE
When you book your tour at Mystical Antelope Canyon, you are in for a trip like no other. 
The tour begins as soon as Lester Littleman folds out the stepladder for you to climb up into the covered wagon he built himself. The canvas top is a cool relief from the hot Arizona sun, and Lester saddles up his Chevy truck—a modern twist on traditional horsepower. The wagon heads west and stops at an overlook under a chaha'oh shade structure, where Lester begins to share his story and the history of the land with his guests.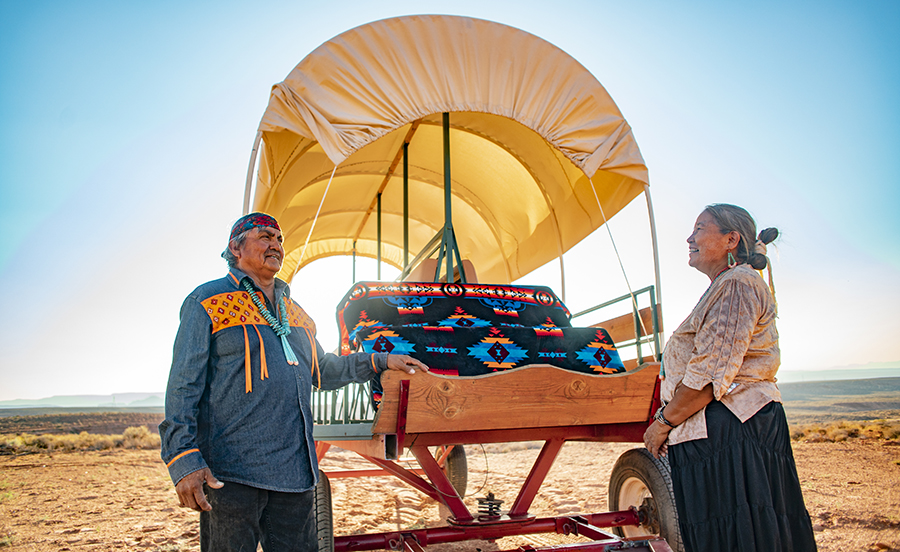 JAKE HOYUNGOWA
Farther down the sandy road, guests disembark and walk through a secret tunnel under a coal-transport railroad that slices across Lester's land. After a few hills and sharp maneuvers, guests arrive at the lip of the aptly named Mystical Antelope Canyon, a tributary canyon to the better known, and much more popular and crowded, Antelope Canyon.
The air is noticeably more still in the cool depths of the canyon and the silence rings in your ears. There are no gaggles of tourists shuffling by and the incessant sounds of cameras and cell phones do not permeate your experience. This is the true highlight of Mystical Antelope Canyon—its silence and a connection to the people of the area, their culture, and the land from which they came. 
Lester's grandmother told him stories about the Wind Spirits who live in the cool canyons, and today he honors his heritage by sharing some of those stories with his guests.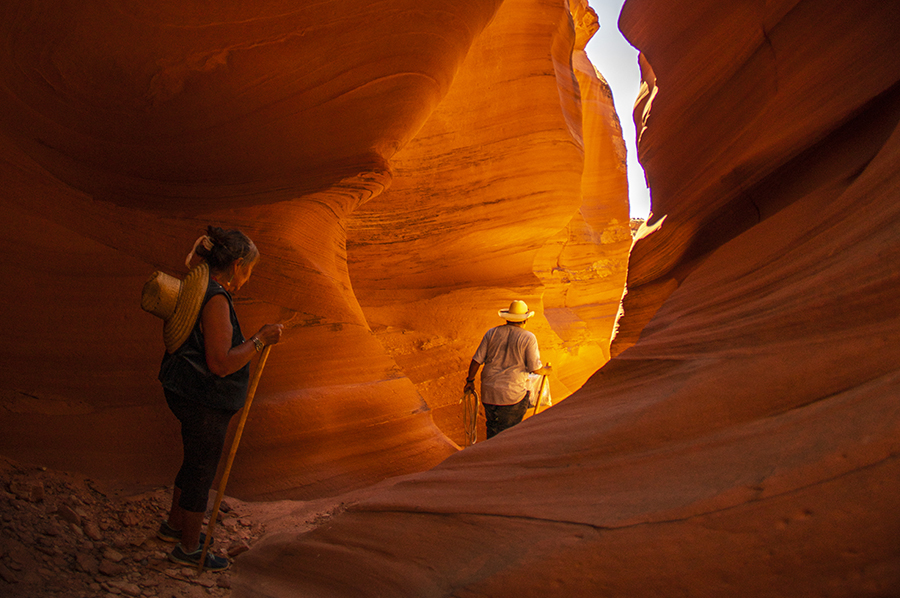 JAKE HOYUNGOWA
After descending via ladders and rope hand-lines (no special gear needed) through the narrow slot canyon, Lester stops at a petroglyph. He speaks of ancient people who climbed out of these canyons using their bare feet and hands. While guests now exit via the steel ladders Lester welded to the rocks, if they look closely, they will see the footholds of those ancient peoples, who used the same route out of the canyon. 
Back at Arrowhead Campground, where Mystical Antelope Canyon tours begin and end, the Littlemans' ingenuity, creativity, and balance between adventure and comfort are on full display. Guests can camp or rent a beautifully decorated, fully furnished tipi or Navajo hogan. Many tourists are looking for an experience that honors both the local people and the local landscapes. Mystical Antelope Canyon Tours offers the perfect nexus of education and ecotourism, rooted in deepening people's connection to the landscape. 
Lester Littleman spent his early life wandering through these sinuous slot canyons near Page, Arizona. Each day he would herd sheep through the canyons or search for missing cattle in the narrow crevices. His family moved these animals as far west as Horseshoe Bend but they always returned to his grandmother's homestead near Antelope Canyon. 
Lester dedicated over 30 years of his life to Kayenta Mine at Black Mesa, Arizona where he worked as a welder and skilled tradesman. The Kayenta Mine is the sole supplier of coal for the electricity-producing Navajo Generating Station, clearly visible from Lester's land. As his grandmother aged, she asked Lester to return and take care of the land where he'd spent his childhood. His wife, Roseann, worked for Navajo Parks and Recreation and later Glen Canyon National Recreation Area, honing her skills as an interpreter and sharing parts of her Navajo culture with tourists. With the forthcoming closure of the mine and dismantling of the generating station, Lester retired, and he and Roseann put their considerable skills to use by establishing Mystical Antelope Canyon Tours & Arrowhead Campground.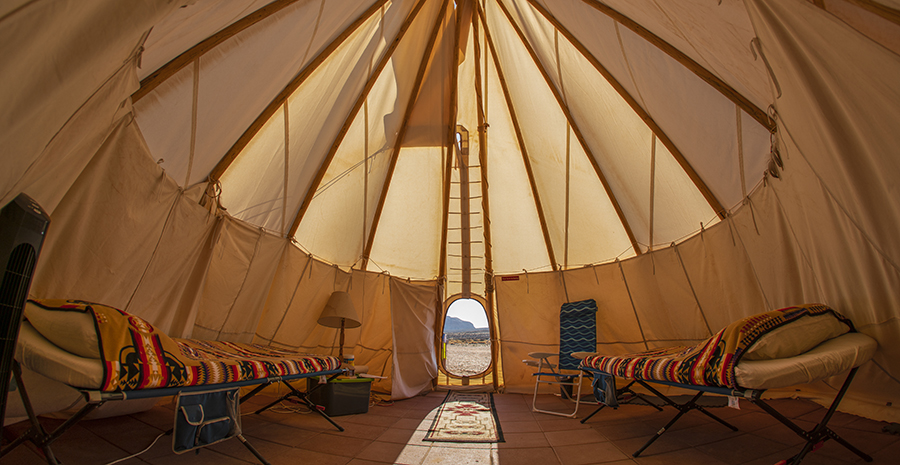 JAKE HOYUNGOWA
In 2018, Roseann and Lester joined Change Labs, a year-long business incubator program designed to support up-and-coming small businesses on tribal lands. Through Change Labs, Roseann and Lester were paired with a graphic designer and a web developer who helped them design a logo and brand their business, create marketing materials, and launch an online presence. In 2019, Change Labs, working with the Grand Canyon Trust's Rising Leaders Program, brought eight high school students from Flagstaff Arts and Leadership Academy (FALA) to the Littlemans' property to provide much-needed people power to this two-person operation. 
The Rising Leaders Program at the Trust is focused on harnessing the collective power of young people who are interested in climate justice on the plateau to support the communities that are most impacted by climate change.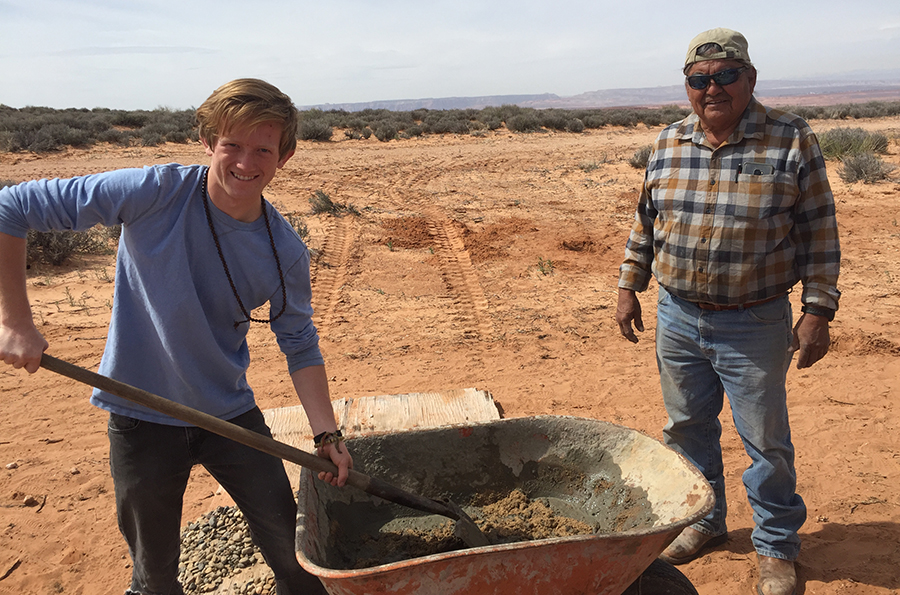 "It's still too goopy," one of the FALA students announced, scooping a shovel-load of fine rocks into the wheelbarrow and continuing to stir, with some grunting. To mix concrete by hand, students had to learn a hallmark skill well-known to many Navajo people—siphoning water out of a barrel with nothing but a hose and a very deep breath. In four days of intense work, the students dug 38 holes, filling them with 38 aspen posts and concrete. These would become the supporting pillars of traditional chaha'oh shade structures for the campground sites. 
At the end of the week, Lester treated us all to a tour of Mystical Antelope Canyon. We were as awestruck as the students by the beauty of this canyon and proud to have contributed. This entrepreneurial endeavor is something the Littlemans can pass on to their children, while simultaneously giving eager tourists a glimpse into a truly unique experience on the plateau—a slot canyon adventure and a glamping (glamorous camping) experience. Lester and Roseann are part of an economic shift underway across the Navajo Nation, moving from extractive industries to ecotourism, and doing it in a way that also protects the landscape.
---
Happy Campers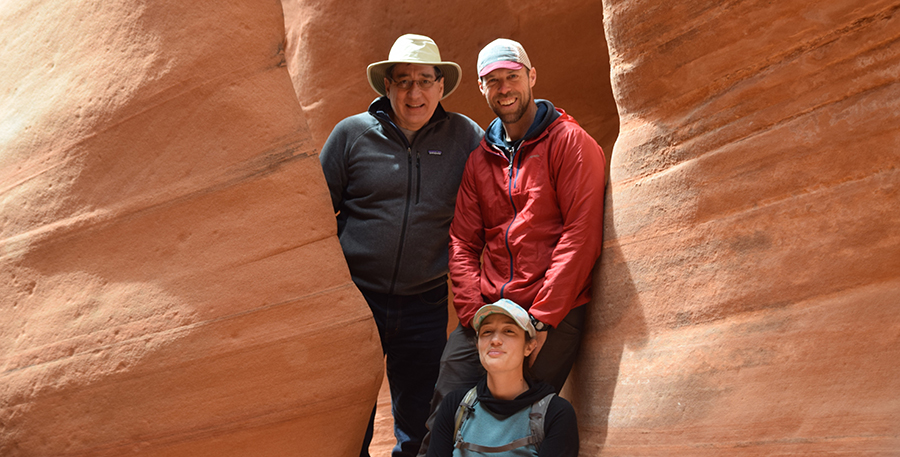 About a month after the Rising Leaders trip, Volunteer Program Director Audrey Kruse's family came to visit from the Washington D.C. suburbs. They wanted to tour an Arizona slot canyon because they'd seen pictures in magazines of Antelope Canyon's ethereal light and lines. Instead, she insisted they go to Mystical Antelope Canyon. The personalized tour from Lester had a big impact on her father.
Antelope Canyon is an extremely popular destination with four outfitters each running 18 tours a day, with 75 people per tour—way too many visitors. Mystical Antelope Canyon, on the other hand, allowed us to savor every moment and the excellent guide told stories of his own past exploring the canyon as a young boy. It was the way these canyons were meant to be experienced: slowly, thoughtfully, and resulting in memories that will stay with me for the rest of my life. 

—Dennis Kruse
See Mystical Antelope Canyon & Arrowhead Campground for yourself. Reservations ›
---
Amber Benally connects young people to climate justice issues through the Grand Canyon Trust's Rising Leaders Program. Audrey Kruse directs community engagement at the Grand Canyon Trust. 
---
EDITOR'S NOTE: The views expressed by Advocate contributors are solely their own and do not necessarily represent the views of the Grand Canyon Trust.