The economic impact of hunting, angling, and conservation in the Grand Canyon region. 
---
BY SCOTT GARLID
We abuse land because we see it as a commodity belonging to us. When we see land as a community to which we belong, we may begin to use it with love and respect. 

—Aldo Leopold 
The Grand Canyon inspires shock and awe in most first-time visitors, and for those who think of the canyon more like a long-time friend, the awe endures. Unfortunately, the shock abruptly returns, in a completely different manner, when the wonder of the canyon is reduced to economic justifications for things like the Grand Canyon Escalade tramway development and uranium mining in the Grand Canyon watershed. As lovers of the canyon and the area around it, we tend to describe and value it in qualitative terms, but hunters and anglers, tourists, rafters, and outdoor recreationists have a tremendous impact on the region's economy as well.
Just as most visitors to the Grand Canyon don't venture more than a few feet from the paved trails at the South Rim and thus miss out on the wonders below the rim, most have no idea that the origins of Grand Canyon National Park have deep roots in hunting and wildlife conservation. In 1906, more than 10 years before the Grand Canyon became a national park, Theodore Roosevelt set aside over 600,000 acres, designating the Grand Canyon Game Reserve for "the protection of game animals and birds" and described the area's mule deer as "the finest deer herd in America." As an avid outdoorsman and hunter, Roosevelt recognized the value of conservation as much as he enjoyed hunting and fishing, and he had the foresight to take action to ensure both wildlife and America's hunting and fishing heritage would live on for generations to come.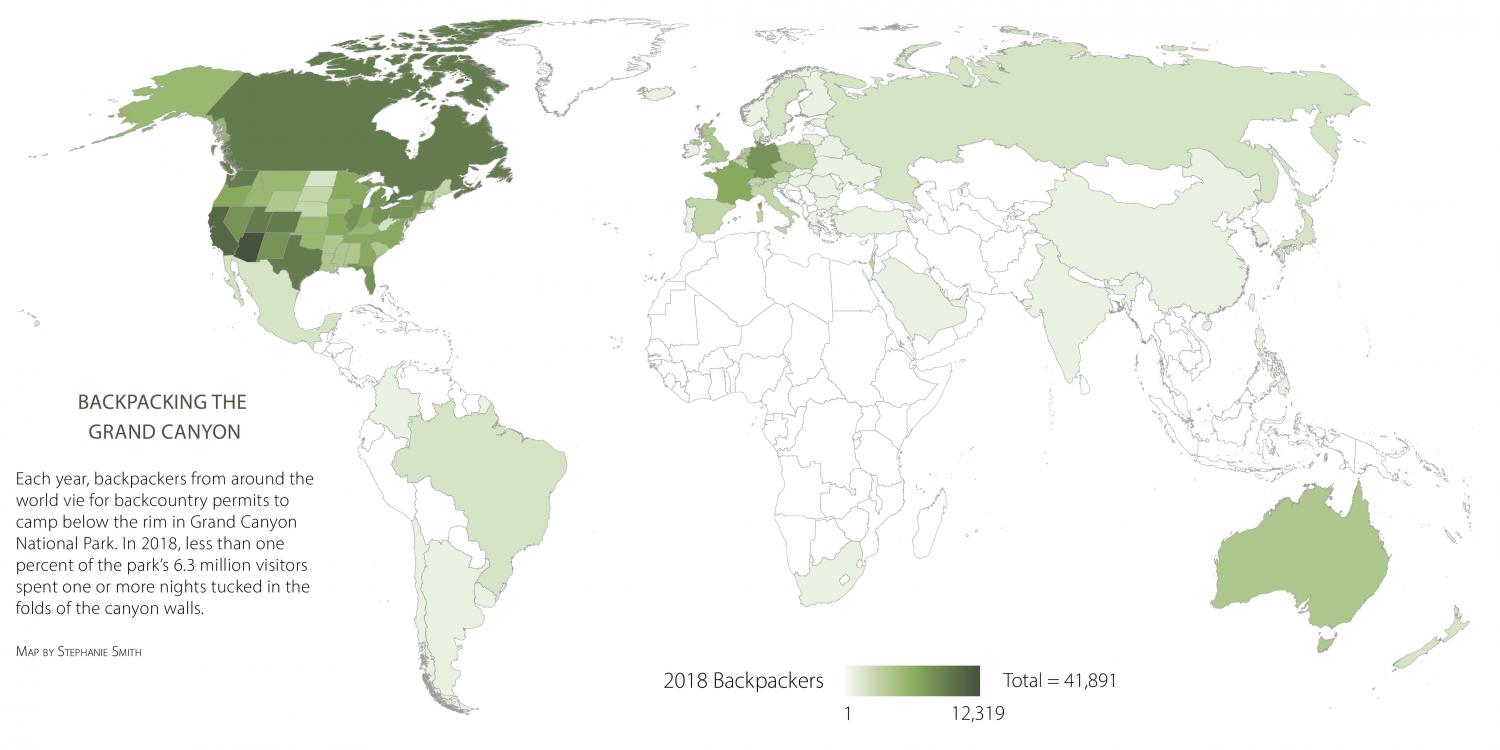 DATA SOURCE: GRAND CANYON NATIONAL PARK
Today, most sportsmen, similar to most Grand Canyon Trust Advocate readers, continue to believe and invest in conservation and in Theodore Roosevelt's vision of pristine wild places and hunting and fishing for future generations. They share a love for the outdoors and a long-term perspective on the importance of clean air, clean water, and healthy wildlife habitat to make that vision real, and they take actions both on the ground and by influencing policies that affect the outdoors and wildlife.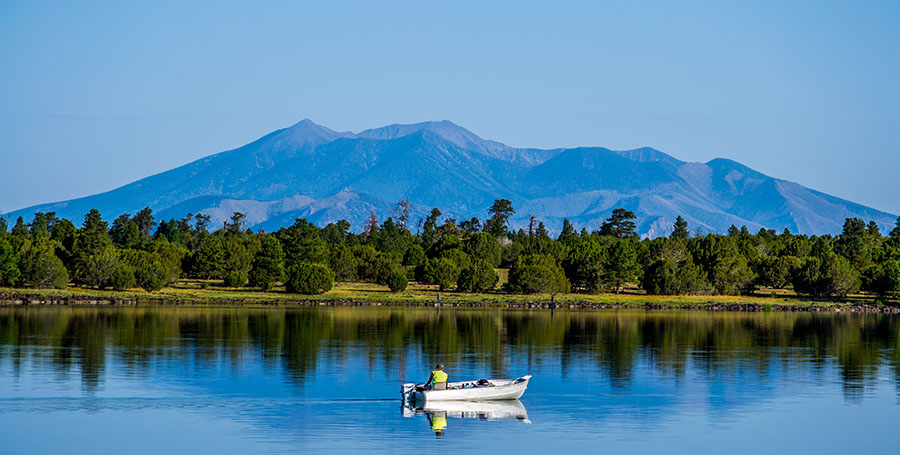 A fisherman at Ashurst Lake. U.S. FOREST SERVICE, SEAN GOLIGHTLY.
But it seems like it's no longer enough to have a vision and share a passion for conservation and the outdoors. When the hypothetical scenarios that describe potential economic benefits of uranium mining or a tramway become dominant arguments in decision-making, we need to stand together as outdoor enthusiasts in making the economic impact argument for our passions as well.
To get a sense of the economic impact of Grand Canyon National Park you really only need to listen to the many languages spoken in the gift shop, or count the different license plates in the parking lot. Grand Canyon National Park is the second most-visited national park in the nation with over 6.3 million visitors per year spending over $947 million dollars to see Arizona's very own natural wonder of the world.
But travel just beyond the boundaries of the park and, in a much less visible manner, hunting and fishing become a critical driver of the economic engine of outdoor recreation in northern Arizona. In fact, according to an Arizona Game and Fish Department survey, in Coconino County alone, sportsmen and women spent over $100 million and supported 1,860 jobs. That's not bad, considering there are only about 300,000 licensed hunters and anglers in the state. On a dollar-per-participant scale, the sporting community has always played an outsized role in contributions to the outdoor recreation economy. For every angler who takes advantage of an Arizona Game and Fish Department "free fishing day" at a local park with a Zebco 202 and a box of worms, scores of other sportsmen and women plan multi-day trips where they choose to spend their hard-earned discretionary income on equipment, licenses, gas, food, lodging, guides, and even separate scouting trips.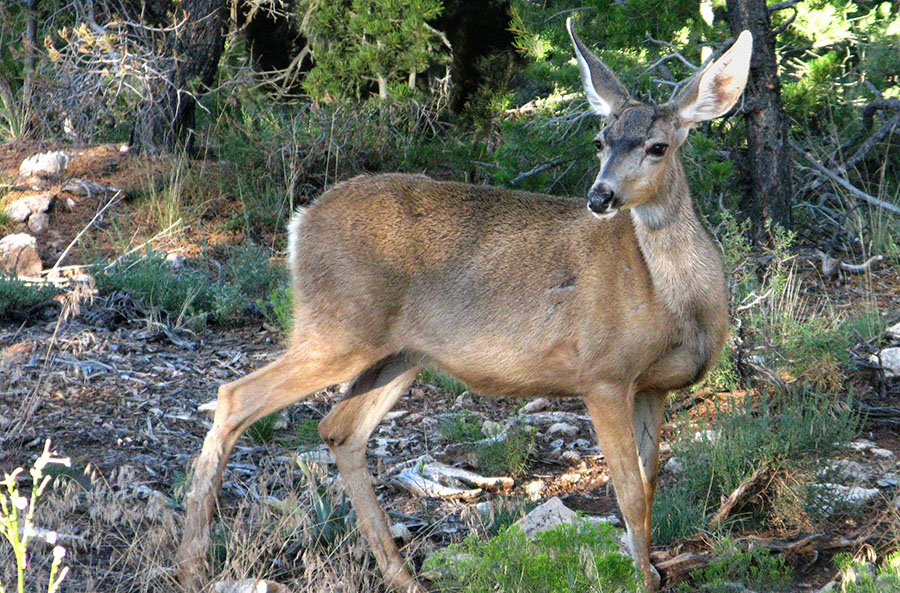 NPS, MICHAEL QUINN
From a wildlife and conservation standpoint, there's a strong argument to be made that a dollar spent by a sportsman or sportswoman is even more valuable. The Pittman- Robertson Act for hunters and the Dingell-Johnson Act for anglers, enacted by forward-thinking and conservation-minded politicians back in the 1930s and 1950s respectively, apply a roughly 10 percent excise tax on money spent on hunting and fishing equipment. Those funds, completely additive and independent of state sales tax revenues, go back to the states to manage wildlife and wildlife habitat. For the Arizona Game and Fish Department, these funds are significant, contributing about $30 million to their $130 million annual budget with all that money ultimately going toward wildlife and habitat in Arizona.
Hunters and anglers are more than willing to pay a 10 percent tax on their gear knowing it goes back to wildlife and habitat management, and they recognize that their spending is an investment in the future. Their desire to contribute to habitat conservation in Arizona doesn't stop with the convenience of their spending at the sporting goods store either. Arizona's Habitat Partnership Committee, consisting primarily of leaders from Arizona's nonprofit sporting organizations, relies on the fundraising efforts of those groups to generate over $2.7 million annually and then works with them to determine how to apply those funds in the most impactful way to benefit wildlife and habitat. In all cases, Habitat Partnership Committee dollars require matching funds, and the Arizona sportsmen's groups lead the way here as well. They fundraise, provide volunteer labor for projects, and educate their members and others on the importance of conservation.
As a volunteer army dedicated to conservation, it's hard to match the impact of Arizona's sportsmen and sportswomen. From wildlife friendly fencing for pronghorn, to improving riparian areas, to building water catchments or hauling water to remote areas on our public lands, to citizen science tracking water temperatures on streams for native trout, hunters and anglers spend countless hours improving habitat for Arizona's wildlife. Perhaps because they spend so much time observing the habits of animals and trends from season to season, sportsmen tend to understand the interdependencies of species and the impact of things like climate change on fires, drought, and ultimately wildlife. They know how fragile the ecosystem is on the Kaibab Plateau and that all wildlife, from mule deer to Abert's squirrels, will drink any available water to survive, with no way of understanding which seeps, springs, or puddles might contain uranium contamination. 
The love of the outdoors and a vision to protect it for generations to come is common ground with all individuals who are drawn to conservation. Whether your argument is the inherent importance of wildlife, public lands, and getting outdoors, or the economic impact of hunting, fishing, and outdoor recreation, the conclusion should be the same: taking care of our wild places, and the area around the Grand Canyon in particular, should be as high a priority now as it was when Roosevelt designated the Grand Canyon Game Reserve and then Grand Canyon National Monument over 100 years ago. Let's work together to keep the shock from ever destroying the awe.
---
Scott Garlid is the conservation director of the Arizona Wildlife Federation (AWF), Arizona's oldest conservation organization consisting of members whose interests range from hunting and fishing to wildlife watching and pollinator gardens, but who never fail to find common ground in the conservation and sound management of Arizona's wildlife and wildlife habitat. AWF partners with the Grand Canyon Trust on a number of conservation issues, most notably in supporting a permanent ban on uranium mining around the Grand Canyon.
---
EDITOR'S NOTE: The views expressed by Advocate contributors are solely their own and do not necessarily represent the views of the Grand Canyon Trust.