Bears Ears presents unique opportunities for healing — both personal and universal.
---
BY TIM PETERSON
Bears Ears National Monument is about so much more than just protection of what we now call "public lands." From the very beginning, the Bears Ears movement has been built around healing. Healing and unity among tribes with histories of conflict, healing between settlers and Indigenous peoples, and healing for a cultural landscape beset by more than 100 years of careless resource exploitation, looting, and grave robbing. 
From cleaning up the toxic legacy of Cold War uranium mining to dealing with the effects of overgrazing and irresponsible off-roading, there is plenty of work to be done healing the land at Bears Ears. We must also teach a new ethic of visitation, one that instills respect and reverence for place. These things will take a long time, so the healing I would like to touch on here is more personal, but also universal. The ideas here are centered on how the Earth can heal us. 
Why do I seek healing at Bears Ears? Part of it may be because of either the cruelty or complicity of my ancestors in their actions toward Indigenous people. Springing from both Mayflower and Latter-day Saint lineage, I know my ancestors' names and their history; I have the receipts. The healing I seek is a desire for accountability, and it's a recognition of the intergenerational trauma that my ancestors wrought and that I have benefited from.
Perhaps I also seek healing because of the disconnection I have been trained to feel between myself and nature. To heal I must erase that duality. Many of us with a Western mindset have even tried to commodify the benefits of healing through nature, but there is so much more happening at Bears Ears than just getting outdoors for physical fitness.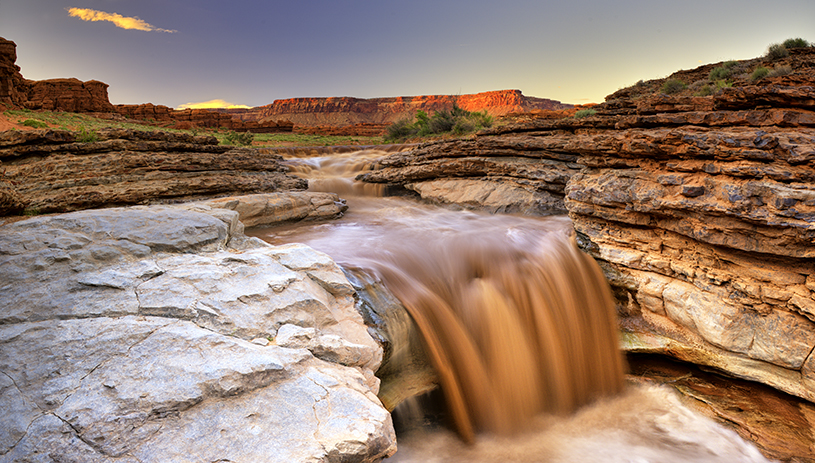 TIM PETERSON
---
Healing for me in Bears Ears has been about recovery from my own Western mindset — how I view conservation work, how I view "wilderness" ("where man is a visitor and does not remain," as defined by the Wilderness Act of 1964), and how I view my own relationship with the land. The modes of ownership and domination present in my thinking have colored my perspective on everything, from how we destroy to how we begin to heal. 
Healing comes in many forms and endures in many ways of knowing. Healing to me might mean something very different than what it means to a Hopi person, a Zuni person, a Diné (Navajo), or a Ute person. What might healing mean in a larger context, as reflected by the Bears Ears movement? 
How we relate to the land can shape how we heal. Part of how I relate to Bears Ears is through language — English, in my case. Tiokasin Ghosthorse (Cheyenne River Lakota), host of First Voices Radio, gives us insight into how something as fundamental as language might help with understanding healing at places like Bears Ears. 
Tiokasin says that in environmentalism "…a language of relationship with nature is missing — a language of abundance, gratitude." Contrasting with the languages used by European descendants like me, Indigenous languages often include no possessives, no ownership, and no human dominion over plants, animals, waters, or other elements of the natural world, of which humans are a part. Ghosthorse says that "…we always have faith in the Earth, with the Earth, because that's where our language comes from. The Earth doesn't lie, so therefore our languages do not lie." 
The Grand Canyon Trust's board chair, Zuni farmer, and all-around polymath, Jim Enote, localizes this idea saying, "We are of this place. Our language sounds like the way a rock tumbles down a mesa, and our language sounds like the way a rock sounds when you drop it in mud."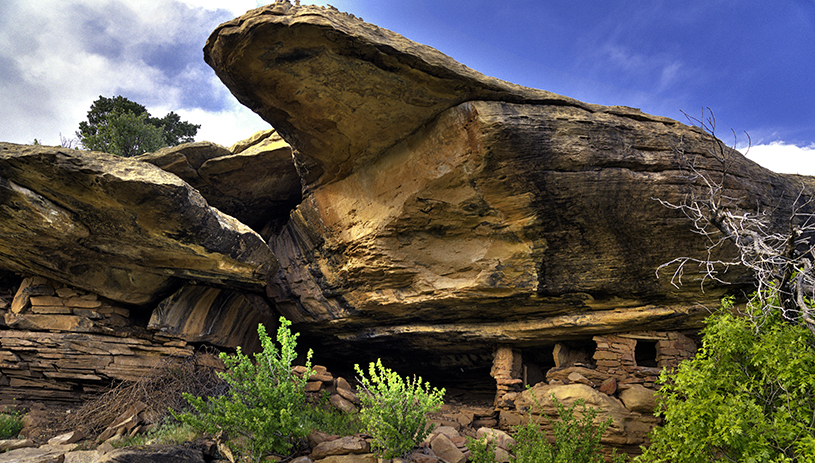 TIM PETERSON
---
Healing for the land and healing ourselves from the land might become more meaningful if we work to untrain ourselves from Western concepts of duality and domination. Once we do that, we can listen to and learn from the Earth in different ways. In fact, we might recognize that the Earth is listening to us, and her responses to what we've done might just be the ultimate reflection on what we should do next.
"Human Beings do not make sacred places, they acknowledge them, recognize them, and sustain them without developing them. We honor them with languages taught to us by the Earth herself. The Original Nations of the Western Hemisphere understand sacred places…" says Ghosthorse.
Scholar Vine Deloria, Jr. (Standing Rock Lakota) echoed this idea in his influential work, "God is Red," saying that "Unless the sacred places are discovered and protected and used as religious places, there is no possibility of a nation ever coming to grips with the land itself."
I will never know how to speak and think in an Indigenous language, but opening myself up to understanding the differences in how a place is perceived is a step toward a greater awareness of the healing power of Bears Ears.
Another way to understand Bears Ears is as part of a cultural landscape. This means that the place is not just a collection of isolated rock art panels, cliff dwellings, and village sites, but that all those sites work together with the landforms and water sources to form a whole much greater than the sum of its parts.
"There are many things that archaeologists and others see as a big mystery. What I feel is kind of a sense of enlightenment really, it isn't a mystery," says Jim Enote. "I look at some things and I see that's why I am the way I am, because of these things that my ancestors left on the walls, that they left in places near springs, along the rivers. Those were left for me and future generations."
The 2018 book, "Footprints of Hopi History," discusses how cultural knowledge keepers can identify relationships between contemporary and ancestral habitation sites by scanning the horizon for landforms and pooling their knowledge of mental maps. These maps are not space-based, but place-based in a network of relationships among landforms. A place is seen as a "living theater" that "draws the powers of life into the center from the periphery," and the center shifts with migration. These relational places are present all over Bears Ears, and that is why protecting just a village site here and a petroglyph panel there (or cutting a monument down to 15 percent of its original size) is so disrespectful to the descendants of the people who made them. This kind of knowledge of interrelated places has not yet been fully explored, and restoring and expanding Bears Ears creates the space necessary for those who know how to examine those places together. That kind of relationship with Bears Ears, for some, is healing.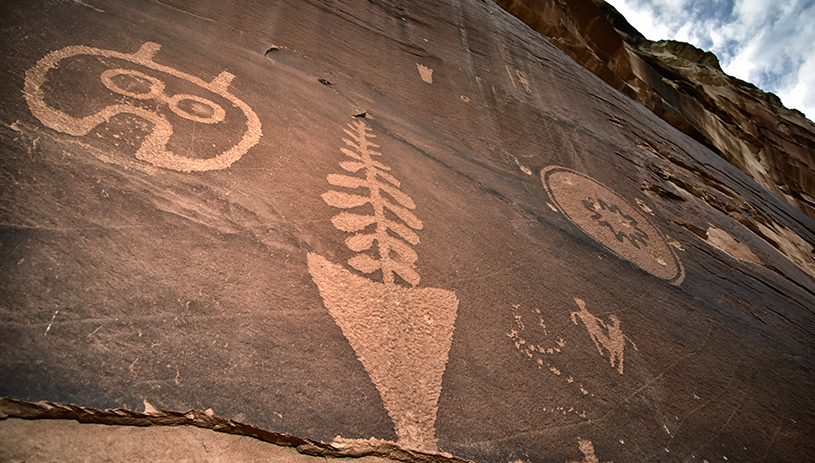 TIM PETERSON
---
Another relational view of Bears Ears comes from the Diné perspective of Utah Diné Bikéyah spiritual advisor Jonah Yellowman. Yellowman shares that the east and west Bears Ears Buttes are the dividing line between the female Colorado River and the male San Juan River. This distinction genders plants found there too, and particular plants must be gathered for specific ceremonies. Certain ceremonies mention landforms in Bears Ears. That's direct and discrete healing. "That's going to cure us. That's going to cure everybody," says Yellowman.
Bears Ears contains multitudes. These are just a few examples; there are many more. Some are private; some can be shared. One promise of healing at Bears Ears is learning through intercultural sharing across many different traditions and cosmologies broadly referred to as "Indigenous traditional knowledge." This expertise was recognized in President Obama's 2016 proclamation establishing Bears Ears National Monument. 
"Such knowledge is, itself, a resource to be protected and used in understanding and managing this landscape sustainably for generations to come," reads President Obama's proclamation. He also recognized that Bears Ears is more than just an outdoor museum or dusty history. "The area's cultural importance to Native American tribes continues to this day. As they have for generations, these tribes and their members come here for ceremonies and to visit sacred sites. Throughout the region, many landscape features, such as Comb Ridge, the San Juan River, and Cedar Mesa, are closely tied to Native stories of creation, danger, protection, and healing," the proclamation explains.
Again, Jim Enote says it well: "All tribes in the region have a relationship with this place. We've been there and we're still here, we're still part of shaping the future of the Colorado Plateau… But it's also part of the history of the peoples of the United States and the world; it is part of the human experience. It belongs to all of us. I believe that tribal peoples of this region shouldn't be the only ones to take responsibility for protecting the cultural resources."
Bears Ears is a way to knit new relationships across cultures. Bears Ears is also part of a larger global movement toward restorative justice. In some ways, it starts here, but it cannot end here.
Non-Native people like me should assess how we might fit into this movement. How might we pay long-overdue respect to Indigenous traditional knowledge systems that cannot be contained within Western science? How might we use whatever tools we have to break down institutional barriers to equity and justice? We must return authority for management of ancestral lands to those whose cultures have been shaped on what are now called "public lands" beyond Bears Ears. We can take the structure built for the collaborative management of Bears Ears between tribes and the federal land managers, make it stronger, and apply it wherever Native nations desire to do so. If done correctly, the healing potential sparked at Bears Ears is limitless.
---

Tim Peterson serves as Cultural Landscapes director for the Grand Canyon Trust.
---
EDITOR'S NOTE: The views expressed by Advocate contributors are solely their own and do not necessarily represent the views of the Grand Canyon Trust.