The Kerley Valley Community Farm nurtures more than just food. 
---
BY ALICIA TSOSIE
The Kerley Valley Community Farm sits just outside of Tuba City, close to the Moenkopi Wash, near where the Navajo Nation and Hopi Reservation meet. When our fields are planted, the valley itself is a ribbon of green surrounded by tall red cliffs. The valley soil is rich from many years of sediment carried by runoff from storms, and it is carefully and patiently tended. It's here, in the bright heat of this high desert, that we coax our traditional corn from the earth.
Our community farm is made up of eight families that are a mix of Navajo and Hopi. We use low-water farming techniques, such as flood irrigation, and heirloom seeds that have been bred to be drought resistant and heat tolerant. Our farming is natural; we don't use any pesticides or herbicides. These traditional farming practices have sustained our people for centuries and are a form of cultural knowledge that has been passed down through generations, from mother to daughter and father to son. In 2020, the coronavirus pandemic proved just how important traditional agriculture can be when it comes to resiliency and food security in our communities.
When news broke of the first confirmed case of COVID-19 on the Navajo Nation, our community of farmers immediately thought about how this would affect our growing season. The majority of the families that farm within Kerley Valley only have one or two people who can devote most of their time to planting and tending to their plots. Low-water farming requires knowledge but also patience, and, above all, time. Some families had elders who were worried if they helped with digging the ditch line to run irrigation water or "watching the water," they could potentially be exposed to the virus. But like everything else we do at the farm, we met this challenge and took care of it together.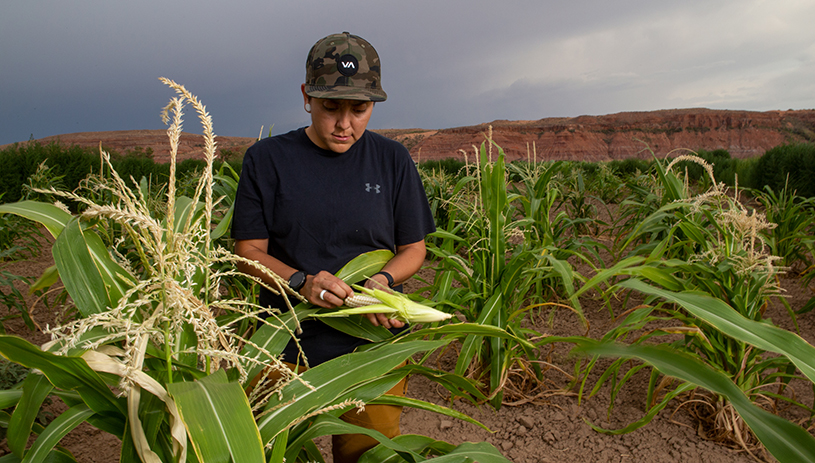 DEIDRA PEACHES
---
Between our eight families, our community farming group was able to clear the ditch line for everyone to use to irrigate their fields. The Moenkopi Wash is fed by the large aquifer system that it sits on. The wash used to flow year-round. Hopi elders remember a time when they could visit the stream and it was full of life. Now, with climate change, and likely because the aquifer has been depleted by a coal mine, the stream only flows from early March or April until late June. Outside of this small window, you can walk across the stream without getting wet. 
Before farmers can irrigate their fields, we must clear out the main diversion dam where we divert water from the wash into the main ditch line. Once water is released into the ditch line — a trench that uses gravity to move water — someone must watch it. Our main ditch line runs past our farmers' fields; some parts are lined with old sandstone rocks while some are lined with concrete. Many farmers have dug earthen ditches from the main line, which feed into their plots. Watching the water while you irrigate your fields — making sure it is flowing correctly and not backing up or spilling, which often means walking up and down the ditch in the hot sun with a hoe or a shovel for hours — is very taxing. Even so, we couldn't help but think how fortunate we were, and are, to still grow corn. One memory I have about irrigating is when we were sitting down talking about how excited we were for the upcoming planting season. I stood up to scan the plots and our entire road was covered in water. We found the culprit: a gopher hole. These can turn into catastrophic problems if you can't find where the water is coming out. With such little water to use to irrigate, it can take the wind out of your sails when you see your water break over the ditch line or flow into an area that's not a farming plot. 
Even as the pandemic brought so many businesses and industries to a halt across the world, disrupting supply chains and leaving supermarket shelves bare, our community of farmers kept planting, weeding, and watering our fields. Through farming, we provide not only sustenance for our families but traditional things such as corn pollen to pray with. Corn is very sacred not only to the Southwestern tribes, but also to many Indigenous people across the globe. One of the first foods that babies eat is corn, and Navajos use many different varieties of corn to pray with and conduct ceremonies. When a girl first reaches womanhood, she grinds corn to bake a cake underground. That cake is shared with her family and sometimes an entire community. This strong sense of community is part of our culture and infused in our farm as well.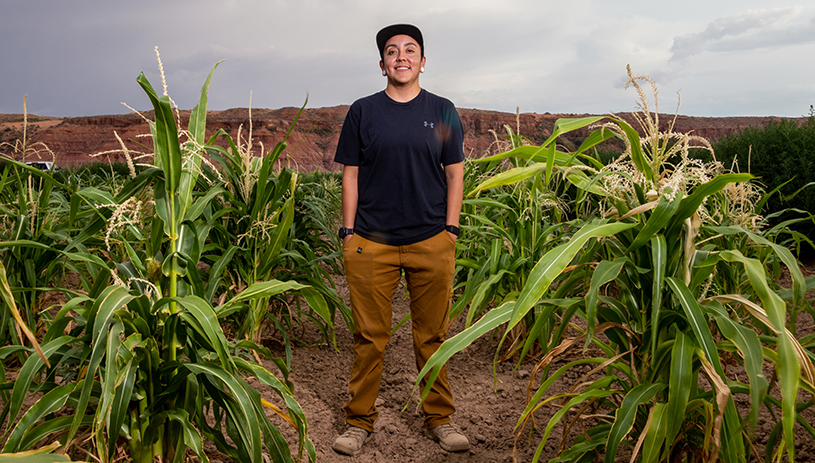 DEIDRA PEACHES
---
The community farm was initially started by the Johns Hopkins Center for American Indian Health and was transferred to the Grand Canyon Trust around 2016. We've had numerous families and young people visit and spend time here to learn how to farm from two master farmers in the area. Everyone's growing abilities are different. We have some farmers who have grown food most of their lives and some who are only a few years in. Thankfully, we can learn from one another and build up our capacities, sharing that knowledge with others who want to learn.
Trying times during the COVID-19 pandemic, including curfews and stay-at-home orders in areas where the nearest grocery store might be hours away, made it starkly apparent that we must depend not only on our direct family units but our community. The entire Navajo Nation was on lockdown, and we could only leave our homes to work if we were essential workers or to purchase much needed supplies. But we were able to band together and tend not only to our own individual plots but to those of our neighbors, especially if they had family members who were immunocompromised. The resiliency of our community farm and of farmers in general was powerful. You could sense that the crops we planted knew we were depending on them. My melons and corn were abundant. I had enough to share with my family, my coworkers, and my community. Providing food for yourself and your community is powerful and healing.
Even now, when we are in the middle of our growing season, to see our fields along the highway brings inner peace and tranquility. To see the fruits of our labor in the middle of the pandemic is breathtaking. To show not only the nation but the world that we as Diné people are still here, practicing our traditional way of life, growing corn, is a true testament to being resilient. I thank not only the Creator but the Holy People that I'm still able to practice my traditional agriculture. When you tend to your plants you must have a positive frame of mind. While I am in my field, I can't help but think about how far we have come as a community and as a nation. This pandemic is far from over, but if we can come together, pray to the Creator using corn pollen, and maintain that balance, we can make a better place for the next generation.
---

Alicia Tsosie serves as Native America coordinator for the Grand Canyon Trust.
---
EDITOR'S NOTE: The views expressed by Advocate contributors are solely their own and do not necessarily represent the views of the Grand Canyon Trust.