Working toward healing from the trauma of uranium mining.
---
BY OPHELIA WATAHOMIGIE-CORLISS
A permanent ban on uranium mining near the Grand Canyon has been proposed through the Grand Canyon Protection Act. This would mean enacting a law that no new uranium mining claims could ever be made or developed on about 1 million acres near the Grand Canyon. But what would something like this mean for me, and the rest of the Havasupai Tribe?
The complexities for people, especially those who live with traumas resulting from settler colonialism, are so vast there would be no way to summarize a single correct answer representing the Havasupai as a whole. When a tribal member is speaking from the heart, differing opinions always exist amongst the people in the conversation, and all opinions matter. I speak for myself only.
As with the many issues I faced while working as a Havasupai Tribal Council member, and the many issues I have faced in my life, I choose to focus on what the benefits could be when it comes to a permanent ban on uranium mining in the Grand Canyon region. First, future generations would never have to worry about additional mining threats to the Havasupai's only water source, Havasu Creek, thus allowing the Havasupai Tribe to focus on Canyon uranium mine (recently renamed "Pinyon Plain Mine"). Identifying that mine as the largest threat to our community would be comforting and empowering, and help us better understand where our resources need to go. Instead, since the inception of Canyon Mine near our sacred mountain, Red Butte, new mining claims could pop up at any time that would directly affect our lives on the Havasupai Reservation and endanger the permanent residents of Supai Village. That constant threat makes it difficult to focus. 
To end all uranium mining in the greater Grand Canyon region is to end the threat against hundreds of lives, the lives of Havasupai people who still reside at the bottom of Havasu Canyon at this very moment. Our aquifer is large and vast; this is the source from which our people drink water that travels through the earth from all over Coconino County and discharges into Havasu Creek. Catastrophic events that threaten water on the Colorado Plateau, such as uranium contamination, threaten our only water source, which has given us the ability to farm, raise animals, and build our lives in the Grand Canyon both historically and currently. We must protect the Havasupai people so that we may continue to live in our canyon home. The water is currently safe for all life to use; this is the way it has been since the dawn of our people.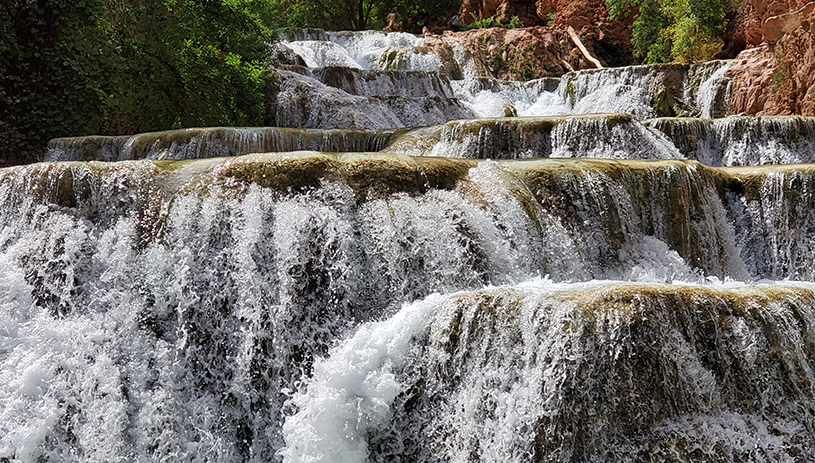 MIKE POPEJOY
---
However, since the U.S. Forest Service first approved the permit that allowed what was then known as Canyon Mine to move forward in 1986, we have been living with the fear of our only water source being contaminated. The mining ban established in 2012 is valid for only 20 years. This ban gave the tribe some relief and a temporary reprieve from looming threats which could spread the tribe's resources too thin. The Grand Canyon Protection Act, introduced and passed in the U.S. House this year, would give permanent comfort that no future uranium threats would ever appear. We may be a small tribe, but that has never stopped the people or the Havasupai Tribal Council from pursuing the fight against uranium mining on our aboriginal lands. Even when it means fighting a multimillion-dollar corporation, even if it means we will surely lose, we know that protecting our people and our future is the only way forward. 
The passage of this law is paramount for the future of the Havasupai and is one of many measures that could help facilitate some healing for our people. It would allow us to redirect our focus to current threats and alleviate our fears of future uranium mining. It has always been important for Supais to live in the moment, as culturally we are taught to never look back or live in the past. This law would generate peace of mind by allowing us freedom from the opposite problem — looking ahead at the looming threats of the future — and focus instead on other pressing issues. This in turn would help us to build the strength of our people and implement the education needed to defeat Canyon Mine.
When you look at government structures across the United States, you see a separation perpetuated among people, services, and social programming. When you look at a tribal government and its programming, however, there is a vast difference in the disbursement of wealth and services. Yes, many aspects are the same such as food assistance, social services, and even programs like Medicaid and food stamps, but the difference lies in what the tribal government does for the community as a whole. It is therefore impossible to ignore the importance of resources, namely, our water supply. Water is the lifeline of the Havasupai community; it grows our crops, provides for domestic animals and wildlife, raises our children, sustains our elders, and strengthens our community to complete daily tasks. Water is everything to us. While it is considered a commodity in many communities, we do not charge people for their water consumption because its importance is far greater than money. Water is life.  
Outsiders would seek to monetize the distribution of such a resource and profit from the people who so deeply depend on it. But this is not how the Havasupai tribal government has ever chosen to view its people, and I hope this never changes. Perpetually providing what are categorized as "commodities" to their people for free is one thing that truly separates tribal communities from capitalist motivations, and this demonstrates a genuine concern for the welfare of all people; this is true community.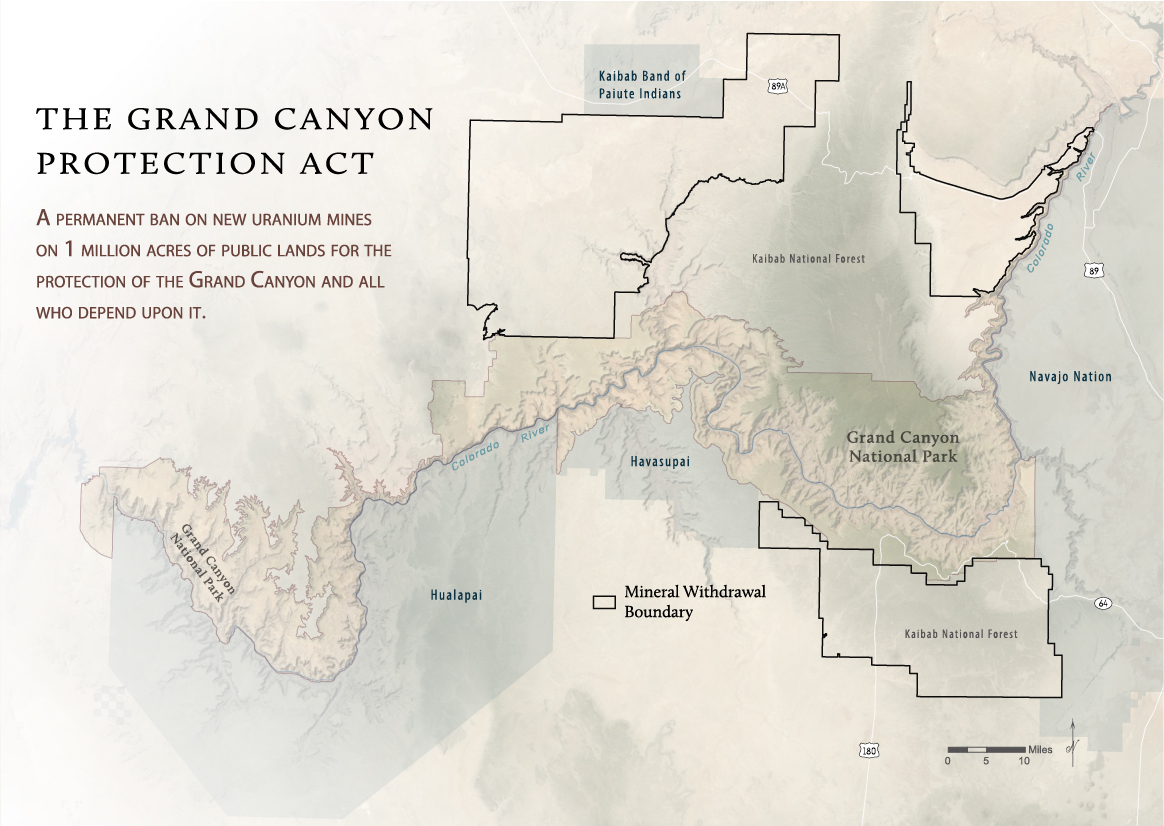 STEPHANIE SMITH
---
The village of Supai and the Havasupai people are truly one of a kind, living at the bottom of the Grand Canyon since time immemorial, adapting to the outside world to the best of our abilities, surviving settler colonialism and all the unfathomable terror our ancestors could never have dreamed of and yet had to endure. The "people of the blue-green water," Havasu 'Baaja, do not want to leave our home because uranium contamination decimated our entire water supply! In the grand scheme of obstacles we face today, this is the largest prevailing issue that would affect our entire lives and our future. 
Now that the Grand Canyon Protection Act has passed the House, senators Kyrsten Sinema and Mark Kelly have introduced a version into the Senate, and this is where the bill sits as I write this in August 2021. The Senate Energy and Natural Resources Committee still needs to schedule a hearing before the bill can move to the Senate floor for voting. 
As a Havasupai woman, this ban on future uranium mining claims becoming law means an opportunity to have hope for the future of the Havasupai people, and for my daughter: that our people will continue to adapt and find a way to eliminate this threat to the future, our future, her future. During my first year living permanently in Supai, every day that I woke up, the canyon walls were waiting for me when I stepped outside; we experience this as "rock medicine" that protects the Havasupai people. One day these walls started asking me, "Ophelia, who is going to continue the good fight, who is going to continue to fight for the people when you are gone?" Their questions flooded my mind for weeks until I realized the answer would be my future child, or children. Something different awoke inside of me, something I had never experienced before, an internal will for a child and for the future. And what future does a child have, if not a home in which to learn and grow?
If my daughter should choose to advocate for the Havasupai people, it is a tough job. The "ethics" that have traditionally run the U.S. are riddled with institutionalized discrimination, which is only beginning to be recognized. Structural racism in our colleges, our museums, and our tribes has worked its great destruction into multiple aspects of all our lives, such that it is hard to distinguish racism from normalcy at times. A law preventing future uranium mining claims would allow that next generation of leaders to focus on the issues at hand, because the issues at hand require a lot of time, attention, work, and dedication to solve. Policy, healthcare, education, land rights, water rights, social justice, and human rights are just some of the broader issues that need our attention. We need to activate our power from a place of confidence that there will be a Grand Canyon left for us to protect, and a community left for us to fortify.
I learned about a decade ago that my pursuit to change the world was too large an endeavor for one person alone. For a short while, I felt jaded, upset that school had tried to convince me to change the world. But over time, this allowed me to become more open and less self-centered. I was only one person. I had to face that my efforts alone would be swallowed whole, and maybe no one would know I had ever existed. But I am learning that a team, many of us, with the same goal and expertise in many different areas, can make a regional difference for the land that I know, love, and live on. And regional change can affect a lot of lives. This change to my mindset would turn out to be the right decision for my future. I have found that the "Red Road" — the struggle by Indigenous peoples to protect our sacred lands — never ends.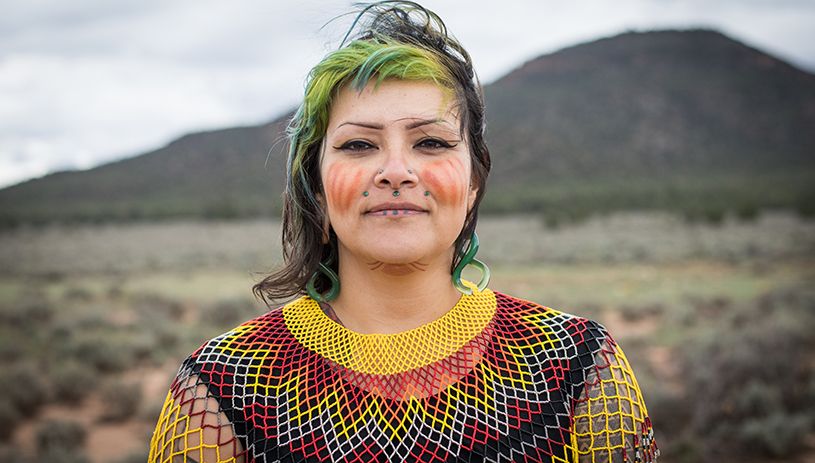 AMY S. MARTIN
---
I have held onto one thing when it feels like I am drowning: if I can gain just one inch of success in fending off new uranium mines, it is one more inch I have gained for my ancestors who were in this same position and gained ground for me to be here and fight the good fight. Just one inch of success is one more inch my daughter and her generation will have when they take the reins and keep pushing this fight forward. Something gained is better than nothing gained and being present is more powerful than cowering away. We must continue to push forward and gain as much ground as possible. We owe it to our ancestors, and we owe it to the future of our people, all of our people.
You, the people who live on the homelands of the Havasupai people, in Tusayan, Flagstaff, Williams, Ash Fork, Seligman, and all the homesteads in-between. You, the people who visit Grand Canyon National Park, land that was taken away from the Havasupai to create the park. You, the people who gaze down at Indian Garden (soon to have its name changed to "Havasupai Garden" and its traditional name, Ha'a Gyoh, restored in the coming future), farmed by Billy Burro, whose descendants are the family members of the great Rex Tilousi of the Havasupai. Alongside us, the villagers, it is you, the people, who must reach out and request that our senators push for a hearing in the Senate Energy and Natural Resources Committee. You must join the fight to pass the Grand Canyon Protection Act into law, for the future of all people, and to protect the Havasupai people and the only home we have left.
---

Ophelia Watahomigie-Corliss is a former member of the Havasupai Tribal Council. She holds two bachelor's degrees from the school of communications at Northern Arizona University and is expecting her first child, a daughter, at the end of 2021
---
EDITOR'S NOTE: The views expressed by Advocate contributors are solely their own and do not necessarily represent the views of the Grand Canyon Trust.