Toward a more equitable Grand Canyon tourism model.
---
I grew up going to Grand Canyon National Park with my family. But despite being an enthusiastic hiker, I'd never set foot on Bright Angel Trail until a few years ago. On those family trips we didn't hike, or raft the river, or ride a mule down to Phantom Ranch. Sometimes, if we had the time, we might pause for a quiet moment along the rim. We were there for a practical purpose: to sell jewelry. Not the inauthentic trinkets you might find in some of the gift shops, manufactured continents and oceans away, but authentic Navajo-made silver and turquoise pieces, expertly crafted by the hands of my relatives.
We traveled from Seba Dalkai to sell their work to the Hopi House at the Grand Canyon because this is where the tourists flocked, and of course still do.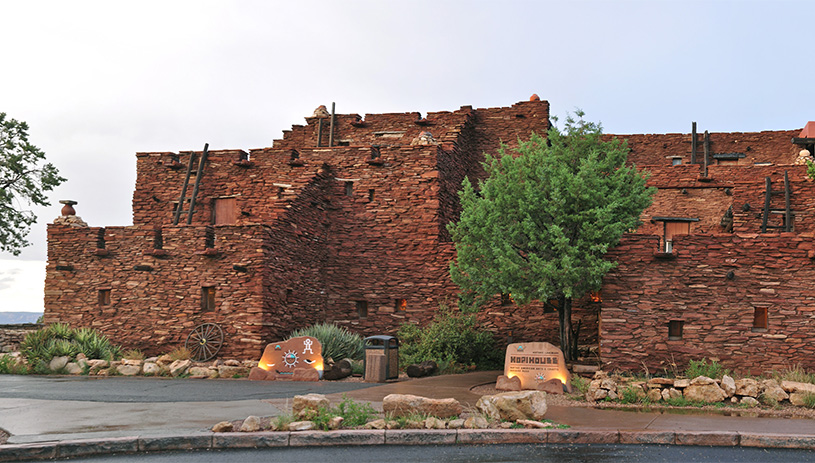 Hopi House, Grand Canyon National Park. MICHAEL QUINN, NATIONAL PARK SERVICE
---
In 2021, 4.5 million people from countries around the world visited Grand Canyon National Park. Following a global pandemic, the Grand Canyon remains one of the most sought-after destinations for tourists craving an outdoor experience. These visitors spent $710 million in communities near the park last year alone, supporting 9,390 jobs.
The economic impact of Grand Canyon National Park is hard to overstate, not just in Arizona but in the entire region. It's one of the seven natural wonders of the world and can accommodate thousands of visitors per day consistently, year-round. And all of these people need somewhere to eat, somewhere to sleep, rest, and enjoy the scenery of a landscape so unique that people travel from all over the world simply to stand at the edge of the cliff and experience the wonder.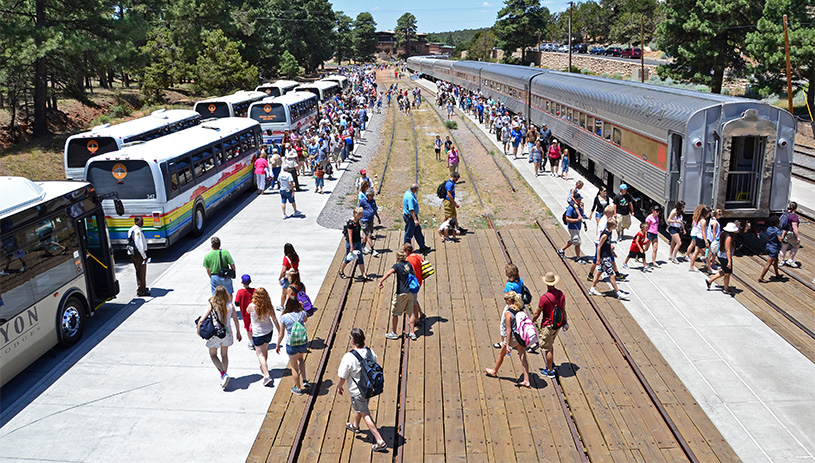 Tourists arriving at the south rim of the Grand Canyon. MICHAEL QUINN, NATIONAL PARK SERVICE
---
More intrepid outdoor enthusiasts require dry bags and bathing suits to brave the rafting of the Colorado River or hiking poles and energy drinks to take on the challenge of a rim-to-rim hike. They enthusiastically hire guide companies, shop in stores in Flagstaff for sunscreen, backpacks, and gaiters, and get a good night's rest before and after their adventure at local hotels. Many repeat this experience over and over, supporting companies in gateway communities and contributing to an economy that was developed to encourage them to return. 
Tourism as an economic driver may start organically, but to be successful in the long term it requires an underlying organization and infrastructure focused on the visitor experience and directing visitor spending in certain ways.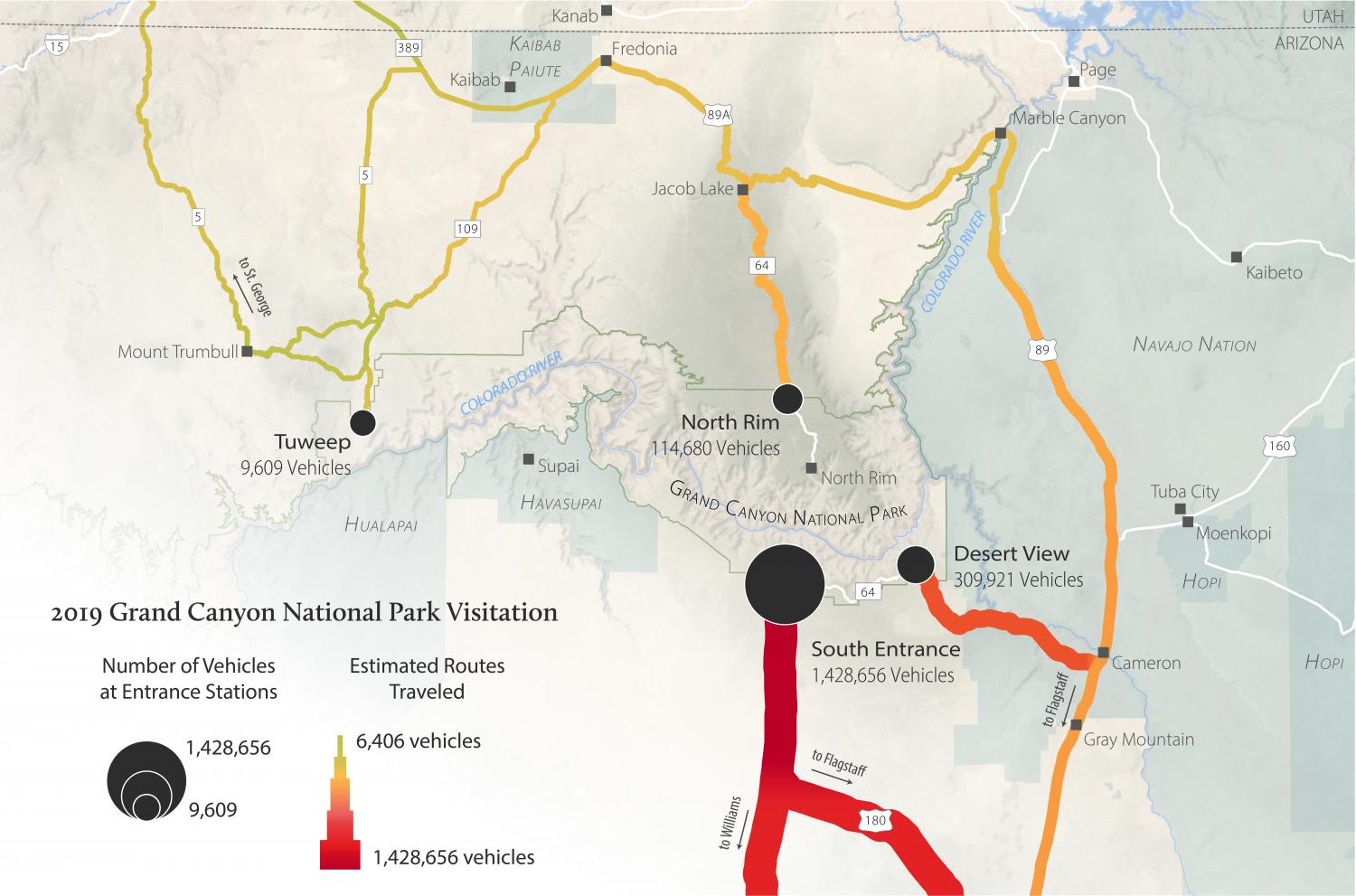 STEPHANIE SMITH
---
Indigenous communities have long been a driving force when it comes to tourism in the Southwest, drawing visitors to the region or enhancing the experience of the Grand Canyon and the surrounding natural attractions. However, visitors' interactions with Indigenous people are mainly limited to perusing the wares of roadside vendors selling locally made beadwork, dream catchers, and other artwork, or attending a cultural event like a dance performance. These visitors may be vaguely aware that this land ancestrally belonged to Indigenous peoples but are often bombarded with a commercial version of the history and culture that glosses over a violent past and flattens sophisticated lifeways. Then when these travelers exit the park, leaving the neon signs and ice cream shops and racks of Grand Canyon keychains behind, and proceed east through Navajo and Hopi, or west through Hualapai, they wonder why there is such a stark difference between the communities off the reservation and communities within the boundaries of a reservation.
The erasure of Indigenous people from our learned history and from appropriate representations within Grand Canyon National Park ultimately results, ironically, in an unfair economic disadvantage for the very people and communities that hold the Grand Canyon sacred and have stewarded the protection of this place for centuries.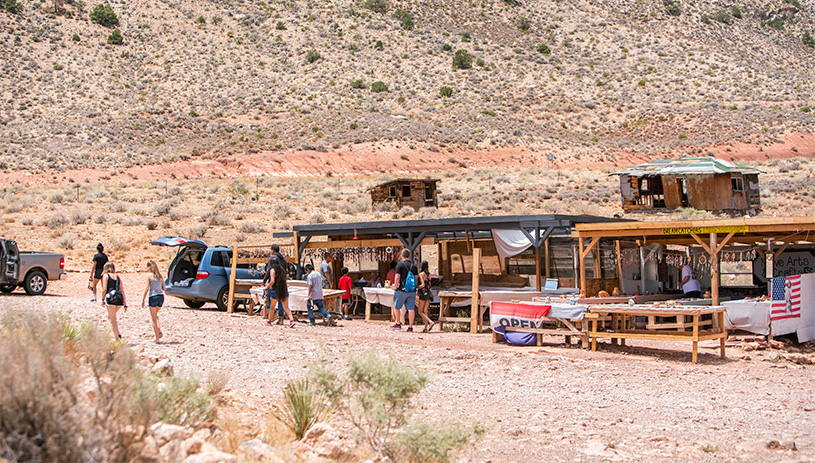 Roadside vendors on the Navajo Nation. JAKE HOYUNGOWA
---
Reservation boundaries were historically created to contain Indigenous people and protect non-Native communities from what were considered "uncivilized" lifestyles. These boundaries also represent an invisible wall that hinders the financial freedom of Indigenous communities to build economic infrastructure that would support economic development. It represents a kind of redlining where people don't have land available to them — reservation land is held in trust by the federal government — and can't access the financial resources they need to start businesses, like capital, but also basic infrastructure like internet service, much less build roads or visitor centers to welcome tourists and support a vibrant tourism industry.
Say you own your home on the reservation and want to start a small business. How do you get a small business loan if you can't use your home as collateral because you don't own the land it's built on? The truth is that nearly all the economic benefits of Grand Canyon visitation never reach reservation communities and instead flow to off-reservation border towns like Flagstaff, Tusayan, and Page, that have the physical and financial infrastructure — from hotels and banks to restaurants and supermarkets — built to absorb that value.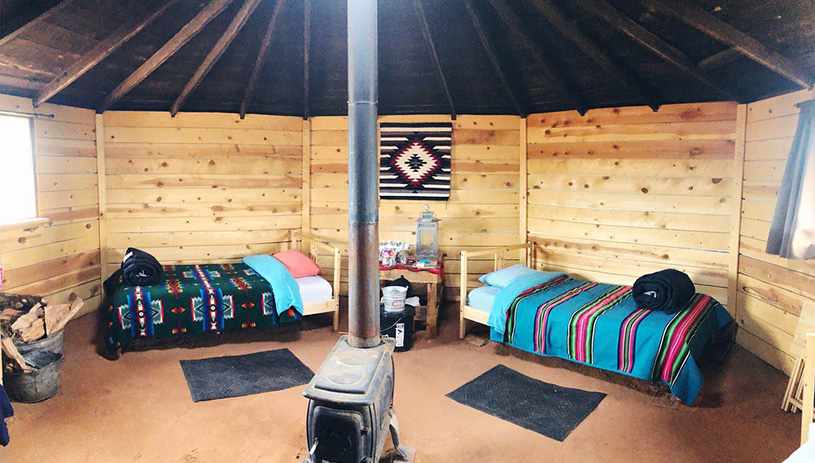 A traditional hogan at Shash Diné Eco-Retreat on the Navajo Nation near Page, Arizona. 
---
But reservations have something border towns don't. Visitors coming to the Grand Canyon increasingly seek an experience that gives them the opportunity to learn about Native cultures from Native people. Native people are ready to welcome visitors into their communities in a planned and coordinated manner that enhances the experience by appropriately teaching visitors about the culture while also protecting knowledge that isn't appropriate to share with outsiders. For Indigenous communities, part of that infrastructure is a socially conscious consideration that takes time to plan and develop. Bringing people together is a blessing in many Native communities. This is why folks are often invited to a dance, a social ceremonial event, or a birthday party. We gather as families and as communities very often and it's something that we like to share with visitors.
Given the resources, we could build a tourism industry that is centered on a pride in our hospitality and the importance of educating others about who we are as people, and the values that we hold that this world desperately needs. In this way, our communities would have greater control over what is shared and what is not, where visitors can go and where they can't. We can implement reciprocity in the tourism industry that creates a more equitable relationship. 
In the meantime, discussions around improving employment opportunities for Native people in the park have already begun (see Amanda Podmore's story on hiring reform at the park). It's a small step, but it's a start. Successful collaboration for economic development starts with improving relationships between Indigenous people and the National Park Service, and acknowledging the painful history of violent removal of Indigenous people from what are now America's national parks. Better relationships will improve communication and open up opportunities for retail businesses and guide companies owned and operated by Native people. And listening to and including Indigenous people will provide information needed to protect the land and waterways of the entire Grand Canyon region. 
There are legal and contractual obstacles to a more equitable distribution of the economic benefits of Grand Canyon tourism, and especially to shifting the power of the retail industry within the park, but these can be overcome with time. Concessionaires hold lease agreements with the park service that limit competition and control what is sold within the park; these agreements can last for decades. However, paying artists and creatives who contribute their talent to enhancing the visitor experience in the park must shift now. The business model traders have used to exploit the talent of economically oppressed artists has always been and remains deeply harmful.
My family was happy to sell their artwork to the stores, happy to contribute their talent to make things people wanted, but I can tell you firsthand the frustration of realizing that what we got in monetary value from all that hard work I witnessed was barely 30 percent of the value of these pieces. Calculating all the costs of production meant realizing what economic exploitation was. Bracelets and necklaces representing hours of skilled artistic labor were sold off at a fraction of their true value because the shops at the park had what we didn't: access to a huge customer base of visitors on vacation, with money to spend.
National parks have a role in changing this and in valuing the human capital of the very people whose skills, knowledge, and labor authentically enhance the visitor experience. The park service can create new space that would open up business opportunities for Native-owned businesses. It can build partnerships with gateway communities to compete for financial resources such as grants and federal investments to build these new spaces and the physical infrastructure needed. It can commit to providing accurate information about what the Grand Canyon means to Indigenous people that can protect it from harmful industries.
Let's not forget, all of this is in the best interest of the canyon as well as the tourism industry. An authentic experience includes the first peoples of the canyon; we tell our stories better and people want to hear our stories. 
How quickly that comes to be will depend on how partnerships build the infrastructure and create the space required for that shift to happen. 
---

Jessica Stago serves as the Grand Canyon Trust's Native American economic initiatives director and as the director of business incubation at Change Labs.
---
EDITOR'S NOTE: The views expressed by Advocate contributors are solely their own and do not necessarily represent the views of the Grand Canyon Trust.