Federal bureaucracy has made it tough for Native people to get jobs managing their ancestral lands. But that could be about to change.
---
If you've ever set your sights on a job with the federal government, you know the application gauntlet can feel like some combination of a marathon and an obstacle course. Admittedly, I've never run a marathon, but I do know that the various hoops and hurdles of the federal hiring process create a very real problem across public lands on the Colorado Plateau: they disadvantage Native people from jobs managing their ancestral lands. But that could be about to change, starting at Grand Canyon National Park.
Areas like the Grand Canyon region that today are managed as federal national parks and national forests are the traditional lands of Indigenous peoples. While the original stewards of the land were displaced by genocide, pandemic warfare, and federal policy that radically shrank traditional lands to paltry reservations and allotments of private property that were counter to Native custom, Native people are still here. Pushed off federal lands, they're still practicing their traditional lifeways, based on cultural knowledge that has been passed down since time immemorial.
The Grand Canyon from the Havasupai perspective is the embryotic, the emergence, the origin of how we came to be. We try to take care of it, we've always wanted to take care of it, and we still feel like we do take care of it. Living at the bottom of the canyon, I feel like I hear the heartbeat of Mother Earth a lot closer than I would on higher ground. So it would seem to me that the Havasupais, in their blood and with every breath, already know how to take care of the Grand Canyon.

– Ophelia Watahomigie-Corliss, Havasupai
Modern-day research is now complementing what Native peoples have been saying and showing for millennia: they have deep local and traditional knowledge about caring for the land that benefits both people and the environment. 
Despite Indigenous expertise in land stewardship, Native representation in federal jobs is still low. Native Americans and Alaska Natives, 1.1 percent of the national population, are technically more than proportionally represented in the National Park Service workforce at 2.5 percent. The percentage of park rangers who are Native comes in a little lower at 0.8 percent and Native women, in particular, are underrepresented. However, when you consider how many national parks sit on the doorsteps of tribal nations in the western United States, Native representation in the park service workforce is disappointingly low. Currently, only about 6 percent of park service employees at Grand Canyon National Park are Native, according to one recent park estimate, a meager number when you consider that Native people make up more than 27 percent of surrounding Coconino County, Arizona. Federal jobs with agencies like the park service can be stable, well-paying career opportunities. Why then is Native representation at the Grand Canyon so low? 
STEPHANIE SMITH
---
First of all, there are two tracks for federal employment: competitive and excepted service. The first track, which represents about half of federal jobs, requires a cumbersome online application through USAjobs.gov that ranks your skillsets and automatically sorts applicants. My husband, a former river ranger, loves to tell the story of the time he applied for the federal river ranger job he'd had the previous summer and was deemed unqualified by the automated system. 
For Native applicants, this process can be all the more challenging. First of all, applying for a federal job requires a physical address, something that many people living on reservations lack. Next, using the online platform requires reliable internet access, another challenge in rural areas with limited electricity and Wi-Fi. And critically, the current application process overlooks the lived experience and traditional knowledge that Native applicants bring. 
Grand Canyon National Park encompasses the traditional lands of at least 11 tribes — the Havasupai Tribe, Hopi Tribe, Hualapai Tribe, Kaibab Band of Paiute Indians, Las Vegas Band of Paiute Indians, Moapa Band of Paiute Indians, Navajo Nation, Paiute Indian Tribe of Utah, San Juan Southern Paiute Tribe, Pueblo of Zuni, and Yavapai-Apache Nation. Like many of our national parks, its story is one of forced displacement of Native peoples who call it home. Today, only three tribes have reservations contiguous to the park: the Navajo Nation, Hualapai, and Havasupai. The Havasupai people, who consider themselves guardians of the Grand Canyon, were forcibly removed from within the park boundaries as recently as 1928. The brutal and heartbreaking land grab that came with the creation of the park cut Native people off from migration paths, ancestral trails, places of emergence, and gathering sites, to name a few. 
I'd like to see more people involved that are from the area, that know the history of the environment in that local region. People need to feel welcome there, and we can share our histories and our cultures with people who are genuinely interested.

– Richard Powskey, Hualapai
Under the leadership of Superintendent Ed Keable, for the past two years Grand Canyon National Park has been taking serious steps to retell the history of the Grand Canyon in a way that honors the Indigenous peoples of the canyon who are still here. With this have come management efforts like quarterly meetings with Native staff, a new Native Artisans Market at the Grand Canyon Tusayan Museum, and an improved process for hiring from Grand Canyon associated tribes.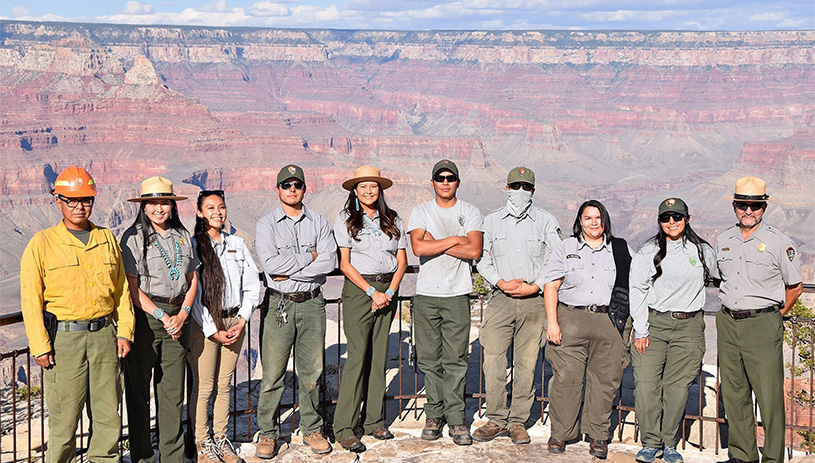 Native employees of Grand Canyon National Park on the South Rim during Indigenous Peoples' Day on October 11, 2021.  B. MAUL, NATIONAL PARK SERVICE
---
Up until last year, the Grand Canyon National Park hiring system only favored local candidates, including tribal members, if they lived within 30 miles of the park. This left members of most of the 11 associated tribes little choice but to wade into the bureaucratic federal hiring process if they wanted a job at the park. Thanks to efforts by Superintendent Keable, the park secured what is called a "contiguous hiring authority" that extends to a 90-mile circumference. Now, the park can readily hire employees from six nearby tribal nations (Havasupai, Hualapai, San Juan Southern Paiute, Kaibab Band of Paiute Indians, Navajo, and Hopi). 
The park's contiguous hiring authority (sometimes called a "contiguous-to-area hire") can streamline hiring locals (including tribal members) for certain jobs at the park that are classified as excepted service. For local Native people, this hiring authority is a step in the right direction, but even the National Park Service recognizes it has significant shortcomings. 
We're here right now. We work in the parks. We work to defend and protect the parks. Talk to me, ask me about my history. Ask me about how I feel about the canyon. Don't ask a historian. Don't ask an archaeologist that's not Diné or a Native. Ask me, I'm right here.

– Renae Yellowhorse, Diné (Navajo)
The biggest flaw in the new hiring authority is that it does not increase employee representation from all 11 associated tribes of the Grand Canyon. It excludes five Grand Canyon associated tribes (Las Vegas Band of Paiute Indians, Moapa Band of Paiute Indians, Paiute Indian Tribe of Utah, Pueblo of Zuni, and Yavapai-Apache Nation) whose reservations are farther away from the park. It also only applies to technical, clerical, and maintenance jobs, which have lower salary caps and are often seasonal. If you are familiar with federal jobs, these are GS-7/WG-10 and lower jobs. Under this policy, workers don't qualify for park housing, which means they must commute, sometimes hundreds of miles, for a job. And anyone hired this way does not have a lot of mobility to transfer to other competitive jobs in the park service. You may be stuck reapplying from scratch (hello again, USAjobs.gov). 
Jim Enote (on screen) shares his connections to the Grand Canyon in the short film, "Voices of the Grand Canyon," screened at a meeting of the Intertribal Centennial Conversations Group in March 2022. RAYMOND CHEE
---
The Grand Canyon Trust has been connecting with current and former park service employees to learn about hiring challenges and explore ways to increase hiring from all Grand Canyon tribes at all levels of park management. Federal agencies, like the park service, can be given authority to hire based on "local expertise and experience" and expedite hiring for specific occupations, pay-grades, and locations when needed. We believe the park needs this kind of direct-hire authority to automatically make members of the 11 associated tribes eligible for jobs based on their expertise, under a streamlined process. 
This wouldn't be a federal hiring preference, like the one given to veterans or Bureau of Indian Affairs employees. Instead of basing hiring on race or ethnicity, a new direct-hire authority would make local expertise, including that of tribal members, the main criteria to be eligible for a range of temporary, career, and permanent positions, not just technical, maintenance, and clerical jobs. It would also open up access to higher-paying jobs above grades GS-7/WG-10. 
The Havasupai people right now reside on the reservation in Supai Village, which is 50 miles west of the south rim of Grand Canyon National Park. But this whole area is aboriginal territory for the Havasupai people, my people… This whole area belonged to them, my ancestors.

– Coleen Kaska, Havasupai
This hiring authority would be different from the Indian Preference policies in place under Title VII for the Bureau of Indian Affairs and Indian Health Services and similar to the local-hire authority in the Alaska National Interest Lands Conservation Act that is not racially based but gives "special consideration to local residents who have special knowledge of the conservation units near their communities." 
The big question is how to get this done. Legislation, executive order, and the U.S. Office of Personnel Management are means of changing hiring at Grand Canyon National Park. To make sure it lasts, the Trust believes reform should come in the form of legislation, safe from the whims of changing administrations. This legislation would also be an opportunity to recognize the lands of the Grand Canyon as traditional Indigenous lands that are best managed by those with local and traditional knowledge and expertise.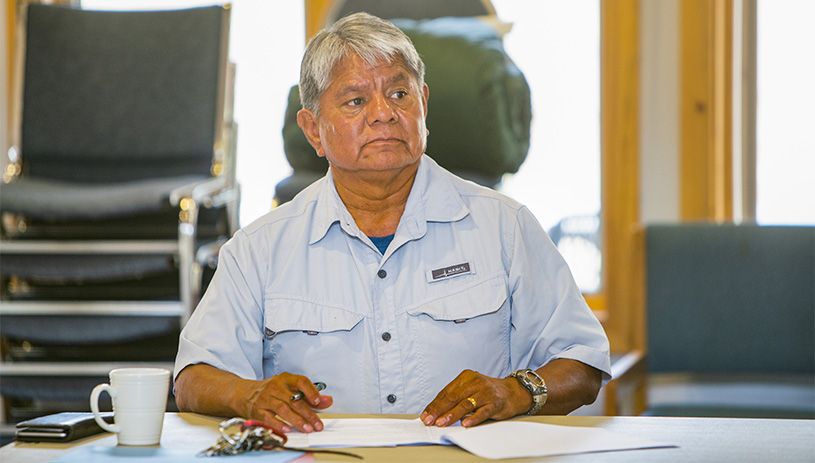 Richard Powskey at a meeting of the Intertribal Centennial Conversations Group. JAKE HOYUNGOWA
---
Though reform could increase the number of Native employees at the park, it is important to note that it is not a form of tribal co-management. Increased Native hiring at the park might also take tribal employees away from jobs within their respective tribal governments. Nonetheless, tribal voices, like the Intertribal Centennial Conversations Group, have identified employment as one key reform needed for the park's second century. Through increased representation at all levels of park management, the original stewards of the land can help direct how it is cared for, for generations to come.
This reform won't be perfect but it's a starting point. Grand Canyon National Park and gateway communities like Tusayan and Cameron will need to address housing and transportation gaps, which will create additional employment opportunities outside of the park.
Our ancestral homelands, as far as the Hualapai people go, encompassed 7 million acres of northwestern Arizona… we traversed from area to area utilizing the natural resources for food, for medicine, for housing, for trade.

– Loretta Jackson-Kelly, Hualapai
Of the approximately 500 employees at Grand Canyon National Park, somewhere upward of 25 are Native. Native employees face a number of challenges inside the park, including housing shortages and long commute times, alleged discrimination, and lack of opportunities for year-round employment, to name a few. Hiring reform is just one of the many changes the Intertribal Centennial Conversations Group identified as a need for the park. Native people need access to their traditional lands to collect medicinal plants, and for other traditional gathering and ceremonial uses. And tribal communities deserve their fair share of the hundreds of millions of dollars tourists spend in the region each year.
Ultimately, hiring reform that increases the representation of the 11 Grand Canyon associated tribes among park staff and fosters a safer place for Native employees is a crucial step in centering Indigenous culture, history, and perspectives in park management. It is our hope that Grand Canyon National Park can serve as a model for hiring reform that is then scaled across federally managed lands on the Colorado Plateau and beyond. We are overdue for management changes that create welcoming and inclusive spaces for Indigenous voices, beliefs, and priorities.
---
Amanda Podmore serves as Grand Canyon director at the Grand Canyon Trust.

---
EDITOR'S NOTE: The views expressed by Advocate contributors are solely their own and do not necessarily represent the views of the Grand Canyon Trust.