Retracing photographer Tad Nichols' steps to document Glen Canyon as it reemerges from a shrinking Lake Powell.
---
BY DAWN KISH
Photographer Tad Nichols (1911–2000) first ran the Colorado River through Glen Canyon in 1950, experiencing a labyrinthine world of twisting slot canyons, flowing streams, magnificent amphitheaters, and naked red rock. For the next 13 years until the Glen Canyon Dam was completed and Lake Powell began to fill in 1963, Nichols journeyed through what is often called "America's lost national park."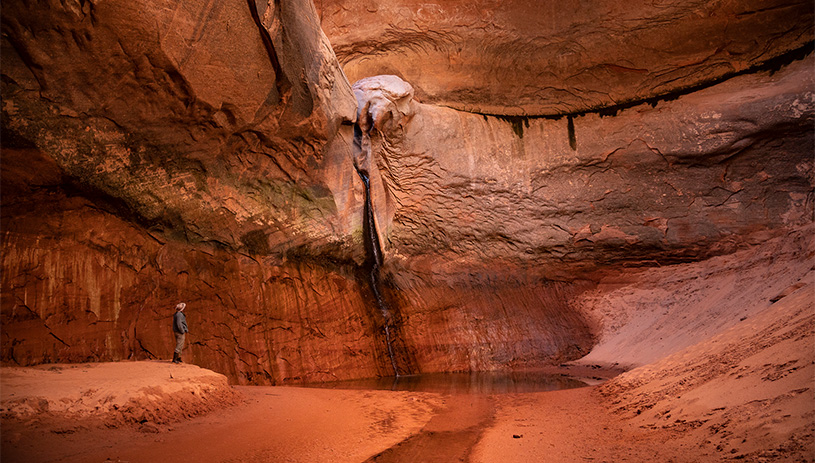 Research scientist Seth Arens takes in the beauty of Cathedral in the Desert, Escalante Canyon. DAWN KISH
---
Working for the Sierra Club and the Bureau of Indian Affairs, Nichols' artistic photographs provide one of the most extensive historical portraits of Glen Canyon before the dam. Nichols passed away just after his book, "Glen Canyon: Images of a Lost World," was published in 1999. The book is out of print, but it contains the best photographic documentation of what many consider the most beautiful canyon system in the Southwest.
Glen Canyon is finally emerging because Lake Powell water levels are dropping at an incredible speed. Dawn Kish, a conservation photographer and filmmaker, was given Nichols' 4x5 film camera a few years ago by Nichols' friend and printer, Richard Jackson, and she is now returning to Glen Canyon to expose what she finds. 
Over the past nine months, Kish started to write to Tad in her journal about creating art and documenting this reemergence.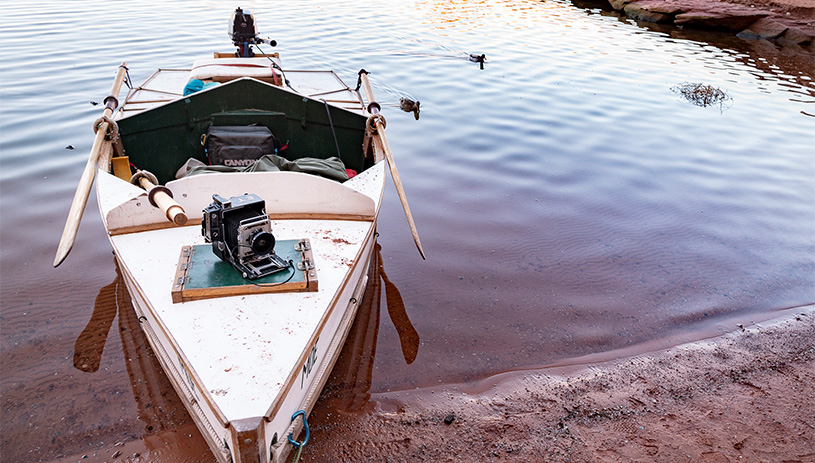 Tad's camera on Norm Nevills' boat. DAWN KISH
---
Dear Tad,
I'm writing you to let you know that I'm borrowing your 1950s Crown Graphic 4x5 camera and I'm going to use it to expose Glen Canyon and its emergence from its watery tomb. 
My name is Dawn Kish and I'm a photographer like you. You don't know me but I'm a big fan of your work. I feel like you are the Ansel Adams of Glen Canyon. In your book, "Glen Canyon: Images of a Lost World," your photographs really spoke to me. You can feel that this canyon is so dear to your heart and soul.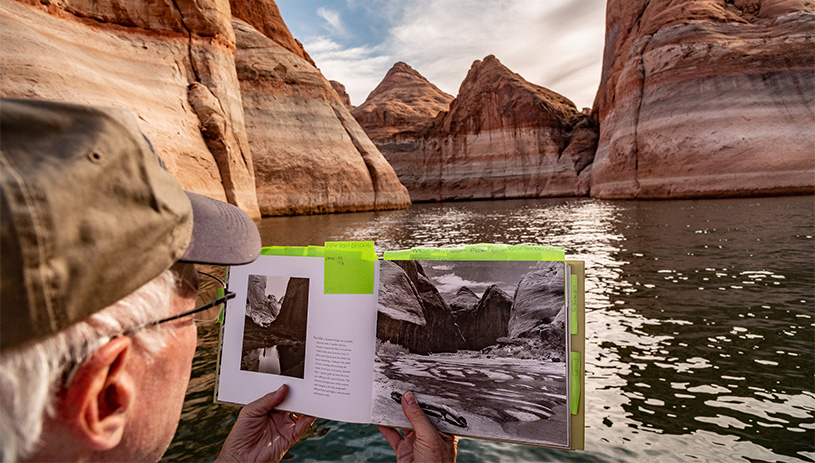 Richard Jackson comparing Tad's photos to today's views. DAWN KISH
---
Thank you for your time, light, and vision, and for trying to preserve one of our precious canyons in the Southwest with your photographs. You advocated to protect this landscape from the Glen Canyon Dam, but unfortunately the canyon became a giant reservoir — Lake Powell.
Well, I want you to know that the lake is now at its all-time historic low since the 1960s because of drought, human consumption, and climate change. Mother Nature is just taking over.

Lake Powell began filling on March 13, 1963 and would not reach full capacity until more than 17 years later, on June 22, 1980, when waters rose to an elevation of 3,700 feet above sea level, with the 710-foot Glen Canyon Dam holding back over 26 million acre-feet (nearly 8.5 trillion gallons) of water. Today, the water in Lake Powell has dropped to its lowest level since the early 1970s, back when the reservoir was still filling. STEPHANIE SMITH
---
When I heard the news, I was curious and wanted to know what was happening. I wanted to see Glen Canyon. The canyon I never got to experience except in photographs, books, and film. I wanted to see where you roamed for over 12 years with your cameras. And where you made the most beautiful images of this epic landscape.
So I went on a journey with your camera, real 4x5 film, my Nikon DSLR, and adventurous friends. We got our feet stuck in the mud, found returning stands of cottonwood trees, and saw lake sediment flushing out of the side canyons.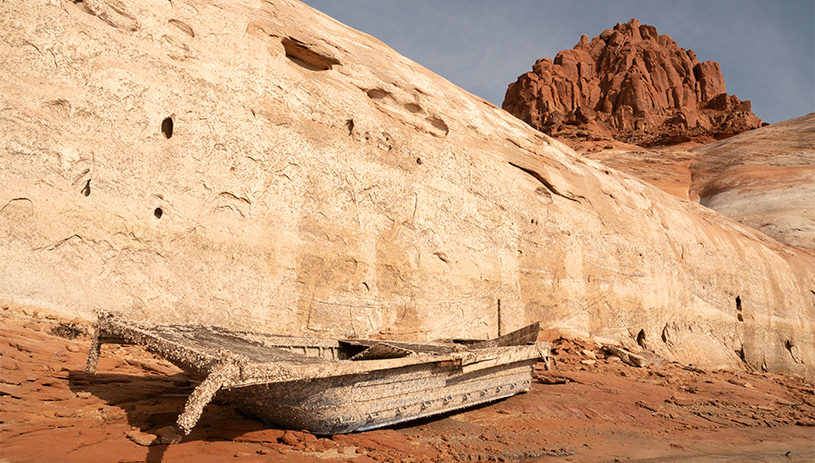 Dropping water levels reveal a sunken boat. DAWN KISH
---
We witnessed lake levels dropping and the canyon walls growing. It was an exploration of what was to me unknown, like looking for buried treasure. I was spellbound with every turn of the canyon. I felt like a tiny ant up against the massive painted cliffs of Tapestry Wall and mesmerized by the curving sandstone in Labyrinth Canyon.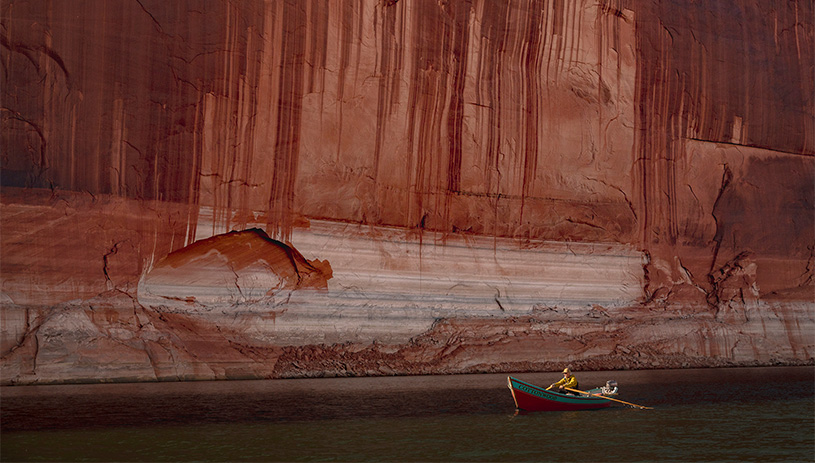 Tapestry Wall, Glen Canyon. DAWN KISH
---
When I arrived at Hite Marina, I cried when I saw the mighty Colorado River flowing. My heart pounding, the river took my breath away. I knew I had to document this historic moment and run the returning river. We put in at North Wash, across the river from the closed Hite Marina in Utah, and I rowed a replica of an old wooden boat that Norm Nevills created. It looks very similar to the boats you used to run. At camp, we got slammed with a major wind-and-rain storm that broke my tent and biblically humbled us. The next day, we explored for about 10 miles and ran a few rapids until the river hit the lake. I never thought in my lifetime that I would run the river through Glen Canyon.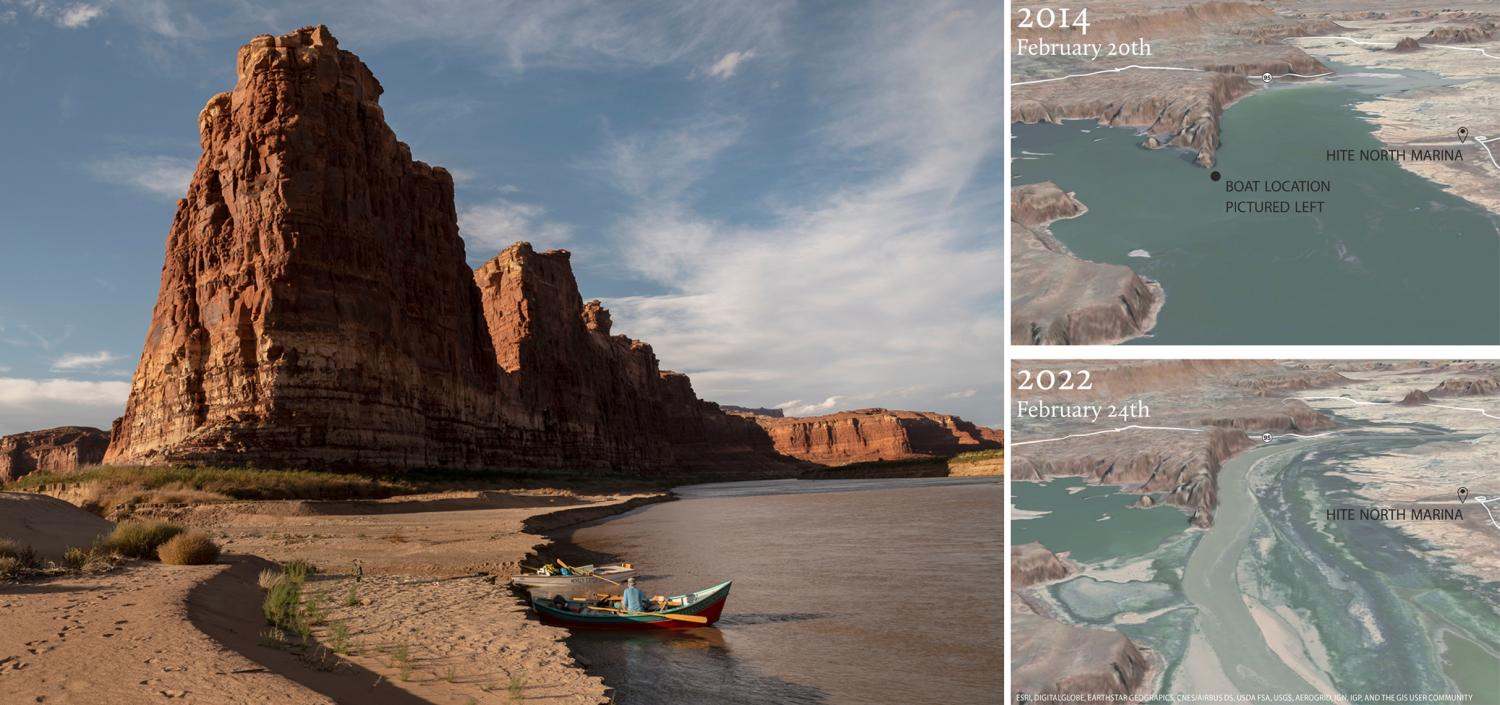 On the Colorado River in Glen Canyon across from Hite North Marina, where water levels have been dropping drastically over time. Notice the Colorado River emerging from the lake in the lower right map. STEPHANIE SMITH
---
So far, many of the photos I have taken have been under water. Well, that is what the waypoint says on my most recent GPS map. According to today's map, I need a snorkel and some underwater housing, but these photographs are proof I'm on exposed dry land. Your camera was intimidating at first, but now I'm finding a flow with it. I feel like I'm creating my most important work. I'll be going into the darkroom soon to see the negatives and create prints. This whole process is exciting, and I am hopeful that others will be elated about the return of this amazing canyon too.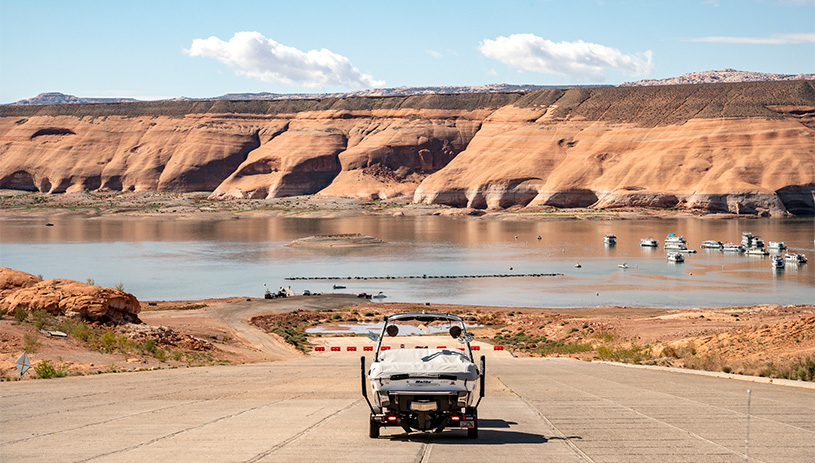 It's now a very long ride down the boat ramp to the dropping waters of Lake Powell at Bullfrog Marina. DAWN KISH
---
In the 1960s, David Brower, director of the Sierra Club, said it was his biggest "mistake" to let Glen Canyon go to protect Dinosaur National Monument instead. You mentioned that Glen Canyon was a dozen Dinosaurs. From my exploration, I agree, and I know why you wanted to preserve this magical place. 
Now it is my turn to preserve this canyon and document the reemerging Glen Canyon. It's my turn to create art and advocacy. I hope this project will inspire all generations to not make the same mistakes.
Six different trips, 16 days on the lake. This was just a tiny blip of a view. I need more time. I need 16 years and I know that would not even scratch the surface. I had no idea that I would feel so overwhelmed by this seductive canyon. I'll just have to return for more. For more beauty.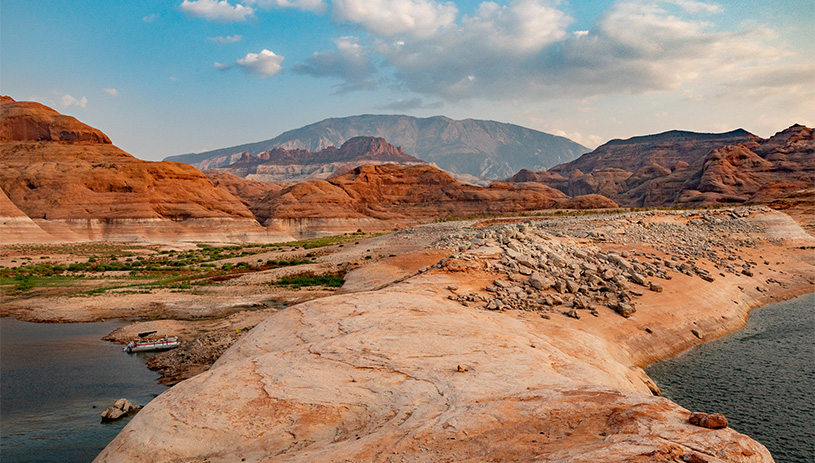 Lake Powell at low water. DAWN KISH
---
Thank you for your inspiration, creativity, and your camera. I'll let you know what develops.
Your biggest fan,
Dawn Kish
---

Find more of Dawn's work at dawnkish.com
---
EDITOR'S NOTE: The views expressed by Advocate contributors are solely their own and do not necessarily represent the views of the Grand Canyon Trust.