Climate change, water woes included, is the largest threat facing my generation.
---
No place has enticed me to ponder more than the front porch of Kane Ranch. This vista never fails to inspire, particularly in optimistic company. For two years now, I've spent early November here with fellow young idealists, dreaming up Uplift, an independent for-youth-by-youth conservation movement that meets twentysomethings where they are and sets its own priorities.
From the porch of Kane Ranch, it's clear that wherever we're going has to do with where we've been. The human heritage of the Colorado Plateau splays in miniature across the House Rock Valley. Look beyond the Navajo sandstone bricks of the 1870s headquarters and you'll find a shrinking cattle operation forced to adapt to a hammered ecosystem.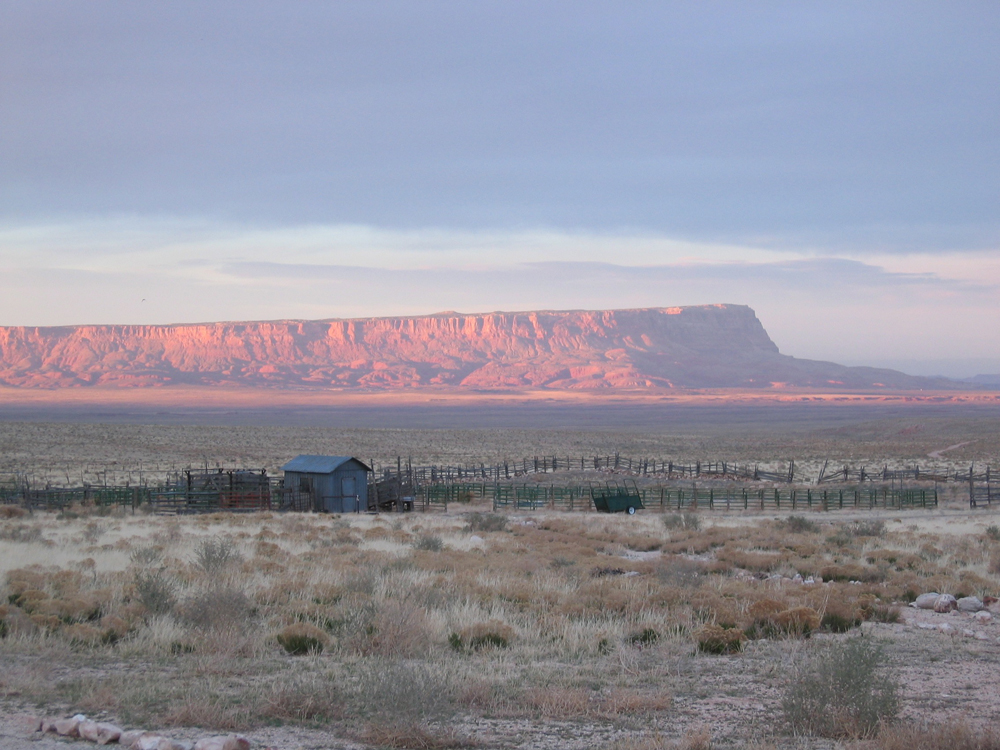 If you know how to look, the washes and plains sloping toward Marble Canyon are adorned with traces of ancient farmers who moved on when the water did.
And most precious of all: the Colorado River. The río persists and still sometimes flows red (dams be damned), permitting life and lore in this valley.
But rising above the Echo Cliffs, the triple smokestacks of our current indulgence—Navajo Generating Station, one of the West's dirtiest coal plants—remind us that our inheritance is tied to a legacy of exploitation.
Climate change, water woes included, is the largest threat facing my generation.
But the deep power of these western landscapes is not yet lost. Wallace Stegner called this arid land "the native home of hope." To look into the expanse today is still to ask "what if?" What if young people united to confront climate change on a scale only possible in the digital era? What if we prioritized ecology over economy?
When science increasingly points to drought, creating a Stegnerian "society to match the scenery" becomes more than aesthetic. It's existential.
Uplift is rooted in red rock, dry soils, and hope. We simply don't know if these red-rock mesas, aspen-clad mountains, and ponderosa forests will be habitable in a warmer world, so we're organizing now to protect the places we love. Our savvy team of volunteer organizers is gearing up for the second annual Uplift Climate Conference, August 18–21, 2016, with support from the Grand Canyon Trust and Northern Arizona University's Landscape Conservation Initiative.
Above: The author speaks with 2015 Uplifters at Camp Colton, outside Flagstaff. Photo by: Blake McCord
Whether you're young or young at heart, Uplift welcomes you this August. Someday, we hope, our descendants—and yours—will sit on the front porch of Kane Ranch, look out over the House Rock Valley toward Marble Canyon, and instead of exploitation, see a subtle legacy preserved. They too will find wonder in the vast, wild landscape.
---

Claire Martini is the Trust's Uplift and youth engagement coordinator. 
---