With bills in Congress to gut the Antiquities Act, protecting it will take all of us. 
---
BY REP. RAÚL GRIJALVA
Native American roots on this continent go back much further than the founding of the United States. We should remember when we reflect that this country's early policies of Indian removal and genocide subjugated millions of people, and, in too many cases, wiped out thousands of years of history. 
New settlers moving to the West in the mid-19th century noticed evidence of great civilizations they saw as abandoned. Some, like Colorado cowboy Richard Wetherill, were moved to help protect places like Mesa Verde, but even those who meant well were often complicit in plunder. Countless artifacts were placed on settlers' mantelpieces, shipped by wagon and rail to Chicago and New York, and freighted on slow boats to Europe. By 1900, "pot hunting" was one of the region's most popular pastimes.
This appalled some witnesses to the destruction of a cultural record that took millennia to build.
Anthropologist Edgar Lee Hewett led the effort to pass the Antiquities Act of 1906, which criminalized the destruction or removal of historic resources and artifacts from public lands by non-scientists. The act also authorized the president, "in his discretion, to declare by public proclamation historic landmarks, historic and prehistoric structures, and other objects of historic or scientific interest that are situated upon the lands owned or controlled by the Government of the United States to be national monuments."
President Theodore Roosevelt used the act right away to protect Devils Tower in Wyoming. He used it 17 more times in the next two years, protecting places like Natural Bridges National Monument (now surrounded by the new Bears Ears National Monument), the Petrified Forest, and the Grand Canyon. While each of these actions was controversial, few today would suggest undoing protections for the Grand Canyon. 
The act itself can only be used to designate monuments, but Congress often elevates those monuments to national parks.
Since its passage, the Antiquities Act has been used more than 150 times by American presidents of both parties to protect some of what are now the crown jewels of our national park system, including icons like the Grand Canyon, Zion, and Bryce Canyon. Protecting those crown jewels required presidents with vision and members of Congress willing to take the next step.
No president has protected more land, both by naming new national monuments and expanding existing ones, than Barack Obama. Among other farsighted decisions, he wisely used the law to honor those historically underrepresented by our federal lands, including Hispanics, the LGBTQI community, and African and Native Americans.
A big part of that legacy is his decision to designate Bears Ears National Monument, a designation Native American tribes actively requested. The proclamation protecting the area identifies Native American traditional knowledge as both a resource to be protected and a tool to be used in monument management. It draws together federal land managers and Native Americans to manage the monument. Bears Ears is a victory for the land and for tribal sovereignty.
But President Obama left some important conservation business unfinished when he departed the White House.
I can only express my profound disappointment at his failure to designate Greater Grand Canyon Heritage National Monument, which many tribes had also requested and supported. The Grand Canyon is one of the world's most iconic natural places, not just for its beauty but for its importance to Native American culture and history. A national monument would have made permanent an existing ban on uranium mining around the Grand Canyon, which expires in 2032 and will almost certainly come under political attack much sooner.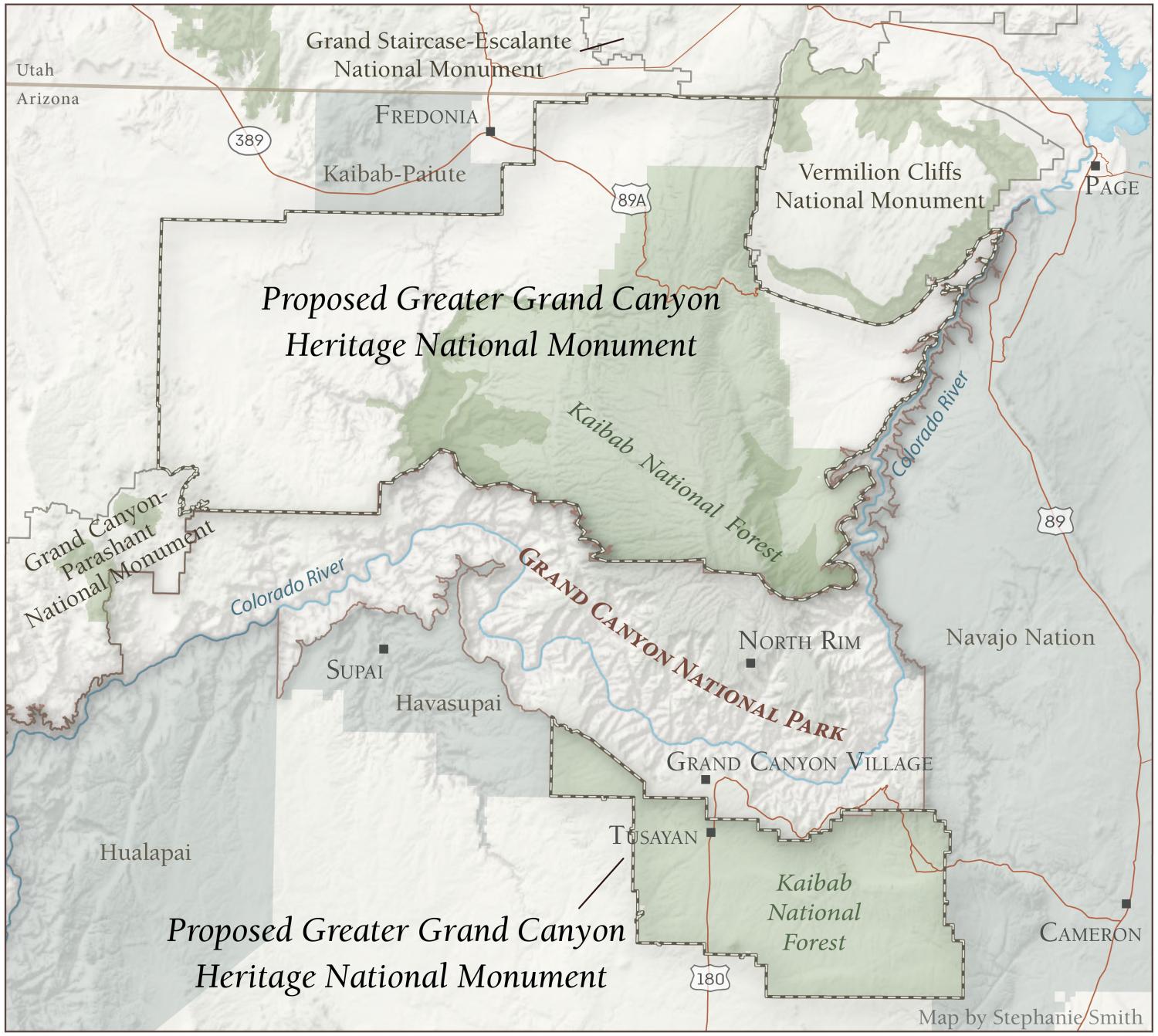 I was proud to offer the Greater Grand Canyon Heritage National Monument Act in Congress and to advance the monument idea every step of the way over the past several years. I have not given up. I have already reintroduced my bill, and we are working to rally support for the legislation in the 115th Congress. The need to protect the Grand Canyon is bigger than who is president or who sits in Congress. People from all walks of life have been fighting this fight for a long time. We're going to keep working until we get it done, and in the meantime we'll defend the ban on uranium mining around the canyon from any attack the Trump administration or Republicans in Congress throw its way.
These attacks are already mounting.
Though no president or Congress has ever undone a large national monument declaration, Utah's congressional delegation is lobbying President Trump to undo or drastically shrink Bears Ears and Grand Staircase-Escalante national monuments, misrepresenting them as "federal land grabs" (even though these, like all national monuments, are entirely made up of land already under federal protection) and offering the same old false prophecies of lost access and economic ruin.
These crocodile tears are familiar. Utah's elected leaders have gnashed their teeth and rent their garments at every national monument designated in Utah. But Utahns love their "Mighty Five" national parks, four of which began as presidentially proclaimed national monuments. According to a recent Conservation in the West poll, 80 percent of Western voters support keeping all new national monuments designated in the last decade. If our new interior secretary threatens Bears Ears, he threatens the trust-based government-to-government relationship between tribes and the federal government – and he risks a massive tide of public resistance in the process.
Beyond Bears Ears, the Antiquities Act itself is also under threat.
Members of Congress are introducing bills to undo, gut, or exempt certain states from new national monument designations, and, in turn, new national parks. These moves are wildly unpopular with American voters. With so many issues competing for the public's attention in the Trump era, we must not let the importance of public lands protection be forgotten. 
Protecting the Antiquities Act will be a local effort as much as it is national, and we need to rally together local communities, conservationists, sportsmen and women, recreationalists, and families in a united front. The Antiquities Act of 1906 remains one of our nation's most enduring and powerful conservation laws. I hope you will join with me in the coming effort to protect it.  
---

 Congressman Raúl Grijalva represents Arizona's 3rd District.

---
EDITOR'S NOTE: The views expressed by Advocate contributors are solely their own and do not necessarily represent the views of the Grand Canyon Trust.