A New Yorker feels the pull of the West.
---
BY HOLLY HOLTZ
For a long-standing New York City dweller such as I am, regular escapes to the open spaces and solitude of the West have been therapeutic and a motivation to stay fit enough to hike uphill at altitude. These escapes also have deepened my interest in conservation. It's hard to imagine anyone spending time in these settings without feeling drawn to support their protection.
On my first visit to the Colorado Plateau, in 1994, I joined an outdoor adventure group on a hiking and camping trip through Bryce and Zion national parks. I had backpacked before, but I liked this trip's arrangement better as I approached middle age. What a relief to carry a 10-pound daypack holding only water, protein bars, and rain gear, rather than a 40-pound overnighter. On the other hand, I was still at ease in a sleeping bag, looking up at the stars, as the temperature dropped to near freezing in early October. After subsequent visits, I remain in awe of the striking beauty of these two parks. They are so different in physical history and appearance, though just several hours' drive apart. Coming across fossil remains of familiar-looking sea life on Zion's West Rim Trail was one of many discoveries on my hikes. Found not far off the route's sandy trail, they bore faint imprints of what looked like coral and star fish. I had not known until then how that area's geology was tied to an ancient inland sea and to lakes that no longer exist. Nor was I aware before my travels there of such amazing natural shapes as the hoodoos of Bryce Canyon, formed by the continuous melting and hardening of snow between the layers of limestone.
With little formal education in the natural sciences, visiting these places has heightened my appreciation for the importance of letting nature take its course, undergoing its own transformations, with as little impact from detrimental human activity as possible. 
Strangely, my introduction to the Grand Canyon was a sidebar to Bryce and Zion, a drive-by on the way home from those other parks. Whatever images I'd seen up to then had not prepared me for the magnetic attraction of a personal encounter. On my first visit, I felt compelled to look into and across the canyon from many different vantage points, at different times of day. I was captivated by the astounding array of rock towers, pyramids, crags, and mesas, separated by canyon and river chasms, and their appearance in the changing light and atmosphere. These vistas brought to mind the drawings and paintings of Thomas Moran, an East Coast artist influenced by the Hudson River School and the great British landscape painter J.M.W. Turner. At Moran Point, the site on the South Rim to the east of Grand Canyon Village that is named for him, I watched the sun set and tried to pick out spots where Moran might have sketched. Already renowned for his early 1870s depictions of Yellowstone, the Wyoming Plateau, and the Rockies, Moran first traveled to the Grand Canyon at the instigation of John Wesley Powell to illustrate Powell's survey reports. After that, he returned to the canyon many times. As with his celebrated "Grand Canyon of the Yellowstone," Moran's Grand Canyon masterpiece, "The Grand Chasm of the Colorado," focused public and government attention on the importance of conservation in the West.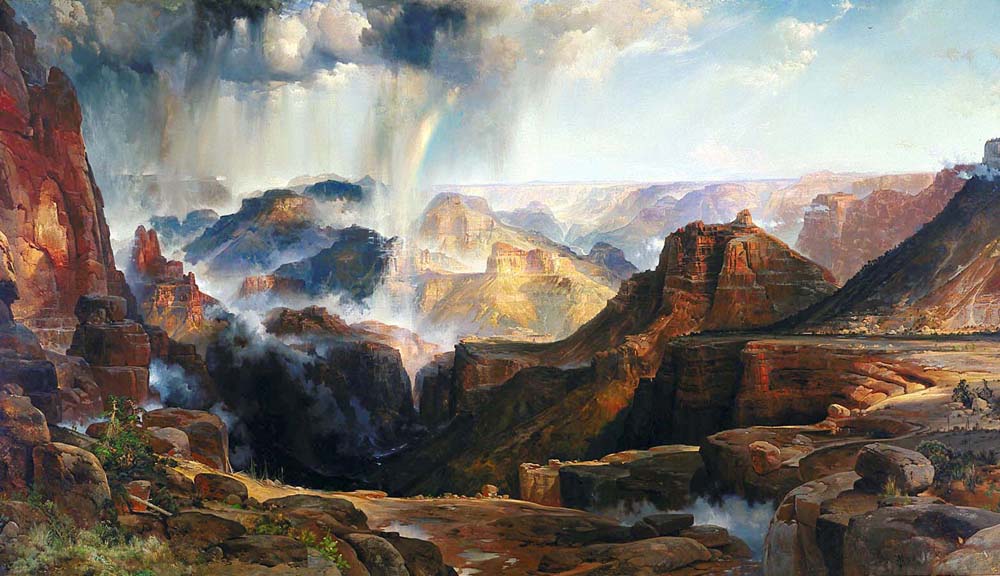 The Chasm of the Colorado by Thomas Moran, 1873-1874. SMITHSONIAN AMERICAN ART MUSEUM.
As a testament to the potential for government's responsible stewardship of the environment, Congress was inspired, in part by Moran's painting, to declare Yellowstone a national park, the nation's first, while the U.S. Department of the Interior purchased both of these works and ultimately lent them for public display to the Smithsonian. 
A continuing fascination with the Colorado Plateau has taken me back to Bryce, Zion, and the Grand Canyon several times, where I've revisited favorite spots, repeated favorite hikes, and undertaken new explorations. This fascination has also led me to Mesa Verde and the newly declared Bears Ears National Monument, near the Four Corners. The only experience I hope not to repeat was an ill-advised overnight in a remote setting outside of Zion, where an inoperable water purifier and swarms of flies at dusk amplified the misery of the soft sand trail, reinforcing my preference for day hiking on firm ground. Even my two rim-to-rim adventures across the Grand Canyon, on the North Kaibab and Bright Angel trails, begun in early morning by the light of headlamps, left me feeling exuberant if fatigued after conquering 24 miles and over 4,500-foot elevation gains in one day. 
Those seeking solitude may be disappointed by the popularity of some trails, despite the gorgeous views and settings. But early morning hikes to spots such as Zion's Observation Point, through the fabulous and moist Echo Canyon, or exploring Hop Valley trails and looking out over Zion's peaks from the west, or departing from Zion's West Rim Trailhead just before dawn and passing Angel's Landing later in the day in reverse, on the way down, confirm how even the most popular of parks can feel remote. 
Visiting and revisiting these three parks, several years and then several decades apart, highlighted for me the skill with which growing numbers of visitors have been supervised, accommodated, and pleased. Practices such as regulating private vehicles, maintaining and expanding trails of varying ease or difficulty, creating informative nature programs, and collaborating with groups like the Grand Canyon Trust have generated widespread appreciation. They help strike the delicate balance between supporting widespread enjoyment of public lands and protecting them. 
New York City, where I reside, is filled with its own facsimiles of nature.
Its tall towers, spread out across the city, and the narrow streets of lower Manhattan, are man-made, urban versions of nature's peaks and canyons. As I travel through their landscape, or look out at the rooftop water tanks from my apartment window, I am attracted by their hard edges and utilitarian aspect. But they also remind me of their opposite: the purity of the wilderness. 
My experiences on protected lands and my concerns about safeguarding them led me to the Grand Canyon Trust. Reciprocally, my role as a trustee has opened new ways for me to express these concerns and take action. It gives me great pleasure and satisfaction to spread information about the Grand Canyon Trust's mission and about these areas of diverse beauty.
---

 Holly Holtz, formerly a senior director in alternative investments at TIAA (previously known as TIAA-CREF), now manages her own private equity advisory business and serves on the Grand Canyon Trust's board of trustees.
---