The beauty of the Bears Ears National Monument proclamation: a creation story.
---
BY TERRY TEMPEST WILLIAMS
On Wednesday, December 28, 2016, President Barack Obama established the Bears Ears National Monument. Not only is this a beautiful gesture in the name of the Antiquities Act, but the opening paragraph of the proclamation is a beautiful description of the land itself:
"Rising from the center of the southeastern Utah landscape and visible from every direction are twin buttes so distinctive that in each of the native languages of the region their name is the same… 'Bears Ears.'"
Within this historic document the reader will find a language more akin to poetry than public policy, well worth reading out loud around a dinner table or campfire. Too often the politics of place obscures the spirit of a place. This proclamation has given voice to an evolving narrative of beauty and change, both human and wild, that has been visited upon this burnished landscape of sandstone and sage, mountains and canyons throughout time, deep time.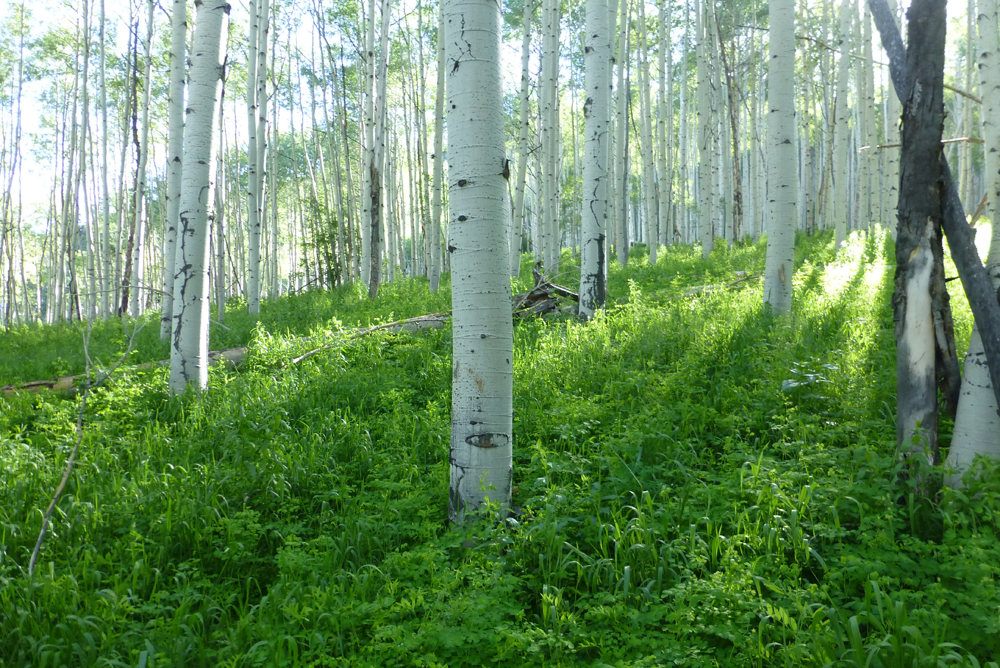 Aspen. MARC COLES-RITCHIE
To read the opening sentence of each paragraph creates a prose poem:
---
The area's human history is as vibrant and diverse as the ruggedly beautiful landscape.
...
Ancestral Puebloans followed, beginning to occupy the area at least 2,500 years ago, leaving behind items from their daily life such as baskets, pottery, and weapons.
The landscape is a milieu of the accessible and observable together with the inaccessible and hidden.
...
For thousands of years, humans have occupied and stewarded this land.
...
The area's cultural importance to Native American tribes continues to this day.
...
Euro-Americans first explored the Bears Ears area during the 18th century, and Mormon settlers followed in the late 19th century.
...
From earth to sky, the region is unsurpassed in wonders. The star-filled nights and natural quiet of the Bears Ears area transport visitors to an earlier eon.
...
Communities have depended on the resources of the region for hundreds of generations.
...
The diversity of the soils and microenvironments in the Bears Ears area provide habitat for a wide variety of vegetation…Englemann spruce, ponderosa pine, aspen, and subalpine fur…pinyon-juniper…big sagebrush, low sage, blackbrush, rabbitbrush, bitterbrush, four-wing saltbush, shadscale, winterfat…western chokecherry, hackberry, barberry, cliff rose, and greasewood.
...
Tucked into winding canyons are vibrant riparian communities characterized by Fremont cottonwood, western sandbar willow, yellow willow, and box elder…scarlet gilia…sacred datura...Durango tumble mustard…
...
The area's stunning geology, from sharp pinnacles to broad mesas, labyrinthine canyons to solitary hoodoos, and verdant hanging gardens to bare stone arches and natural bridges, provides vital insights to geologists.
...
For long periods over 300 million years ago, these lands were inundated by tropical seas and hosted thriving coral reefs.
...
The paleontological resources in the Bears Ears area are among the richest and most significant in the United States, and protection of this area will provide important opportunities for further archaeological and paleontological study…sites, such as Arch Canyon, are teeming with fossils…from reptiles to mammals and from sea to land.
---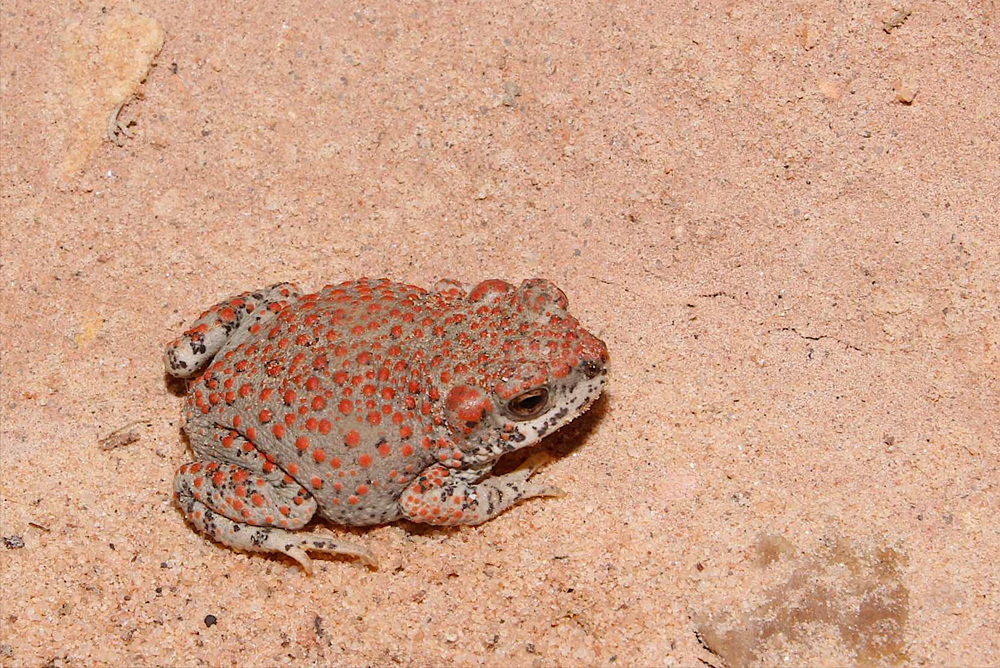 Red-spotted toad. LARA SCHNELLBACH
And then comes a litany of life residing in the Cedar Mesa landscape from desert cottontail to black-tailed jackrabbit to prairie dogs and pocket gophers; from badger to coyote to striped skunk to ringtail cat to gray fox, bobcat, and mountain lion following mule deer.
Reptiles from tiger salamander to red-spotted toad, to canyon tree frog to side-blotched lizard to striped whiptail to western rattlesnake and gopher snake; to golden eagle, peregrine falcon, northern harrier, goshawk, red-tailed hawk, great-horned owl and flammulated owl to violet-green swallows and rock wrens and the endangered southwestern willow flycatcher.
Nothing is forgotten in this proclamation that reads as its own creation story including the 15 species of bats, and the appearance of tinajas—rock depressions filled with rainwater that are the breeding grounds of aquatic insects.
What appears is a region vast and mysterious where the handprints of past people can still be found on canyon walls, a landscape so chockful of earthly delights, why wouldn't we as modern-day stewards move to protect it?
At a time when politics is so rancorous, so partisan, so blatantly in the hands of special interests like the fossil fuel industry, especially in the American West, the designation of Bears Ears National Monument signified a grace note in the centennial year of the National Park Service. We can pray that Utah's congressional delegation's relentless cries to rescind or gut this newest monument will fall on deaf ears within the Trump administration.
The United States government under the Obama administration listened to the leadership of native peoples. It heard the voices of the Navajo, the Ute nations, the Hopi, and the Zuni, all members of the Bears Ears Inter-Tribal Coalition who asked for the protection of their ancestral lands to not only honor the graves of the ancient ones, but to honor the sacred nature of their ceremonies for future generations. We can all celebrate this triumph with the tribes as fellow residents of the Colorado Plateau.
We can honor the abundance of life and solitude and a night sky of stars that has arched over these erosional landscapes for eons.
It is this eternal beauty, interrelated and interconnected, that transcends the malfeasance of small-minded politicians who threaten to undo what had already been done long before they ever arrived on this Earth – the revolving nature of life. The evolutionary story of wonder has been written and revised as an ongoing narrative of change that allows us to remember what it means to be human in a world much larger than ourselves.
The proclamation of Bears Ears National Monument reminds us what native people have never forgotten: We are not the only species that lives and loves and breathes on this planet we call home.
---

 Terry Tempest Williams is a resident of the Colorado Plateau and author most recently of "The Hour of Land: A Personal Topography of America's National Parks." This essay appeared in slightly different form in the Durango Herald on January 1, 2017.
---