Dispatches from the front lines of conservation across the Colorado Plateau.
---
BY TRUST STAFF
Bad bills piling up in Congress
Congress doesn't seem to get much done these days beyond its basic obligations to fund the government. But amid the gridlock, Utah's members of Congress are busy pushing bad ideas for public lands. 
In addition to two bills that would codify President Trump's unlawful actions shrinking Bears Ears and Grand Staircase (read "Written in Stone" for an update on the legal fight), there's Representative Rob Bishop's H.R. 3990, the "National Monument Creation and Protection Act." Despite its title, the bill does neither ― it would instead place arbitrary location and size restrictions on new national monuments and limit eligibility to "fossils," "relics," and "artifacts," while making geology, oceans, and other "objects not made by humans" ineligible.
Bishop's bill was marked up without a hearing last year and awaits action on the House floor, while the other two are stuck in committee. We're keeping an eye on them all, and we'll be asking for your help soon to defeat them. 
As coal declines, solar rises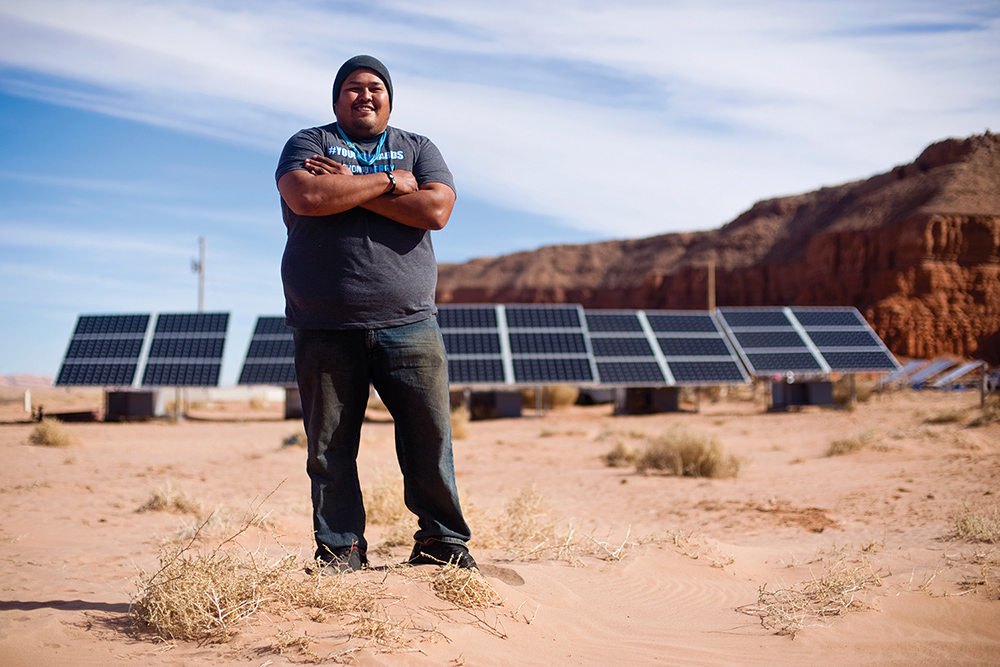 Solar entrepreneur Brett Isaac. BRIAN LEDDY
---
The anticipated closure of Navajo Generating Station looms large in the minds of Western Navajo community leaders. The power plant provides significant jobs and revenues to both the Hopi and Navajo nations and there is a growing frenzy to create alternative paths to new job and revenue sources. It is important that this response not repeat the past, given the history of outside companies providing minimal lease payments for use of tribal land, and instead enable communities to plan for, participate in, and drive development.
Thus, the Grand Canyon Trust has partnered with Brett Isaac, an entrepreneur with Shonto Renewable Energy, to educate local communities, support local project-steering teams, build their capacity, and help them design and drive the process to build a utility-scale, community-supported solar development. The first Navajo Nation chapter we are helping is Lechee Chapter, which sits at ground zero, a few miles down the road from Navajo Generating Station, and is moving forward with a large-scale solar project.
Defending the Grand Canyon mining ban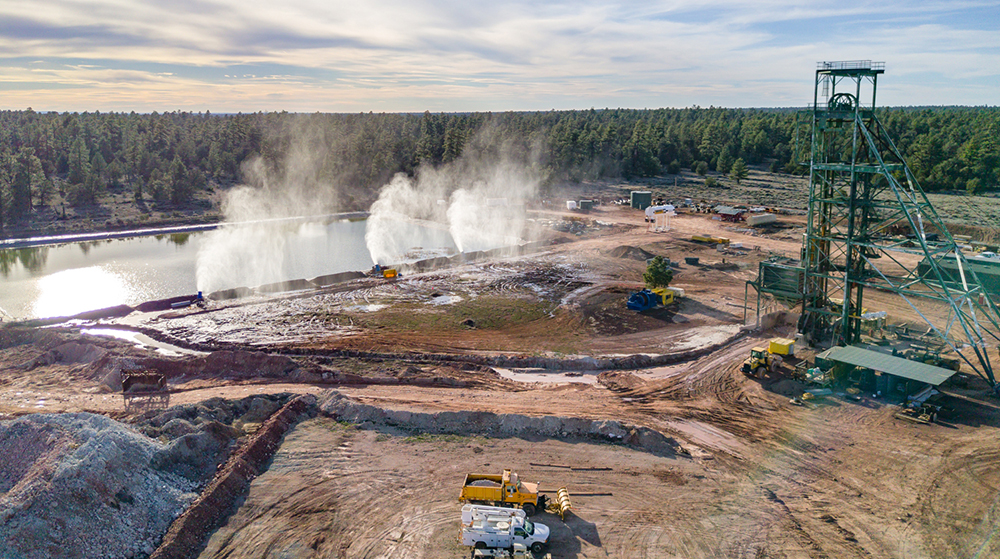 Canyon Mine, a uranium mine near the south rim of Grand Canyon National Park. BLAKE MCCORD
---
In 2012, then Interior Secretary Ken Salazar placed a 20-year ban on new uranium mining claims on one million acres of public land around the Grand Canyon. Past uranium contamination in the West has created public health problems and over a billion dollars in taxpayer liability. Since groundwater flow around the Grand Canyon is not well understood, rather than gamble, Salazar chose to press pause on new mining to allow scientists more time to study the potential risks of mining uranium in the region. The mining industry challenged the ban and the Trust helped defend it, most recently before the 9th Circuit Court of Appeals. Last December, we won. But now the Trump administration is considering arguments to remove the ban in the name of domestic energy independence and economic development. We're making the case to President Trump, federal agencies, and Congress that removing the ban not only won't achieve goals of energy independence or economic glory, but will be met by the ire of hundreds of thousands of Americans. What's Next for Grand Canyon Uranium? ›
Uranium mining mural on tour
Flagstaff High School students at work on their uranium mining mural. JULIA SULLIVAN
---
Students in Flagstaff High School's advanced art class have been delving into the subject of uranium mining, building frames and stretching canvas, and pouring themselves into the creation of a massive, four-panel mural. With the guidance and expertise of an artist from the Beehive Collective, a non-profit organization that uses art to communicate powerful stories of resistance, students collaborated to design and bring to life an art piece that tells such a story in four parts. The mural's four panels depict the world before uranium mining, the mining era, the era of resistance, and the hopeful future students imagine. The Grand Canyon Trust will continue to play a role in helping students make that future a reality. This beautiful piece will be making the rounds at community events and art walks around Flagstaff.
A forest plan is a long haul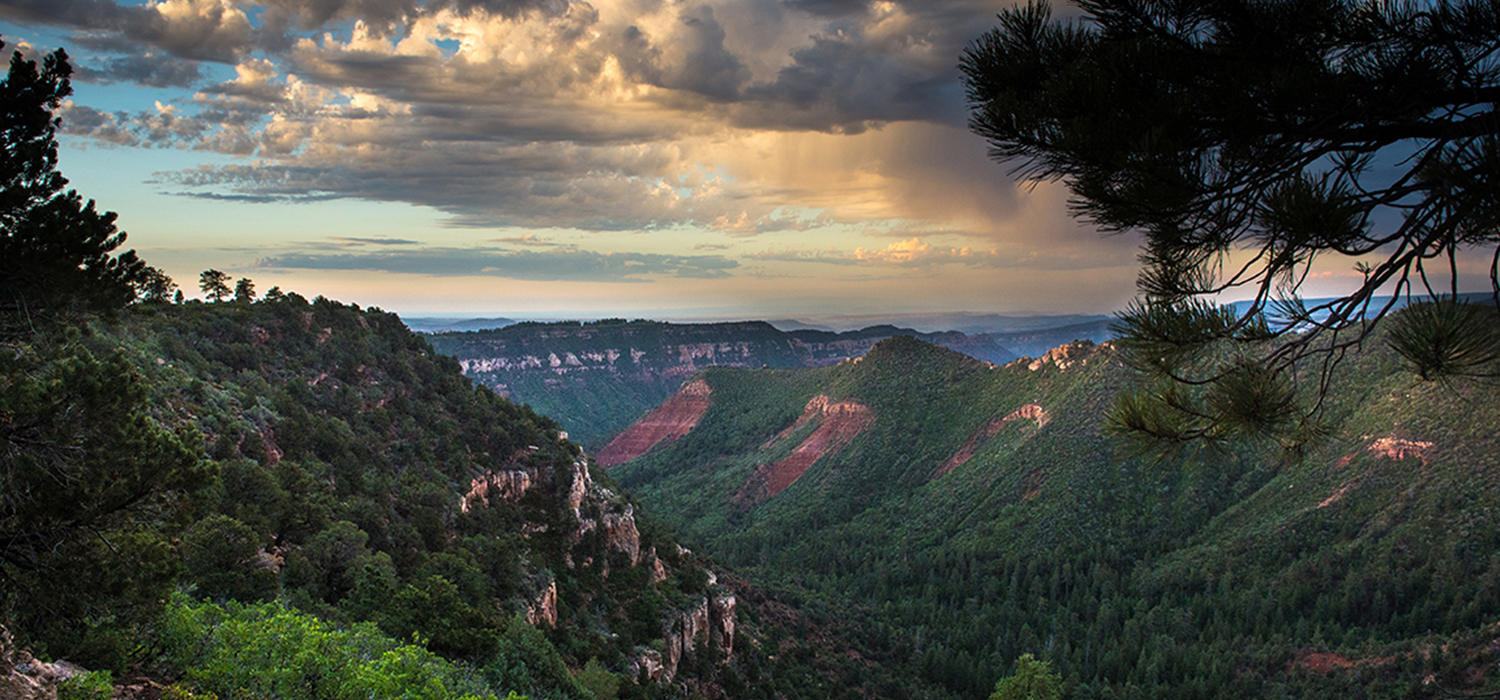 The Manti-La Sal National Forest, which includes portions of Bears Ears National Monument, is moving slowly toward its first forest plan in over 30 years. Since a forest plan covers every aspect of life and uses on the forest, it takes a team to provide the in-depth information needed to make the right planning decisions, a challenge for the Manti-La Sal's small staff. The Trust is fortunate to have knowledgeable groups right there with us. In late 2017, the Utah Native Plant Society convinced the forest to increase its proposed list of only three plant species of conservation concern (for the 1.2 million acre forest) to 32 species. This took great on-the-ground knowledge of what plants are in trouble in the forest. In February, the Grand Canyon Trust, Southern Utah Wilderness Alliance, and Western Resource Advocates suggested detailed additions and changes to the forest's evaluations of wilderness and scenery. We're here for the entire planning process.
Restoring springs and streams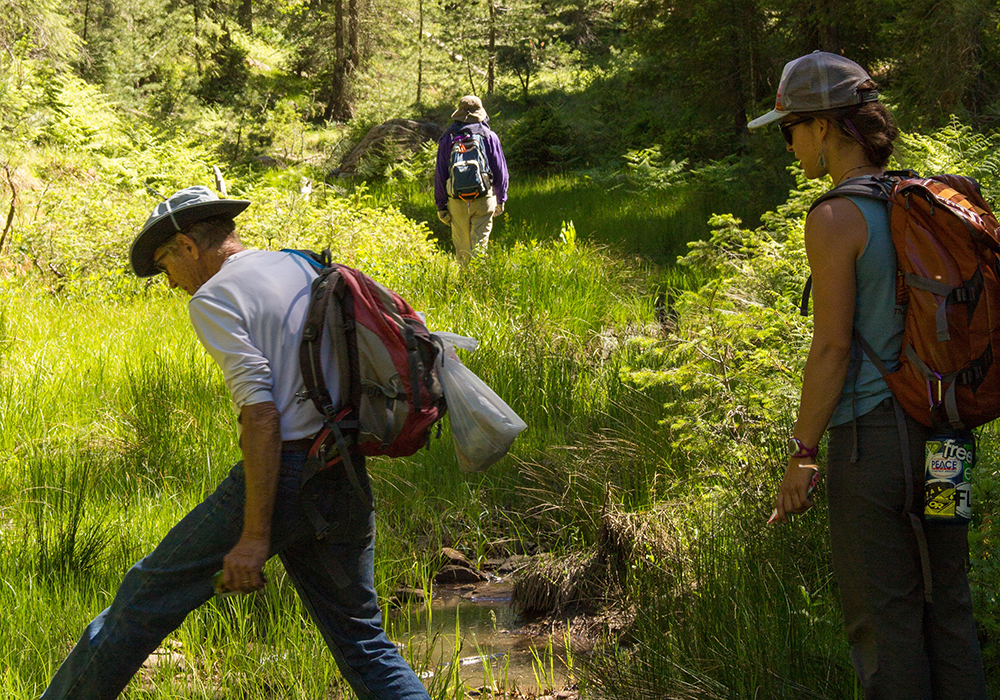 Volunteers on a spring survey trip.
---
In the midst of a record-breakingly dry winter, the probability of severe wildfire in overly dense northern Arizona forests will only increase come fire season. This makes the Trust's continued work with a variety of community and government partners to accelerate thinning of those forests through the Four Forest Restoration Initiative (4FRI) even more urgent. Through creative new agreements with the Forest Service that attract sustainable and effective industry partners, we aim to ramp up thinning by tens of thousands of acres during the next few years. This will provide meaningful benefits to fish and wildlife habitat while protecting communities from the threat of severe wildfire. Concurrently, the Trust and partners continue to restore valuable water sources across the landscape, preserving essential springs and streams in the face of drought and climate change.
Gardening for science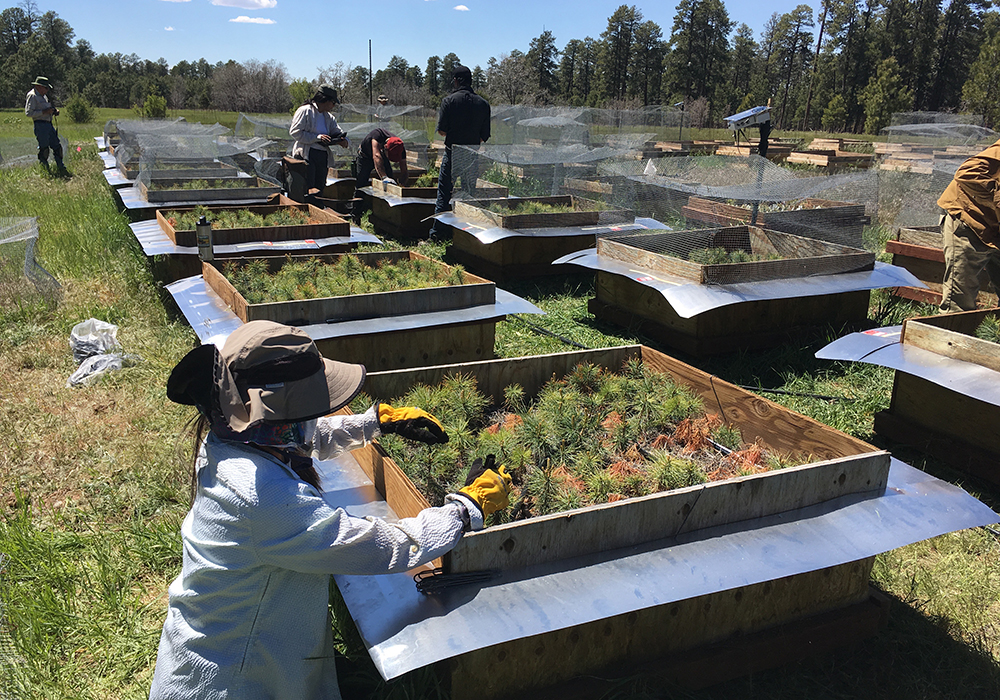 Volunteers collect data at one of the garden sites. 
---
Understanding how plants respond to a changing climate is important for restoring and managing northern Arizona's deserts and forests, especially after wildfire or drought. The North Rim Ranches on the Grand Canyon's north rim now host four of 10 Southwest Experimental Garden Array sites in our region. Each of these five-acre gardens is located at a different elevation, from desert grasslands to pine and spruce-fir forests. Together, the gardens provide an outdoor laboratory for studying the effects of climate change. Some experiments explore how microorganisms living in the soil help plants like blue grama, an eyelash-like grass, grow in drier climates. Others look at how the distinct genetic makeup of southwestern white pines helps these trees resist disease. Grand Canyon Trust volunteers are playing an important role in these experiments, contributing over 1,000 hours a year to building garden infrastructure and planting over 2,000 pine seedlings.
Kevin and Pete go the extra mile
Kevin Fedarko and Pete McBride hard at work. ROGER CLARK
---
"I need to know everything you can tell me about Escalade," author Kevin Fedarko said when he cold-called us during the summer of 2014 when reporting on the proposed rim resort and tramway down to the confluence of the Colorado and Little Colorado rivers. His essay, which appeared in the New York Times, brought national attention to the issue. A year later, Kevin and photographer Pete McBride began a trek through the Grand Canyon. After one segment of their epic journey, they climbed out 3,000 vertical feet to where the Escalade resort would have been built on the canyon's rim. Bone-tired and weather-beaten, they interviewed and photographed local families who opposed Escalade. We wanted to devote this postcard from the edge to two of the hardest working journalists in the business. Thanks Kevin and Pete for your article that followed in National Geographic, for being there last Halloween when the Navajo Nation Council voted down the Escalade tramway resort, and for going the extra mile.