A bed-and-breakfast experience on the Navajo Nation.
---
INTERVIEW BY ASHLEY DAVIDSON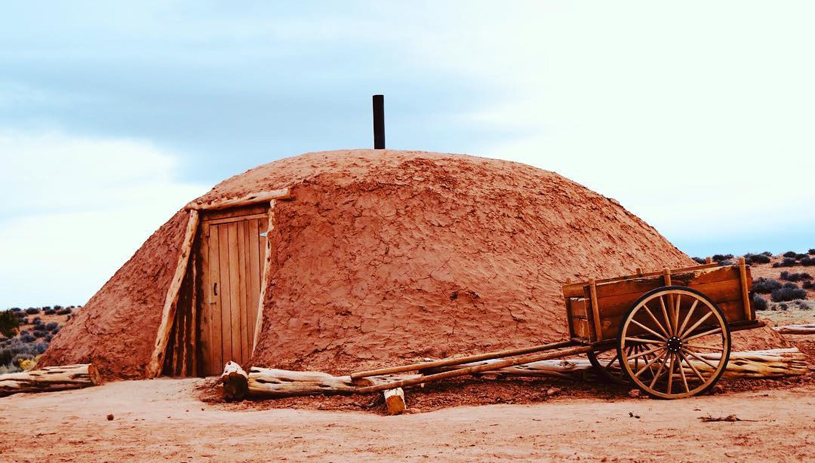 A traditional earth hogan at Shash Diné.
---
Tucked below a sagebrush-studded mesa, Shash Diné Eco-Retreat offers visitors an off-the-grid glamping (think "glamorous camping") experience on Navajo land 12 miles south of Page, Arizona. Just minutes away from Lake Powell and Antelope Canyon, Shash Diné guests sleep in a traditional earth-floor hogan and enjoy a Diné breakfast.
This working ranch is also the home of owners and entrepreneurs Baya and Paul Meehan, their two children, horses, chickens, and a herd of Navajo Churro sheep. Baya and Paul wanted their children to grow up the Navajo way, and started their B&B from scratch. With no running water, no electricity, and no road signs, it hasn't always been easy. But six years later, with support from the Grand Canyon Trust's Native American Business Incubator Network, their business is thriving. Shash Diné has been featured in Travel and Leisure and attracts visitors from as far away as Europe and Australia. Here we catch up with Baya and Paul about the ranch, their vision for economic development on the reservation, and the rigors of raising two kids off the grid.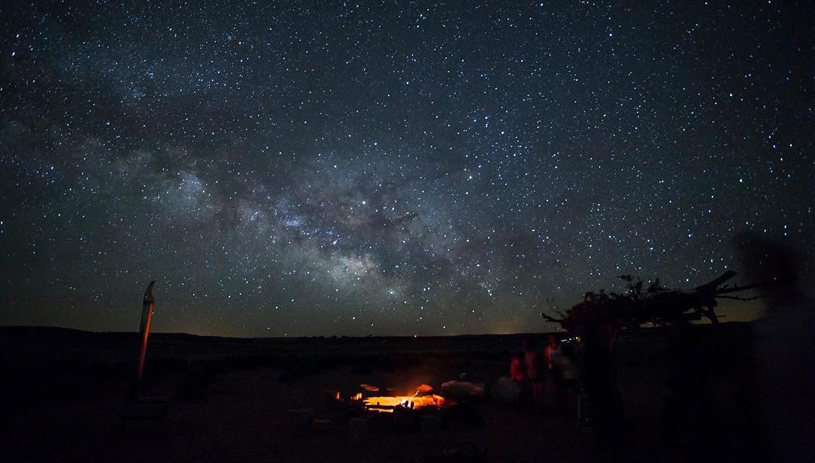 The night sky at Shash Diné.
---
You call Shash Diné a five-billion-star hotel. What makes Shash Diné different from other places to stay near the Grand Canyon?
Baya: Shash Diné offers immersion in nature. We are blessed to be in an area where there is near zero light pollution. The night sky is the big show and it never fails to awe. To view the constellations in all their glory is humbling. A truly remarkable sight of countless stars glistening above. We offer a unique alternative to box hotels. An experience, an adventure, a shared moment in time not soon forgotten.
What's the history of the ranch?
Paul: Shash Diné (Navajo for "Bear Clan" or "Bear People") is on Baya's ancestral lands. She can trace her lineage here 18 generations. Baya's grandmother, Thelma-Clara, raised sheep and cattle from high cedar country in Coppermine to the Colorado River in Glen Canyon, which is now Lake Powell. She lived as a true Navajo, thriving in the desert the way her ancestors did. Thelma-Clara migrated seasonally and lived so close to nature that many of her home sites no longer exist because they've melted back into the Earth.
Inside a hogan at Shash Diné.
---
During the late 1960s when it was no longer possible for the local residents to seasonally migrate due to the highway being built, Thelma-Clara settled down where we now reside. Though, being the true Navajo she was, she couldn't truly give up the seasonal migration. The ranch we now occupy was her summer sheep camp and just below the mesa where Baya's brother now lives was her winter sheep camp. Baya's parents and extended family also still live on the land and raise livestock. When we came back six years ago, Baya's extended family ranched cattle on the land. But Baya truly missed the sheep that once grazed the land so one of the first goals was to return Navajo Churro sheep to the land here. Once realized, we set upon creating the B&B.
How did Shash Diné start?
Baya: A shared dream and a realization that there is little economic development on the reservation. We intend to change this. Our area of the reservation is the entrance to the Glen Canyon National Recreational Area. We recognized that many visitors would be interested in a glimpse of Navajo culture. We saw that we didn't have a lot of infrastructure to work with, so the logical thing to do was start a campground, but we wanted to stand out from the crowd and also our love of aesthetics naturally led us to glamping.
The facilities.
---
What's it like raising two kids off the grid?
Baya: It's a thoughtful process. Since we don't have readily accessible water and electricity, our days are structured with certain chores in mind. Water must be set out for washing and certain chores done before the sun goes down. When we first moved back six years ago, it was a struggle to relearn these habits, but now even our children are used to this way of life. 
You recently began offering guests something called "The Navajo Experience." What is it?
Baya: The average stay for guests here in northern Arizona is one night. We're inviting visitors to slow down and soak up the landscape by offering a less rushed and more rounded cultural experience ― a two-night stay in a earth-and-log hogan, traditional Navajo meals, and a tour of our land.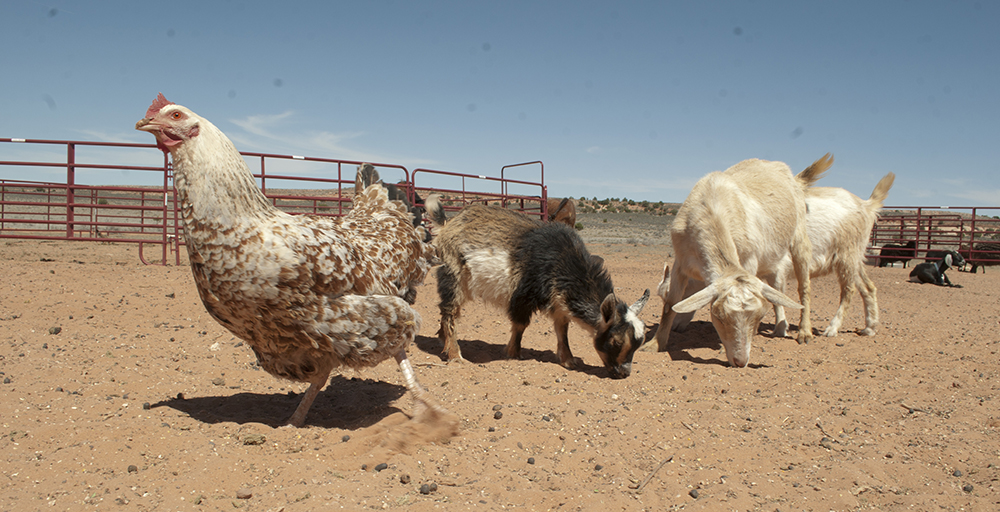 Other tenants of the working ranch.
---
Paul: NABIN legitimatized us. Natasha, Adrian, and Jessica gave us confidence that we were not crazy. They helped us troubleshoot when we ran into obstacles, helped us relaunch with a professional web presence and logo, and were always there to answer questions and provide advice. Now we're often booked several months in advance, with guests coming from across the country and Europe.
Are there other Native-owned businesses you'd recommend visitors support when they're visiting the Grand Canyon area?
Baya: Absolutely. Carole Bigthumb at Adventurous Antelope Canyon Tours, Franklin and Anna Martin at Sacred Edge Tours, and Dixie Ellis at Lower Antelope Canyon Tours take visitors out to experience beautiful northern Arizona and learn about Navajo culture.