The contentious history of mapping the Grand Canyon.
---
BY ROGER CLARK
… the imposition of mapped boundaries occurred only with the expansion of the United States into the [Grand Canyon] area in the mid-nineteenth century. At that point, the story became one of recurrent contests among different interests, all seeking to divide and control the land and its resources according to their own needs or desires and all trying to influence how the area was mapped.

‒Barbara J. Morehouse
A Place Called Grand Canyon: Contested Geographies
When the United States took possession of the Grand Canyon from Mexico in 1848, no one had mapped it. The canyon — including a dusty plateau cut by a big river above it — was terra incognita on the territorial map of the fledgling nation. Three generations later, the Grand Canyon would be crisscrossed by fences and borders — divided to suit its "discoverers'" desires. But before individuals could lay legal claim to the land, someone had to map it.  
In May of 1869, the Powell expedition arrived in Green River, Wyoming, via the yet-to-be-completed transcontinental railroad. Its 10 men — wearing cork life jackets and rowing four wooden boats — embarked with little inkling of what lay ahead. Three months later, six men emerged from the Grand Canyon carrying the coordinates needed to begin mapping a new territory.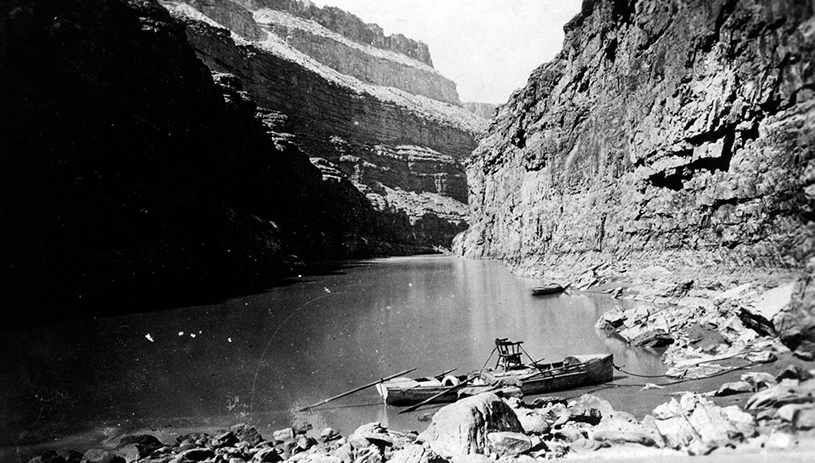 The boat "Emma Dean" during the second Powell Expedition, in Marble Canyon, 1872.

NATIONAL PARK SERVICE
The designations and dispossessions of Indigenous homelands that followed fragmented the Grand Canyon into today's mosaic of jurisdictions and ownerships, loosely governed by an ever-contentious and dynamic battle for privileges. 
Congress designated Yellowstone National Park in 1872, the same year that it passed the mining law that encouraged prospectors to claim public land as private property. The Grand Canyon's rich layers of rock were magnets for miners. During the next four decades, several presidential proclamations provided a modicum of protection. But Grand Canyon's mining boom left permanent scars and exposed more pieces to fight over.  
Following the Powell expedition, mines and mineral claims proliferated throughout the entire Grand Canyon.
In 1882, 1883, and 1886, Sen. Benjamin Harrison of Indiana introduced legislation to close the Grand Canyon to mining by designating it as a "public park" within the Arizona Territory. However, vested interests killed the bills and pressured the government to consign the Havasupai Tribe to a 518-acre reservation encircled by mining claims.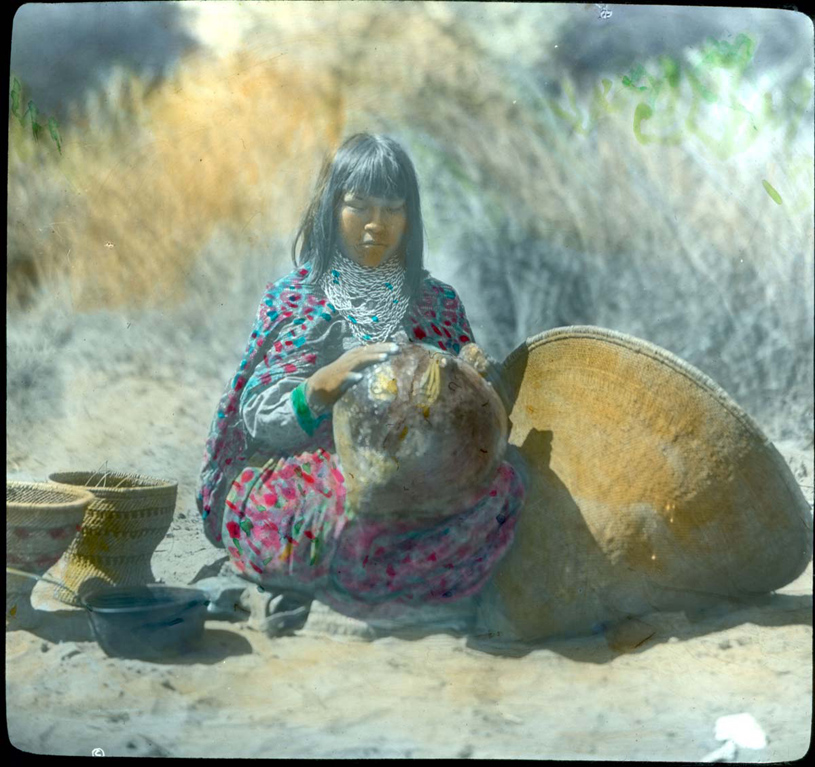 A Havasupai girl applies pitch to a basket, circa 1900.
NATIONAL PARK SERVICE
After becoming president, Harrison used his authority under the Forest Reserve Act of 1891 to withdraw 1.85 million acres of federal lands from mineral entry and settlement. Harrison's 1893 proclamation was, at the time, the largest protective action ever, encompassing much of the canyon and the forested plateaus to its north and south. However, it allowed dozens of pre-existing mineral claims and homesteaded properties to flourish within the Grand Canyon Forest Reserve.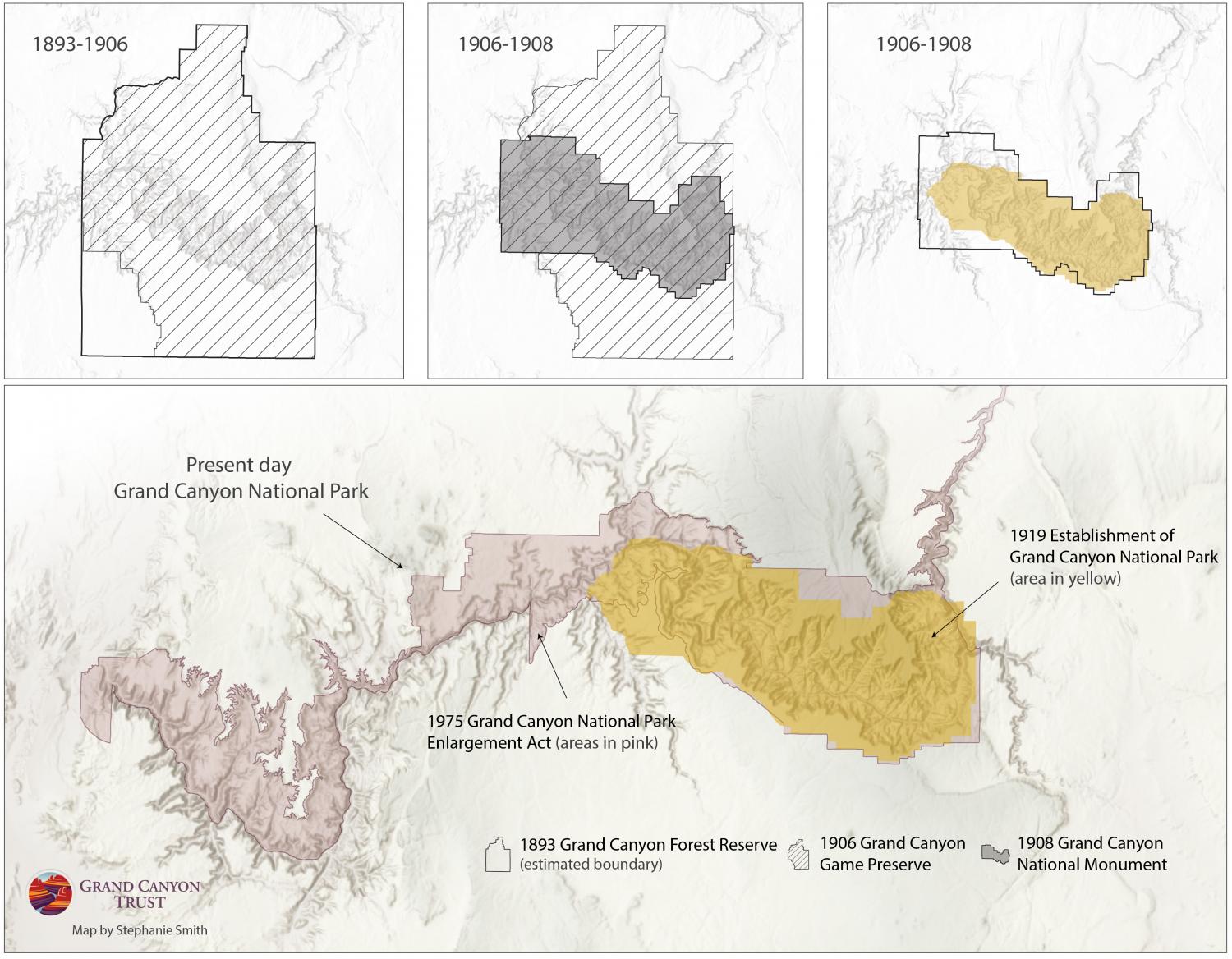 In 1903, President Theodore Roosevelt rode a new railroad spur to the canyon's south rim. His first sight of the canyon caused him to utter his oft-quoted line about not marring it. He saw how boosters were using fraudulent claims — dismissed during the following decades — to privatize prime locations to build hotels and curio shops between the train depot and the Grand Canyon's breathtaking rim. 
The Grand Canyon mineral withdrawal contained in President Harrison's forest reserve ended briefly in 1905 when Congress established the U.S. Forest Service to manage forest reserves as national forests. Mining, grazing, and other uses would now be allowed within the Grand Canyon National Forest under the watchful eye of a new — and locally despised — federal agency. 
President Roosevelt, an avid hunter, amended the congressionally established national forest by proclaiming it the Grand Canyon Game Preserve in 1906. This led to a policy that paid federal agents to slaughter predators, which preyed on the trophy herd of Kaibab mule deer. It also continued to permit grazing by cattle ranchers who had been overgrazing the land for two decades. Significantly, it prohibited prospecting by restoring the mining ban on the previously designated forest reserve. It did not, however, extinguish pre-existing property claims that kept South Rim businesses bustling.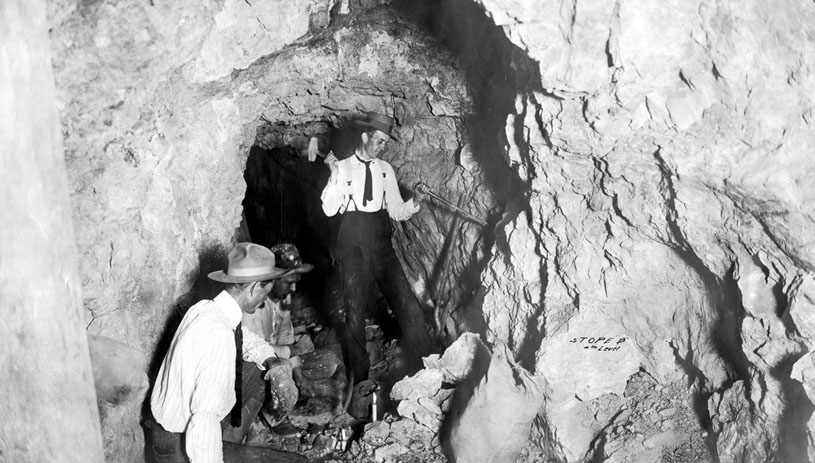 Copper Canyon Co. Mine on Horseshoe Mesa, circa 1907.
NATIONAL PARK SERVICE
Congress passed and the president signed the 1906 Antiquities Act, giving him broad authority to declare national monuments to protect public lands that held objects of significant historic or scientific interest. Roosevelt waited two years before testing the depth of that authority by proclaiming more than 800,000 acres the Grand Canyon National Monument in 1908 as "an object of unusual scientific interest." The Supreme Court upheld the proclamation against claims that it exceeded the president's authority. 
Throughout the next decade, ranchers, miners, and local business owners fought federal regulations and repeated attempts to establish Grand Canyon National Park.
Arizona's congressional leaders were slow to see that tourism could compete economically with other uses. While they steadfastly resisted proposals to expand boundaries beyond the existing national monument, they ultimately co-sponsored Grand Canyon National Park's enabling legislation. It was signed into law on February 26, 1919, encompassing 15 percent less land than the national monument. 
The first 50 years of mapping the Grand Canyon's borders were fraught with wars against Native peoples and marked by raids on the canyon's natural endowment. Livestock grazing continued within the newly established national park. Disputed terrain drove mapmakers to keep redrawing borderlines between national monument, national forest, and national park through the 1940s.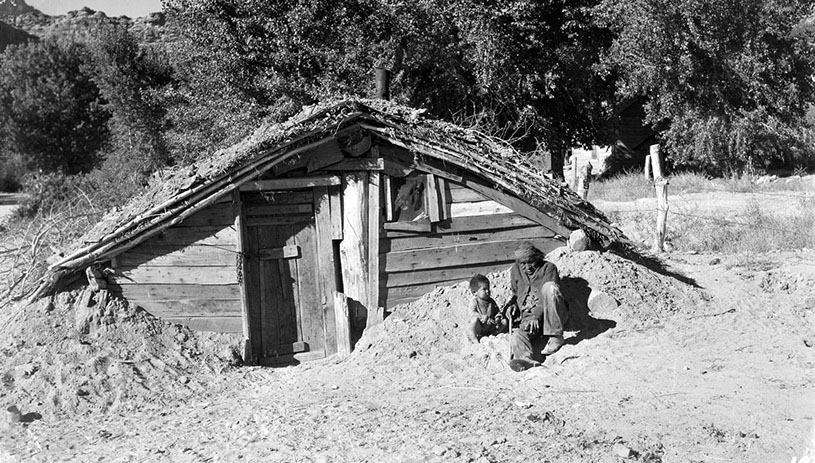 Havasupai Chief Manakadja with a young boy, outside of a thatch roof lumber house. Taken on November 15, 1938. NATIONAL PARK SERVICE

Two of the earliest conflicts have yet to be settled: the Havasupai Tribe's campaign to recover what was taken from its people and ending mining on public lands surrounding the national park. Both fights rage on. The battle to build dams in the Grand Canyon had yet to be fought.
By the time Arizona gained statehood in 1912, settlers had already set their sights on damming rivers and canyons to irrigate croplands and generate electricity. Under the Newlands Reclamation Act of 1902, President Roosevelt authorized some of the nation's first federally funded dams that diverted free-flowing rivers to irrigate farmland in Arizona's south-central deserts. The state's constitution and federal enabling act reserved governmental authority to build dams whenever and wherever it deemed necessary.
Interior Secretary Franklin Lane was a strong supporter of putting provisions in the enabling act to allow dam-building in Grand Canyon National Park. Before the 1919 law was enacted, a member of Lane's appeals board wrote Arizona Rep. Carl Hayden to say, "I can see no harm to the park by the creation of either power or irrigation reservoirs in the bottom of the canyon."
The U.S. Geological Survey's Colorado River expedition in 1923 mapped 29 of the best locations for building dams in the Grand Canyon. Four decades later, two of those dam sites would spark controversy in a long-sought-after scheme — led by Carl Hayden, by then a senator — to supply hydroelectric power to lift billions of gallons of water uphill from the Colorado River to where politicians wanted it. By 1960, Phoenix and Tucson were pumping water from ancient aquifers to supply suburban sprawl, and they were fighting for a federally funded aqueduct and power source to sustain that growth.
Public sentiment against damming the Colorado River inside the Grand Canyon grew in an era when Congress passed laws to protect clean air and water, civil rights, wilderness, and endangered wildlife.
The American conservation movement mobilized national opposition and the clout needed to stop two hydroelectric dams from desecrating the Grand Canyon. It was a significant strategic victory.
The 1975 Grand Canyon National Park Enlargement Act nearly doubled the size of the park from 673,575 to over 1.2 million acres. It stretched park boundaries up and downriver to quash the two proposed dams. Nonetheless, the bill preserved grazing privileges.  
With bipartisan support from Arizona's congressional delegation, and over the objections of federal agencies and pro-park activists, the act also returned more than 180,000 acres for use by the Havasupai Tribe, marking a milestone in the tribe's ongoing effort to recover lost land. But it left open to mining more than 1 million acres of surrounding public lands.  
Instead of constructing two unpopular dams in the Grand Canyon, the federal government and private investors compromised by building the West's largest coal-fired power plant and evicting thousands of residents to strip-mine coal from the adjacent Navajo and Hopi reservations. Some dam opponents readily endorsed coal as an alternative source to generate electricity cheaply enough to keep water prices low for agricultural and municipal users along the aqueduct. Nearly 50 years later, that coal plant is set to close because it is no longer economical to operate. 
As the United States commemorates the centennial anniversary of Grand Canyon National Park, let's not forget how its boundaries were created from the leftovers after dividing and conquering a living landscape. Stitching together the map that created our nation's crown-jewel national park happened a century ago, after mining, grazing, and other interests had laid claim to the land. Powell mapped the way for those interests to disarticulate the land and dispossess its people.
Maps merely reflect what's been decided.
Drawing new boundaries begins with a clear and determined vision. For decades, Havasupai families have set their sights on prohibiting uranium mining within their aboriginal homeland, including public lands where contamination could threaten their water supply. 
On February 26, 2019 — 100 years to the day that the national park was established — Arizona Rep. Raúl Grijalva introduced the Grand Canyon Centennial Protection Act.
The law would ban mining on more than 1 million acres of public lands surrounding the national park. After a 5-year fight, the secretary of the interior ordered a temporary ban in 2012. This bill to make the ban permanent has a broad and growing base of support and a fierce coalition committed to the multi-year fight ahead.

It's time to erase mining from the Grand Canyon's next generation of maps. Today, the much maligned canyon has become a uniting force for tossing out harmful privileges of the past and creating a more precautionary path to the future.
---

 Roger Clark directs the Grand Canyon Trust's Grand Canyon program.
---