Here's my answer.
---
 BY TIM PETERSON
In my day-to-day life, scarcely a week goes by without someone asking me a version of one of these questions: What's going on with Bears Ears? What about the lawsuits? What can be done? 
I get these questions over email, on social media, even in person at the grocery store. 
So what's new? In February, the Interior Department released a new management plan for the shrunken monument. Sadly, the plan fails to meet even the minimum legal standard for how national monuments must be managed. The plan practically throws open the gates for increased off-road vehicle use and new clear-cutting of ancient pinyon and juniper forests. It also invites more visitors to cultural areas that are currently little-known and mostly left alone. 
TIM PETERSON
---
And for now, the lands cut from Bears Ears National Monument are open to uranium mining and oil and gas drilling, but it's not as if a fleet of bulldozers is revving to tear up the scenery just yet. It is good news that we have yet to see any of these lands nominated for oil and gas leasing. Low global prices for oil, gas, and uranium, as well as high costs associated with getting the goods to market, are keeping the dozers at bay.
There's one exception, however. A partially reclaimed uranium and vanadium mine (called the Easy Peasy) was dug out last year based on new mining claims filed by a Moab prospector. The mine is unlikely to become a real concern any time soon, but it represents real damage done that would not have been possible without the president's destructive 85-percent reduction of Bears Ears. 
Catching the wave of the mountain-bike craze 30 years late, the Interior Department is floating a proposal to build new bike trails, parking areas, and yurts above the Goosenecks of the San Juan River to increase user fees at the postage-stamp-sized Goosenecks State Park. The Interior Department lands adjacent to the state park on which the spiderweb of trails would be built were cut from the monument in 2017. A mountain-bike playground couldn't be more at odds with the wild character of the area, not to mention more out of sync with the original proclamation for Bears Ears which mandates that new trails be built only when they would help preserve and protect the area.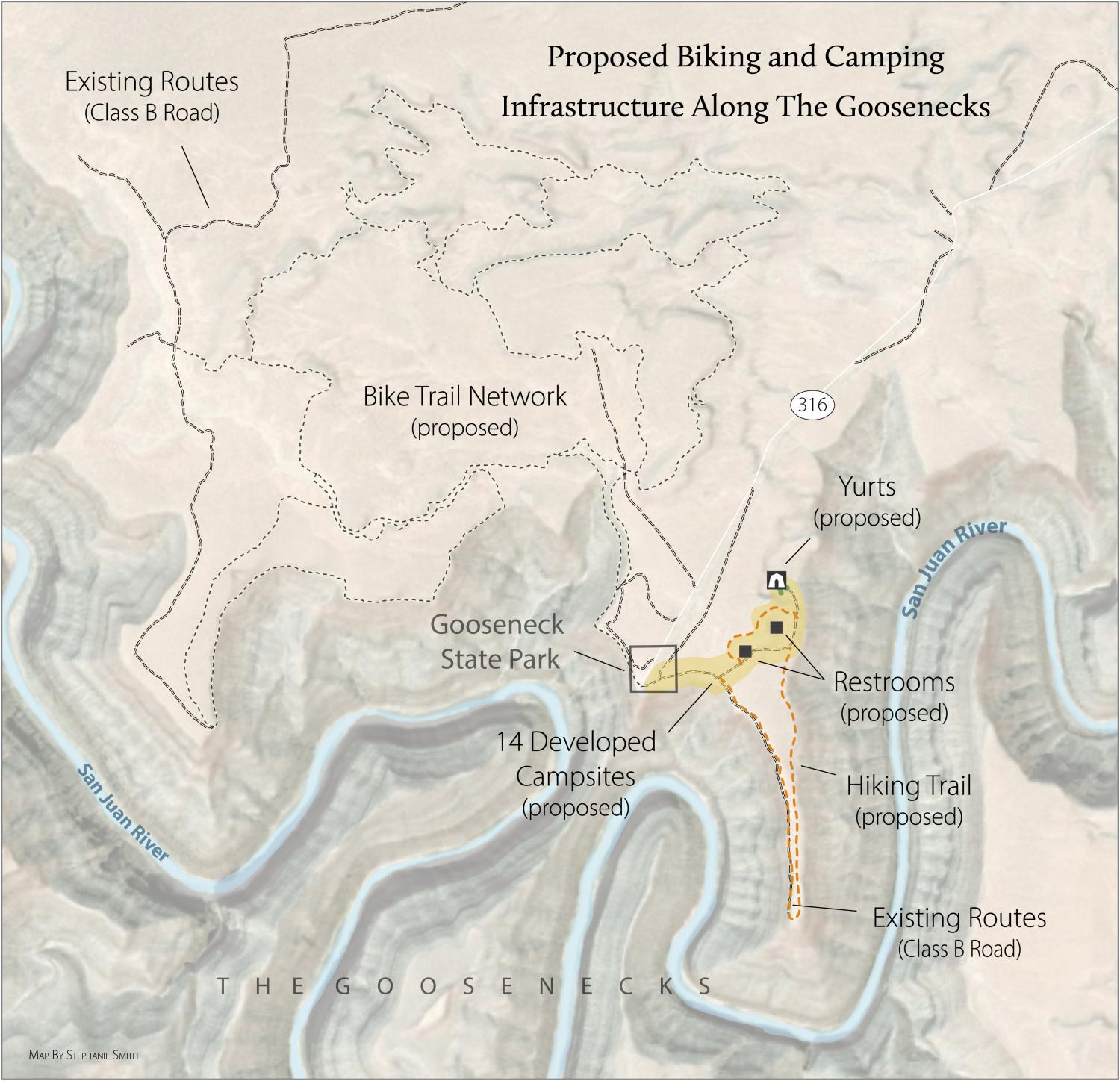 Good news for Bears Ears
The news does get better. This winter, a group of 40 investment managers representing $113 billion in assets sent fossil fuel and mining companies a letter urging them not to take advantage of the Trump administration's unlawful gutting of national monument protections. The heavy-hitter investors warned that logging, drilling, and mining would put companies and their investors "…at significant risk of public backlash and stranded assets, should …protections be restored by the courts or by future administrations."  
Bears Ears is just too important to turn over to industry. The Grand Canyon Trust will be fighting hard against any new earth-moving projects that the new monument management plan allows or that arise on lands illegally cut from the monument. You can lend your voice in the coming months if new proposals to drill and mine and log at Bears Ears surface. Meet them with the public outcry that they deserve.
In still more good news, the lawsuits the tribes, the Trust, and our partners filed in 2017 are moving. We and the other parties to the lawsuit recently filed motions for summary judgment, which ask the court to rule on whether the president acted unlawfully when he revoked and replaced Bears Ears, as well as to reverse the atrocious new management plan. We expect a ruling on these motions perhaps as early as later this year. 
In a counterpoint to the Interior Department's loathsome plan, the Bears Ears Inter-Tribal Coalition is preparing to share its luminous vision for how to manage Bears Ears into a much more sanguine future. The coalition (a historic consortium of the sovereign tribal governments of the Navajo Nation, the Hopi Tribe, the Ute Indian Tribe, the Ute Mountain Ute Tribe, and the Pueblo of Zuni) has formally embarked on writing its own plan for the full 1.9 million acre footprint it proposed for protection in 2015. This vision will include everything that the Interior Department missed and more, integrating Indigenous traditional knowledge with Western science while hewing far more closely to the original Bears Ears National Monument proclamation. This real plan for the real Bears Ears should be finished by early next year, if not a little sooner. 
For me, Bears Ears is a place that I've studied, explored, and worked to protect for more than 22 years — my entire career. Utah has been home to most branches of my family tree for seven generations. For settlers like me, "seven generations" is spoken as if it's a badge of honor, showing stick-to-itness, industriousness, and staying power. In seven generations, most Utahns see you as a "local," and many who live in the towns around Bears Ears believe you're not a local unless you can claim six or seven generations there. But imagine familial and cultural ties that stretch back some 600 generations or more. In this context, seven seems a mighty paltry comparison.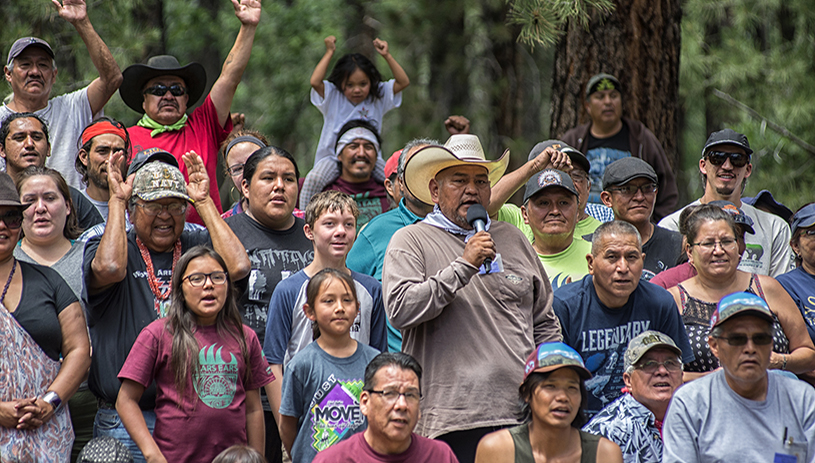 TIM PETERSON
---
Hundreds of generations of Indigenous traditional knowledge
Consider then that tens of thousands of Indigenous people alive today have ancestors who have known this place for hundreds of generations, but they each know it a bit differently based on their own cosmologies, languages, and prayers formed and honed and polished here. This represents something awesome culturally: Bears Ears is human diversity as glorious as the landscape. 
Some traditions rhyme, others are totally divergent. This includes things like how to pray correctly or conduct a ceremony, how to take the plants found here and fashion a cradleboard, prepare medicines, or weave baskets to winnow beans that have evolved here over centuries, and how to make nutritious meals without visiting a grocery store or opening a can. All these things and more represent Indigenous traditional knowledge, not necessarily written for most of the hundreds of generations past, but passed down father to son and mother to daughter, uncle to nephew and grandmother to granddaughter. The instructions are often more reliable in the oral tradition, because speaking from one knowledge-keeper to the next allows for questions and clarifications that a static page of text can't offer.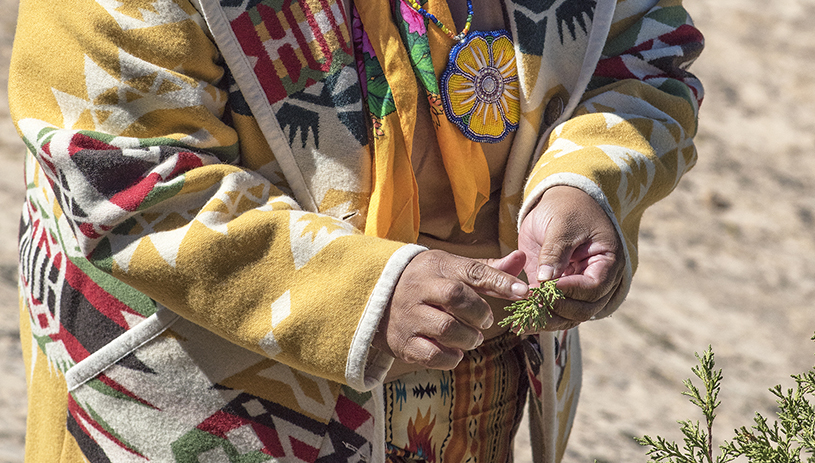 TIM PETERSON
---
The real vision of Bears Ears
This is the real vision of Bears Ears — to use and share this Indigenous traditional knowledge, along with the incomplete framework of Western science, to return Bears Ears to vibrancy, and that's what the Bears Ears Inter-Tribal Coalition is doing. We're all lucky to be offered these gifts. 
Bears Ears is a place that challenges our perception of time, laying bare the bones of the Earth, holding the fossils of life long before humans, and bearing the crucible of cultures infinitely older than America. As the battle to restore the monument stretches into its third year, it helps to remember the 600 generations. We are well reminded of that sense of constancy to stay our ephemeral fears over the monument's fate. I am often asked about Bears Ears, and I answer that it must and will be restored, and the true gifts that it has to give are not even yet known.  
---
Tim Peterson directs the Grand Canyon Trust's Cultural Landscapes Program. In this role, he focuses not only on preserving and defending cultural landscapes, but also on returning authority to Indigenous people in the management of their ancestral lands.
---
EDITOR'S NOTE: The views expressed by Advocate contributors are solely their own and do not necessarily represent the views of the Grand Canyon Trust.