Meet Grand Canyon National Park Superintendent Ed Keable.
---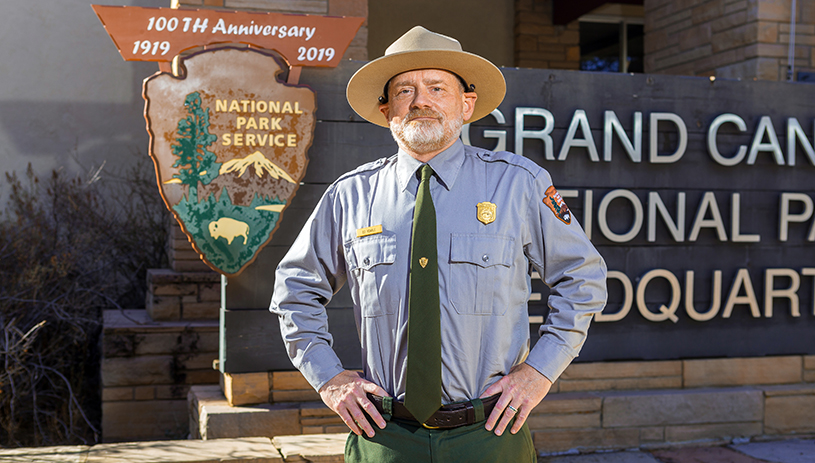 DEIDRA PEACHES
---
Ed Keable may be a newcomer to the National Park Service, but he's no stranger to its mission. As a young man, Keable stood on the rim of the Grand Canyon, thinking it would be a remarkable place to live, work, and work toward preserving. That idea simmered in Keable's mind throughout his 23-year career as an attorney for the Department of the Interior. When Keable was asked to step into the role of superintendent for Grand Canyon National Park last year, it took him a split second to accept.
A year into the job, Keable is enjoying getting to know his new backyard. He jokes that his favorite place is the South Kaibab Trailhead, a welcome sight after a grueling hike out from Phantom Ranch. Keable makes a point to walk along the rim and soak in the views every day as a source of inspiration and reminder of his responsibilities as superintendent. Meet the man charged with preserving the Grand Canyon for you and future generations.
DEIDRA PEACHES
---
What's a day in the life of a superintendent like?
Some of my days are jam-packed with meetings, talking about issues for the Grand Canyon and the National Park Service. But I try to build time into my schedule to get out into the park. It's important to me as superintendent that I know this park. And really the only way you can know the park is being in the park. So I've hiked extensively into the canyon. I'm about to go on my first river trip. I'm trying to experience the park, engage with staff, talk to them about what challenges they face on the ground. I try to mix it up as best as I can.
What are the biggest threats to Grand Canyon National Park right now?
Climate change is one of our great threats. We have mining operations in the area that have impacts that I'm learning about. There are private development opportunities here that I want to study carefully, as they may impact operations at the Grand Canyon. And we have internal challenges I have to address — the history of sexual harassment here at the Grand Canyon, and, more broadly, the park service. There are always budget and staffing challenges that we have to make sure we're managing for the future.
How has the pandemic impacted Grand Canyon National Park?
For a period of time during the pandemic, we were at about 35 percent visitor rates. We've averaged out to about 50 percent of our visitor rates. As I've talked to some of the tribal leaders in the area, they have educated me about their perspective about the canyon and the river being living entities. And they have advocated for giving the canyon a rest. So I think the canyon, to the extent that it needs a rest — and that's an understandable and interesting concept — it's getting that kind of a rest right now. 
As the superintendent, I have to think about what that means for the future. A significant part of our budget comes from fees we collect from visitors and from our concessionaires. Our budget has been cut significantly by the reductions in visitors, which has forced some difficult decisions of balancing a budget while trying to be responsible managers of the resource.
What can people do to help protect the Grand Canyon?
I think the first thing people can do is learn about the canyon. Come to the canyon, get an experience. My first experience here was in 1994 as a tourist, and I just walked up to the rim and had an overwhelming sense of awe. Tribal leaders and tribal members on staff have told me about the important cultural and spiritual aspects of this place to them. And even though I'm Catholic, I feel deep spirituality in this place. There are lessons to be learned here about history, about culture, about resource protection.
Looking forward, what opportunities do you see for the park to better preserve the natural and cultural values of the Grand Canyon?
Congress passed last year the Great American Outdoors Act that has made available billions of dollars of new appropriated funds. We're working with the regional office to fund our science program better than we have in the past. And we're developing some really interesting education and interpretative programs to highlight the importance of this place from Indigenous perspectives. We have a project starting with the watchtower in our Desert View area, where we're working with the 11 affiliated tribes to reimagine interpretation of the Grand Canyon from Indigenous perspectives.
What's your idea of a perfect day at the Grand Canyon?
My perfect day at the Grand Canyon is hiking into the canyon with staff and learning from them. I had a great day, my husband was visiting, and my paleontology team took us and one of my deputy superintendents on a field briefing. They were explaining how they use modern equipment to locate and identify locations of fossils in the park. And for a portion of the hike, we did a fossil search. The deputy division chief for our science resource management division and my husband both found fossils that were 270 million years old! We were able to add those to the collection for the park, and that was just a great day.
What's your go-to ice cream flavor after hiking down the Bright Angel Trail?
It's got to be chocolate.