A new bill in Congress would permanently ban new uranium mines on public lands around the national park.

---
BY REP. RAÚL GRIJALVA
Every year, Grand Canyon National Park attracts millions of visitors from across the world with its temple-like buttes, turquoise waterfalls, and colorful rock walls. But before it was a park, the Grand Canyon was home to Native peoples who knew this landscape as a spiritual place and a homeland, and many of them still call the canyon home to this day.
You'd think that as the crown jewel of our National Park System and a tribal ancestral homeland, the greater Grand Canyon area would be protected for the benefit of current and future generations. But as we know, the Grand Canyon is not as protected as people assume.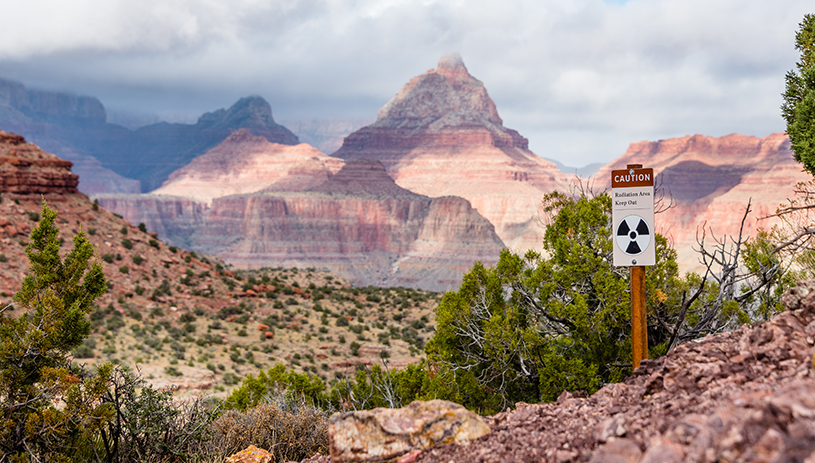 BLAKE MCCORD
---
The threat looming over the future of the Grand Canyon — the toxic threat of uranium mining — is not new. Multinational mining conglomerates have long sought to extract nearby stores of uranium regardless of harm to the canyon and the people who live in the region. Since the 1950s, the Grand Canyon area and surrounding Colorado Plateau have been home to at least 22 uranium mills and the majority of all uranium mining activities conducted in the United States.
These mines have left a toxic legacy on the land and local tribal communities. Nearly one in five uranium mines is located within 6 miles of a Native American reservation, and more than three quarters of them are situated within 50 miles of a reservation. On the Navajo Nation alone, estimates suggest that there have been more than 1,000 uranium mines since modern extraction methods began. More than 500 of these mines have been abandoned and remain in need of cleanup. 
When I visited the Navajo Nation in 2019 to hear about the impacts of uranium mining on the people there, former miners described their physical suffering and failing health in the years since leaving the industry. One panelist shared how he was diagnosed with lung cancer after spending years without being provided sufficient warning or proper protections. His family members were exposed when handling his work clothes.
These stories of exploitation, illness, and abandonment are not the exception. They're the norm. This is the real legacy of uranium mining in the Southwest. Today, women and newborn babies exhibit higher levels of uranium in their bodies than people in other parts of the country. More than a quarter of Navajo Nation residents participating in one study recently tested positive for high levels of uranium.
The threat of mining pollution is acute for the Grand Canyon itself, and for the Havasupai Tribe who has lived in the canyon since time immemorial. Several years ago, Canyon Mine operators pierced a groundwater aquifer as part of normal operations, breaking a promise that operations would not disrupt groundwater. Every minute, 16 to 20 gallons of water leaked into the mining shaft which sits above the Redwall-Muav Aquifer, the deep groundwater aquifer that feeds Havasu Creek, its iconic blue-green waterfalls, and Supai Village. In an effort to keep the onsite storage pond from overflowing, operators at Canyon Mine resorted to misting uranium-contaminated water into the air — spraying the surrounding environment with toxic runoff. As a result of the mine operators' broken promise, the sole source of drinking water for the Havasupai is at risk of contamination, and the world-famous Havasu Falls have been put at risk.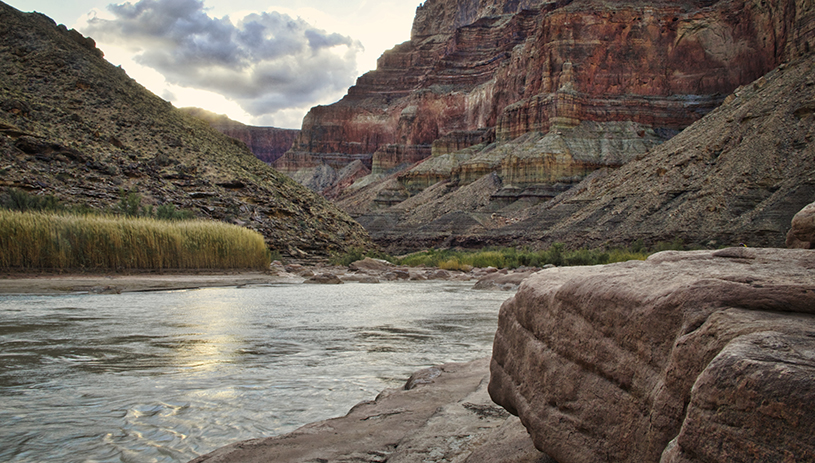 AMY S. MARTIN
---
The risks posed by uranium mining in the Grand Canyon region go beyond the boundaries of the national park and Indian Country. It is a risk to the entire Colorado River watershed, on which tens of millions of Americans rely. Mining operations threaten to contaminate the seeps and springs that feed the Colorado River, which provides water to nearly 40 million Americans and irrigates 1.8 million acres of land used to grow crops and raise livestock. The threat of uranium contamination has raised significant concern among the agencies responsible for providing water to major cities downstream, leading water managers from Phoenix to Las Vegas to publicly oppose attempts to expand uranium mining in the Grand Canyon region. 
Arizonans broadly recognize that the economic and health risks associated with uranium mining in the Grand Canyon region outweigh any potential benefits. Whenever you hear there's a "debate" over the future of the Grand Canyon, remember that 78 percent of Arizonans surveyed in a recent bipartisan poll agreed that recreation and tourism are more important to the future of the state's economy than mining. Moreover, hypothetical future mining profits will go primarily into the pockets of Canadian or British companies who own the vast majority of mining claims.
I first introduced legislation in 2008 to permanently withdraw approximately 1 million acres around the national park from mineral development. This legislation led to the Obama administration instituting a 20-year moratorium on new uranium mining claims on the lands surrounding the canyon, a landmark decision still in effect today. Unfortunately, we're already nearly halfway to its expiration date. There is no reason to wait until the last minute. We should act now to ensure that this region is permanently protected for future generations.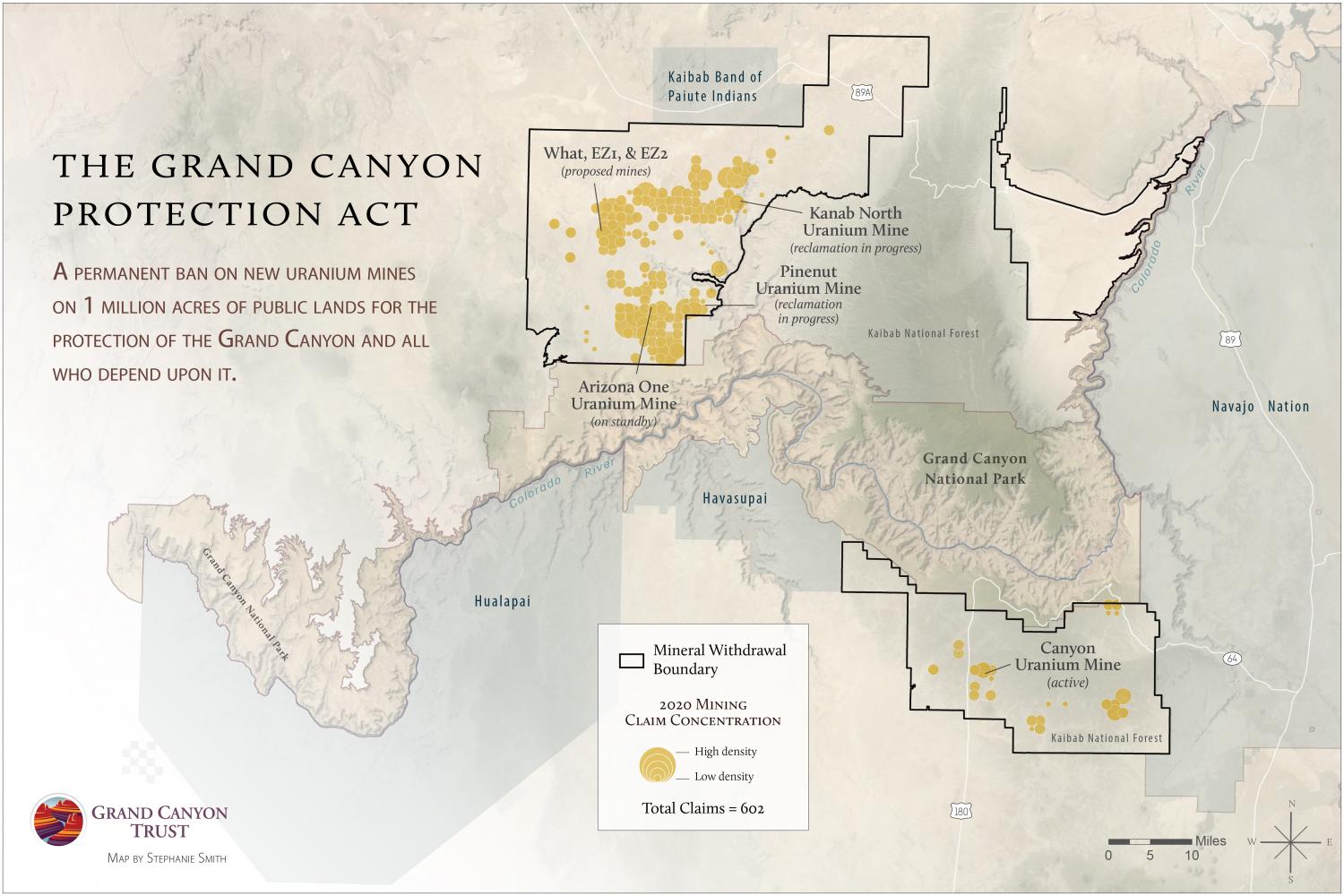 That's why I introduced the Grand Canyon Protection Act (H.R. 1052), which passed the House on February 26, 2021. The bill would make permanent the existing ban on new mining claims within the withdrawal area. Last Congress, this legislation passed through the House of Representatives with bipartisan support on two separate occasions only to die in the Republican-controlled Senate. This year, protecting this land and the people who rely on it is among my very top priorities, and with the support of Sen. Kyrsten Sinema and Sen. Mark Kelly, I believe we'll see this bill signed into law.
Protecting the Grand Canyon is neither a new phenomenon nor a partisan Democratic initiative. Since 1908, when Republican President Theodore Roosevelt first designated the Grand Canyon as a national monument, it has been protected by at least five major pieces of bipartisan legislation. We hope to build on this legacy of conservation and end any further talk of opening this sacred place to new pollution sources once and for all. 
Protecting the world-renowned Grand Canyon landscape is critical to maintaining a healthy tourism and recreation economy in the region. Tourism associated with the Grand Canyon supports the livelihoods of thousands of Americans, contributing $938 million in revenue to gateway communities each year and directly supporting 7,222 jobs. Should the Northern Arizona Mineral Withdrawal be canceled, mining activity would directly support fewer than 300 jobs. Recreation and tourism are simply more powerful economic drivers, especially given that any financial benefits from uranium mining would last 20 years at most.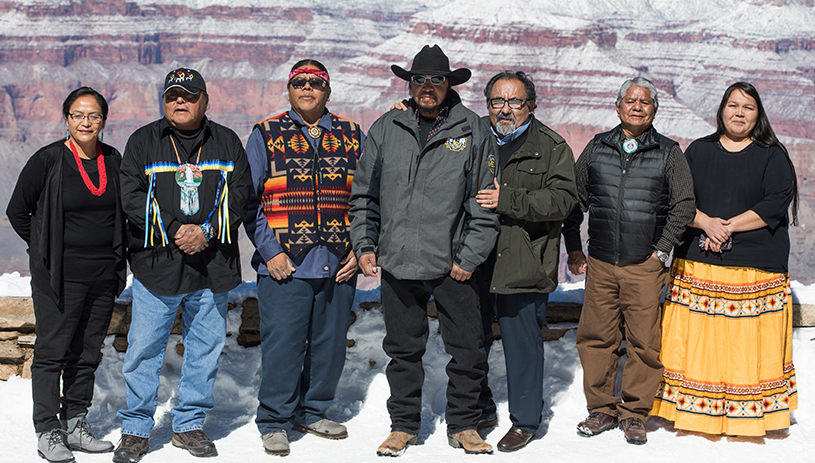 AMY S. MARTIN
---
Prioritizing uranium mining over the health and well-being of tribal communities and the tens of millions of Americans who depend on the Colorado River — especially in an area that is home to only 0.2 percent of known domestic uranium resources — is unacceptable. Reckless uranium mining that poisons our communities and threatens our livelihoods cannot be allowed to continue in the Grand Canyon region.
Without a mining ban written into law, the area would be open to dozens of miles of roads and powerlines and potentially hundreds of thousands of ore haul trips — all of which would degrade the sacred and wild character that draws millions of outdoor enthusiasts and visitors to this place. We cannot sacrifice people's lives to empty corporate promises and short-term profits. The Grand Canyon Protection Act ensures that the toxic legacy of uranium mining will end with us, and that the Grand Canyon's immense vistas will be protected for generations to come.
It is high time to address the concerns of local communities and honor the cultural significance of these lands by permanently protecting them.
---

Congressman Raúl Grijalva has represented Arizona's 3rd congressional district in the U.S. House since 2003 and chairs the House Committee on Natural Resources.
---
EDITOR'S NOTE: The views expressed by Advocate contributors are solely their own and do not necessarily represent the views of the Grand Canyon Trust.