Stories are a curative tonic, and with the monument restored, the many stories of Bears Ears have the power to heal and to teach.
---
BY TIM PETERSON
"This may be the easiest thing I've ever done so far as president. I mean it." – President Joe Biden
President Biden spoke these heartfelt words just before signing proclamations restoring Bears Ears and Grand Staircase-Escalante national monuments. 
For many of us, the easiest thing he'd done was a long time coming. From a campaign promise made in October 2020, to a visit to Utah by Interior Secretary Deb Haaland in April 2021, anticipation began to ripen.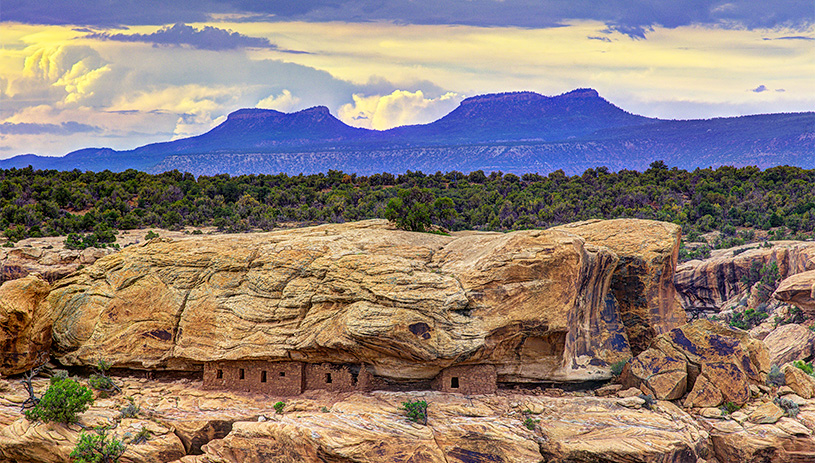 TIM PETERSON
---
By June 2021, Secretary Haaland had recommended that the monuments be restored, and each successive anniversary of something related to Bears Ears or the Antiquities Act of 1906 (the law that gives presidents the authority to create national monuments) had us ever more ready for action. By the time the day actually arrived, many of us experienced a deep sense of unreality. After many years of advocacy to establish the monument in 2016, the 2017 gutting of Bears Ears and the years of work that followed, I felt hollowed out. 
I know that Bears Ears is whole again, but it still doesn't feel real. As of press time, there aren't even any signs posted along the highways at the monument's boundaries. I know exactly where those signs will go, and each time I pass those points and they're not there, it only confirms my lingering sense of illusion.  
Signs will help ease this feeling (I'm told they're coming soon), but action beyond window dressing is happening too. The Bears Ears Tribal Commission (the collaborative management body established by President Obama's proclamation, eviscerated by Trump's, and reinstated by Biden's) is meeting with federal land managers, monument management planning will begin any day now, and the future of Bears Ears is on everyone's mind. 
Bears Ears has been restored on paper, but now it's up to all of us to make sure that the vision of Bears Ears is made real on the ground. Fulfilling that vision means respecting Indigenous traditional knowledge and Indigenous science and using them to plan for and manage the monument. The vision means that Native voices guide interpretation, and that visitors arrive in a good frame of mind and comport themselves with respect. Bears Ears is more than just a place to play.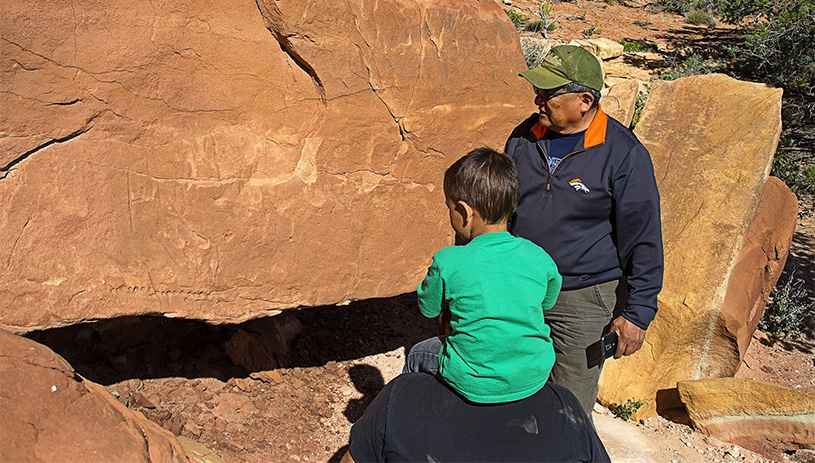 Former Hopi Chairman Ben Nuvamsa and younger visitors observe a petroglyph panel in Bears Ears National Monument. TIM PETERSON
---
For years, the media narrative around Bears Ears has been about conflict. Fighting sells newspapers, and discord gets clicks. But that's not what Bears Ears is really about. It's time to shift the narrative about Bears Ears from combat to healing, and a way to do that is storytelling. That's good news because Bears Ears is a place so full of stories that they can't be contained. They emerge from the canyons, from the mountains, from the springs and the cliffs. Stories are a curative tonic, and if we're telling and hearing stories, we're not fighting. 
The newest stories are those of the climber, the trail runner, the river runner, the mountain biker, and the backpacker. Written in guidebooks, in magazines, and on the internet, these stories draw more people into the interior of this place to start living stories of their own. These stories of recreation have the shortest tradition. 
There are also the stories of the road builder, the logger, the miner, and the drill rig roughneck. These are the stories of the 20th century, of conquest and domination, of hard work scratching a living from the land "owed" to them by the promise of manifest destiny. These so-called "traditional uses," as former Interior Secretary Ryan Zinke termed them, are so new that only three or four generations know them as tradition.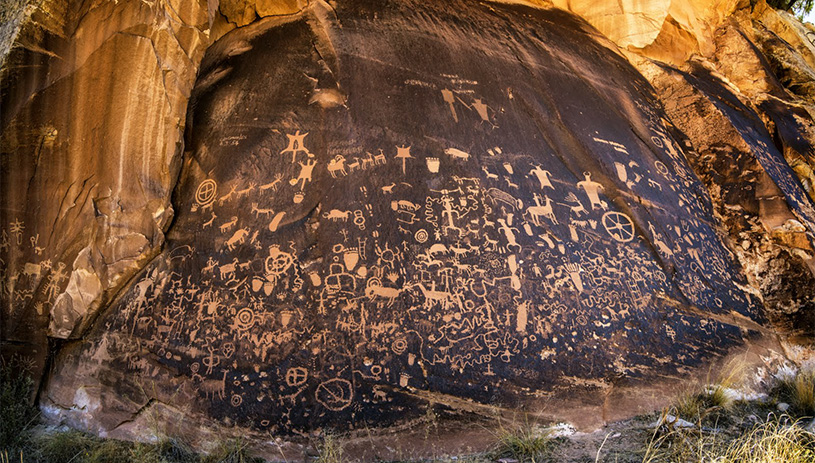 Newspaper Rock. TIM PETERSON
---
But older stories tell us that these lands, the plants, the animals, and the rocks are our kin. They are an inextricable part of what it means to be human — to be alive and a part of all life, inseparable from it. These stories about Bears Ears are far older than the United States of America. These stories tell of cultures born here, formed here, and growing here today. 
For some, the Bears Ears buttes are the head of Changing Bear Maiden — a place to cleanse oneself of depression and evil. For some, it is a place to gather plants and minerals found nowhere else on Earth for ceremonial use vital to sustaining culture across hundreds of generations. For some, the rock art tells stories of a culture in harmony, and later in jeopardy. For some, the spiritual beings etched in the cliffside are teachers and guides, and the symbols carved there are a map to water sources — the essence of life. 
For some, the Bear is the one appointed by the Creator to keep all the animals — including humans — in line. The first thunder of the spring is the Bear awakening from its winter slumber, growling, and scratching a long winter's rest off its back on a tree.
A cliff dwelling on the edge of Cedar Mesa. TIM PETERSON
---
There is a prophecy that at a place in Bears Ears called "Coming Together" (where the winding San Juan River cuts through Comb Ridge) all the nations of the world will come together to heal. For many, Bears Ears National Monument is the fulfillment of that prophecy. At that place there are twinned great kivas, there is ancient writing on the rock, there are Diné hogan foundations, and there are wagon ruts where Latter-day Saints made their last push to "civilize" this rough country. All there. 
What we need most now, more than ever, are more stories. Is that mountain, that ridge, that line of cliffs named in your religious ceremonies? Do they teach you, through stories told about them, how to live a complete life? Is your off-road vehicle a storyteller? Mine isn't, but it is a tool that helps me get to the interior. What about your running shoes? Your carabiners and climbing cams? These are all tools that we can all use to build our own stories to get to the interior of meaning.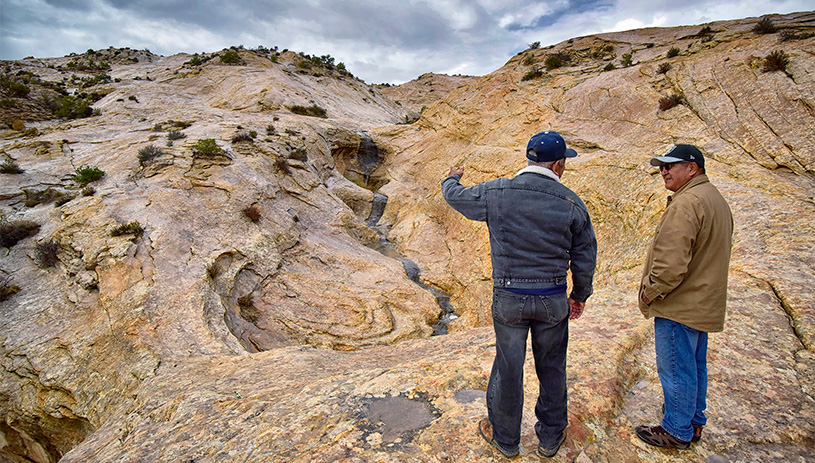 TIM PETERSON
---
Will your story be richer if you know the stories of others? If you learn the stories of those who have built their cultures here? Whose recent ancestors have been removed from this place at the point of a gun, or jailed in a corral, rounded up as if they were animals, and who are still at times treated as if they are less than human? 
Will it be richer if you know the stories of those who have newly built their lives here, grazing their cattle, digging uranium, or losing everything, drilling deep, dry holes hoping oil could be down there? Will your story be richer if you listen? It can't help but be.
When Interior Secretary Haaland spoke at the Bears Ears proclamation signing, she knew these things, saying, "Bears Ears is a living landscape… Stories of existence, celebration, survival, and reverence are etched into the sandstone canyon walls. Sacred sites are dotted across the desert mesas. Cultural heritage in the form of ancient pots, arrowheads, clothing, seeds, and evidence of lives well lived are as inseparable from Bears Ears as the air we breathe at this moment."
Secretary Haaland's insight is inspiring, and her leadership is the kind that can make the paper victory of Bears Ears real. It is time.
---

Tim Peterson directs the Grand Canyon Trust's Cultural Landscapes Program. He is also a photographer.

---
EDITOR'S NOTE: The views expressed by Advocate contributors are solely their own and do not necessarily represent the views of the Grand Canyon Trust.