With a mission to protect and restore the Colorado Plateau, our work never ends. We're trying to crack the mystery of 25-hour days, but until then, our to-do lists grow longer. Thankfully, we have supporters like you, year in and year out, who help us rise to the challenge. From volunteers, to donors, to activists — we couldn't do it without you. As the year draws to a close, we hope you'll raise a glass and join in celebration of our shared successes.
Here's what you helped accomplish in 2018
Two big wins for the Grand Canyon
Supreme Court turns down mining industry appeal
Our nation's highest court refused to review the mining industry's case challenging the Grand Canyon uranium ban. This was the industry's last chance to get the ban overturned, marking the end of a 6-year court battle. More on the victory ›
The 9th Circuit Court of Appeals changed its mind about our case challenging a uranium mine near Grand Canyon National Park.
Its new decision should land us back in the district court, where we'll get another chance to argue our case.
Thousands speak up for our public lands
When we put out the call, you answered. This year, you wrote comments in support of the National Environmental Protection Act (NEPA); you stood up for endangered species; you made the case against uranium quotas to the Department of Commerce; you voiced support for keeping Bears Ears and Grand Staircase-Escalante national monuments intact; and you chimed in about how the shrunken monuments should be managed. Not on our action alert list? Sign up to receive updates on our most pressing issues today ›
You gave your time and talents to the Colorado Plateau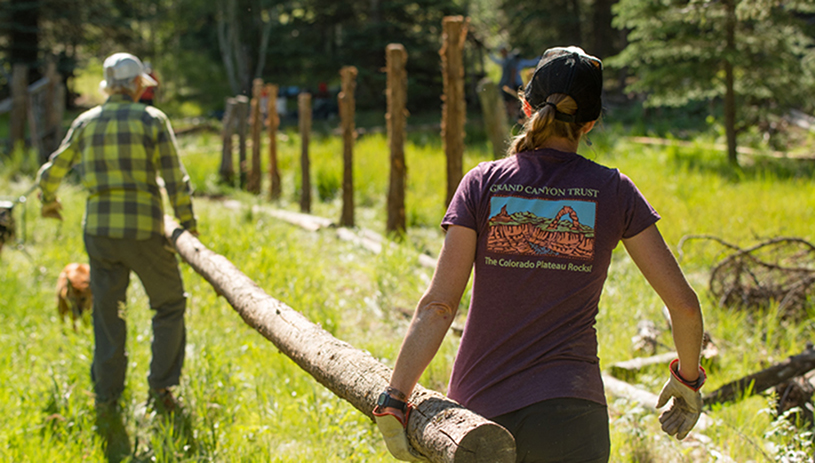 BLAKE MCCORD
The power of volunteers is astounding. Two hundred and forty-five volunteers donated more than 5,600 hours to conservation projects across the Colorado Plateau. Read about the springs you restored, weeds you pulled, and fence lines you modified ›
You helped bring stories of the Grand Canyon to major cities across the country
2018 marked the first year of our partnership with National Geographic Live. We toured the country with photographer Pete McBride and author Kevin Fedarko, who shared stories of their 800-mile trek through the heart of the Grand Canyon to crowds totaling more than 13,000 people. And that's just the start. We've got more events lined up in 2019 ›
---
Thanks for a great year, and here's to more even success in 2019!