by Mary O'Brien, Utah Forests Director
Need a pick-me-up? Here's a reminder of why we work so hard for public lands on the Colorado Plateau: the dream that native species are happy and we can wander among them.
The 800 acres of Johnson Lakes Canyon in southwestern Utah aren't public lands — they're the private property of Rick and Susie Knezevich. But scientists, researchers, and volunteers are more than welcome to work with Rick and Susie on restoration experiments and projects on their land to learn about its recovery in the absence of cattle. Then we can extend the lessons we learn from Johnson Lakes Canyon to our public lands — for instance, those surrounding Grand Staircase-Escalante National Monument — and imagine what they could look like if they stop being grazed to death by cattle.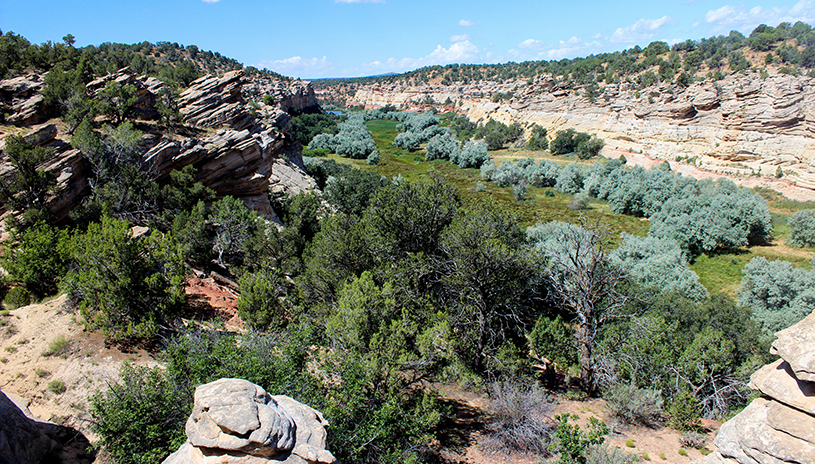 Johnson Lakes Canyon. Photo: Marra Clay
---
Since 2014, Grand Canyon Trust volunteers have joined Rick and Susie each year for a week of pulling invasive plants like tumbleweed, Russian Olive, cheatgrass, watercress, tamarisk, and reed canary grass — giving Johnson Lakes Canyon a chance to reveal its native soul. In 2016, 18 scientists also descended on Johnson Lakes Canyon to find and learn whatever they could about the species that call the canyon home. The scientists had the run of the place and were free to explore. Some went for the birds; others started digging up dead sagebrush to see what eency critters were clinging to the roots; still others photographed every plant species they saw. They were like kids in a candy shop. You can see the results of the scientists' visit in the Johnson Lakes Bioblitz Report.

Lewis River suncup(Camissonia parvula), Evening Primrose family (Onagraceae). Photo: Andrey Zharkikh
---
Photographer and designer Jonathan Barth expertly assembled the scientists' lists into this beautiful report, complete with links to hundreds of plant photos, information on birds, and more. Besides providing a natural high and interesting information, the Johnson Lakes Bioblitz Report provides species lists that encourage on-ground comparisons with the surrounding, grazed Grand Staircase-Escalante National Monument. It a lesson in recovery and provides us with a record to track the arrival of more native species in the future. And hopefully, it serves as inspiration to track down species in protected areas elsewhere throughout the Colorado Plateau and encourages us to fight to keep our national public lands — and all their wild inhabitants.