Oh deer! We need your help to save the aspen forests!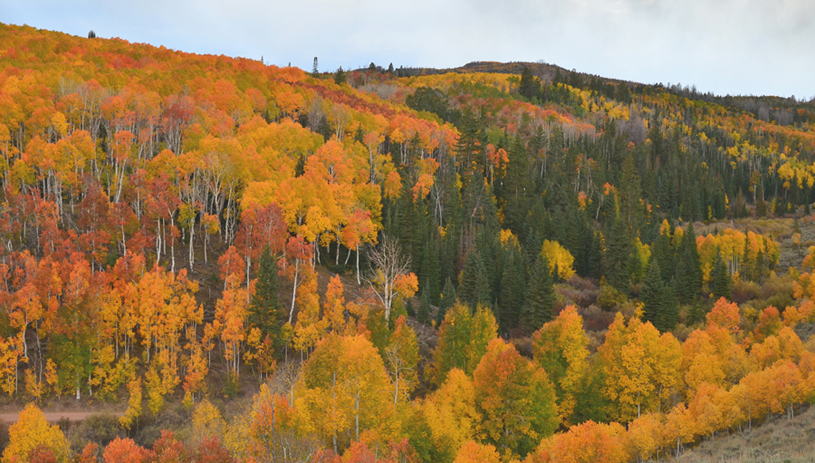 U.S. FOREST SERVICE
We all love aspen. So do cattle, elk, sheep, and deer. Come help rescue old aspen trees by winding wire fencing around them.
Aspen grow in clones — what looks like a "tree" is actually one stem of many arising from underground roots. That is, an aspen clone is a "one-tree forest." There are hundreds of aspen clones that have been around for more than a thousand years but are now reduced to a handful of remaining, old trees because their sprouts are being eaten every year by cattle and elk. If you walk among these trees, you will see small sprouts — with bitten-off tops. These clones are about to disappear as the few old trees near their age limit — unless we fence the new sprouts.
The Grand Canyon Trust has been a member of the Monroe Mountain Working Group for over seven years. We're in the fourth year of a 10-year restoration project for which the working group developed recommendations, and aspen that grow among conifers are being restored by prescribed fires (success). But the aspen that don't grow among conifers are now becoming so scattered that any browsing at all takes out their sprouts. Fences around large burned areas of mixed conifer-aspen areas are now being taken down (because the aspen sprouts are now tall enough to survive on their own). So, the U.S. Forest Service has granted the Trust's request to use some of that fencing to demonstrate how easy it will be to restore some of these scattered aspen stands.
We've selected six small stands of aspen on Monroe Mountain on the Fishlake National Forest (southeast of Richfield, Utah) that can be protected by wrapping fencing around the edge of the each stand. The sprouts need to be about 6 feet tall before cattle and other animals stop browsing on them. We'll arrive Friday afternoon, spend two days fencing together, and then head home at the end of that second day knowing we just saved six clones that have been around for more than a thousand years.
Who can sign up?
All are welcome! We ask that each participant become a member of the Grand Canyon Trust with a $50 donation. Trips are free for current members. Be sure to submit a Volunteer Application Form to secure your spot on the trip.
---
Itinerary:
Day 1
Meet at 4:00 p.m. MDT at the Forest Service office in Richfield, Utah. We will caravan and carpool to our field camp on Monroe Mountain. We will set up camp and gather for a supper prepared by our staff. After dinner, we will introduce the Trust's work and our collaborations with the Monroe Mountain Working Group for long-term protection and restoration of the area, and learn about our goals for the weekend!
Days 2-3
Wake up early. Coffee and breakfast served at 7:00 a.m. Gather at 8:00 a.m. (with lunches packed) to plan the day's fencing restoration work. We'll try to fence a couple small exclosures each day, stopping for lunch in the field. Come back in the evening for a delcious dinner prepared by our staff at camp, discuss the highlights of the day, and relax. At the end of the weekend, pack up group camp and head home — or off to your next adventure — knowing how much has been accomplished and how grateful the Trust is for your hard work.
---
Accommodations:
We will have a car camping base camp for two nights near our work sites on Monroe Mountain. Water and kitchen facilities will be provided, along with a primitive campsite groover toilet (river-trip style).
The Trust provides: All meals, snacks, field equipment, and tools (in addition to what participants have and wish to bring).
Participants provide: Personal transportation to our meeting spot, camping and day-hiking gear for the week, work clothes, work gloves, rain gear, long-sleeved shirts and pants, wide-brimmed hat, sunglasses, and shoes that can get wet.
We'll be working at high elevation during the start of monsoon season. It may be hot in the day, but it could be cold at night and in the morning. It might even rain. Please come prepared for all kinds of weather!
Our gear packing list will help you prepare. We can provide limited transportation and loan gear on a first-come, first-served basis — contact us for details.