The deeper meaning of renaming a popular Grand Canyon tourist destination.
---
BY OPHELIA WATAHOMIGIE-CORLISS
Update: In November 2022, Indian Garden was officially renamed Havasupai Gardens in Grand Canyon National Park. Read the press release ›
When you are the only one speaking a language, wearing a ribbon dress, or dancing to the drum, it's common to feel like all eyes are on you, questioning, "What is this person doing?" This causes many to stop dancing, singing, and representing in this way, even when we are alone. A number of feelings, like fear and embarrassment, can cause you to ask, "Where is everyone else?" When there seems to be no one else it becomes easy to give up, and these forms of knowledge, these ways of being and doing, become increasingly lost. Many of these issues are intergenerational, dating back to the beginning of federally mandated erasure of Native Americans. 
Maybe that intergenerational trauma has already alienated your parents from tradition because trauma results in loss of knowledge and other harm. It can be one of the scariest things in your life to take that first step to learn your history, culture, or language. Who can you ask for help? Forced assimilation and manifest destiny have resulted in internal racism that becomes hard to separate from what some consider tradition. This gets even more complicated when coupled with systems of external racism that exist outside of Native communities. Without representation, one may not even feel welcome within one's own tribal community, much less outside it, and this isolation causes many young Natives to take their own lives. 
When discussing representation of Natives, it's important to start the conversation at the local and regional levels. Representation and the lack thereof came into stark focus when I first traveled to Washington D.C. to lobby for my tribe, the Havasupai. The polite passengers in my shared Uber were awestruck by my recounting of the trip from my home at the bottom of the Grand Canyon to the U.S. capital. Some had even been to Grand Canyon National Park and yet had never heard of the Havasupai. This angered and saddened me all at once.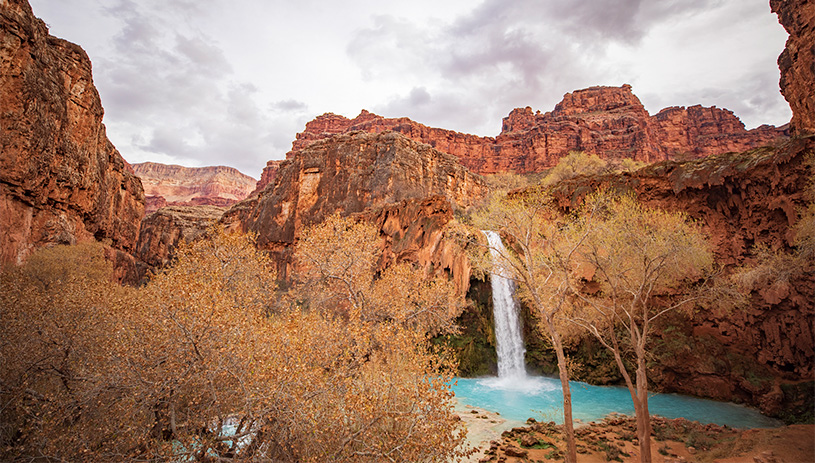 The blue-green waters of Havasu Creek. ED MOSS
---
Native Americans believe that the land is alive. This is why traditional Supai communicate their intentions to the land when gathering on aboriginal territory. The land has always been represented by Natives, that is before Euro-Americans laid claim to it. Stark cultural differences continue to exist such as the land being depicted as untamed wilderness or unoccupied, resulting in its destruction to extract or dispose of radioactive and toxic materials. These beliefs are foreign to the people of this land but have been forced onto the land and its original inhabitants. 
Representation, and the subsequent erasure of such for the Havasupai people, can be traced back to the failed ethical responsibility of the U.S. government immediately after the forced creation of the Havasupai Reservation in 1880. The original surveyors sent to finalize the borders of the reservation were incompetent, resulting in the boundaries being drastically and dangerously reduced to a land area of only 518 acres. The Indian agents assigned to manage and influence the Havasupai soon began a correspondence with Washington D.C. contesting the reservation's small size. These Indian agents were assigned by the government and the Havasupai were supposed to trust them even though the tribe feared being relocated or killed. These agents questioned how the Havasupai were supposed to become self-sustaining raising livestock when the designated land and water were insufficient. For decades there was no meaningful response. It wasn't until 1975 that an act of Congress returned 188,077 acres of land to the Havasupai.
This verifiable history demonstrates changes requested for Indians by non-Indians working for the federal government, who petitioned the federal government for better living conditions for the Havasupai. The Havasupai people were thus denied representation for a century in an American society that prided itself on its claim that it "represented" all of its citizens. Federal mandates to assimilate, the times, and public attitudes all played a role. One need only do a cursory review of American history to educate oneself on this multi-layered repression of the needs, desires, and voices of Native peoples. Ignorance of this remains a choice, and you owe us the effort of understanding our history as the land you own, the very home you live in, is located on Native land.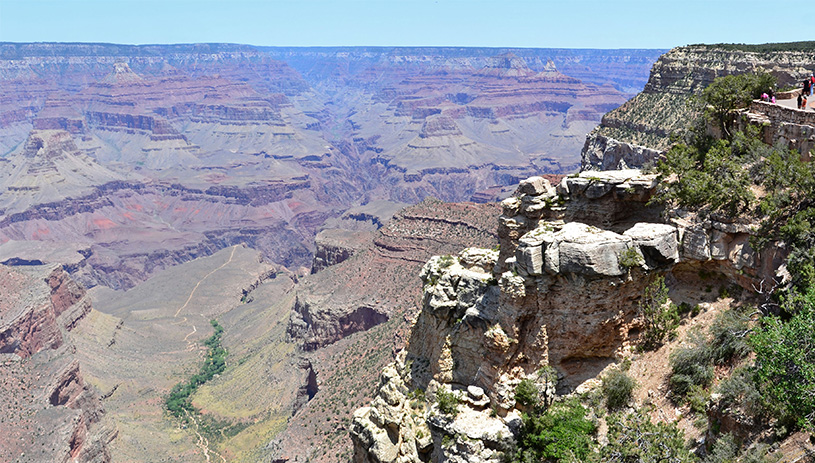 Looking out at Ha'a Gyoh (Havasupai Gardens) from the South Rim. MICHAEL QUINN, National Park Service
---
Fast-forward to now. The times are more welcoming to hearing the stories and understanding the needs of minority peoples. In fact, when I wrote an article for this magazine in 2019 about renaming Indian Garden — once home to Havasupai people who were forcibly removed, now a popular tourist destination along the Bright Angel Trail inside Grand Canyon National Park — it was very well received by the public. Ethical representation is not a new concept for the Havasupai, nor is this a new idea that I came up with, rather it happened to strike at the right time; the article was read, heard, and the idea was supported.
Nonetheless there has not been nearly enough representation for tribes within Grand Canyon National Park including the Havasupai, who still physically occupy land on the south rim of the park. This is evidenced by the millions of visitors who go to the park every year without knowledge of our legacy of protecting the land. I am hopeful that times are changing for the better regarding representation, which requires that our true history become public knowledge.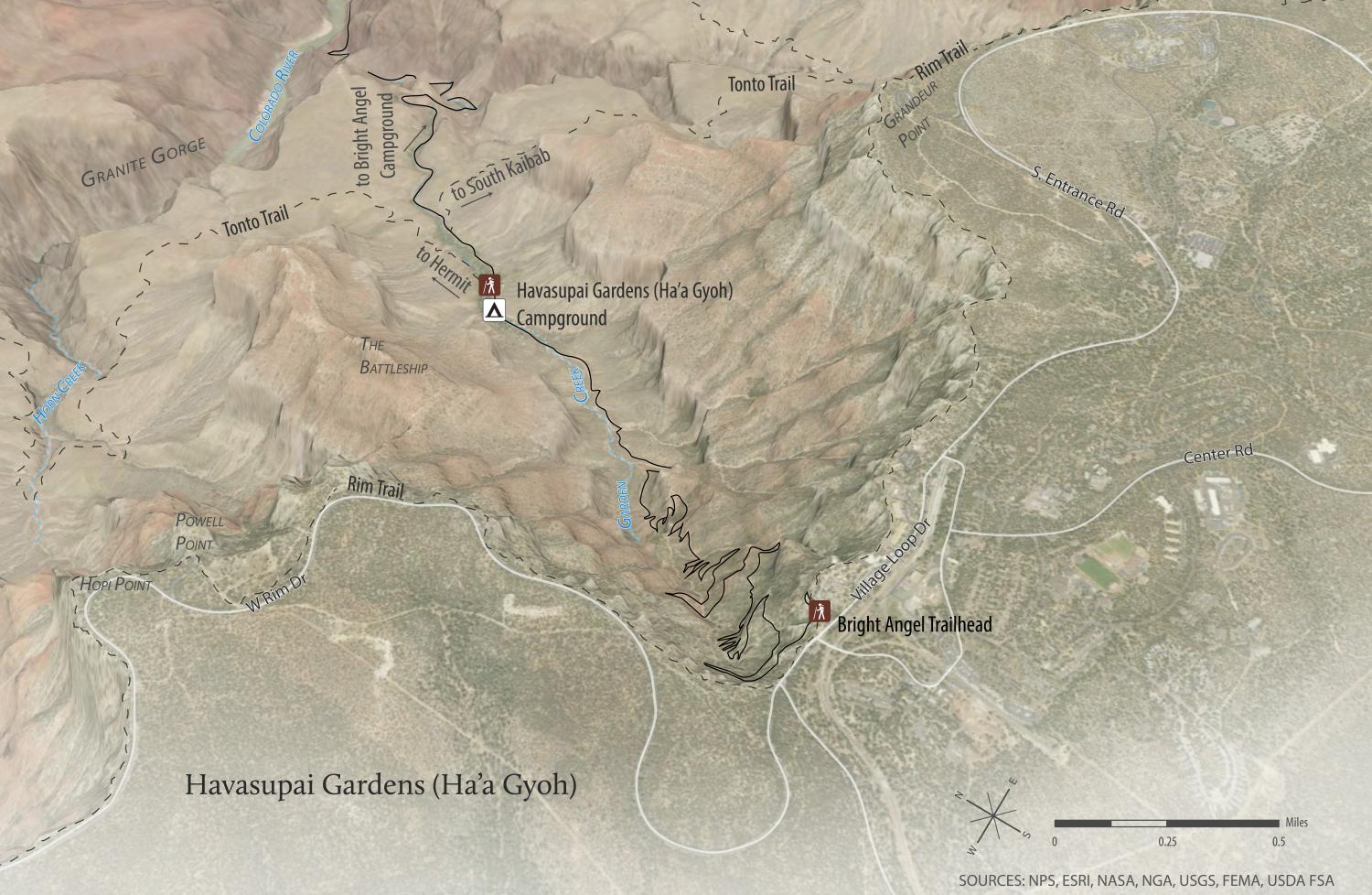 STEPHANIE SMITH
---
It is therefore significant that Grand Canyon National Park has expressed not just interest, but an actual administrative will to change the name of Indian Garden to its traditional Havasupai name, with an accompanying English translation. To get the name changed, the park must receive approval from the U.S. Board on Geographic Names. Why bother with a change? This will rightfully correct the name to Ha'a Gyoh (Havasupai Gardens) on maps and official documents moving forward.
We teach our children to learn from their mistakes, and if we are wrong, to own up to it and make it right.
This is why a name change, though it may seem small, is a significant step in our history. We were all once babies, learning from our elders to navigate our way into adulthood. It follows that at least once in our lives we've tried to make amends for some hurt we may have caused to another person. The relationship and history between the national park and the Havasupai have led up to this point. They are correcting a wrong and trying to make it right. Behind this effort is the desire for millions of visitors to know the true history that has been hidden and to show the world that any time is a good time to try to right past wrongs. 
This is not a fast process, as is always the case when it comes to effecting change through large agencies and government bodies. Communities must be informed and asked for support, and the surrounding publics need to be lobbied. As we navigate the velvet ropes of politics, we must remain hopeful that our change will be heard, welcomed, accepted, implemented, and established "on paper" to guarantee it's cemented for the future. 
The park has already made formal requests of support to regional tribes and has the full support of the Havasupai Tribal Council. My article, "Rename Indian Garden," has garnered widespread public support including from local educators and the Geological Society of America. Through that public support network we learned about the process of changing the name on the national level. The park has agreed to make internal name changes and has submitted the official paperwork to the U.S. Board of Geographic Names. The board has in turn submitted the proposal to the Arizona State Board on Geographic and Historic Names for comment, but currently that board has been disbanded. However, the U.S. Board of Geographic Names has already expressed interest in approving our change.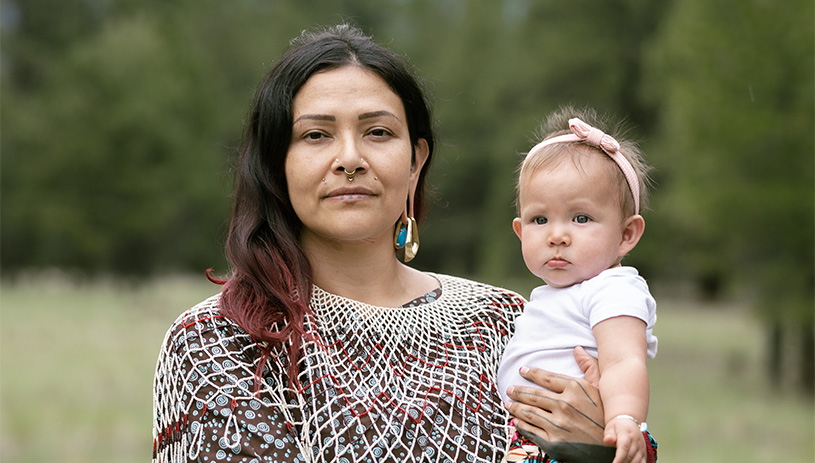 The author and her daughter. RAYMOND CHEE
---
In the meantime, the park has established a small team to work on interpretive signs for Ha'a Gyoh (Havasupai Gardens). There is opportunity for not only place-name reconciliation, but also for true history to be presented through different mediums. This project is still in the beginning stages and it will take time to change in the correct manner, with support from the Havasupai community. Cultural differences on information-sharing will add complexity, but being personally involved with the display changes, I can tell you that we are starting back up now that my daughter is getting a little bit older (10 months). The common vision is to transform the visitor experience so that when visitors hike back out they understand the significance, history, and connection of the present-day Havasupai community.
This name change reinserts the Havasupai into your history, the history that has been taught to millions of children in the school system. History that left us out on purpose to sell the idea that the Grand Canyon was wild and needed to be tamed, that our territory was unoccupied and needed to be settled, that our land was where you should mine for uranium because no one here needs clean drinking water, that we would be fully assimilated. That history has tried to remove the Havasupai from the land and water — these life-sustaining resources we believe ourselves to be physically and forever connected to. This is more than a name change. This is for the Havasupai who died continuing to access our lands, our ancestors who held space to ensure their grandchildren's survival, who traveled to Washington D.C. and won land back. This is for those who survived into adulthood while our parents were trying to survive themselves, those finding our way back home, the resilient families who never left and kept the traditions alive, those learning tradition, and for the impact that naming and representation have on our future: Havsuw'a. 
---

Ophelia Watahomigie-Corliss is a member of the Havasupai Tribe, an advocate, writer, mother, and former member of the Havasupai Tribal Council. 
---
EDITOR'S NOTE: The views expressed by Advocate contributors are solely their own and do not necessarily represent the views of the Grand Canyon Trust.