Help revitalize the Kane Ranch garden.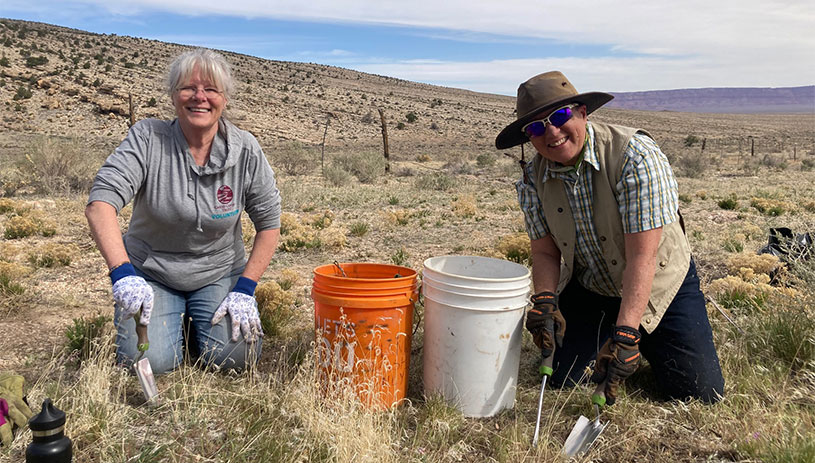 Volunteers happily at work on the Kane Ranch garden. AUDREY KRUSE
Across 830,000 acres on the north rim of the Grand Canyon, the Grand Canyon Trust, in collaboration with a ranching family, federal and state agencies, universities, and hundreds of volunteers, is leading efforts to improve the health of the landscape. As the livestock grazing permittee of North Rim Ranches, we strive to be stewards of this landscape by limiting the amount of grazing that occurs here.
Kane Ranch, our home base at the North Rim Ranches, is nestled in House Rock Valley. It includes a historic cabin, small native plant garden, spring-fed water source, and winding paths to several outbuildings.
Over the past few years, invasive plants have managed to sneak in and take root throughout the Kane Ranch garden beds. We need your help weeding invasive cheat grass and Russian thistle and planting native shrubs, grasses, and wildflowers.
Who can sign up?
Anyone! Membership is optional, but we ask that participants who are comfortable financially become members of the Grand Canyon Trust with a $25 donation. Members receive a subscription to our biannual print magazine, The Advocate. Please contact us if you have any questions. You'll also need to submit your volunteer application form to secure your spot on the trip.
NOTE: This trip is currently full. Sign up for a spot on the waiting list.
---
What to expect
We'll start our days enjoying the view from the Kane Ranch porch, then dive into weeding cheat grass and Russian thistle on the property while tidying the ranch house garden and paths. There will be time to discuss the history of this landscape and make use of the grill for a little outdoor barbeque as the evening settles in. Starry nights are one of the perks of this remote place, and we may set up a telescope, weather permitting. On the last day of the trip, we'll finish work in the morning and go for a hike with those interested in exploring the hills behind the Kane Ranch cabin.
---
Accommodations
We will stay at the historic Kane Ranch cabin in House Rock Valley. There will be limited indoor sleeping spaces, so please plan to camp outside, where we have ample tent platforms and space for vehicles. We will have limited running water, a full kitchen, and a pit toilet.
The Trust provides: All meals, snacks, field equipment, tools, and training.
Participants provide: Personal transportation to the site (most vehicles can make it, but high clearance may be helpful if it has rained recently), individual camping gear, coffee mug, lunch container, work clothes, work gloves, wide-brimmed hat, sunglasses, rain gear, and clothes for warm days and cold nights. Please come prepared.