Oh deer, the aspen forests need you!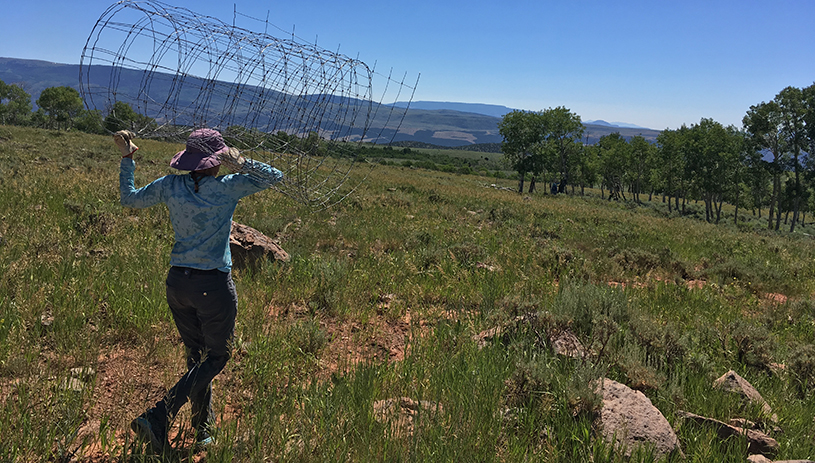 Aspen grow as clones — what looks like a stand of unique trees is actually a bunch of stems all arising from a single root system. The aspen on Monroe Mountain in the Fishlake National Forest have been around for hundreds of years, but there are less aspen then there could be because new stems are being eaten every year by cattle, elk, and deer. If you walk among these trees, you see small sprouts – with bitten-off tops. The new sprouts struggle to establish themselves and grow above the reach of these hungry animals, unless we fence them.
The Trust has been a member of the Monroe Mountain Working Group for many years. Through collaborative efforts, the mountain's aspen forests are being restored with thinning of conifers, prescribed burns, and by building small fences around disparate groups of aspen stands. Trust volunteers began these small-scale fencing projects in 2019, and we've shown that this type of quick-fix fencing gives aspens a chance to sprout new growth that isn't immediately eaten by the cattle, deer, and elk.
We've selected six small stands of aspen that will be protected by wrapping fencing around the edge of the each stand. The sprouts need to be about 6 feet tall before cattle and other animals no longer chew off their tops. We'll arrive Friday afternoon, spend two days fencing together, and then head home the end of the weekend knowing we protected six aspen clones that have been around for a very long time.
Who can sign up?
Anyone! We ask that each participant become a member of the Grand Canyon Trust with a $50 donation, if you're not already a member. Please contact us if you have any questions. You'll also need to submit your Volunteer Application Form to secure your spot on the trip.
---
COVID-19 considerations
We are closely monitoring the COVID-19 pandemic as we plan for our field season. If we feel that a trip cannot be safely conducted due to public health conditions, we will cancel the trip with as much notice as possible. For the safety of all trip participants, we ask that each volunteer show proof of vaccination prior to attending. Other precautionary measures to be taken on trips will be communicated in pre-trip emails. The safety and comfort of our trip participants is our first priority. Please contact us with any questions or concerns.
---
Itinerary
Day 1
Meet around 5:00 p.m. at the campsite on Monroe Mountain (exact location will be sent to trip participants via email), set up camp, and get to know each other. We will introduce the Trust and the goals of the project briefly over appetizers. Enjoy a delicious dinner prepared by our staff before settling in for a starry night!
Day 2
Wake up early. Coffee and breakfast served at 7:00 a.m. Build fences from 8:00 a.m. to approximately 5:00 p.m., with a midday lunch break. We may be joined by a Forest Service land manager who will speak to how this project fits into their work as a manager of our public lands. Return to camp for dinner, discussion, stargazing, and free time.
Day 3
Wake up early. Coffee and breakfast served at 7:00 a.m. Continue the fencing projects between 8:00 a.m. and 4:00 p.m., with a midday lunch break. Return to camp to enjoy dinner and conversation. Head out this evening if you'd like, or stick around for one more night and depart the next morning.
---
Accommodations
We will base camp near our project site, and will have access to water and toilets. The Trust will supply a full kitchen set up.
The Trust provides: All meals, snacks, field equipment, tools, and risk management.
Participants provide: Personal transportation to the site, individual camping gear, hiking gear (including wide-brimmed hat and sunglasses), and rain gear. Make sure to bring a warm sleeping bag and lots of layers for the cold nights (we'll be up at 9,000 feet). Please come prepared!
Our Gear Packing List will help you prepare. We can loan some camping gear items on a first-come, first-served basis — contact us for details.