Come see the world's largest aspen stand — and help protect it!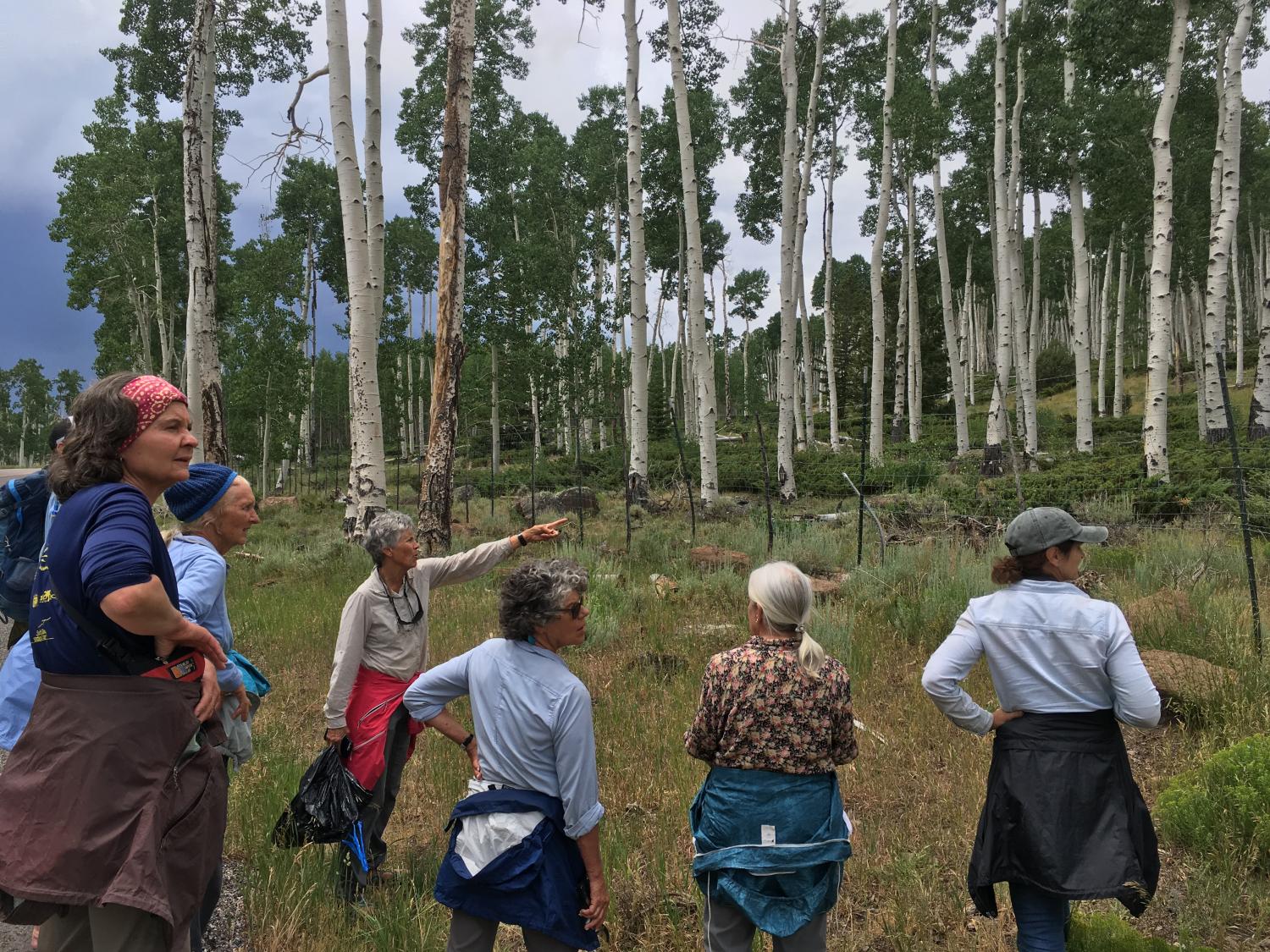 The Pando clone, next to Fish Lake, Utah, in Fishlake National Forest, is the largest living organism on earth, spanning 106 acres. However, until 2014, the Pando clone was dying from decades of sprouts being partially eaten by cattle, deer, and elk. Part of it was fenced in 2013, and the other half in 2014. As hoped, the portion of the Pando clone that was fenced in 2013 is now experiencing remarkable recovery. However, invasive plant species are present. The portion fenced in 2014 is being repeatedly grazed by deer due to poor fencing. We'll spend two days at this site, weeding and documenting conditions within the fenced area through repeat photographs.
We'll start with some simple training on plant identification and you'll be ready to weed with a purpose! This trip is great for those of all ages and skill levels. You'll also learn about the remarkable ecological story of the Pando clone, and enjoy the beautiful scenery of Fish Lake.
Who Can Sign Up?
Anyone! We ask that all participants become members of the Grand Canyon Trust with a $50 donation. Trips are free for current members. Please contact us if you have any questions.
Be sure to submit your Volunteer Application Form to secure your spot on the trip.
---
Itinerary
Day 1
Meet at 9:00 a.m. MDT at the Doctor Creek Campground, where there are bathrooms, drinking water, and beautiful scenery on the edge of Fish Lake. We will describe the trip goals and logistics before spending the day removing invasive species and documenting wildlife conditions. We'll break at 4:30 p.m to hike around part of the lake, go for a swim, or relax. Then, we'll set up camp and enjoy a delicious dinner prepared by our staff and gaze at the Utah stars.
Day 2
Wake up early. Coffee and breakfast served at 7:00 a.m. We'll spend the day finishing what we started the day before, removing every invasive plant within the exclosure. Hear the story of the Pando clone and take a tour of the other exclosures before packing up and heading off to your next adventure by 5:00 p.m.
---
Accommodations
We will have a car camping base camp for one night at the Doctor Creek Campground. Running water and flush toilets will be available.
The Trust will provide: All food, snacks, equipment and tools.
Participants will provide: Personal transportation to the campground, camping gear, work attire (long pants and long sleeves), wide-brimmed hat, sunglasses, water bottle, and sturdy shoes.
Our gear packing list may help you prepare. We can provide limited transportation and loan gear on a first-come, first served basis. Please contact us for details.