Why jump when you can run?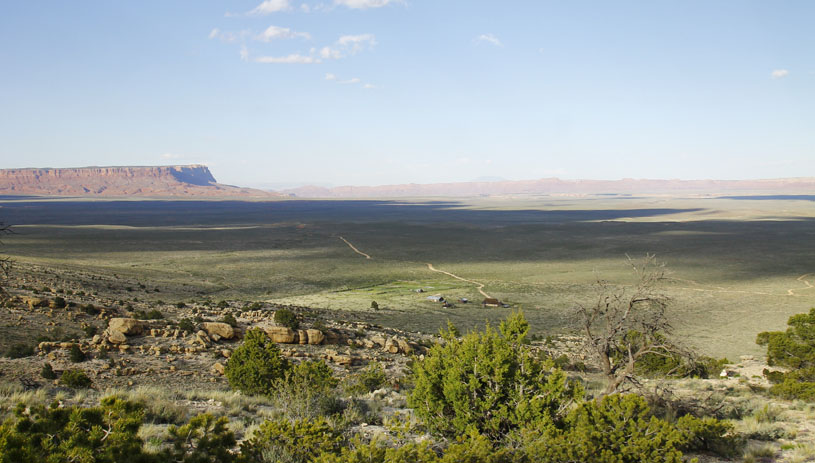 That's the mentality of pronghorn, the second-fastest land mammal on earth. Highly adapted to speed throughout the flat grasslands that they roam, a simple fence stops them in their tracks. Unfortunately, the Southwest is crisscrossed with miles of barbed wire cattle fences. Pronghorn have to navigate these fences as they seasonally migrate up to hundreds of miles. Migrating pronghorn may burn extra energy trying to get around these fences or try to crawl under the bottom wire. These wires are typically strung too low and scrape the hide right off their backs, leaving them susceptible to infection and disease.
Across 830,000 acres on the north rim of the Grand Canyon, the Grand Canyon Trust, in collaboration with a ranching family, federal and state agencies, universities, and hundreds of volunteers, is leading efforts to practice conservation-oriented livestock management. As the livestock grazing permittee (with our North Rim Ranches project), we have an opportunity to balance collaborative science, restoration, and livestock grazing — a challenge present throughout the West.
On this trip, we'll spend a couple days helping with pronghorn movement in House Rock Valley. We will remove the bottom strand of barbed wire and replace it with smooth wire 18 inches off the ground. Research has shown that this is high enough for pronghorn (and young deer) to scramble under, but low enough to contain cattle. We'll work at strategic locations where pronghorn return year after year. You will leave feeling inspired that you've helped with the persistence of a unique species and increased the ecological integrity of the landscape.
Who can sign up?
Anyone! We ask that each participant become a member of the Grand Canyon Trust with a $50 donation. Trips are free for current members. Please contact us if you have any questions.
Be sure to submit your Volunteer Application Form to secure your spot on the trip.
---
Itinerary:
Day 1
Meet at 9:30 a.m. MST at the Trust's Flagstaff office, or at 12:00 p.m. at Kane Ranch. We will feed you lunch, set up camp, do a project orientation, and get started on our fence repair. Then enjoy a delicious dinner, prepared by our staff, and a beautiful sunset over the Vermilion Cliffs from our porch at Kane Ranch.
Day 2
Wake up early. Coffee and breakfast served at 7:00 a.m. Travel to nearby project sites and work from 8:00 a.m. to approximately 4:30 p.m., with a midday lunch break. Return to camp for sunset, dinner, discussion, stargazing, and free time.
Day 3
Wake up early. Coffee and breakfast served at 7:00 a.m. Finish up fieldwork in the morning and maybe sneak in a short hike. We will feed you lunch and discuss how important our work was before we break camp, pack up, and head home, returning to Flagstaff by approximately 4:00 p.m.
---
Accommodations:
We will stay at Kane Ranch in House Rock Valley. There will be limited indoor sleeping spaces, so please plan to camp outside. We will have running water, a full kitchen, and a pit toilet.
The Trust provides: All meals, snacks, field equipment, and tools.
Participants provide: Personal transportation to the Trust office or Kane Ranch, camping gear, work clothes for the weekend, wide-brimmed hat, sunglasses, rain gear, and clothes for warm-to-cool days. Please come prepared!
Our gear packing list will help you prepare. We can provide limited transportation and loan gear on a first-come, first-served basis — contact us for details.