Join us for a weeding extravaganza!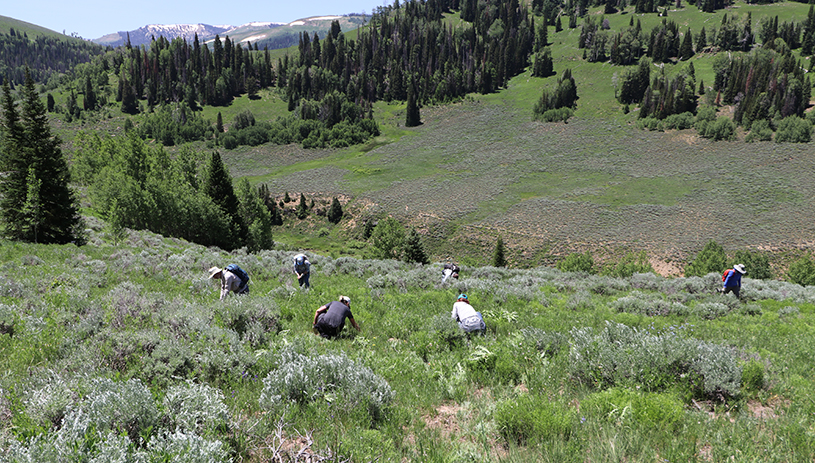 The Left Fork of Huntington Creek is a beautiful ungrazed oasis in the Wasatch Plateau of central Utah. In 2010, the Manti-La Sal National Forest signed a memorandum of understanding with the Grand Canyon Trust to establish this space as an ungrazed reference area. Without livestock, the native vegetation is abundant and thriving, particularly along the rushing streams. Since 2014, the Trust has been removing the few invasive plant species that are in this reference area (musk thistle and houndstongue). Every year we find fewer of these weeds — a great sign that our weeding is working! We do this to retain this small area in its natural condition, in contrast to most of the surrounding area which is overgrazed by livestock. We are also advocating for Left Fork of Huntington Creek's permanent protection through a Research Natural Area designation from the Forest Service.
There's plenty to see here at 8,500 feet elevation; we might watch beavers build dams in the creek, see hawks soar above us, and hopefully do a scenic hike (optional) through the canyon along Huntington Creek on the second afternoon. This is also a great chance to hone your wildflower identification skills!
Who can sign up?
Anyone! This trip is perfect for all ages and skills, as no prior botany experience is necessary. We'll provide training on the first day. We ask that each participant become a member of the Grand Canyon Trust with a $50 donation, if you're not already a member. Please contact us if you have any questions. You'll also need to submit your Volunteer Application Form to secure your spot on the trip.
---
COVID-19 considerations
We are closely monitoring the COVID-19 pandemic as we plan for our field season. If we feel that a trip cannot be safely conducted due to public health conditions, we will cancel the trip with as much notice as possible. For the safety of all trip participants, we ask that each volunteer show proof of vaccination prior to attending. Other precautionary measures to be taken on trips will be communicated in pre-trip emails. The safety and comfort of our trip participants is our first priority. Please contact us with any questions or concerns.
---
Itinerary
Day 1
Meet in the late-afternoon near the project site (exact location will be sent to trip participants via email). We will caravan to our camp and set up. Then we'll have an introduction to the Trust, the goals of the trip, and pertinent logistics while enjoying happy hour and appetizers. While we get to know one another, we'll prepare a delicious dinner together followed by wildlife watching, enjoyment of the campfire, and the splashy Utah Milky Way.
Day 2
Wake up early. Coffee and breakfast served by 7:00 a.m. We'll head out around 8:00 a.m. with our day packs and weeding tools to scour the slopes around the Left Fork of Huntington National Recreation Trail, removing invasive plants and documenting ecological conditions. We'll also look at nearby grazed areas to identify the differences between grazed and ungrazed areas. We'll break at 4:30 p.m. to explore the area, go for a nearby swim, or relax. Enjoy a delicious dinner prepared by Grand Canyon Trust staff, and participate in an evening conversation with a local U.S. Forest Service land manager.
Day 3
Wake up early. Coffee and breakfast served by 7:00 a.m. We'll spend the morning finishing what we started the day before — removing invasive thistles within the reference area. After lunch, there will be the option of continuing along the National Recreation Trail for a guided naturalist hike with Marc Coles-Ritchie through the canyon. Back at camp, we'll pack up and you can head off on your next adventure by 5:00 p.m. knowing how much has been done to protect the ecological integrity of the area.
---
Accommodations
We will have a car camping base camp for two nights. The area has pit toilets available on site, picnic tables, and campfire rings. We will bring water for the group.
The Trust provides: All meals, snacks, water, kitchen gear, field equipment, tools for the weeding work, and risk management.
Participants provide: Personal transportation to the site, individual camping gear, hiking gear, work clothes, and rain gear. Make sure to bring a warm sleeping bag and layers for the chilly nights.
Our Gear Packing List will help you prepare. We can loan some camping gear items on a first-come, first-served basis — contact us for details.