FOR IMMEDIATE RELEASE
Tuba City, AZ — Eleven Native-American-owned start-ups have been selected from a competitive pool to enter the rigorous Change Labs Business Incubator. The incubator, based in Tuba City, on the Navajo Nation, puts entrepreneurs through an intensive 12-18 month incubation program that includes business coaching, marketing, branding, and financial management training. Upon completion, incubator graduates become eligible for up to $10,000 in micro loans for their businesses.
The summer 2019 Change Labs cohort includes businesses in the idea, in-development, open for business, and growth stages. All businesses have a strong cultural identity component, with many aiming to solve problems, serve local communities, and meet needs across reservation lands.
Congratulations to the Summer 2019 Changemakers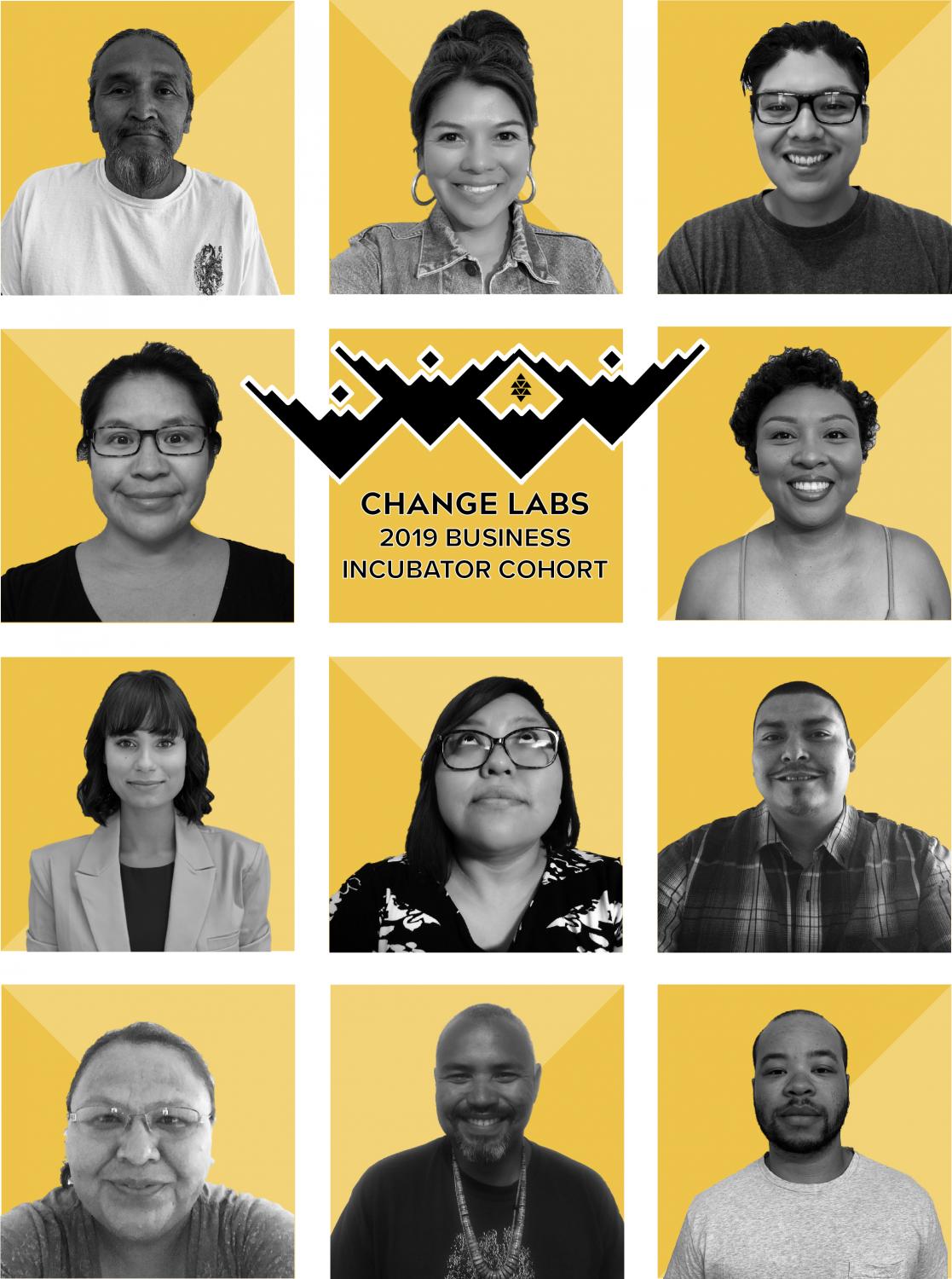 Summer Brown (Navajo), owner of Lotus and Layne, is an artist and designer who produces quality handcrafted leather goods.
Cheyenne Gordon (Hualapai) is an actress turned model returning home from a successful modeling career in Los Angeles to Peach Springs to start a farming business.
Claudia Brandow (Navajo) is launching an event equipment rental service to bring tents, tables, sound equipment, and other necessities to everything from community fairs to large family celebrations.
Kristen J. Kaye (Navajo) is a beautician aiming to launch a full-service mobile hair salon that will bring salon-quality beauty services to customers in rural communities across the reservation.
Bennedict Keevama (Hopi), owner of Treeben's Jerky Shop, produces beef, elk, and deer jerky that he delivers to villages across the Hopi Mesas.
Tyrone Thompson (Navajo), owner of Chishie Farms, is launching a consulting business to market his expertise building "hoop houses" (similar to greenhouses) and to advise schools on farming projects to grow fresh, local, sustainable produce and provide healthy food in rural reservation communities.
Thomas Deel Jr (Navajo), owner of Deel Jewelry, works with his sons to create silver jewelry and is launching a business to produce Native-inspired class rings.
Suzanne Singer (Navajo), co-founder of Native Renewables, is a Berkeley-educated mechanical engineer working to open a retail outlet for small, off-the-shelf solar power systems to light reservation homes without electricity.
Candice Mendez (Navajo), owner of Salt.V.Mo Events, provides a full suite of event management services, from conferences to cultural gatherings
Tom Greyeyes (Navajo) is an artist using site-specific installations, print, and video to convey intertribal indigenous perspectives.
Glenda Bennett (Navajo), owner of Glenda Bags, creates custom handbags using prints and patterns inspired by Native Culture.
"It's been exciting to see the selection process get more competitive each year," said Change Labs Executive Director Heather Fleming. "It's a result of more Native entrepreneurs feeling they are ready to take significant steps to implement their ideas and a signal that change is coming to our communities. This year's cohort of entrepreneurs is among our most diverse, from solar tech solutions to 3D-printed jewelry. It's a nod to Indigenous innovation and the growing community of entrepreneurs across the reservation."
"We're excited to see the 11 business owners who made the cut put their heads down, work hard, and accomplish great things for their businesses and their communities this year," said Change Labs Director of Business Incubation Jessica Stago. "Small businesses like theirs are the building blocks of a vibrant, culturally strong economy built by Native people, for Native people. We need to see hundreds more businesses like theirs flourish to drive economic growth, resilience, and independence across tribal lands."
Change Labs believes that entrepreneurship is our path to stronger and more resilient Native communities.