by Teahonna James, Native American Intertribal Gathering Coordinator
Last month, a small group of Intertribal Gathering members traveled to San Rafael, CA, home of the Coast Miwok people. Driving through the tunnels and over the Golden Gate Bridge, the elders in the group—Bucky Preston, a Hopi master farmer and Sunny Dooley, a Navajo storyteller—yelled out each other's names, taking in the bay views and generally having a good time. It was a change of scenery for Tony Skrelunas, Alicia Tsosie, Stacie Tsingine and myself too.
Not your typical environmental conference
Stacie and Alicia were there to help give a presentation: "Acorns, Elderberries and Pine Nuts: How to Keep Our Cultural Landscapes Healthy," which shared, among other things, how fire can help return lands to balance, since some seeds need fire in order to grow.
But above all, our group was there to learn, as part of the 26th Annual National Bioneers Conference, which focused on practical, visionary solutions for humanity's most pressing environmental and social challenges. Our goal: to host our own indigenous conference right here on the Colorado Plateau.
Bioneers is not your typical environmental conference. For one thing, it acknowledges the key role of indigenous people in the fight to protect our Mother Earth and Father Sky and devotes an entire track to indigenous people and the work being done in our communities. Organizers respected the traditional protocols of asking permission to gather on the lands of indigenous people and thanked the Coast Miwok people for their hospitality.
Similar struggles
Many of the conference's speakers and presenters were indigenous. Our group was especially impressed with and inspired by Eriel Deranger, whose fight to protect her sacred homelands and her people from encroaching tar sands development in Alberta, Canada, is similar to struggles taking place here on the plateau.
The Nosie family, members of the Apache Tribe, shared their work to save their sacred lands around Oak Flat from destructive mining interests, and 14-year-old Naelyn Pike offered a powerful reminder that young people have the most at stake—and the most to lose—in many struggles for social and environmental justice.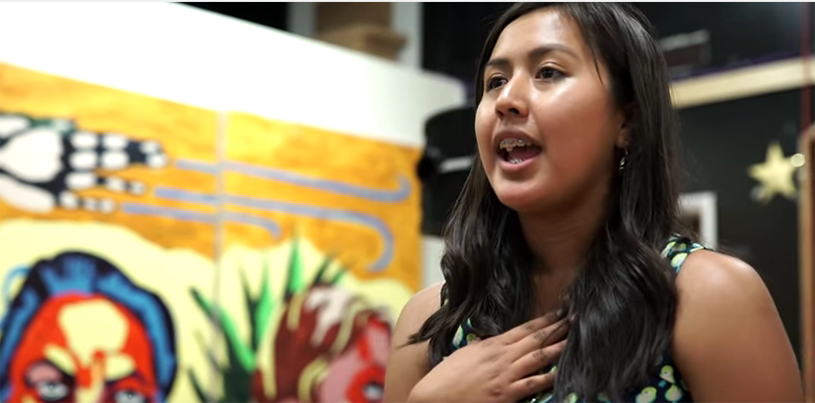 [Naelyn Pike speaking at a support rally for the Apache Stronghold.]
A fight that unites us all
Among many inspiring and empowering conversations about work being done in Indigenous communities around the world, what reinvigorated me in my work with the Intertribal Gatherings is the realization that our fight for Mother Earth is a fight that unites us all. It affects every single person on this earth.
Precious seeds
At the end of the conference, we helped organize a seed-saving knowledge exchange for indigenous people. Emigdio Ballon, a Quechua farmer, plant geneticist and seed saver originally from Cochabamba, Bolivia, shared his experience of seed saving and farming, helping to highlight the importance of saving all heirloom seeds—and offering practical advice about how to do it, such as drying seeds out completely and then storing them in sealed mason jars—so that our people can plant them for generations to come. Without GMO-free seeds, we will not be able to plant traditional foods, a vital part of preserving many indigenous cultures. What will our children eat if we do not save and protect our precious seeds now?
Bioneers, coming soon to the Colorado Plateau...
As we take what we learned at the home of the Coast Miwok people and think about the best way to bring people together on the Colorado Plateau, we are committed to bringing attention to indigenous perspectives. We want to provide a venue for sharing some of the oldest traditional teachings along with the latest and greatest ways to help our Mother Earth and Father Sky. We want to bring relatives from across the continent together to share their knowledge, as we as indigenous people have been doing for generations past. We floated the idea with Bioneers organizers and founders, so stay tuned!