by Roger Clark, Grand Canyon Program Director
This week, Colorado College released the results from its 2016 Conservation in the West poll. Again, voters in the Grand Canyon state overwhelmingly support designating public lands surrounding the Grand Canyon as a national monument and thereby permanently banning new uranium mines on those lands. With 74 percent in favor, nearly three out of every four Arizona voters support the proposed monument.

Arizonans have a long history of opposing Grand Canyon uranium mining.
A 1993 poll of Arizona residents found that two-thirds opposed uranium mining in the vicinity of Grand Canyon National Park. For many reasons, Arizonans continue to overwhelmingly support protecting the canyon by banning uranium mines on public lands that surround the park.
During the 1980s, a boom in uranium mining around the canyon went bust when ore prices dropped. Citizens were starting to learn more about the poisonous legacy left behind in mine and mill sites scattered throughout the region. Before long, the Navajo Nation and other tribes would make it a crime to mine uranium on their lands.
Sixteen years later, in 2009, two-thirds of voters in counties surrounding Grand Canyon National Park supported a proposed 20-year ban on any new uranium mines on publicly owned lands around the park. At the time, a surge in uranium prices had prompted four mines—mothballed since the early 1990s—to reopen, and the filing of thousands of new uranium claims around the canyon.
By 2012, nine out of 10 Arizona voters agreed that public lands such as national parks, forests, monuments, and wildlife areas are "an essential part" of the state economy, and of the quality of life of residents. A survey also found that 78 percent viewed having a strong economy and protecting land and water as compatible.
In 2015, nearly three-fourths of Arizona voters supported a proposal to designate public lands surrounding the Grand Canyon as a national monument, which would permanently ban new uranium mines on 1.7 million acres.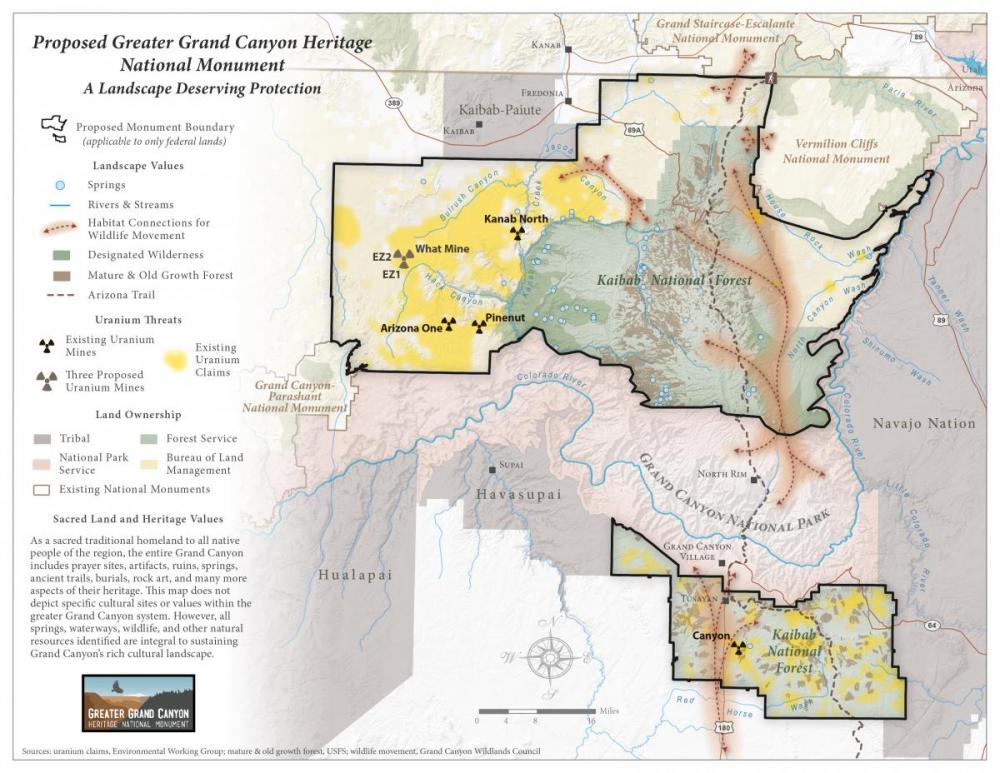 Generations of Arizonans have now said "no" to uranium mining around the Grand Canyon. The Navajo Nation banned it in 2005 due to health effects. Others oppose it because it's bad for tourism and threatens Arizona's iconic natural wonder.
By all measures, Arizona loves the Grand Canyon.
Last year, a poll found that 94 percent of Arizona residents had a "favorable" opinion of the Grand Canyon.

And Arizona's economy loves the Grand Canyon.
A 2005 study put the total annual economic impact (direct, indirect and induced) of Grand Canyon National Park visitors at $687 million, a huge win for the regional economy. It also supported the equivalent of 12,000 full-time jobs in the area. In 2012 alone, visitors spent $745 million at the Grand Canyon and Arizona's other national parks.

Not only is uranium mining around the Grand Canyon uneconomic, further protecting the canyon by designating surrounding lands as the Greater Grand Canyon Heritage National Monument would add more than $50 million to local economies.

For these reasons and more, public support for permanently banning Grand Canyon uranium mining is growing.