by Tim Peterson, Utah Wildlands Director
When Donald Trump attempted to drastically shrink Bears Ears and Grand Staircase-Escalante national monuments late last year, he didn't just gut the boundaries of the popular monuments. He set a date after which lands cut from the monuments (absent other restrictions) are open to new mining and fossil fuel drilling.
That date was February 2, 2018, and Bears Ears and Grand Staircase are now open for business — the extraction business. There are some restrictions in limited areas that prohibit mining and drilling, like wilderness study areas and the Valley of the Gods Area of Critical Environmental Concern in the areas cut from the original Bears Ears National Monument, but this doesn't mean the entirety of the monuments are safe from destructive energy extraction.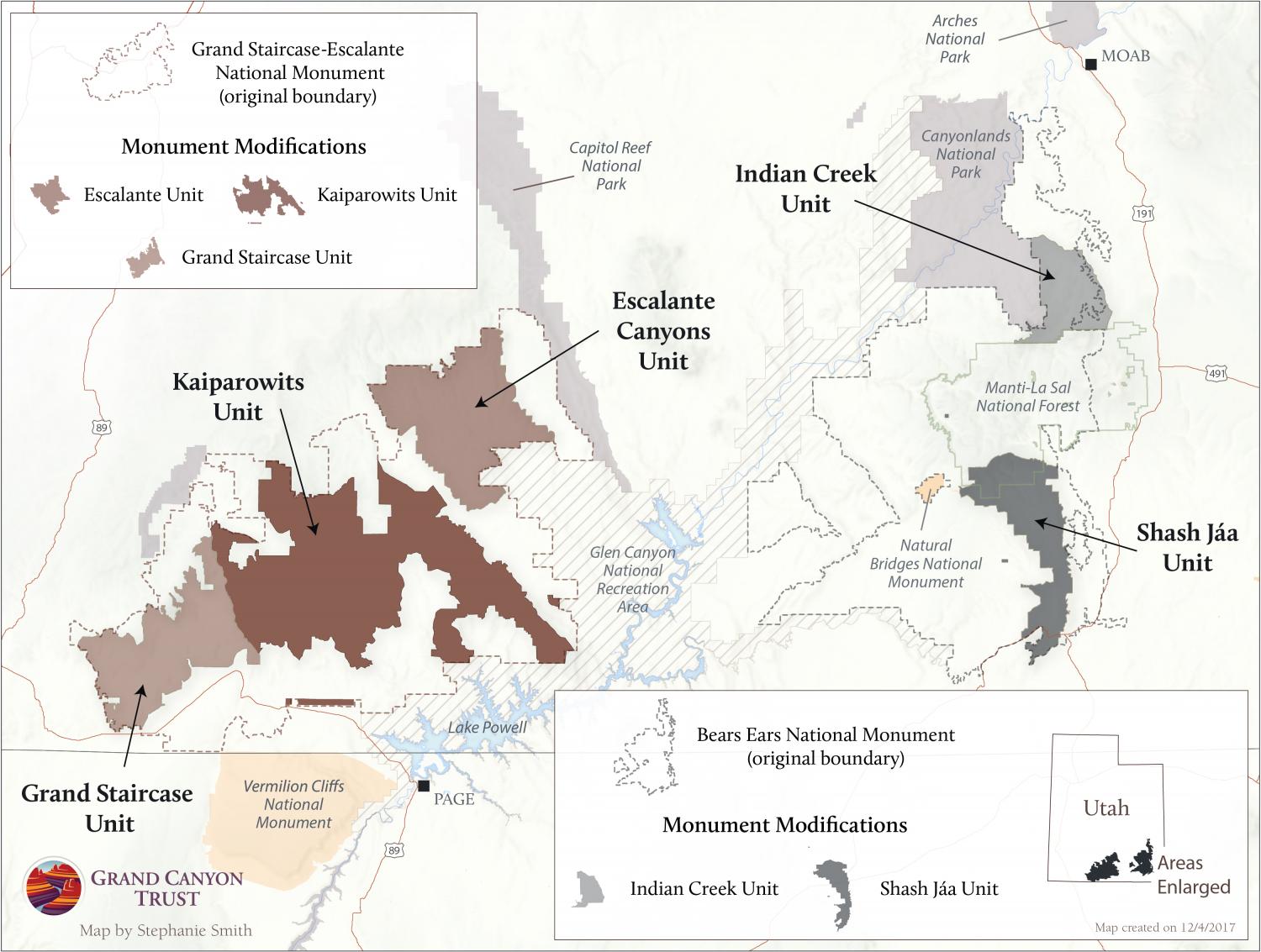 Now, anyone seeking to file a uranium claim, to lease coal or geothermal energy, or to nominate parcels to be leased for oil and gas drilling is welcome to do so, but it won't be a land rush. February 2 came and went without a fleet of bulldozers tearing in to either monument. The reason? Global commodities markets. Coal is plentiful under the lands cut from Grand Staircase, as is uranium under the original Bears Ears, and oil and gas could be present under both monuments, but global prices for these resources are too low to trigger a boom now. But what about the future?
Uranium
Though low prices and large stockpiles of uranium on hand means imminent mining of the lands cut from Bears Ears isn't likely, future uranium development could become a major concern. Bears Ears is right beside the White Mesa uranium mill, the only operating conventional uranium mill in the United States. If some optimistic market projections are correct and uranium prices rebound as new reactors come online in China, Bears Ears could become ground zero for new uranium mining as close proximity to the mill means low transportation costs.
Oil and gas
In October 2017, an oil industry trade publication relished the prospect of new lands being opened for development, mentioning Bears Ears and Grand Staircase under the headline "U.S. Resources Set For Record Breaking Resurgence."
"Big openings are also coming in the state of Utah," the publication predicted, "Where local senator Orrin Hatch said Friday that the federal government will be making more land available — by reducing the size of two national monuments created under the Obama administration."
Oil and gas lease parcels must be nominated by the industry, and it will be some months before we know whether the industry is interested in drilling at either monument. Just north of the original Bears Ears boundaries, Kirkwood Oil and Gas Company is drilling a new oil well now and has plans for two more. While acknowledging current low oil prices, a Kirkwood spokesman explained: "Everything is economic. If the price of oil rises a little more, it makes all oil and gas fields more economic." Thus, if global prices rise, the monuments could see more exploratory drilling in the future thanks to Trump's action.
Gold fever and the best of intentions
Some wild ideas circulating out there serve as a reminder not to believe everything you read. Oilpice.com claimed that shrinking Bears Ears and Grand Staircase "should make prime acreage available for gold exploration and mining, which has recently pushed into Utah from prolific plays in next-door Nevada."
No gold, silver, or any other precious metal has ever been found in marketable quantities at either monument. The geology may be fascinating, but it's just not right for precious metals. According to the U.S. Geological Survey, there are also no known mineable concentrations of rare earth metals anywhere on the Colorado Plateau.
We've also heard that some well-meaning Bears Ears supporters are staking new uranium claims in order to prevent mining. Please don't do this. It's expensive (it costs $212 to file a single claim), and if you can't "show a reasonable prospect of making a profit from the sale of minerals from a claim," you'll lose the claim and your money. If you stake a claim and report that you don't intend to actually mine it, you're also setting yourself up for accusations of fraud.
Speculating on speculation
For now, the threat is not imminent development, but speculation on future fossil fuel drilling and coal and uranium mining. Speculators often nominate, buy, and bundle oil and gas leases and mining claims and hold them to re-sell when prices rise. This kind of shady hustle was prevented by Bears Ears and Grand Staircase-Escalante national monuments, but now they are officially open for business.
We need your help to defend Bears Ears and Grand Staircase in court, but also to keep defending the truth in the national monument debate.