Guest post by Stacy Thacker
---
The Grand Canyon Trust is proud to partner with Change Labs to help entrepreneurs realize their dreams and build a strong, resilient, and culturally respectful economy across Native America.
---
Art opened a door meant only for survival, it was a space for Crystal Dugi to express her feelings so they didn't overwhelm her and nothing more. But that space slowly transformed into more and now it's where she finds positivity and a drive to be successful.
Dugi is the owner and operator of Crystal L Daghaa'ii, a small business specializing in modernized Native American art bringing a twist to flowers, mushrooms and literary classics like Alice in Wonderland. The business offers custom artwork in digital media platforms such as logos, t-shirts through its Redbubble.com shop.
She pulls from her Navajo culture and traditions when creating art. She comes from a strong matriarchal family where women are highly regarded; it's what inspires Dugi's most popular piece.
"I love to depict my version of what I believe a strong Navajo woman is in her soul," she said.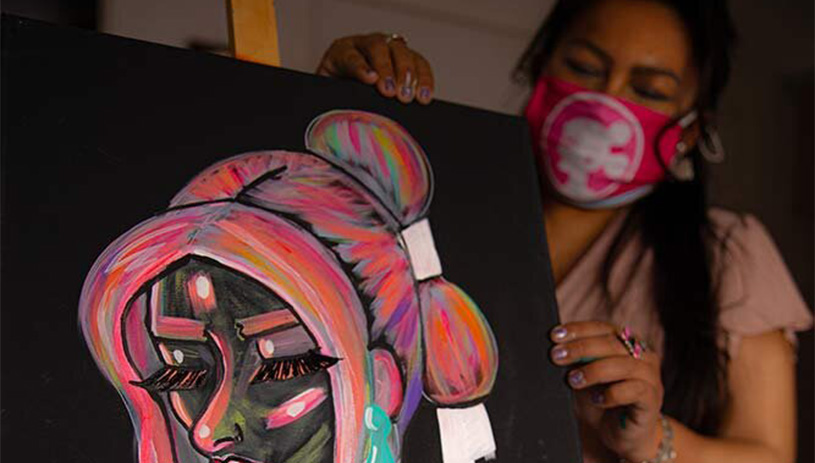 RAYMOND CHEE
With bright colors and flair, she brings to life profiles of Navajo women, some with bright pink hair, some wearing turquoise jewelry but all in her own style.
After being diagnosed with Bipolar 1 disorder, a lifelong diagnosis, Dugi found it hard to keep a job and with intense mood swings, Dugi felt like she was on an emotional roller coaster.
"I took up art again because that's what I enjoyed the most and I took up painting specifically to deal with anxiety and to deal with a little bit of the depression and a little bit of the mania," she said. "It was a long process but art came out of it."
Being bipolar can't be physically seen but it's deeply felt, Dugi said. She channels the feelings into creating vibrant, soothing and aesthetically pleasing art.
"I don't have a set style but I do have a set color scheme. I tend to stay with a lot of bright colors and happy colors. I like the idea of creating art that looks pleasing, peaceful and happy," she said.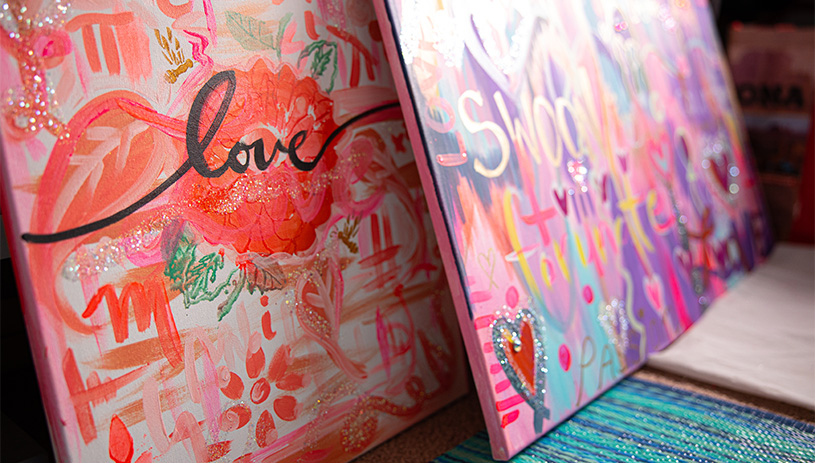 RAYMOND CHEE
When she decided to pursue art to help with bipolar, she didn't think it would lead to a business.
She was painting for her family and would share her pieces on Instagram and Facebook. But before she knew it, the interest in her art grew and soon she was selling her artwork through social media and artist platforms.
But running a business alone without input or guidance or an example to follow is hard. Luckily, Dugi's friend recommended the business incubator through Change Labs.
"Without the incubator I wouldn't have known what to look for, or to search for, or where to even put myself in the business world," she said.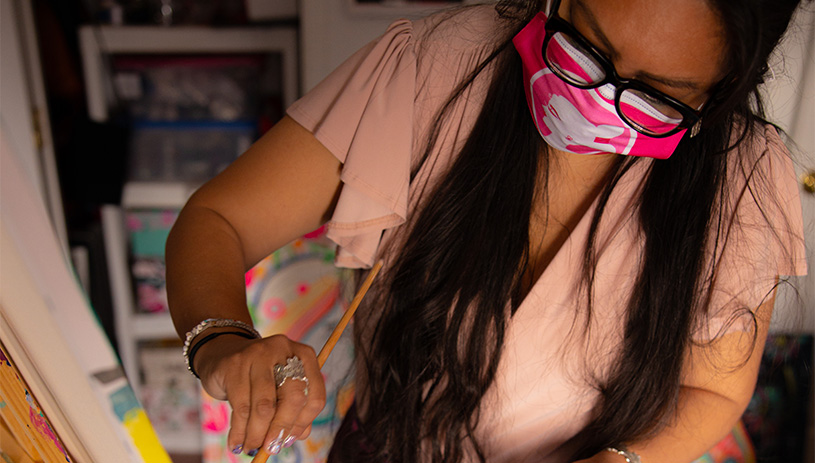 RAYMOND CHEE
Dugi is learning the balance of being a one woman business and figuring out how to be her own boss. It helps to work with other entrepreneurs trying to run a business on their own.
"That's the best, best, best part of it. There are people that are in there with me, that are participating, and we're all kind of learning together and that makes me hopeful," she said. "They know how it is to start a business, especially on the rez."
Before joining the incubator, Dugi said she wasn't thinking about marketing or who her audience was. She was creating art out of survival, just to get through the day.
"I've been lucky that I came out of being diagnosed bipolar with a business as opposed to coming out on the bad side, not surviving," she said.
But it's not without great effort. Dugi said the hours put into creating are long and while she's surprised and thankful to be making a living off of art, she knows it's only because she's willing to put in the work.
"I really stress that no matter what, it's important to do what you love instead of doing what you think you need to be doing," Dugi said.
---
This blog is reprinted with permission from Change Labs. Read the original post and learn more ›