by Ed Grumbine, Lands Director
A look into climate vulnerability
If your livestock depend on a spring that is projected to shrink by 50 percent in five years, what can you do today to protect that water source? When wildfires fanned by a hotter and drier climate threaten to burn forests, what can you do now to keep tomorrow's fires in check?
You need a plan.
Planning for climate change
Climate adaptation planning isn't new. People all over the world have been working to understand current and projected climate impacts and link that knowledge to responsible human behavior—and effective coping strategies.
Last time, we looked at the impacts of climate change in the Southwest.
But now, we ask: how vulnerable are the North Rim Ranches—830,000 acres stretching from the north rim of the Grand Canyon to the Utah border—to climate change?
How vulnerable are we?
For scientists, the term "climate vulnerability" implies a math equation. But very simply, climate vulnerability describes how susceptible species and ecosystems are to changes in climate, like increased temperatures and increased drought, and how equipped they are to cope with these changes.
To figure out how vulnerable the North Rim Ranches are to climate change, we considered three things: exposure, sensitivity, and adaptive capacity.
---
Exposure measures how much a given species, ecosystem or resource may be impacted.
Sensitivity measures how much a species might be able to resist climate impacts.
Adaptive capacity measures how well a species or an ecosystem may cope with climate impacts.
---
On the North Rim Ranches, places with more water resources, more diverse plant communities, and a wider array of soil types will usually provide higher adaptive capacity to the plants and animals who live there. In general, the more diverse the habitat is, the better a species will be able to cope with change.
But ecology is almost never simple. Exposure, sensitivity and adaptive capacity interact in complex ways.
A western bluebird may be resistant to higher temperatures but not to rising temperature's reduction in the populations of the insects it eats. A ponderosa pine ecosystem may be able to keep functioning if one or two species of grass or shrub die off, but if it loses its namesake tree, it will no longer be a ponderosa pine forest. And then there is the element of time; on North Rim lands as in other places, a bird or a tree may have low climate vulnerability and adjust to a changing climate for some years, but then go locally extinct when food or water supplies drop below a certain threshold.
It is easy to see why assessing climate vulnerability for the North Rim Ranches is challenging. To address this challenge, we used Geographic Information Systems (GIS) to identify which landscapes of the ranches may be more vulnerable to climate change than others (see below).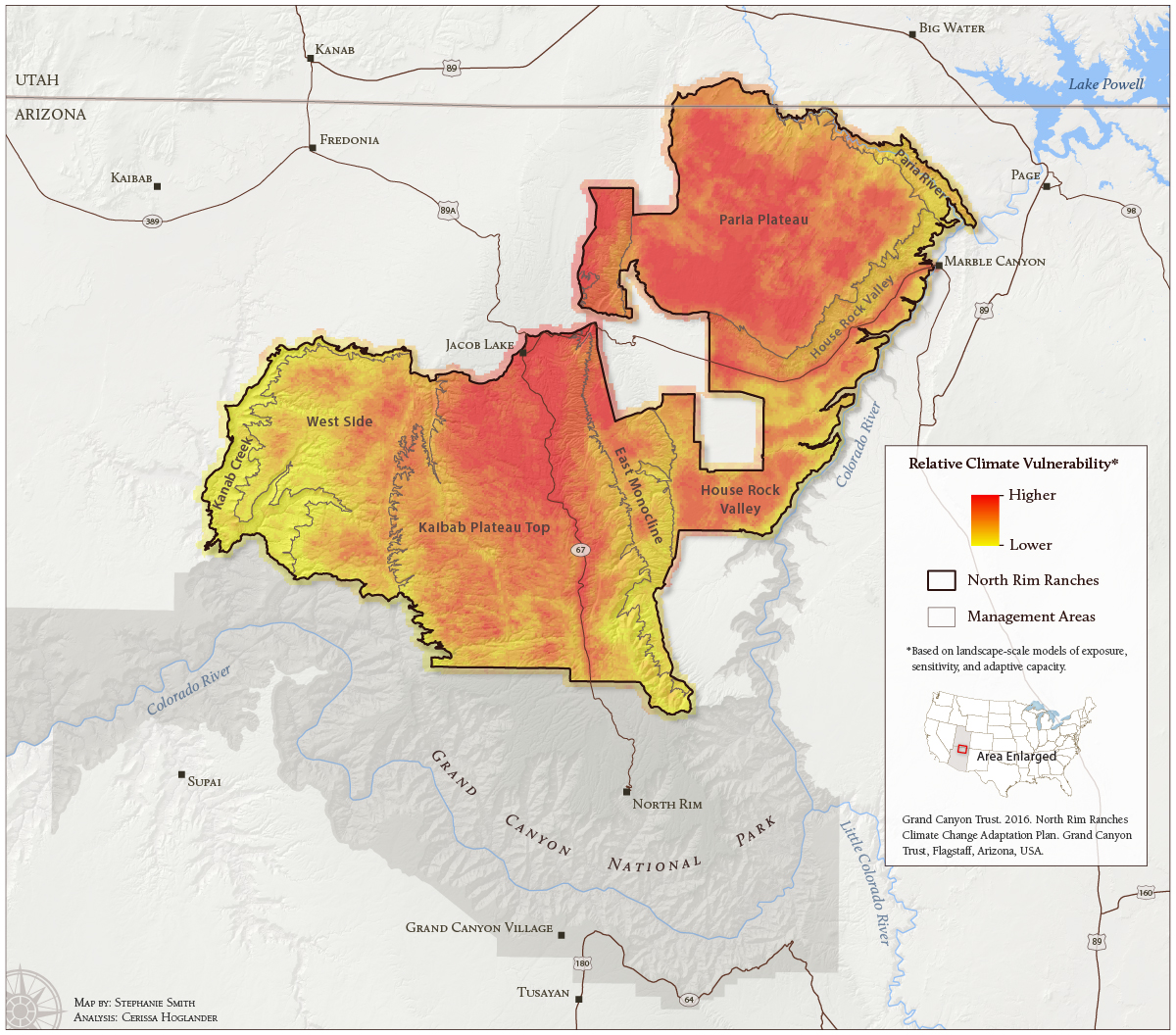 Interpreting the map
We found that all 830,000 acres of the ranches are threatened by climate change, but some areas are more vulnerable than others. Areas shown in yellow have lower vulnerability while the areas in red have higher vulnerability. Darker red areas, including the northern Kaibab Plateau, the southern portion of the Paria Plateau, House Rock Valley, and the East Monocline are even more vulnerable.
Yellow shaded areas, like Kanab Creek, the southern Kaibab Plateau, and portions of the Paria River and House Rock Valley below the Vermilion Cliffs, have relatively lower climate vulnerability compared to elsewhere on the ranches.
What does this mean when it comes to managing these lands?
The more vulnerable areas on the map are expected to experience climate change at a faster rate than less vulnerable places. Lower vulnerability areas, like the southern Kaibab Plateau, may have the greatest potential as climate refuges where species and ecosystems can be better protected into the future.
This map doesn't mean to imply that areas of lower vulnerability will not have any climate impacts. On the contrary, climate change impacts will be felt across all of the North Rim Ranches. Further, we should not conclude that conservation work should only happen in areas where vulnerability is high. In fact, there are actions we can take to adapt to change in many places.
The most effective response to climate vulnerability will be to link landscapes with darker red colors/higher vulnerability with specific resources issues—drought, invasive species, fire, livestock management—and then craft management plans to guide actions on the grounds to deal with these concerns.
Coming up next
Next time, we'll share what we learned about how climate will influence how we manage important resources on the ranches, including land and water.