by Ed Grumbine, Lands Director
Climate change challenges from Asia to the Colorado Plateau
After several years of working with Tibetans in China, Tamang in Nepal and other indigenous people in Asia as they struggle to adapt to climate change, I thought I knew a lot about climate impacts and solutions. But after a day of sharing with traditional elders and community leaders at the spring intertribal gathering hosted by the Trust's Native America program, I discovered two critical pieces missing from mainstream efforts to deal with climate challenges.
One of these pieces, the ongoing lack of specific climate adaptation plans for tribal and federal lands, is being addressed. It's just a matter of time before roadmaps are produced and actions begin on the ground. The Trust is contributing to this as we prepare to release a new climate adaptation plan for the North Rim Ranches.
But the other missing element may never be included in climate planning and action on public lands in the United States. This missing piece is not part of National Environmental Policy Act. It cannot be found in any Obama administration executive order directing land management agencies to act now on climate impacts. There is no mention of it in any environmental planning law or policy in the U.S.
Yet tribal people hold this key in the highest regard.
What is absent is any acknowledgement of the spiritual impacts of climate change.
Spiritual impacts of climate change
The American system doesn't include spiritual matters in political processes because of the constitutional separation of church from state. But the tribal people at the gathering—Dine, Zuni, White Mountain Apache, Havasupai, Hopi, Ute, Tohono O'odham—have a different view. They honor bedrock relationships—with the land and waters, the ancestors, the elders and the young people who represent the future—that come before any religion or government. If climate change threatens these relationships, then something must be done.
Similar issues halfway across the world
Indigenous people in Asia see the world similarly, and my tribal hosts at the intertribal gathering asked me to share stories about how local people in China and South Asia are dealing with climate impacts.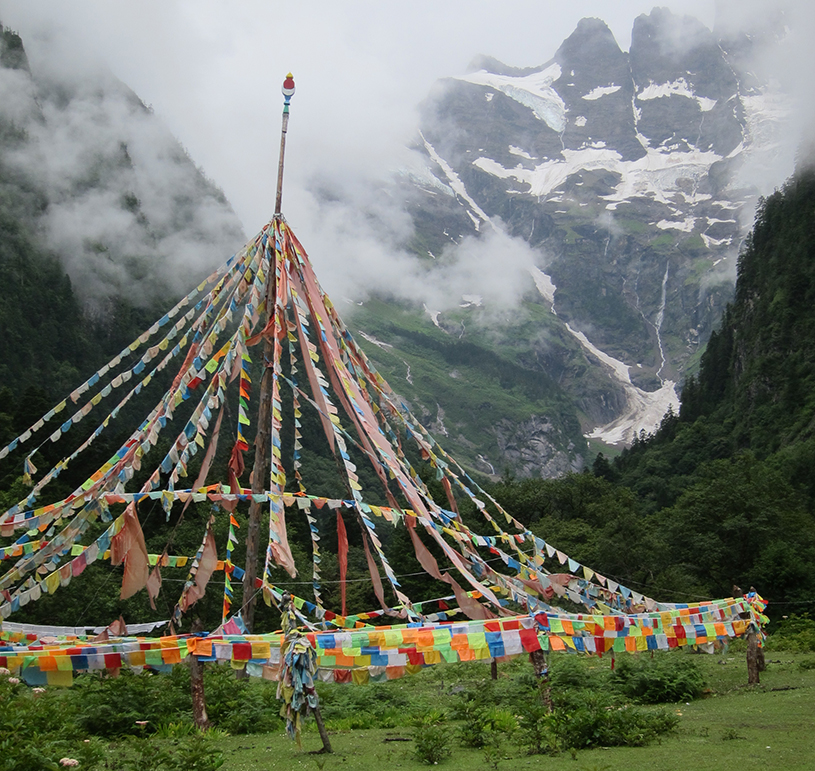 Villagers are planning for climate impacts in China. Photo: Ed Grumbine
These impacts are remarkably similar. Climate change in Asia and the Colorado Plateau is boosting temperatures, reducing river flows and turning winter snows into rains. In the Himalaya, glaciers are melting; in our homeland, Colorado River flows are shrinking. In both places, the growing season is increasing in length but less soil moisture and more extreme storms are making farming difficult.
On top of these pressures, people in both rural Asia and the Southwest are not looped into the latest climate science; they lack access to technical information that could help them adapt to local climate impacts. National governments offer little support to local people in their efforts to solve farming and water use problems. And tribal people in both places have low levels of participation in politics, so they often lack influence on decisions. Of the six countries I worked in across the Himalaya, only three allow people to vote.
Common Ground, Common Solutions
But my message to the gathering was positive. Despite the challenges of climate change and lack of political power, people all over Asia are actively engaged in creating climate solutions. Across the Himalaya, tribal people are drawing on their traditional knowledge. Farmers are combining old ways with market demands for new products; they are planting new seeds, switching crops and adjusting farming patterns. Villagers are using the limited government support they do receive to inventory and restore key springs and build more efficient irrigation channels.
Tibetan herders are concerned about climate change impacting grasslands. Photo: Ed Grumbine
When I asked indigenous people in Asia where they need more support for adapting to climate change, I heard this: Tibetan herders want technical climate science translated into information that is useful in their daily lives. Nepali farmers desire more government funding for expanded springs surveys across their watersheds. The Karen, a river people living on the border of Thailand and Myanmar far from roads and off the grid, demand a voice in decisions about government-backed dams that will flood their lands and force them to move.
Every group I met wants to work with partners who will support their efforts to adapt. Every person was excited about combining local traditions with new ideas from the world beyond their ancestral homelands.
Bringing it home to the Southwest
The tribal people at the gathering want the same things. Navajo people want technical facts about climate impacts translated into useful information. Hopi people are looking to restore more springs with willing partners. Everyone would like more effective ways to tell traditional stories and share new skills with tribal young people so that future generations can build successful lives in a changing world.
For indigenous people everywhere, the spiritual is married to the daily life of the land, the elders and the youth of the future. Strengthening these bonds is the best way to adapt to whatever comes next. As the Trust shares the new climate adaptation plan for the North Rim Ranches, we can learn from our tribal neighbors and look for ways to integrate their views into new management actions.