by Tim Peterson, Cultural Landscapes Program Director
Americans just love their national monuments. They protect history, culture, and are vital to promoting public understanding of science and heritage. According to polling, 90 percent of Western voters consider national monuments important places to be preserved for future generations. And two-thirds of Western voters consider actions to remove national monument protections a bad policy change.
We agree. The president's decision to revoke and replace Bears Ears and Grand Staircase-Escalante national monuments in 2017 was not only unpopular, it was unlawful. Congress, not the president, has the exclusive authority to alter national monument boundaries. That's why we challenged the president's proclamations in court. As we wait for the courts to decide, Congress could act to settle the matter once and for all.
A bill to restore Grand Staircase, restore and expand Bears Ears, and cement the boundaries of 50 other national monuments designated since 1996, including those threatened by President Trump's 2017 national monuments review order, has been introduced in the House of Representatives and the Senate.
---
Please ask your members of Congress to co-sponsor the ANTIQUITIES Act of 2019. Sign now ›
---
A bill that pays monuments back
Introduced by Rep. Deb Haaland, D-N.M., in the House and Tom Udall, D-N.M., in the Senate, the America's Natural Treasures of Immeasurable Quality Unite, Inspire, and Together Improve the Economies of States (ANTIQUITIES) Act of 2019 would not only protect the 52 monuments under threat, it would also establish a fund to manage and enhance the monuments. The bill also designates new wilderness areas inside national monuments in New Mexico and Nevada. You can read a summary of the bill here and the full text here. The bill had 122 cosponsors and counting in the Senate and House at press time, and the bill deserves your support.
---
Check the list to see if your members of Congress are already co-sponsors. If they are, please thank them. If not, please ask for their co-sponsorship. Take action now ›
---
Rep. Haaland introduced the ANTIQUITIES Act of 2019 as her first piece of legislation in the new Congress. In 2019, she and Sharice Davids, D-Kan., became the first two Native American women ever elected to Congress.
"We love our public lands, we love our open spaces, and we care about the future we're going to leave for our children, but this administration has been illegally attacking our nation's treasures so it can sell them off to oil companies and developers," Haaland said.
Said Sen. Udall of his bill, "One of the United States of America's greatest traditions is the preservation of our iconic landscapes and the protection of our natural history…our national monuments are the product of years of collaboration at the local level, and they provide unmatched value to small businesses, outdoor enthusiasts, and communities that depend on a thriving outdoor recreation economy."
Intertribal support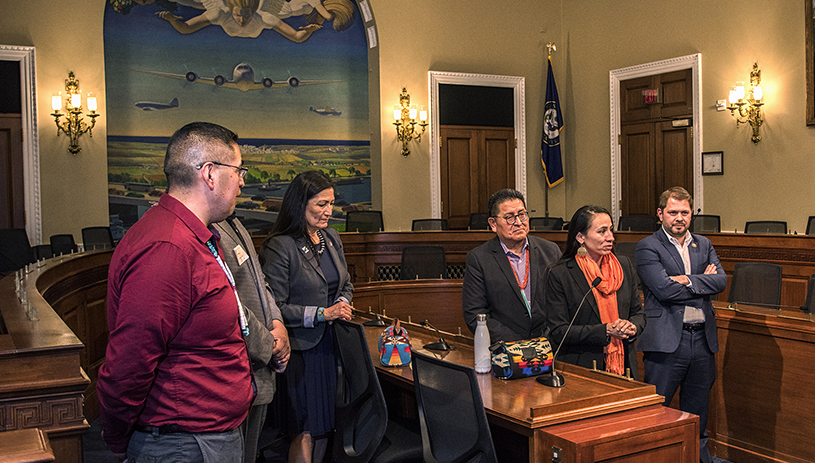 Tribal leaders with Reps. Haaland, Davids, and Gallego in a House Natural Resources Committee hearing room in March 2019. TIM PETERSON
The ANTIQUITIES Act of 2019 is supported by the five tribes of the Bears Ears Inter-Tribal Coalition (Hopi, Navajo, Ute, Ute Mountain Ute, and Zuni). In fact, Sen. Udall and Rep. Haaland worked with the five tribes to craft the language of the bill, a necessary step not taken by members of the Utah delegation when they introduced their bill to make the president's monument cuts permanent in the last session of Congress.
At a March 2019 oversight hearing, Tony Small, vice chairman of the Ute Indian Tribe Business Committee said in written testimony, "Congress should pass legislation affirming and expanding the Bears Ears National Monument. The Ute Indian Tribe strongly supports [the ANTIQUITIES Act of 2019]. Each of these bills would reaffirm and expand the Monument to include the entire 1.9 million acres originally proposed by the Coalition. These bills …were developed in consultation with the Coalition Tribes."
Pueblo of Zuni Lieutenant Governor and Coalition Co-Chair Carleton Bowekaty said of the bill: "We welcome Congresswoman Haaland's involvement in this vitally important issue and look forward to working with her on this bill in her capacity as the new Chair of the House Resources Subcommittee on National Parks, Forests and Public Lands."
Hopi Tribe Vice-Chairman Clark Tenakhongva echoed that Haaland and Udall's continued leadership "encourages us to keep fighting to protect our most cherished landscapes."
Your support of these bills, and the action you take to gain the support of your members of Congress, is important. We thank you. With your help, Bears Ears and Grand Staircase-Escalante can be restored.