by Tim Peterson, Cultural Landscapes Director
Good things were in the forecast for southeast Utah on Saturday, June 18, 2022, starting with some much-needed rain. Though the day dawned balmy and breezy, before long the bright morning sun shone, illuminating a big step in making the vision of Bears Ears National Monument real. Nearly five and a half years after Bears Ears was first proclaimed a national monument, tribes and the federal government signed a cooperative agreement and, together, unveiled the monument's first boundary sign.
A landmark cooperative agreement
The White Mesa Community Center on the sovereign lands of the Ute Mountain Ute Tribe was the site of the signing of a first-of-its-kind cooperative agreement for Bears Ears National Monument between the five tribes of the Bears Ears Inter-Tribal Coalition (Hopi Tribe, Navajo Nation, Ute Indian Tribe, Ute Mountain Ute Tribe, and the Pueblo of Zuni) and federal land managers.
The atmosphere in the community center's gym was jubilant as friends and colleagues from across Utah, the Colorado Plateau, and the nation reunited. Some had not seen each other in person since the start of the pandemic. Individuals shared stories and appointed and elected officials representing the tribes and land management agencies offered remarks.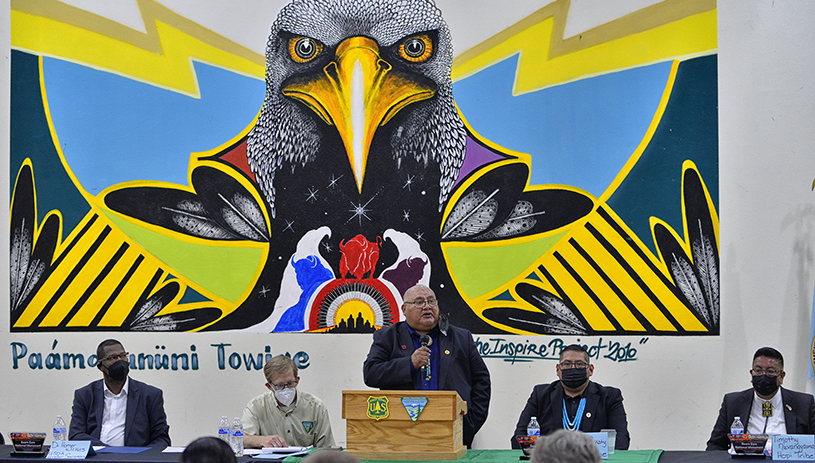 Malcolm Lehi, councilman for the Ute Mountain Ute Tribe and co-chair for the Bears Ears Inter-Tribal Coalition, addresses the group. TIM PETERSON
Pueblo of Zuni Lieutenant Governor Carleton Bowekaty shared how Bears Ears has allowed him to heal from the trauma of military service while connecting with his culture. Others heralded the official start of meaningful collaboration between parties who have not always seen eye to eye. Ute Indian Tribe Business Committee member Christopher Tabbee carried the conception of the day further, asking that federal lands within reservation boundaries be returned to the ownership of their tribe. Speakers also offered thanks and recognized audience members for their contributions. Bears Ears is more than a national monument, it's a movement.
Then it was time to put pen to paper, with each representative signing the cooperative agreement to smiles and celebration.
A framework for tribes to jointly manage Bears Ears
The cooperative agreement is a dramatic departure from the Trump administration's slash and burn approach to Bears Ears that attempted to eviscerate the monument's boundaries by 85 percent and hollow out the tribal Bears Ears Commission by reducing its authority to only one of two shrunken management units. The new cooperative agreement builds on not only the original collaborative vision for Bears Ears outlined in President Obama's proclamation, but on President Biden's new proclamation and policies meant to enhance tribal engagement in the stewardship of public lands.
Today, instead of being removed from a landscape to make way for a public park, we are being invited back to our ancestral homelands to help repair them and plan for a resilient future…What can be a better avenue of restorative justice than giving Tribes the opportunity to participate in the management of lands their ancestors were removed from?

–Carleton Bowekaty, Bears Ears Inter-Tribal Coalition co-chair and lieutenant governor of the Pueblo of Zuni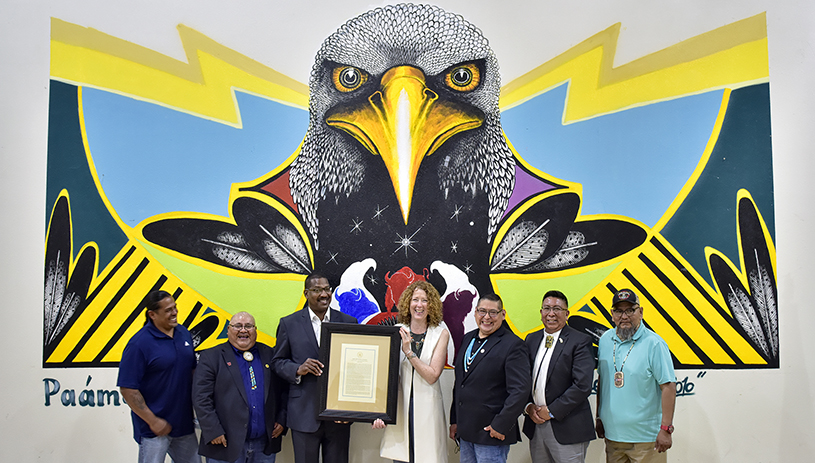 TIM PETERSON
Traditionally, tribal consultation in public lands management has been an afterthought. Land managers cook up a proposal, and tribes are asked to respond when most of the ingredients are already in the pot. This landmark agreement means something different for Bears Ears. Tribes will provide input, Indigenous science, and traditional knowledge from the very beginning.
According to Charissa Wahwasuck-Jessepe, co-director of the Bears Ears Inter-Tribal Coalition, "one of the biggest implications of this agreement is now tribes will be able to actually inform those decisions of caretaking for the land, stewarding over the land, from the very get-go…many of these people have been taking care of this land since before the United States was recognized."
Tribes to make decisions for their cultural, natural, and spiritual values at Bears Ears
In addition to outlining how tribes and federal officials will jointly manage the monument, the agreement lays out a plan for ongoing dialogue, knowledge-sharing, and learning. It makes space to engage tribal youth in culture and traditions, repatriate cultural resources removed from Bears Ears, and raise issues identified by other tribes with interests in the cultural landscape that are not a part of the Bears Ears Commission.
Interior Secretary Deb Haaland tweeted, "I am so proud we have the opportunity to co-manage this monument together. This agreement is what true Tribal co-management should look like: sharing in the decisions and management plan with federal investments to supplement efforts. This is one step in how we honor our nation-to-nation relationships with Tribes."
Bears Ears' first sign
After copies of the agreement were signed, we drove to witness the unveiling of the first sign placed along the monument's boundaries, across from Mexican Hat Rock in Valley of the Gods. More than five years in the making, the reveal was momentous, and tribal leaders beamed with pride posing together beneath the signboard, the first national monument marker in the nation to include tribal seals.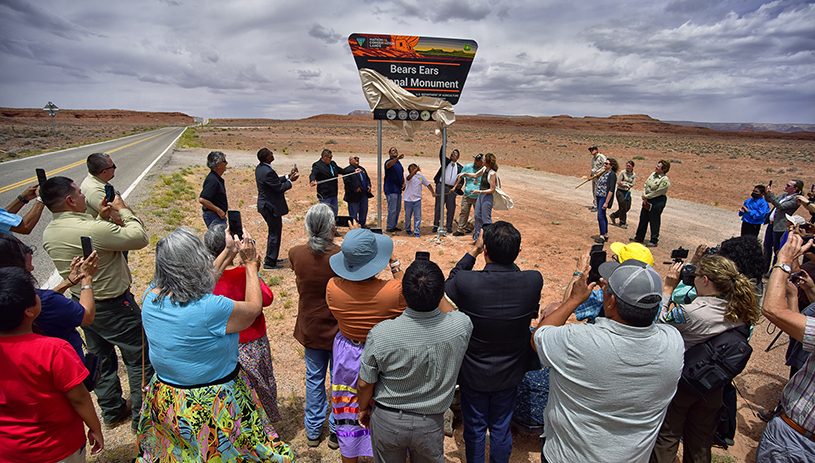 TIM PETERSON
That afternoon and evening, powerful, soaking rains swept across the Bears Ears cultural landscape and beyond in what looked to be the start of the summer monsoon: the time when Bears Ears gets most of its annual moisture. Rain is considered an auspicious blessing in this dry country, and rain has glorified numerous milestones along the way in the Bears Ears movement.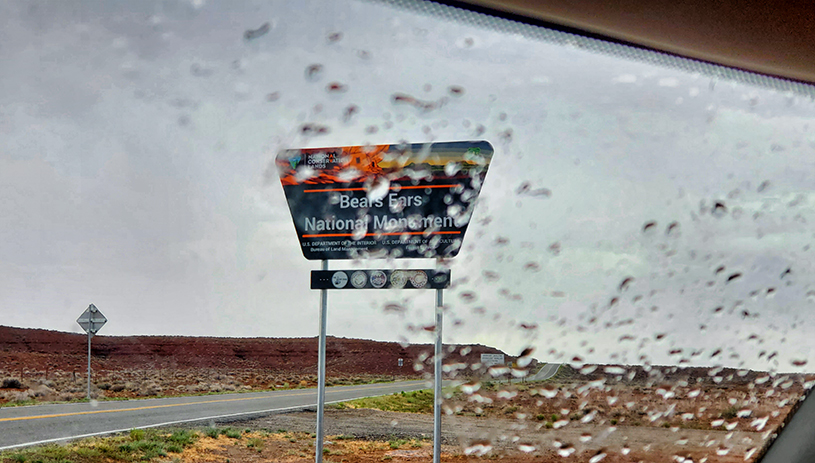 TIM PETERSON
Local, regional, national, and international media coverage has used clichéd words like historic, unprecedented, important, and unique to describe this day, but they actually bear substance here.
In an era riven with political division, the vision of Bears Ears is real, and now by this agreement, it is ratified. Soon, the work of planning for the monument's future will begin, and you have a role in that too. Stay tuned for how you can engage to support the tribes and Bears Ears in your own way.