by Tim Peterson, Cultural Landscapes Director
August 2023 was a historic month for national monuments on the Colorado Plateau. As we celebrated the creation of Baaj Nwaavjo I'tah Kukveni − Ancestral Footprints of Grand Canyon National Monument, we also got the news that the lawsuits filed by the state of Utah and others attempting to gut Bears Ears and Grand Staircase-Escalante national monuments had been dismissed.
There's still more good news to share. We're celebrating the protection of the new Cottonwood Wash Preserve just outside Bears Ears National Monument, and we're happy that federal officials have put the brakes on some overeager uranium speculators near Bears Ears.
Bears Ears and Grand Staircase-Escalante lawsuits dismissed
In August 2022, Utah's attorney general used taxpayer money to file a lawsuit challenging the president's designation of Bears Ears and Grand Staircase national monuments in 2021 (after they were gutted by the previous president in 2017).
The suit, along with another lawsuit filed by several individuals and an off-road vehicles advocacy organization, alleged that President Biden exceeded his authority under the Antiquities Act (the law that gives presidents the authority to designate national monuments). Native American Tribes, the Grand Canyon Trust, along with a coalition of conservation organizations, intervened in the lawsuits in defense of the monuments.
In U.S. District Judge David Nuffer's August 11, 2023 ruling, the court explained that the Antiquities Act gives the president broad authority to designate national monuments and that courts cannot second-guess that authority.
It has long been held that where Congress has authorized a public officer to take some specified legislative action when in his judgment that action is necessary or appropriate to carry out the policy of Congress, the judgment of the officer as to the existence of the facts calling for that action is not subject to review.

President Biden's judgment in drafting and issuing the [Bears Ears and Grand Staircase-Escalante] Proclamations as he sees fit is not an action reviewable by a district court."
Where do we go from here?
The state of Utah and other parties have appealed the dismissal, but the case law is not on their side. Nuffer described 100 years of lawsuits objecting to a president's authority under the Antiquities Act of 1906, noting in his ruling that "[e]ach of these challenges has been unsuccessful."
You may recall that the state of Utah also challenged President Clinton's original 1996 designation of Grand Staircase-Escalante National Monument back in 1997. Like Nuffer, U.S. District Judge Dee Benson in that case found that "[w]hen the president is given such a broad grant of discretion as in the Antiquities Act, the courts have no authority to determine whether the president abused his discretion."
Dissatisfied with Benson's ruling, property rights activist law firm Mountain States Legal Foundation appealed the decision to the 10th Circuit Court. In 2006, the 10th Circuit Court dismissed that case.
Protection for the Bears Ears cultural landscape grows
In more good news, nearly two decades, we're delighted that an important parcel of private land nearly surrounded by Bears Ears National Monument has been permanently protected from damaging development.
The land will be managed as a Wildlands Conservancy preserve in collaboration with the five tribes of the Bears Ears Inter-Tribal Coalition. It could have become a gated subdivision of luxury homes, but now it will be a place for ceremony, restoration, and community.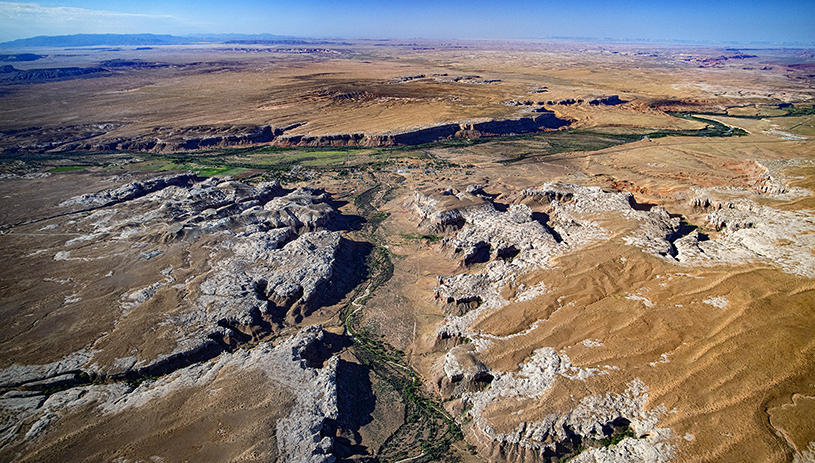 The Cottonwood Wash Preserve. TIM PETERSON, FLOWN BY ECOFLIGHT
Uranium mining threats near Bears Ears
Meanwhile, other threats continue to loom around Bears Ears. This spring, two Canadian companies, Kraken Energy and Atomic Minerals Corporation, announced that they had partnered to search for uranium on Harts Point, a peninsula of land above Indian Creek and the Needles District of Canyonlands National Park.
The Bears Ears Inter-Tribal Coalition proposed including Harts Point in Bears Ears National Monument in 2015, but ultimately it did not become part of the monument.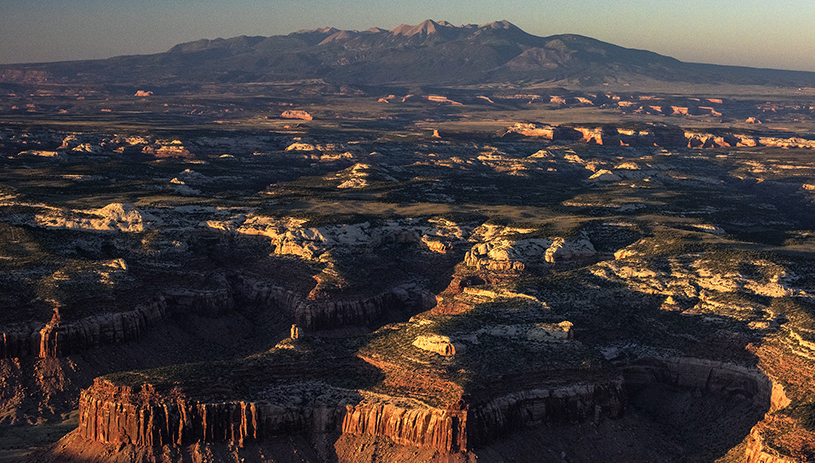 Harts Point just outside Bears Ears National Monument. TIM PETERSON, FLOWN BY LIGHTHAWK
The company began drilling in the area in July, but there was just one problem — it didn't have the final go-ahead to do so. The U.S. Bureau of Land Management, which manages the federal public lands where the company was digging, hadn't approved Kraken's required $58,000 reclamation bond. Kraken was ordered to stop digging and remove its equipment, but the company may reapply to drill again in the future.
What happens at Bears Ears is shared at Grand Canyon
We're celebrating the recent protection of Baaj Nwaavjo I'tah Kukveni − Ancestral Footprints of Grand Canyon National Monument, a monument designation that came at the request of a coalition of Native American tribes with strong cultural connections to the Grand Canyon region.
Our nation's newest national monument on the edge of the Grand Canyon includes co-stewardship of the monument by affiliated Native American tribes, a concept that began at Bears Ears.
The intertribal Bears Ears Commission is working with public land managers on writing a plan for Bears Ears now, and we expect a draft monument management plan in November. We'll need your help to make sure that tribal perspectives guide on-the-ground management at Bears Ears, and that federal land managers honor their commitment to shared stewardship with the Bears Ears tribes in the final plan.
But for now, please join us in celebrating all this great news for the Colorado Plateaus' national monuments.