by Lisa Winters, Communications Manager
Make your visit to Grand Canyon National Park unforgettable by camping beneath the stars. Whether you want to save money, connect with nature, or make perfectly gooey s'mores, camping is a great way to experience the Grand Canyon.
A few things to know before you go:
Millions of people visit the Grand Canyon each year, and campgrounds fill up. Make your reservations early.
The national park and national forest campgrounds listed here can accommodate tents, campers, trailers, and RVs, but none have electricity (if you're looking for hookups, check out the concessionaire-run Trailer Village RV Park on the South Rim).
Many campgrounds in and around Grand Canyon National Park close for the winter.
Northern Arizona often has campfire restrictions during the hot, dry, and windy spring and summer months. Help reduce the risk of wildfire by staying aware of current rules.
Ready to get off the beaten path or happy to stay close to amenities? Here are some of our favorite places to camp on the south and north rims of Grand Canyon National Park.
South Rim
The South Rim is the park's main hub of trails, scenic vistas, museums, shops, ranger programs, and more. It also offers the most lodging options. When it comes to campgrounds, you can choose convenience or solitude, forest or canyon views, rustic or modern bathrooms.
Mather Campground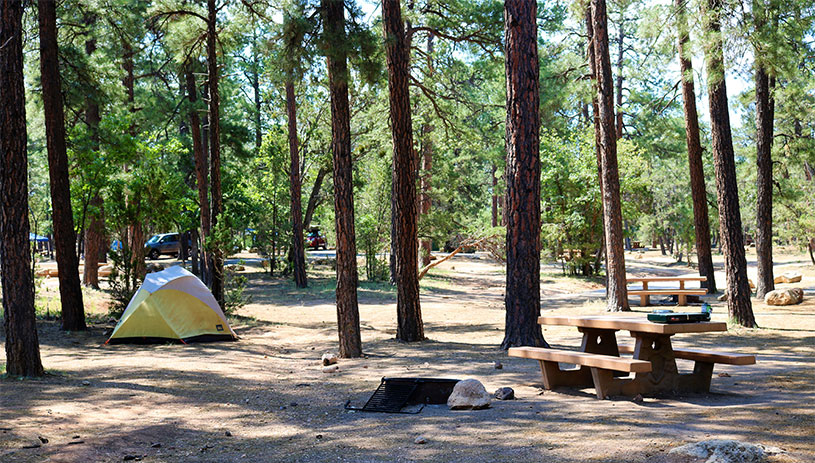 KYLA PEARCE, NATIONAL PARK SERVICE
Camp in the heart of Grand Canyon Village on the south rim of Grand Canyon National Park for easy access to the visitor center, trails, and free shuttle buses.
With 327 sites, Mather Campground is the largest in the park. It's open year-round and has water, flush toilets, and coin-operated showers. If you're hoping to camp during the busy summer season, you'll need to make a reservation on recreation.gov up to six months before your travels. The earlier, the better — campsites fill fast.
Desert View Campground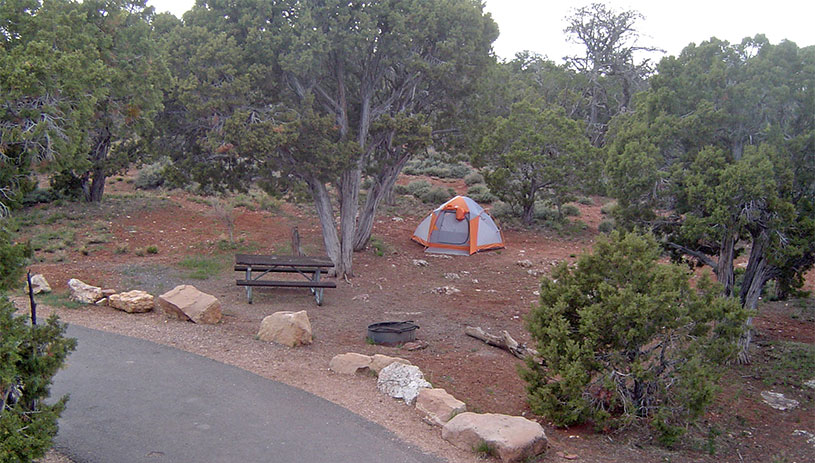 NATIONAL PARK SERVICE
Prefer something quieter? Head to the less crowded east side of Grand Canyon National Park to stay at Desert View Campground. Its 49 sites are perched near the canyon rim among pinyon and juniper trees. The campground has water and flush toilets and is seasonally available from April to October.
Enjoy sweeping views of the Colorado River at the nearby Desert View Watchtower, and learn about the 11 tribes that call the Grand Canyon home at the Desert View Inter-Tribal Cultural Site, both a short walk or drive from the campground.
Ten-X Campground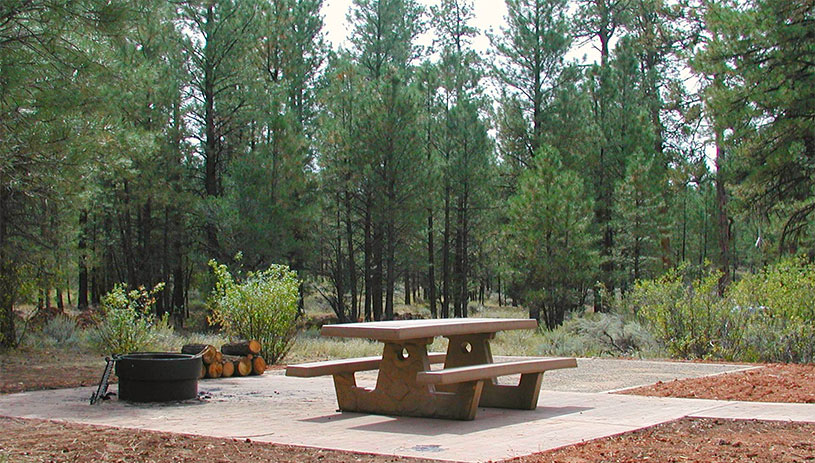 U.S. FOREST SERVICE, KAIBAB NATIONAL FOREST
If the national park campgrounds on the South Rim are full, consider staying at the U.S. Forest Service-run Ten-X Campground. It's located just outside Tusayan, Arizona, about 5 miles from the park entrance station, and has drinking water, pit toilets, and a 3-mile nature trail.
Open from May through September, Ten-X Campground offers 142 sites, 30 of which are first-come, first-served. Have a group of 50-75 people? Book a group site.
North Rim
Getting to the north rim of Grand Canyon National Park isn't easy — it takes an extra four hours and more than 200 miles to reach the secluded, cooler, higher, and less visited North Rim. Those that do are rewarded with tranquil pine and aspen groves, scenic viewpoints galore, and abundant forest wildlife.
At an elevation of over 8,000 feet, the North Rim closes each winter when deep snow blankets its roads, campgrounds, and forests. But from May to October, you can enjoy clear, crisp nights on the north rim of the Grand Canyon. Here's where to stay.
North Rim Campground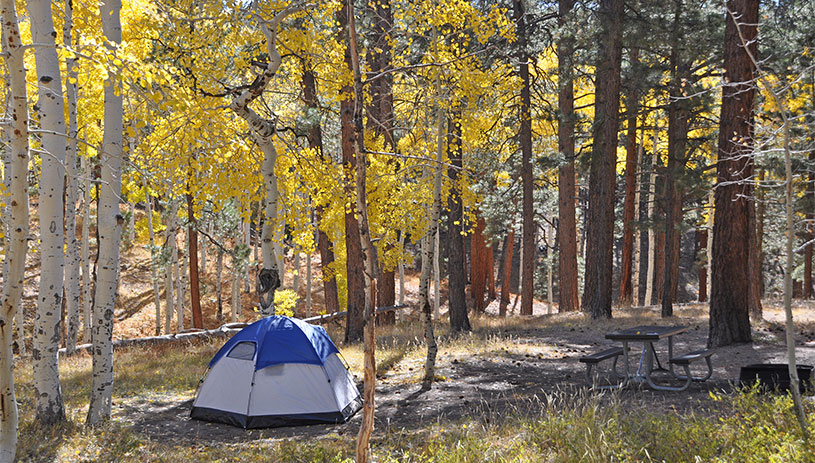 M. QUINN, NATIONAL PARK SERVICE
If you're lucky, you might score a campsite with rim-side views at Grand Canyon National Park's North Rim Campground. Situated on the edge of the canyon, the campground feels spacious, is shaded by large ponderosa pine trees, and has flush toilets, drinking water, and coin-operated showers.
The North Rim Campground is 45 miles from the nearest town of Jacob Lake, Arizona, so come prepared (and arrive early so you don't have to drive in the dark). A gas station, well-stocked camp store, and sandwich shop at the nearby lodge are helpful amenities given the remoteness.
Check the weather: Afternoon thunderstorms are common in the summer.
Demotte Campground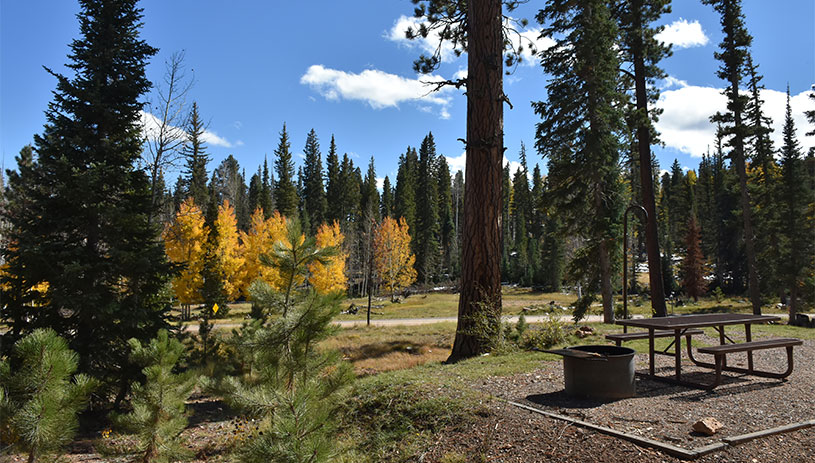 DYAN BONE, KAIBAB NATIONAL FOREST
If you don't have reservations, Demotte Campground is your best bet. Half of its 38 sites are first-come, first-served. Located in Kaibab National Forest less than 10 miles from the park entrance station, Demotte Campground gives you easy access to trails, wildlife viewing, fall leaf peeping, and more.
The small Forest Service campground has drinking water and pit toilets.
Jacob Lake Campground
DYAN BONE, KAIBAB NATIONAL FOREST
Jacob Lake is a favorite stop on the way to the North Rim. The small outpost includes a gas station, motel, restaurant, U.S. Forest Service visitor center, and campground at the junction of Highway 89A and State Route 67. It's a scenic 45-mile drive into the park, with frequent elk sightings along the road.
Jacob Lake Campground has 51 sites with access to pit toilets and water. Be sure to stop at the Jacob Lake Inn bakery for its famous fresh-baked cookies.
Grand Canyon National Park promises to be an unforgettable experience no matter where you stay. Make your plans, reserve your campsites, pack your bags, and head on your way!