by Ellen Heyn, Communications Associate
Navigating backcountry permits can be a headache, especially if that little slip of paper is the only thing standing between you and the epic adventure you've been dreaming of. At Grand Canyon National Park, thousands vie for the chance to spend a night below the rim — the backcountry office received more than 18,000 written permit requests in 2016, denying nearly half of the lot. While frustrating at times, the permit system is there for good reason. With a little know-how, you can hit the trail with permit in hand.
General tips:
Plan in advance — the earlier you submit your permit application, the better your odds.
Be flexible — your chances of getting a permit improve if you're willing to adjust your date range and desired campsites based on what's available.
Be realistic about mileage and honest about your ability — hiking in the Grand Canyon is its own beast. Ten miles on paper is very different from 10 miles on hot, dry, and tough terrain. If you haven't hiked in the desert before, tend toward a conservative itinerary.
The basics
Camping anywhere below the rim requires a backcountry permit. To apply for one, you need to fill out an application form. Start by selecting your desired route, calculating daily hiking mileages, and determining nightly campsites or at-large camping zones (see example here). You'll also want to come up with alternatives in case your desired permit is not available. Need ideas? Check out our favorite trips ›
---
Permit lingo
The park service uses some jargony terms. Here are a few, explained:
Use Areas — Grand Canyon National Park is divided into "use areas." Each has a three letter/number identifier (see map of use areas here) that you'll need to reference on the application for your desired camping location each night of your permit.
Corridor Use Area — The corridor use area is made up of three trails (Bright Angel Trail, South Kaibab Trail, North Kaibab Trail) and three campgrounds (Indian Garden Campground, Bright Angel Campground, and Cottonwood Campground). These have facilities, like toilets, water spigots, and ranger stations, are the most trafficked in the park, and are the hardest places to get permits to camp overnight.
Designated Sites — The slightly more remote use areas that are still well-traveled have "designated sites." These have pit toilets and marked campsites.
At-Large Camping — Some use areas have "at-large camping." These have no campsites or facilities. You choose where you camp, within the boundaries of the zone. But please remember to practice Leave No Trace principles.
Here's where it gets tricky
When it comes to issuing permits, the park has yet to embrace this little thing called the Internet. They accept applications only by snail mail, fax, or in-person delivery. Yes, this is antiquated, and yes, it is a pain.
Your best shot at getting the permit you want is 4+ months in advance, during what the park calls the "earliest consideration time period." At the end of each month, from the 20th to the 1st, the permit office accepts written applications for hikes beginning four months out. It doesn't matter when you submit your application within this time frame, just that you do. The park service takes all the applications they receive during this window, shuffles them up lottery style, and issues permits from this batch first. If you miss the window though, not to worry. After the 1st of the month, the permit office processes applications in the order received.
Another option — though unpractical for most — is to physically go to the backcountry office three months in advance of your hike.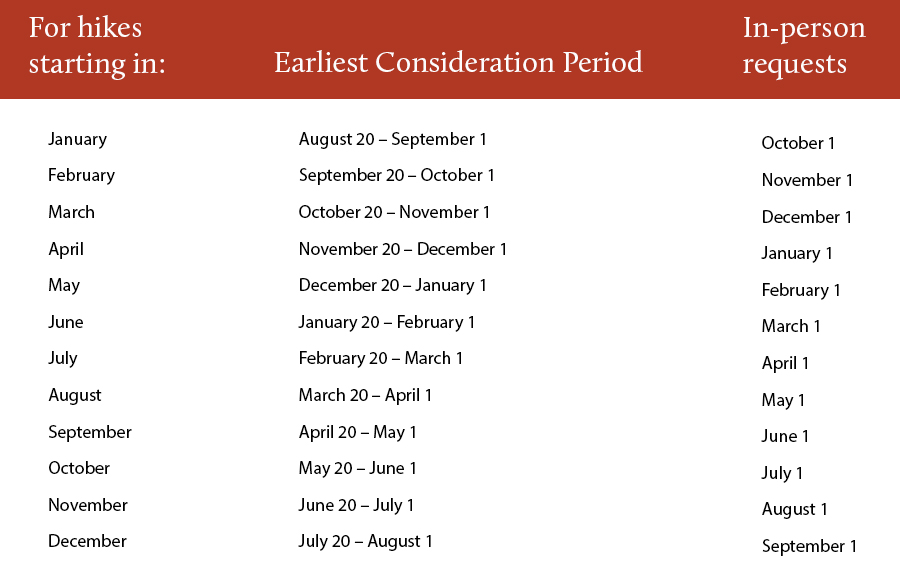 ---
Note: You are not guaranteed to get your desired permit by submitting your request during the earliest consideration period. According to the backcountry office, they get up to 2,000 requests at the beginning of each month.
---
The waiting game
You submitted your application — now what? The park service says to allow up to three weeks for processing. In the meantime, keep an eye on your inbox for an email from the backcountry office, letting you know if you have or haven't gotten a permit. Be sure to read your itinerary carefully, paying close attention to the dates of your permit and camp locations, which may be different than the first choice you listed on your application.
A few things to be prepared for:
You got a permit but it's not what you wanted. You have a few options. 1.) Go with it! It's the Grand Canyon. It will be spectacular. 2.) Call the backcountry office and work with a ranger to adjust your permit. No promises though.
The "you will die trying" email. If you've chosen a solo hike, are hiking more than 10 miles a day, or are hiking in the summer months, expect to receive some variation of a warning email. Examples include:
...before we accept a $25 non-refundable payment from you, we want to make sure you understand what you requested. Experience has shown that trips such as the one you requested all too often result in off-itinerary camping, injury, and occasionally even death. This is further compounded by the fact that you are seeking to do this hike alone — something that leaves an inadequate safety margin for dealing with problems that might come up. Please do not accept this itinerary merely because it is available. Make sure it is what you really want and well within your capability. If not, consider canceling or making a different request.
or:
WARNING! We are concerned you have chosen a summer hike — hiking in the desert of Grand Canyon within the hottest time of the year carries inherent risk. Temperatures in the shade can reach 120; timing your hike to avoid this dangerous heat is crucial to ensuring your personal safety and having an enjoyable trip. To survive, you must limit the amount of time you exert yourself in direct sunlight. Hike in cooler weather near dawn and dusk or at night. Do not underestimate the intensity of the midday desert sun!
"Request for more information." If you're a solo hiker, the park service will send you an email requesting more information. The hiker information sheet asks you to list emergency contacts, the color and style of gear you'll be using, and your desert hiking experience.
If last-minute is more your style
Let's face it. Not all of us are planners. You've got a free weekend and are rearing to go. Here's what you can do.
Try your luck, and show up at the park's backcountry office.
Cancellations happen. And occasionally, permits are still available (for example, it's June, and everyone else has the good sense to stay out of the canyon). It's always worth checking with the backcountry office before resigning youself to day hiking. You might not get your dream permit, but hey, a permit is better than no permit at all.
Get on the waitlist
For the corridor campgrounds (Indian Garden, Bright Angel, and Cottonwood), the park reserves a small number of walk-in permits, issued daily to people who show up at the office. These permits are for one or two consecutive nights and can only be purchased the day prior to starting your hike.
---
How it works: You show up at the backcountry office — no permits available. A park ranger gives you a waitlist number. The next morning, at 8:00 am, you return to the backcountry office, where the ranger issues permits starting with #1 until they are all gone. If the ranger doesn't call your number before they run out, you can get a new (lower) number for the next day. Repeat this process for as many days as it takes, or as many days as you have, to get a permit.
---
If all else fails, day hike!
Just because you can't swing a permit doesn't mean you can't experience the canyon. Check out some of our favorite day hikes ›
Frequently asked questions:
How much does a permit cost?
Permit costs include a fixed rate, plus an additional per person per day charge. Check the park website for current prices ›
How many people can be on a permit?
Up to 11. While smaller groups have a better shot at getting a permit, most areas in the park will accommodate groups of up to 11. There are a handful of use areas that won't take a group that big, so call the backcountry office ahead of time to ask.
What's the season?
Year-round, although the weather is best in the spring and fall. The road to the North Rim (Highway 67) is closed during the winter, but you can still access the North Rim by hiking across the canyon, or cross-country skiing or snowshoeing in from Jacob Lake.
Do I need a permit for a rim-to-rim?
If it's you and a couple friends, no. But if you've advertised or had people register for the event, you'll need a special use permit ›