by Jerry Otero, Legislative and Policy Director
Joining the Grand Canyon Trust as the legislative and policy director this month, I have my work cut out for me. In the past four years, more than 100 environmental protections have been unraveled, over 26 million acres of public lands were offered for oil and gas development across the West, our federal energy policy stumbled backward, ignoring climate change, and Grand Staircase-Escalante and Bears Ears — the first national monument created at the request of Native American governments — were slashed.
Fortunately, now is a moment of great opportunity, and we're rolling up our sleeves.
What the executive order means for the Colorado Plateau
On President Biden's first day in office, he signed an executive order detailing his administration's priorities, including restoring environmental protections and moving our nation toward a new energy future. Among these priorities, a few stand out when it comes to safeguarding the Grand Canyon and the Colorado Plateau.
National monuments
The order gives the Department of the Interior, in consultation with tribes and other agencies, 60 days to review the boundaries and conditions of Bears Ears and Grand Staircase-Escalante national monuments to determine whether to restore them, as Biden pledged to do on the campaign trail.
Grand Canyon
The order revokes a number of Trump administration actions that were harmful to the environment, public health, and the national interest, including Executive Order 13783 of March 28, 2017, "Promoting Energy Independence and Economic Growth," which had prompted the Forest Service to take what many saw as a first step to reopening the Grand Canyon to uranium mining.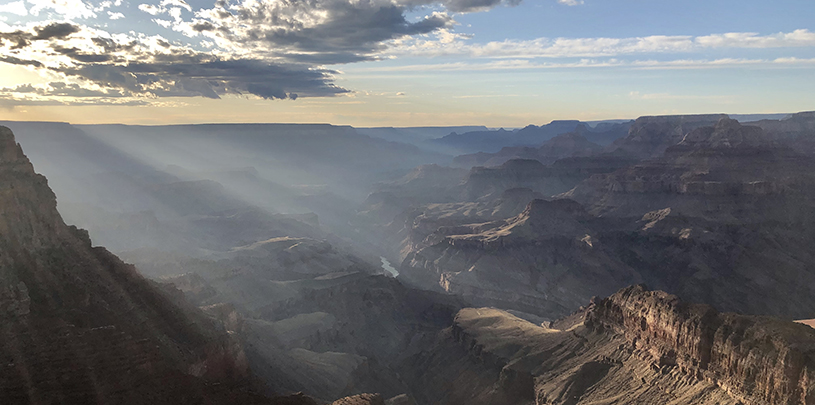 SARANA RIGGS
Restoring environmental protections based on science
The order requires agencies to review past actions that were detrimental to the environment, including actions related to oil and gas, and coal leasing on federal lands. Oil and gas leases have threatened lands near Bears Ears, national parks in Utah, and other landscapes across the Colorado Plateau. Coal mines have a long history of turning a short-term profit at the long-term expense of communities, land, air, and water across the plateau. The Department of the Interior has already hit pause on federal oil and gas, and coal leasing for 60 days.
Climate change
Among the many climate actions included in the order, Biden reestablished the Interagency Working Group on the Social Cost of Greenhouse Gases, and aims to require federal agencies to consider the "social cost" of carbon and methane, including climate risk, environmental justice, and equity. That's good news for the Colorado Plateau, where dirty energy projects like the proposed Enefit oil shale development in Utah threaten to spew massive amounts of greenhouse gases into the air.
The order also directs agencies to consider revising various emissions standards including for methane, a major source of pollution on the Colorado Plateau.
With this in mind, here are our top five legislative and policy priorities for 2021:
Restore Bears Ears and Grand Staircase-Escalante. The Trust is committed to the full restoration of both monuments, including reviving the groundbreaking federal-intertribal collaborative management model laid out in the original Bears Ears proclamation. We will continue to advocate for timely restoration and support the work of the Bears Ears Inter-Tribal Coalition.
Permanently protect the Grand Canyon from uranium mining. There's a long legacy of contamination from uranium mining across the Colorado Plateau; it's past time to permanently protect the Grand Canyon — our crown jewel national park — from this threat. We are pursuing legislative opportunities in the 117th Congress to achieve this goal.
Protect the Little Colorado River from dams and development. From mega-resorts to hydroelectric dams, the Little Colorado River and its confluence with the Colorado River are magnets for outside developers. We are committed to supporting tribal governments and Native communities in their efforts to protect the river once and for all.
Revise and reinstate critical environmental protections. From methane emissions protections to revisions concerning Federal Energy Regulatory Commission comment periods which would impact the public's ability to weigh in on plans to dam the Little Colorado River, to reversing rollbacks of the National Environmental Policy Act to restore robust public comment periods on projects like the proposed Tusayan development near Grand Canyon National Park, we'll work to bring critical environmental protections to the finish line.
Address climate change. Trump administration policies perpetuated reliance on fossil fuels; pollution from those industries disproportionately impacts Native American communities. We are working to support solutions to climate change and energy needs within a legislative and regulatory framework that aims to reduce reliance on fossil fuels, create jobs, ensure fair and equitable treatment of all people, and prioritize public health.
Of course, these are just some of the top issues on our to-do list. We're also working hard to support confirmation of Rep. Deb Haaland, D-N.M., as secretary of the interior. Haaland will bring much-needed expertise and leadership to the dynamic and complex issues facing public lands. Her confirmation would signify a new chapter, one we hope will be more inclusive and authentic, and build meaningful relationships and reforms across the political spectrum.
JONATHAN BAILEY
A time for bold action
As I set out to write about the top priorities of the Trust in 2021, I found myself reflecting on the past year, one of crisis layered upon crisis.
COVID has touched every continent on Earth, taking the lives of over 400,000 Americans, over 22,000 from the Colorado Plateau states. A fatal insurrection at the U.S. Capitol brought us the closest we have come to losing our democracy in 150 years, compounded, particularly as a person of color, by the glaring disparity in treatment of those who attempted to violently overtake our democratic institutions. We witnessed arguably the largest demonstrations against racism and inequality in our nation's history, a boiling point in 2020 for many in America unable to turn away from centuries of injustice and equity, all laid bare by the smart phone. Now, in 2021, we are a nation of contrasting realities. We are a nation facing great uncertainty. But we are also a nation seeking solutions.
The choice is now ours to determine what our collective future on the Colorado Plateau will look like. Now is the time to support tribal nations and Indigenous communities, to stand up for the Grand Canyon and for the Colorado Plateau's rich cultural and natural landscapes, and to advocate for the Biden administration to take decisive action.
The plateau's dynamic story is scarred by centuries of inequity, oppression, and exploitation of the land, spanning countless presidential administrations, both Democratic and Republican. Durable solutions will require diverse coalitions and a commitment to addressing the systemic inequities that underlie many conservation issues. We will hold the new administration to account and remain open to working alongside anyone who is willing to act together to seek these solutions. 2021 presents new hope for progress. But progress only comes with action.