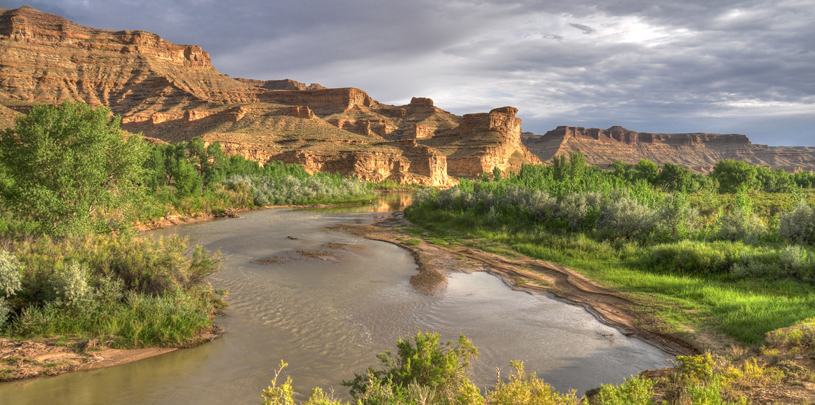 The White River. Photo: Ray Bloxham, SUWA

by Anne Mariah Tapp, Energy Director
This week, the Bureau of Land Management (BLM) announced that it's paving the way for a dirty oil shale project in Utah that could spew nearly half a billion tons of greenhouse gases into the atmosphere and consume vast amounts of water in the arid Colorado River basin.
One of the most carbon-polluting fuels in the world
The BLM proposes allowing an Estonian energy company, Enefit American Oil, to build water, oil, gas, and electric transmission lines across federal public land so that the company can construct a huge oil shale mining facility on state, federal, and private land near White River, near the Colorado border.
Enefit hopes to process up to 1.2 billion barrels of kerogen oil—one of the most carbon-polluting fuels in the world—by mining more than 20 square miles—over 9,000 football fields—in Utah's Uinta Basin.
The proposed facility will be located approximately 12 miles southeast of Bonanza in Uintah County, Utah, on the White River. At full build-out, the project will produce approximately 28 million tons of raw oil shale ore rock per day and 50,000 barrels per day of refinery-ready oil—an amount that will meet less than one percent of current U.S. oil consumption—from the Green River Formation.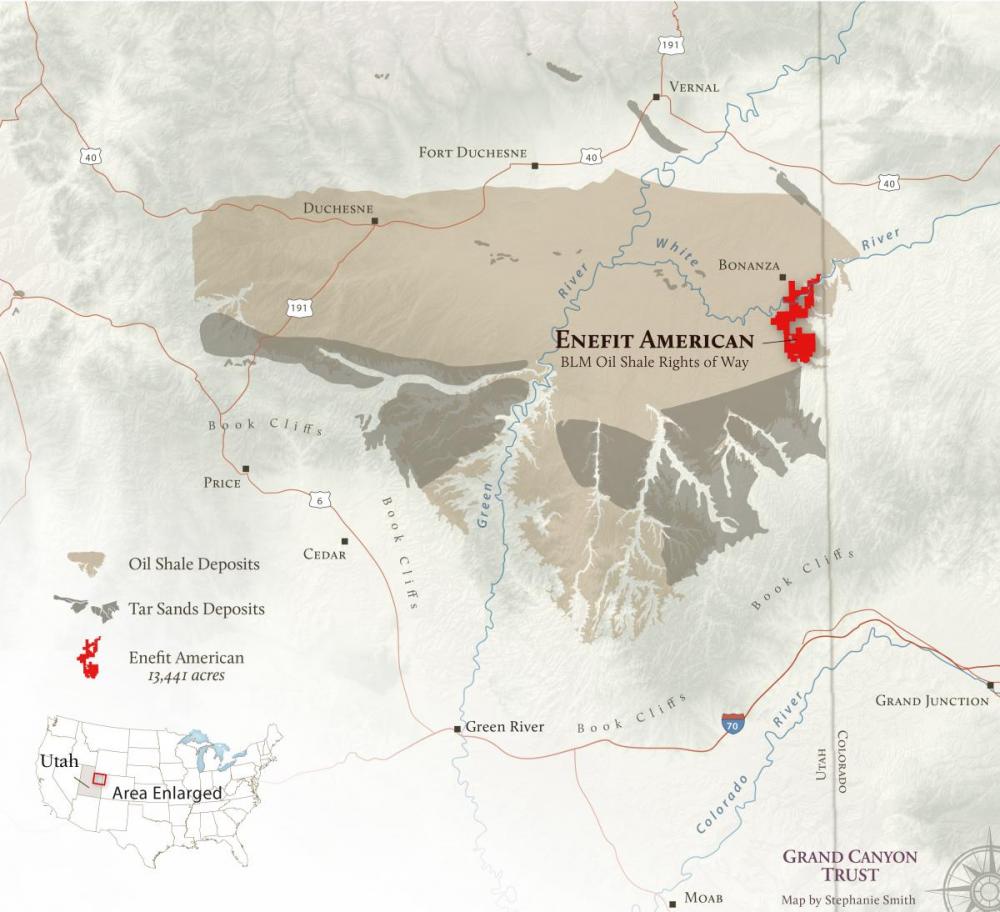 A double whammy: climate and water disaster
The project would be a double-whammy for the environment, threatening the climate and depleting scarce water supplies in one of the driest regions in the United States. It would be the first commercial oil shale production facility in the U.S., with estimated lifecycle greenhouse gas emissions of up to 450 million tons of CO2 equivalent – about the same as 100 coal-fired power plants emit in a year.
The BLM's decision, expected to be formally released next week in the form of a Draft Environmental Impact Statement, comes only months after President Obama committed at the Paris climate negotiation to limiting global warming to 1.5 degrees Celsius above pre-industrial levels. Reaching that goal will require that the vast majority of existing fossil fuel reserves remains in the ground. The Enefit facility, should it move forward, would increase emissions that exacerbate global warming by exploiting one of the world's highest carbon fuels.
A threat to limited Colorado River Basin water supplies
Oil shale is a thirsty industry. Kerogen oil is contained in the shale formation, which has to be superheated to extract the oil; a process that requires large amounts of water. The Colorado River Basin is already facing up to a 27 percent decrease in April to July flows due to climate change. At a rate of up to four barrels of water per barrel of oil, Enefit's project poses an unacceptable threat to limited Colorado River Basin water supplies. And this is only the first project proposed; in total, the BLM has allocated over 800,000 acres of federal public land as available for oil shale and tar sands mining. Both in terms of carbon footprint and water demands, the West's water future is under attack by the federal oil shale program.
Stop it Before it Starts
For more than thirty years, oil shale has been called the "fuel of the future." Originally, it garnered that nickname because of its prohibitive economics and unproven technologies. But in light of the climate crisis, it's time to unite around the realization that oil shale cannot and will not be part of the Colorado River Basin's future – and that oil shale mining has no place in the climate legacy that we leave for future generations. The BLM should reject Enefit's application for a right-of-way that would pave the way for a climate and water disaster.
A public comment period will open on Friday, April 8, 2016. Please join us in telling the BLM to reject Enefit's right-of-way application.
The BLM will hold 3 public meetings:
Tuesday, May 3, 2016: Uintah County Library in Vernal (204 East 100 North, Vernal, UT 84078)
Wednesday, May 4, 2016: Western Rio Blanco Recreation and Park District (611 S. Stanolind Ave., Rangely, CO 81648)
Thursday, May 5, 2016: Hilton Garden Inn (4975 Wiley Post Way, Salt Lake City, UT 84116)
Take action
For notifications about comment periods on issues such as Enefit's right-of-way application, sign up for our action alerts. Use your voice to stand up for your public lands ›