by Talia Boyd, Cultural Landscapes Manager
Bears Ears National Monument is a tapestry of landscapes, identities, and histories of Indigenous peoples in the Southwest. No matter the season, visitors from far and wide bustle through to see for themselves the stories and mysteries held within Bears Ears — the cliff dwellings, kivas, village sites, pilgrimage trails, petroglyphs, pictographs, and canyons that hold truths we don't often learn about in American history textbooks.
For Indigenous people, cultural landscapes are sacred spaces. It is important that visitors show reverence for the land and honor and protect cultural sites throughout the region. With its boundaries restored, Bears Ears National Monument finally puts tribes at the forefront of stewardship of their ancestral lands.
Here, tribal elders and leaders share tips with visitors about how to visit cultural landscapes like Bears Ears respectfully.
Greet the landscape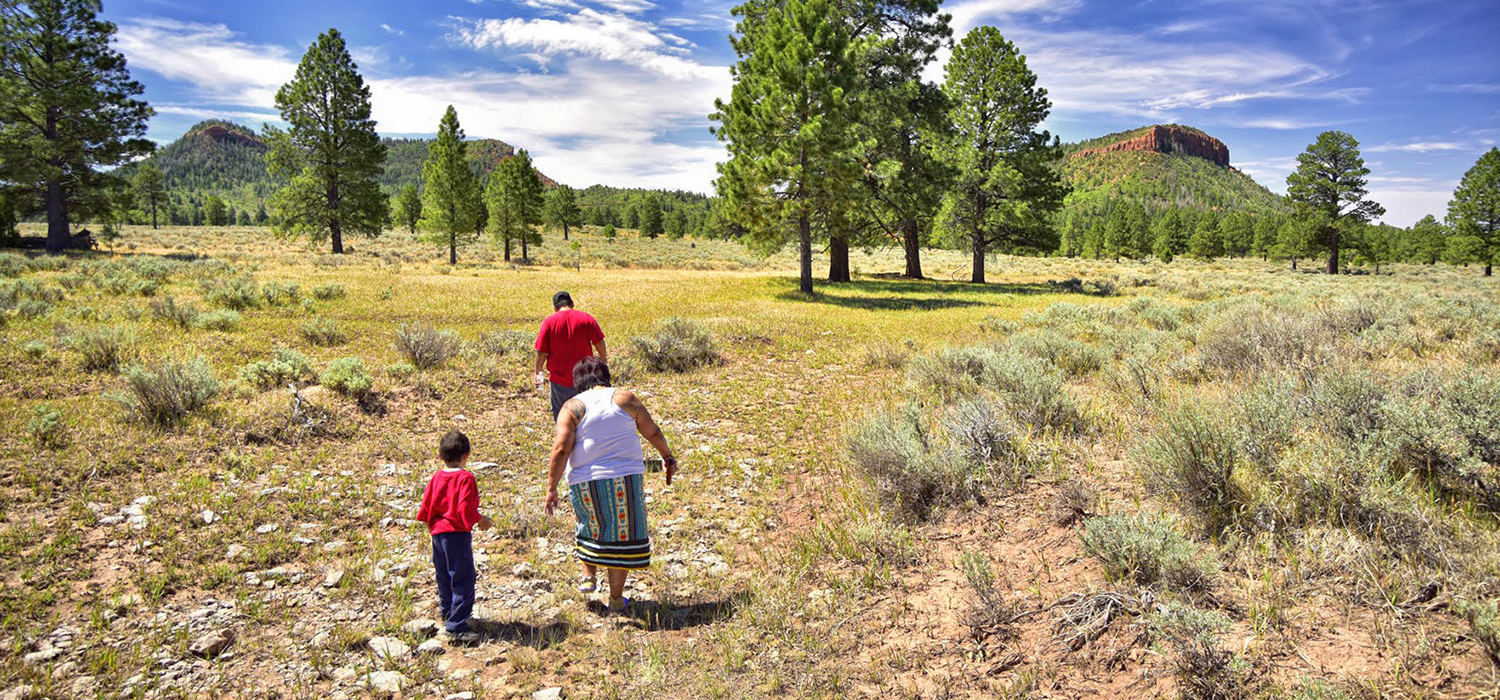 TIM PETERSON
"For me when I go to sacred places the first thing I do is greet the landscape. Always remember to show respect and give offerings like cornmeal. Bears Ears is powerful. We come here for ceremonies, guidance, and inspiration. Acknowledge all life within the landscape, this is their home. Wherever you are, whoever you are, make sure you show respect. We must never abuse our privileges. It's important to understand that this is our home and will continue to be so long as we take care of it." — Gary Keene (Acoma Pueblo/Diné)
Look but don't touch
ED MOSS
"My elders always told us to stay away from those structures and to leave the artifacts where they are. Out of respect, we were always told not to go climbing into the structures, and to leave everything that belonged to our ancestors. That's our history on the walls…That's our history for our future generations to know about Bears Ears and learn about how our ancestors lived and what their culture was like, which we still carry on to this day. We need to respect those structures and just leave them alone. We can look but don't touch them. They're there for our history and tell people that we were there." — Mary Benally (Hopi/Diné)
Leave all artifacts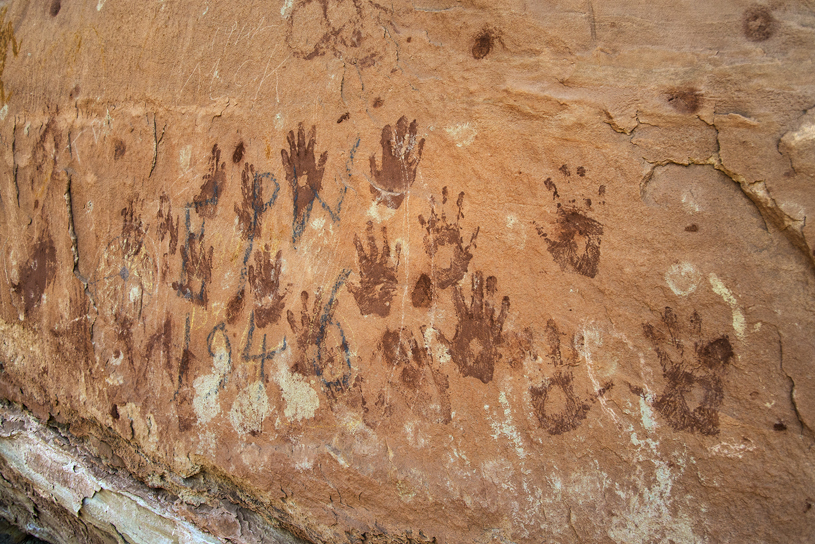 Vandalized petroglyph panel. TIM PETERSON.
"These places are still very much part of our homelands. And when we hear about petroglyphs being damaged, or archaeological sites being damaged, it is in a sense like taking a chapter out of a book. So when parts of those are disturbed or missing, then we're not able to connect the dots as effectively as we ought to be allowed to." — Jim Enote (Zuni)
Enter sacred spaces with good intent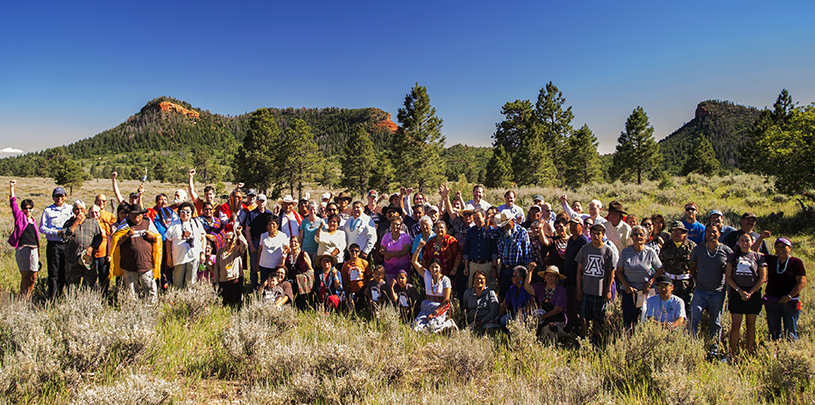 TIM PETERSON
"The energy you bring effects sacred spaces. You have a continuum of positive and negative energies within you, so you have to be in conscious control of how you want to be present. If your intent is good, then take it in that way, and thank whatever is in your presence. If you have to lean against a tree, say, "Thank you tree for allowing me to lean my back on you. Thank you for taking the stress or the pain out of me and grounding me back again." So when we talk about being in a sacred space, it's actually any space that you have around you. Wherever you find yourself to be, that's a sacred space and it should be addressed as such, even though others might not perceive it as that. But you are who you are, and so you project that goodness around you." — Kathy Sanchez (San Ildefonso Pueblo)
See archaeological sites as living landscapes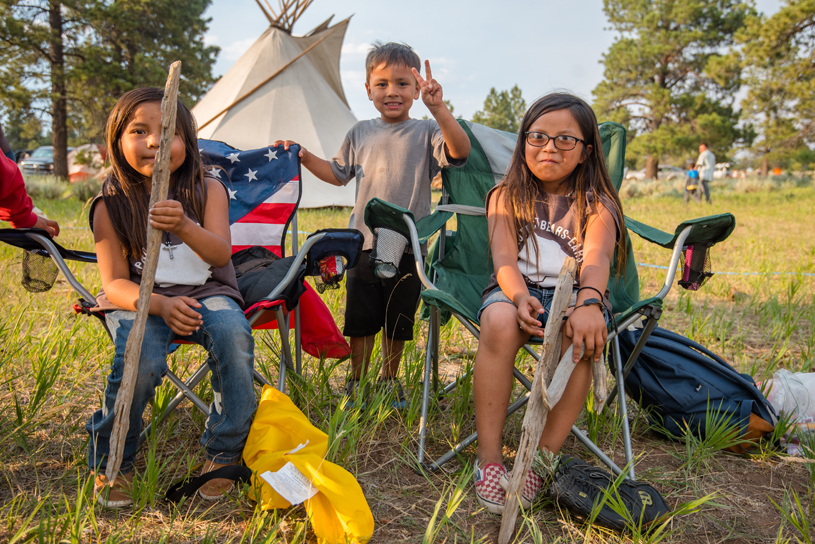 BLAKE MCCORD
"What you see out there archaeologically are our footprints. The evidence that we see out there — the pottery sherds, the burials, everything that was a part of their community — that's the footprints of our ancestral people. The Hopi don't see ruins as being "abandoned" because the spiritual people still reside there. They're still in our memory, still in our ceremonies. So we don't see the ruins as being just cultural resources. They were a part of our lives. Grandmothers were there, kids were there, everything was very vibrant. Perhaps harsh, but people lived there." — Leigh Kuwanwisiwma (Hopi)