by Jessica Stago, Native American Economic Initiatives Director
---
The Grand Canyon Trust is proud to partner with Change Labs to help entrepreneurs realize their dreams and build a strong, resilient, and culturally respectful economy across Native America.
---
Many small businesses and entrepreneurs have been hit hard by the coronavirus pandemic. Today we bring you the uplifting story of a pair of entrepreneurs on the Navajo Nation who are stitching their way through this uncertain time and fulfilling orders by mail.
The story of Lotus & Layne
Luxury handcrafted leather-goods brand Lotus & Layne has shipped its dreamy hand-stitched leather totes, wallets, and keychains from the Navajo Nation to customers across the United States and as far away as Dubai. It's fitting that online shopping fueled Lotus & Layne's growing business, since the company was born out of one woman's shopping dilemma.
"I needed a Christmas gift for my husband," explains Lotus & Layne co-owner Summer Brown. "I wanted to get him a leather stocking, but they were so expensive. I thought, maybe I can make my own."
She purchased leather and a starter kit of leatherworking tools. The learning curve was steep, but the handmade gift was a hit.
Before long, Brown's husband, LaMandez, started playing with the leather scraps left over from the stocking project. He fashioned wallets and keychains that were eagerly snatched up by family members. Soon family and friends were putting in orders.
Chasing the dream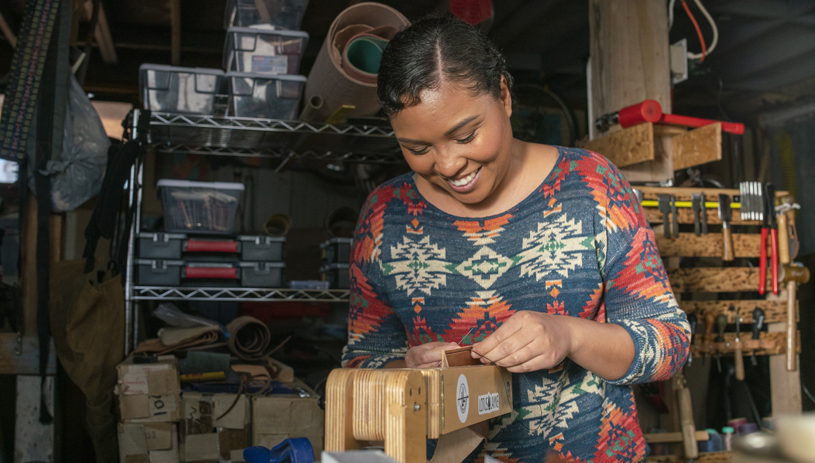 Leatherworking is a challenging and meticulous craft, especially when done entirely by hand, but Brown and her husband were hooked.
Could this hobby, which they both enjoyed, turn into something more? The couple was living and working in Phoenix. The idea that leatherworking might one day become a business that could sustain their young family seemed like a distant dream. Nonetheless, with the same methodical care and determination the couple devoted to learning their new craft, they began to pursue it.
Coming home to the rez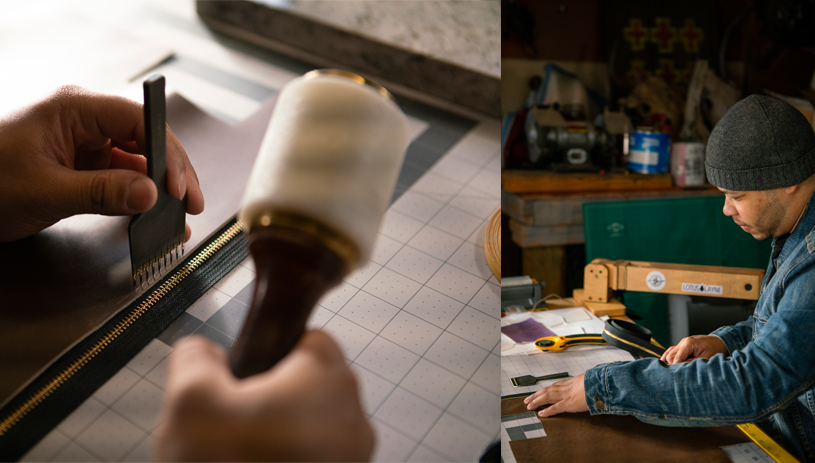 DEIDRA PEACHES
While many people working to start a business leave the reservation for better access to financing and infrastructure, Brown and her husband believed returning home to Cornfields, Arizona, on the Navajo Nation, was essential if they were going to take the leap. Getting back to the rez would cut down expenses and eliminate big-ticket costs like rent and childcare. So they lived on rice and beans, paid off their college loans and debt, and saved up enough to buy a used vehicle outright.
Finally, after nearly two years of scrimping and saving, with three months of expenses in the bank, the couple took the plunge, quitting their jobs and moving back home to the rural community of Cornfields, where their leatherworking business, Lotus & Layne — a combination of the middle names of their two children — was born.
Turning a hobby into a job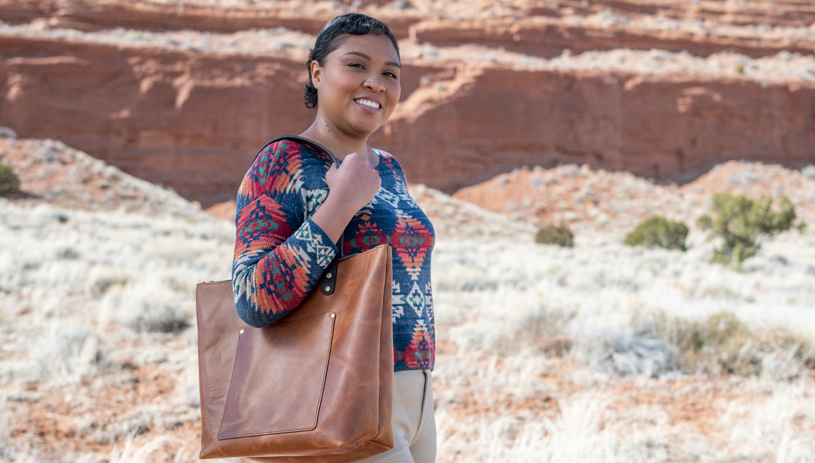 DEIDRA PEACHES
Brown and her husband started with wallets, key chains, and totes, working to build inventory. One of their signature products is the "Canyon" wallet, designed by Brown's husband; its unique, modern lines bring to mind the sinuous folds of its namesake.
Soon they began accepting custom orders for specialty items like iPad sleeves and marketing their wares not only at Native art markets, but online, with free shipping on orders over $50 to further entice customers searching for quality handcrafted goods. The couple uses only leather made in the United States and thicker, longer-lasting thread that won't fray or come undone as sometimes happens with sewing-machine stitched leather goods.
"Your hands get stiff, sitting in a chair stitching for hours," Brown admits, "but coming back to the rez is freeing. You don't worry like in the city. The kids love it. They can play outside."
Where there's a will, there's a way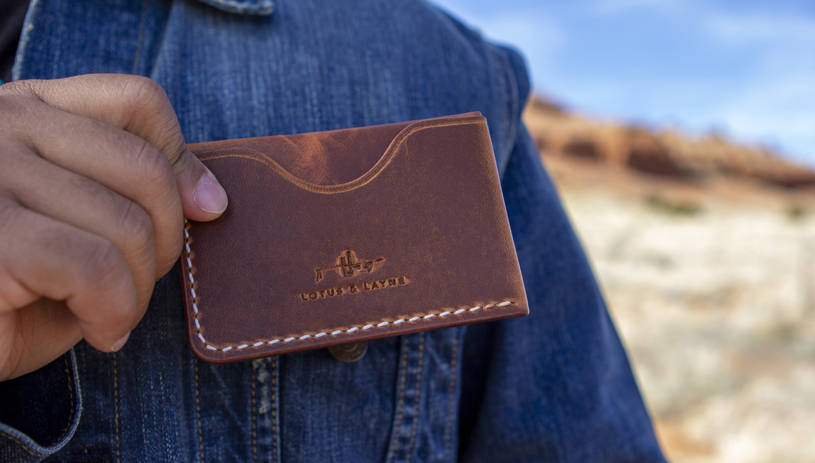 DEIDRA PEACHES
With Lotus & Layne getting off the ground, in 2019, Summer and her husband applied for and secured a coveted spot in the Change Labs Business Incubator, designed to accelerate and strengthen startups with everything from technical assistance in bookkeeping and accounting, to help navigating the complicated Navajo Nation tax code, to intensive business counseling and goal-setting.
The couple hopes to expand, and aspires to build their handcrafted brand by tanning their own leather, and, someday, to provide employment for others in Cornfields.
"A lot of people struggle on the rez, because there are no jobs," Brown says. "So we made our own jobs."
When revenues from Lotus & Layne increase, the Browns aim to begin saving to build their own self-sustaining home, complete with solar panels and a rainwater catchment system, a short walk from Summer Brown's mother's house.
For this entrepreneurial husband and wife team, coming home to the rez was a business decision, but as they put in the long hours cutting and stitching, they're also stitching themselves more tightly into their community, including volunteering in their local Navajo Nation chapter house.
"We want to share what we're learning at Change Labs," says Brown. "We want to show people in our community you can make your own way."
Even during this difficult time, the Browns are still stitching, posting a new buffalo wallet from their "Deep Blue Sea Collection" for sale on Facebook today.